Oklahoma State at Baylor: 10 Things We Learned from Bears' Win vs. Cowboys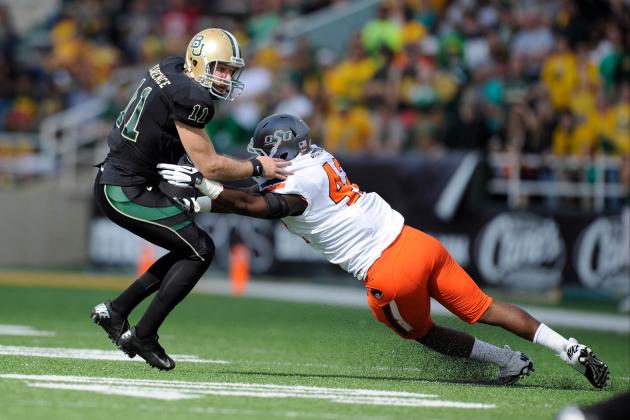 Jerome Miron-US PRESSWIRE

Baylor and Oklahoma State were locked in a traditional Big 12 Conference shootout in Waco, but the Bears emerged with a 41-34 victory to improve to 7-5 on the season.
Both teams came up with great offensive plays and numerous defensive stops, but Baylor pulled through thanks to an excellent performance from quarterback Nick Florence, who finished with 295 yards through the air.
OSU was led by 130 yards on the ground from Joseph Randle and 336 yards through the air from Clint Chelf.
However, the tipping point in the game was an incredible 76-yard run from Baylor's Lache Seastrunk, who came up with a cramped quad midway through the run, but finished the play to put the Bears ahead by two touchdowns late in the fourth quarter.
Here are 10 takeaways from Baylor's senior-day win over Oklahoma State:
Begin Slideshow

»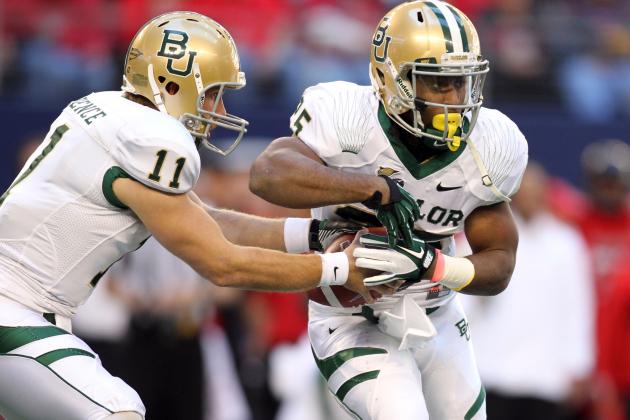 Tim Heitman-US PRESSWIRE

Just when Oklahoma State had driven its way back within seven points of Baylor and right back into the ballgame, Lache Seastrunk took the visiting Cowboys right back out of it.
Seastrunk exploded up the middle of the field for what looked like an easy touchdown at first.
Then, about 25 yards out of the end zone, he pulled up with what looked like a pulled hamstring.
However, the former Oregon Duck from Temple, Texas didn't stop—he didn't really even slow down. With three OSU defenders on his heels, he powered his way across the goal line for a 76-yard touchdown to put the game back safely in the hands of the Bears.
He was helped off the field by trainers and teammates to a showering of cheers from the Baylor crowd, and rightfully so.
It turned out to be just a badly cramped quad, but that doesn't really diminish the willpower he displayed in the run.
In his on-air interview after the game, Baylor head coach Art Briles called the run "incredibly inspiring."
The run allowed the sophomore to finish with 179 yards and a touchdown, and an average of 11.2 yards per carry.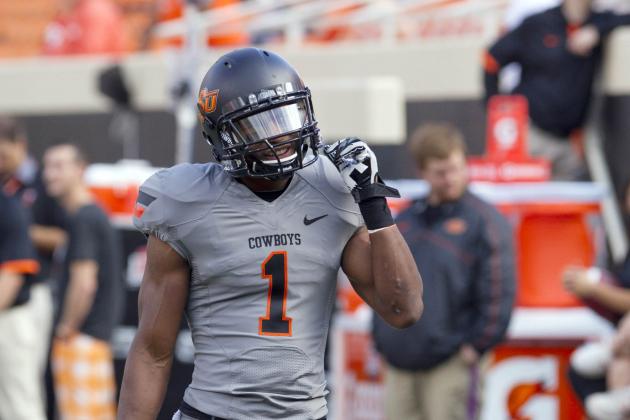 Richard Rowe-US PRESSWIRE

At 6'1" 200 pounds, Joseph Randle is already an adequately-sized back for the NFL, and he will likely have even more room to add muscle to his frame once he makes it to the next level.
He added 130 yards on the ground today to put him over 1,300 for the season to go with 14 touchdowns.
That was also his eighth 100-yard performance of the season and his 11th game over 70 yards.
He's the total package in the bac field with the size, speed and power to compete at the next level.
The Wichita, Kanas native will be first team All-Big 12 at the end of the year, and he may even receive some All-America honors.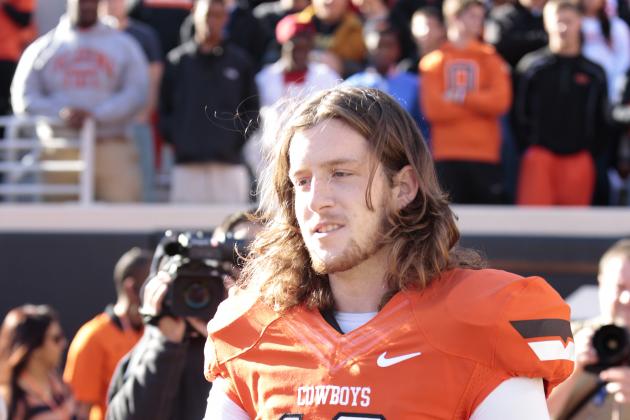 Brett Deering/Getty Images
Quinn Sharp: He has the flow, he has the leg. All he needs is a contract.
Specialist Quinn Sharp will bring great value to whichever NFL team picks him up.
He is lights out kicking field goals, a versatile punter and can drop kickoffs out of the back of the end zone.
In Waco, he was still reaching the end zone while kicking into a driving wind that reached velocities up to 25 miles per hour.
He was also 2-of-2 on field goals and 4-of-4 on extra points against Baylor, making him 25-of-31 and 65-of-65 on the year in those categories.
He also averaged 42 yards per punt in the game and dropped one down at the Baylor 2-yard line.
The senior can really do it all with his leg, and he will certainly be picked up by an NFL squad after the season.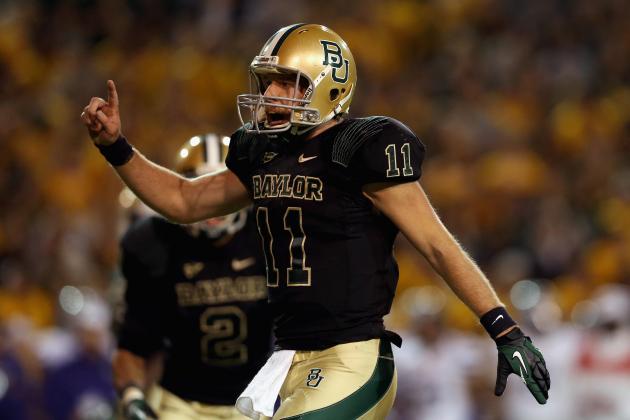 Ronald Martinez/Getty Images

Florence isn't as athletic as his former Heisman Trophy-winning teammate Robert Griffin III.
However, he still managed 71 yards rushing and a touchdown against Oklahoma State. The senior now has more than 500 yards on the ground this year and nine rushing touchdowns.
In the game, he also tallied 295 yards and a touchdown through the air while leading Baylor to its seventh win of the season.
That game gave him more than 4,000 yards passing on the year, along with 31 passing touchdowns.
He has now gone over 250 yards passing in 10 games this season and over 200 in 11 of his 12 games.
He may not be RGIII, but Florence has propelled Baylor to a much better finish than what was expected after the departure of Griffin, Kendall Wright and others.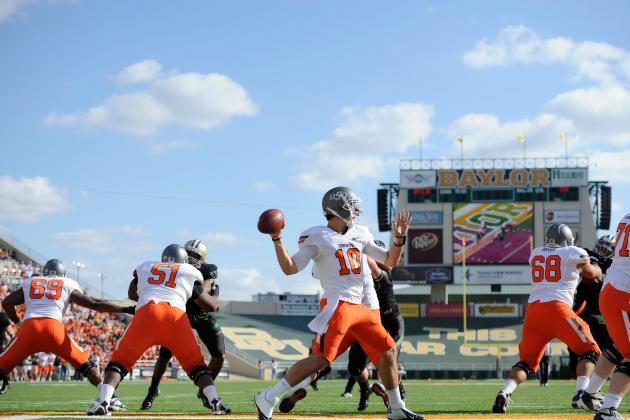 Jerome Miron-US PRESSWIRE

Clint Chelf will likely be in the thick of another offseason quarterback battle with Wes Lunt after this season is over.
Lunt will probably have the upper hand once he's healthy, but Chelf will have a shot at the job as well.
He finished against Baylor with 336 yards, two touchdowns and two interceptions, giving him nearly 1,400 yards passing on the year and 12 touchdowns.
He may not be the answer, especially long-term at OSU, but he'll certainly be in the mix.
This season, through injury, the Cowboys have shuffled around their three signal-callers plenty:
Oklahoma St is the first team in Big 12 history to have 3 QBs with 1,000 yards passing in the same season. #OSUvsBAY

— ESPN Stats & Info (@ESPNStatsInfo) December 1, 2012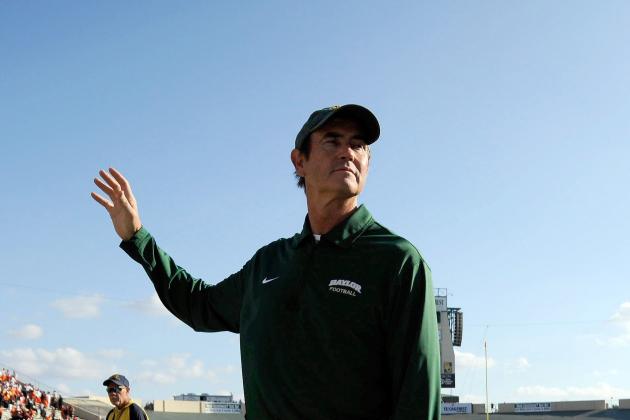 Jerome Miron-US PRESSWIRE

Art Briles waved goodbye to his senior class today in their final game in Waco.
With that class, he has now beaten every Big 12 Conference team except newcomer West Virginia:
If Baylor holds on today vs. #okstate, Art Briles will have beaten every team in the Big 12 in just four years. At Baylor. Amazing.
— David Ubben (@davidubben) December 1, 2012
Before his arrival, Baylor was considered to be one of the doormat teams of the Big 12, finishing in the cellar of the league all too often.
Now, the Bears are a perennial contender in the conference and have become somewhat of a destination for recruits, rather than a landing place for those rejected by Texas and Oklahoma.
A lot, if not all of that, is thanks to Briles' work with this program, and with the coming facility improvements at Baylor, the Bears should be competitive for the foreseeable future.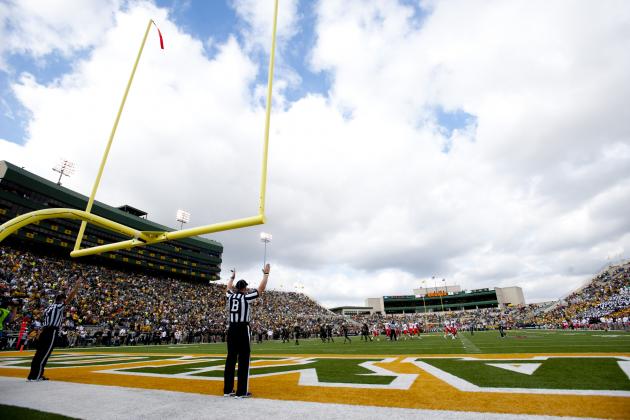 Cooper Neill/Getty Images

Saturday afternoon in Waco proved yet again that the Big 12 is the most evenly contested conference in college football.
After Baylor's and West Virginia's wins over Kansas, the conference now has eight of its 10 teams with seven or more wins and a ninth (Iowa State) who has achieved bowl eligibility.
Excluding Kansas, the whole conference has been a mosh pit.
Up top, Kansas State beat Oklahoma, but Baylor beat Kansas State. Meanwhile, WVU beat Baylor, but the Mountaineers lost to TCU. The Horned Frogs lost to Iowa State, who fell to Texas Tech. The Red Raiders were defeated by Oklahoma State, who just lost to Baylor.
Did you understand all of that?
Well, that isn't even the half of it.
Point is, any team in the Big 12 can beat any team in the Big 12 at just about any location from Morgantown to Waco to Manhattan.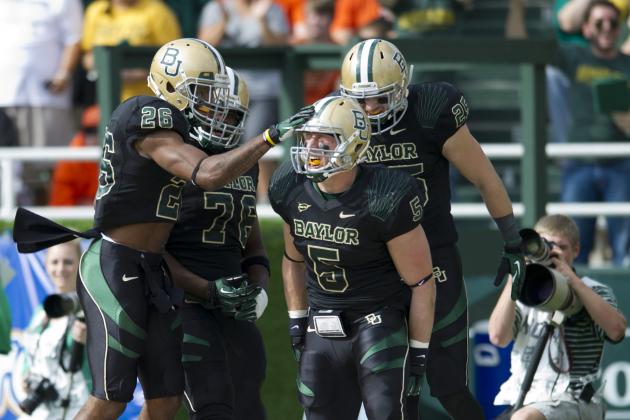 Cooper Neill/Getty Images

After traded field goals on the first two drives, it was a defensive play that finally sparked the scoring frenzy in this game.
Eddie Lackey was the one who started the ball rolling with a pick-six in the first quarter to give Baylor a 10-3 lead. Thanks to some more great defensive play, BU was able to build a 24-3 lead.
Lackey also had a game-high 15 tackles, including one for a loss, and now has 99 tackles, including 10 for a loss, on the season.
The junior has four interceptions and two touchdowns on the season as well.
He also has four pass defenses, six quarterback hurries, a forced fumble and a fumble recovery.
All season long, he's been one of the bright spots on a defense that has often ended up on the wrong end of a joke.
This kind of performance could earn him some preseason All-Big 12 honors next year.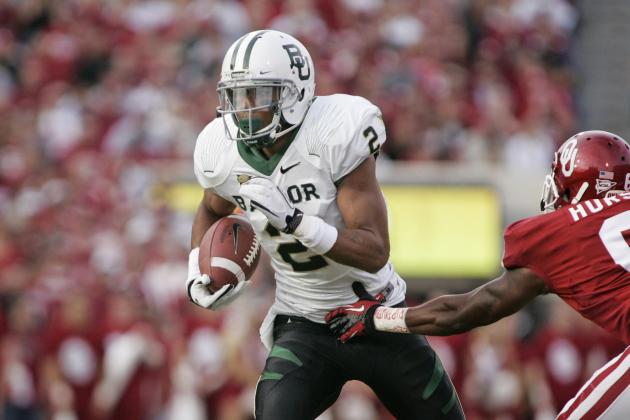 Brett Deering/Getty Images

Well, at least it's possible to slow him down.
Williams was off to a great start for Baylor, tallying six receptions for 71 yards in the first half alone.
However, he would finish with just that and not a single reception in the second half of play.
All the credit here goes to Oklahoma State cornerback Justin Gilbert. He entered the season as arguably the top corner in the Big 12 and will finish as that.
He wasn't perfect this year and was shown up at times—particularly by Williams' biggest threat for the Biletnikoff Award, WVU's Stedman Bailey—but he came through in a big way in this game.
He nearly hauled in an interception after a miscommunication between Williams and Florence, but couldn't come up with it.
Either way, Williams' slow game may have been enough to drop him from the front-runner position for the Biletnikoff behind Bailey, who had a great day against Kansas.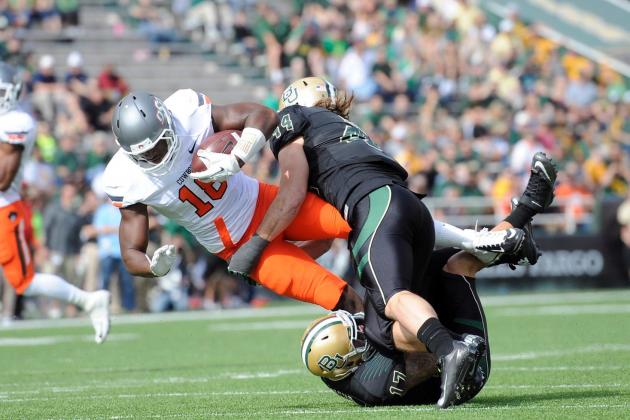 Jerome Miron-US PRESSWIRE

Blake Jackson dropped two sure touchdowns for Oklahoma State.
Neither of those drives ended in touchdowns for the Cowboys.
And in a seven-point loss, that could be considered the difference between a win and a loss.
Of course, the game can't all be pinned on one player, but his drops definitely hurt:
Baylor: 31, #okstate: 20, Blake Jackson's hands: -12.

— Pistols Firing (@pistolsguy) December 1, 2012