SEC Championship 2012: Alabama vs. Georgia Live Scores, Analysis and Results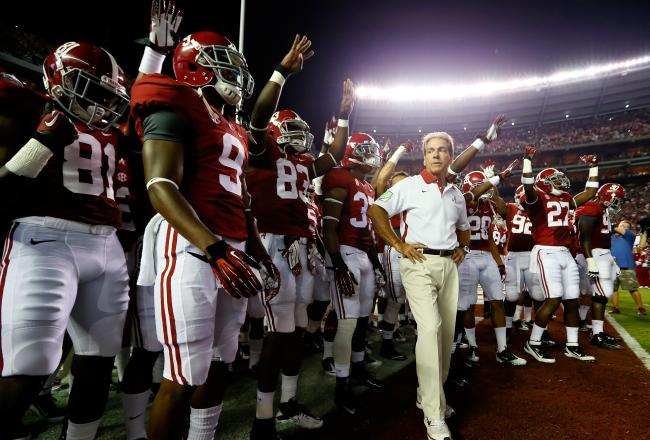 Nick Saban and the Crimson Tide are set to battle Georgia in the SEC championship game, with the winner earning a chance to play Notre Dame for the BCS national title.
Kevin C. Cox/Getty Images
Alabama 32 Georgia 28 Final
Alabama overcame an 11-point second-half deficit to claim a thrilling 32-28 comeback victory over Georgia in the SEC Championship Game.
Tide running backs Eddie Lacy and T.J. Yeldon both ran for more than 150 yards, and the Tide stopped the Bulldogs at the five-yard line in a frantic sequence to end the game.
The win gives the Crimson Tide its first league title since 2009, and more significantly, earns them a spot to play Notre Dame in the BCS National Championship Game.
Alabama improves to 12-1 while Georgia falls to 11-2.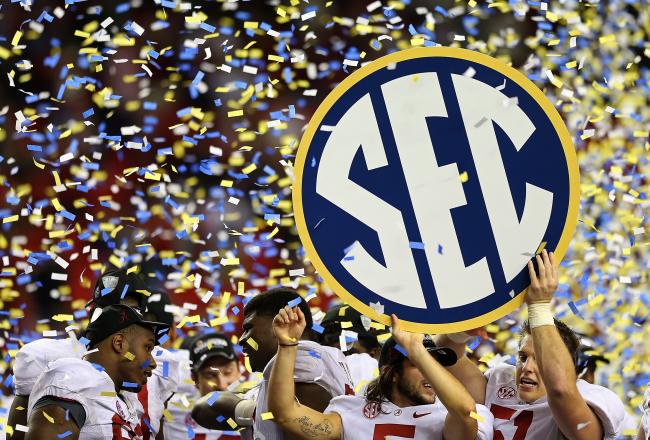 Here's a link to my postgame piece on Alabama's heart-stopping victory over Georgia.
Thanks once again for reading and following along with the blog!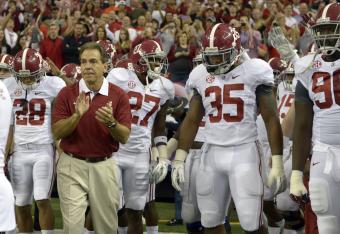 That was truly one of the most amazing games I've seen in recent memory.
With so much on the line, both teams engaged in a heavyweight slugfest that wasn't over until the final play.
Congrats to both teams for playing in an instant classic, but in the end, the Tide outlasted the Bulldogs to earn the right to defend their national title.
I want to extend a sincere thanks to all who followed along with the blog!
Stay tuned to B/R for more postgame coverage of Alabama's thrilling victory.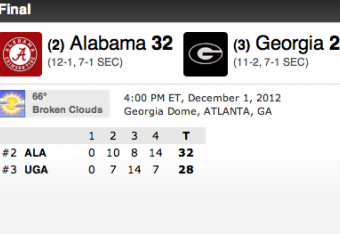 Here is a final glance at the box score, courtesy of ESPN.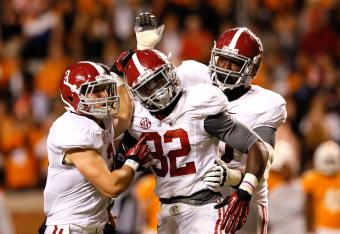 High drama in the Georgia Dome!
Murray fires a pair of strikes for first downs, the latter of which puts Georgia at Alabama's 34-yard line.
Whoa. Murray hits Lynch who rumbles inside the Alabama 10-yard line.
One play later, Murray hits a short throw to Conley who is tackled well short of the goal line and the clock runs out.
Unbelievable ending to a thrilling game.
Alabama wins 32-28.
The call is overturned, and Georgia retains possession with 45 seconds left.
So, we play on!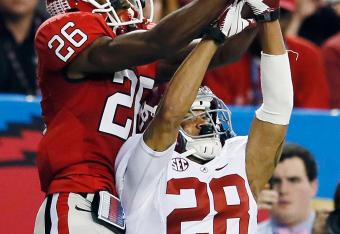 Alabama chooses to rush three and drop eight.
Murray tries to find Chris Conley over the middle, but Vinnie Sunseri jarred it loose and Dee Milliner apparently came up with an interception off a tipped ball.
The play is under review.
Very simple here folks, if the call stands, Alabama wins.
If not, Georgia will be down to its last life.
Georgia will need to 85 yards in 68 seconds to earn a miraculous win.
Here we go.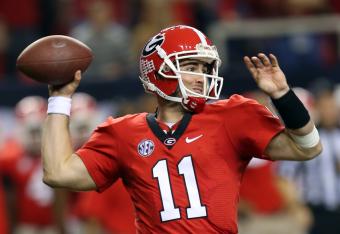 Georgia holds Yeldon to another short run, and with 2:06 remaining, Alabama will need about five or six yards to hold onto the ball.
I fully expect Alabama to keep the ball on the ground here, and live with the consequences if they fall short.
Yeldon tries the left side and only nets three yards, and Alabama will punt with the clock winding under two minutes.
Georgia looks like they will take possession with around one minute to go with no timeouts.
Alabama needs one first down to ice a return trip to the BCS National Championship Game.
Considering how strong they have looked on the ground in the second half, the odds seem to be in their favor.
Yeldon is stuffed for a short gain on first down, and Georgia uses one of its two timeouts.
Georgia is 75 yards away from playing for its first national title since 1983, with a little more than three minutes to forge a legendary drive.
Adrian Hubbard throws a huge wrench into that line of thinking by sacking Murray on first down.
The Tide faithful are roaring with anticipation.
Murray's desperation heave on third down falls incomplete, and the 'Dawgs will punt.
Alabama takes over with 2:17 left and Georgia has two timeouts left.
Wow.
Holy Mother of God!
One play after Yeldon's herculean effort, McCarron goes up top and hits Cooper for a beautiful 45-yard strike and the Tide goes back up 32-28.
What a throw, and Cooper continues to defy words and logic.
T.J. Yeldon just willed himself to a first down.
Unbelievable.
Georgia calls timeout with Alabama facing a 3rd-and-5 at midfield.
Alabama was lined up in the pistol formation, which could suggest that they may try to run and go for it on fourth down should they come up short.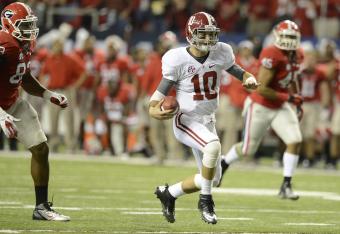 Wow. Alabama stacked the box on third-and-one and stuffed Gurley to force a huge stop.
Georgia has to punt.
Christion Jones dangerously fields a bouncing punt, but gets enough on the return to setup the offense near midfield with a golden opportunity to retake the lead.
One thing to ponder is the Tide's inability to kick long field goals, and whether that will have an effect on the play-calling this drive.
As you recall, Foster's 49-yard attempt was blocked and returned for a touchdown in the third quarter.
Is Alabama in four-down territory on this drive?
Georgia's defensive line has finally gotten the Tide into a third-and-long, which hasn't been kind to them lately.
McCarron scrambles but ends up about two yards short of converting.
Alabama punts at midfield, and Cody Mandell pins Georgia inside their own 10-yard line.
Can the Tide's defense force just its second stop in the second half?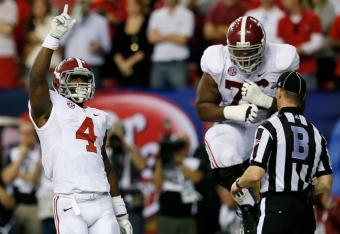 Both Yeldon and Lacy have gone over the 100-yard mark this afternoon.
Yeldon has started off this drive by carrying the load and getting the Tide out of the hole they began this drive in.
Another underrated aspect in this game for both teams has been the blocking downfield by the wideouts on both sides.
However, both offensive lines have stepped up and taken control in the trenches.
Alabama avoids disaster as freshman Cyrus Jones recovered his own fumble on the ensuing kickoff.
However, corner Dee Milliner gets a personal foul penalty that will leave the Tide 90 yards away from re-taking the lead.
Georgia has been unable to stop the run in the second half, and Alabama appears to be content on trying to run down their throats.
No disrespect to Notre Dame, but this feels like the National Championship game.
How fun has this game been?
Unless you are Mark Richt and Nick Saban, this has been a shot in the arm for football junkies that are about to go through withdrawals next week.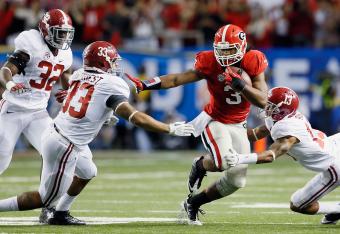 Good grief. Todd Gurley will not be denied as he bulldozes through the Tide defense for a 10-yard score and the 'Dawgs strike back to take a 28-25 lead.
How will Georgia respond with so much on the line?
Georgia comes out throwing and Malcolm Mitchell makes a great catch to get the 'Dawgs drive off to a good start.
Wow. Murray throws a bomb to King on a deep post and Georgia is in the red zone quicker than a hiccup.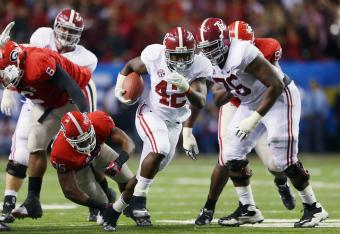 Eddie Lacy punches it into the end zone from one-yard out, and Alabama goes up 25-21 to start the fourth quarter.
Wow, what a game.
Nobody does drama quite like the SEC.
15 minutes left in what has been a thriller!
With a spot in the national title game on the line, we go to the deciding fourth quarter in Atlanta!
T.J. Yeldon steps in to spell Lacy, and he barrels his way inside the five-yard line as the offensive line has taken control of this game.
Georgia keeps him out of the end zone, but both teams will switch sides as the third quarter ends.
Georgia leads 21-18, but their lead is less than three feet from evaporating into thin air.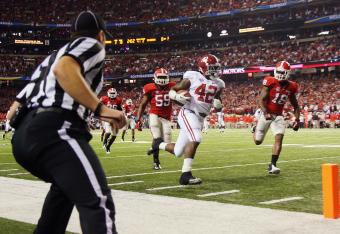 Eddie Lacy is a human pinball!
Lacy scampers 32 yards after being hit by Jarvis Jones and Shawn Williams near the line of scrimmage.
Goodness gracious, Lacy has morphed into Trent Richardson's ghost on this drive.
Simply an amazing effort by Lacy on this drive and the Tide are in the red zone threatening to go on top.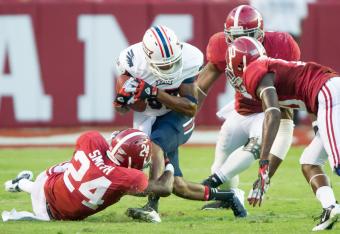 Tracy Wolfson just reported that Williams could try to potentially return to the game.
Alabama forces Georgia into a three-and-out, thanks to a nice pass breakup by freshman Geno Smith.
I think back to a couple of instances when Saban berated Smith late in blowouts in games earlier this season.
I think we know why he was so hard on him, and the payoff has been huge today for the Tide.
This article is
What is the duplicate article?
Why is this article offensive?
Where is this article plagiarized from?
Why is this article poorly edited?

Alabama Crimson Tide Football: Like this team?