Most Shocking December Title Changes in WWE History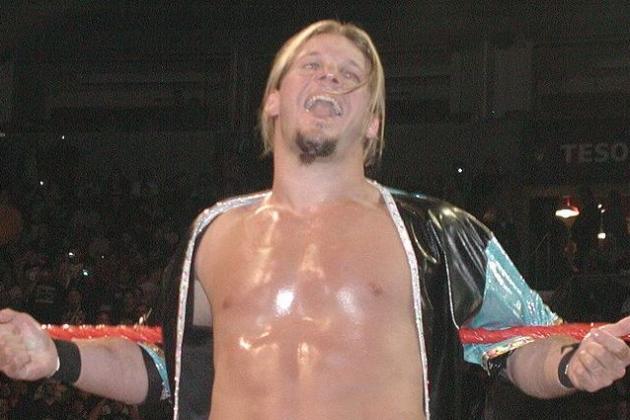 Chris Jericho became Undisputed Champion in the month of December. (Photo courtesy of Wikimedia Commons)
It may be the final month of the year, but a lot of the action in WWE is just heating up in the wintry month of December. Don't even discuss the pending Royal Rumble in January, complete with The Rock having a chance to become WWE Champion that night, or the pending road to WrestleMania 29 that follows it. Even in just the last few months, the current champions are not necessarily the same ones that will be ringing in the new year with us all.
There is still a pay-per-view in TLC later this month, as well as a few weeks of RAW and Smackdown episodes. RAW even has episodes that fall on Christmas Eve and New Year's Eve.
Not making it through the month of December as champion is a shock in itself, but there's something about that final few weeks of the year that make for some of the more unpredictable title changes around.
The champions of today, even with only 29 days left in the entire calendar, still need to watch out for a letdown during the holiday season. TLC is not an event to look past and there is too much time before major events like Royal Rumble and WrestleMania in the first part of 2013.
Unexpected title changes are a common thing in December, and every superstar or Diva with a title in their possession sure would like to stay off this list and hold onto their title into the new year. Here are ten instances where champions in WWE weren't so lucky. Not only did they not make it out of the last month of the year with their belts, but all of these champions fell to unexpected challengers.
Begin Slideshow

»
After defeating The Rock the night before on pay-per-view, Stone Cold Steve Austin was forced into another Intercontinental Championship match with The Great One on RAW the following night. This was all for Mr. McMahon to try and punish The Texas Rattlesnake. Not dressed to compete, Austin said he wouldn't face The Rock once again.
McMahon threatened to strip the title off of Austin and hand it to The Rock, but Austin decided to beat McMahon to it, vacating the title himself and letting The Rock become the champion.
The focus in that segment was on McMahon and Austin's feud that was bubbling over and Austin's dream to become WWE Champion, which he would later realize. The Rock was now a two-time Intercontinental Champion, but got a Stone Cold Stunner for his troubles. McMahon also felt Austin's wrath that night, when he was bumped off the apron by Austin bouncing off the ropes.
The end of 2011 saw Zack Ryder become United States Champion as the entire year saw an incredible rise in Ryder's popularity. The Internet sensation had developed enough of a following to get himself involved with weekly broadcasts and even insert his name into title pictures. In the final pay-per-view of last year, Ryder took on Dolph Ziggler, one of the best opponents Ryder has ever had in the ring.
Ziggler's mentality was to never let Ryder become United States Champion and show off his skills while doing so. Ziggler got the latter of that done, but it was Ryder's night at TLC as he won his first singles gold in WWE.
Ryder would be one part of the three so-called Internet darlings that would parade around with titles the following night on RAW. Of the three, Daniel Bryan would hold his until WrestleMania, while Punk's reign is yet to stop. Ryder's lasted just a few weeks as fans lost interest and RAW lost ratings. It still was a major night in the career of Ryder.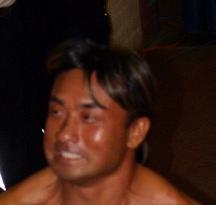 Funaki as Cruiserweight Champion. (Photo courtesy of Wikimedia Commons)
Funaki was known as a member of the infamous faction known as Kaientai during the Attitude Era. Eventually, pieces moved around and Funaki remained all alone. By 2004, he was a backstage announcer and, according to himself, the best one on the Smackdown brand.
He was years removed from Kaientai being a comedy tag team and even further removed from being a formidable wrestler. That's why it was all the more shocking when Funaki joined and won an over-the-top battle royal to crown a number one contender for Spike Dudley's Cruiserweight Championship.
Spike obviously blew off Funaki as a threat to his title, especially due to his removal from the ring and involvement as an interviewer. Funaki had never won a title in WWE before that day outside of a short stint as Hardcore Champion during WrestleMania 2000.
He would upset Spike Dudley and become Cruiserweight Champion for the next ten weeks.
D-Generation X was an emerging force to be reckoned with during the emergence of WWE's Attitude Era. A driving force for that was DX, made up of only Triple H, Shawn Michaels and Chyna at this time back in late 1997. Michaels became just the second European Champion ever when he defeated The British Bulldog for it at One Night Only in September 1997. Two months later, Michaels won the WWE Championship from the infamous Montreal Screwjob and held both titles.
In trying to break up the emerging DX, commissioner Sgt. Slaugther forced Michaels to defend his European Championship or be stripped of it for not defending it within 30 days. His opponent was none other than Hunter Hearst Helmsley, Michaels' buddy. It seemed as if DX was dissolving right before our very eyes. The two men came out to the same music and were about to face off in a match people had wanted to see for months.
Instead, it was all a plan by DX. Helmsley ran from one side of the ring to the other while Michaels lay on the ground. Eventually, Helmsley half-heartedly splashed onto Michaels and covered him to win the title. DX had gotten one over on WWE management.
A few months prior to this match, Sheamus was only debuting on the ECW brand. Pretty soon, Sheamus had moved to RAW and was a part of the Breakout Battle Royal that Jesse Ventura set up. The battle royal was designed to give a superstar who has never been world champion a chance to become WWE Champion at TLC against champion John Cena.
Sheamus was that lucky superstar and was in the WWE Championship match during the last pay-per-view of the year while most fans didn't know much about him.
The end of the match is what will be so memorable about this match. Sheamus was about to be superplexed through a table by Cena, but seemed to shove Cena off the top rope and through the table. There was also a table at ringside that Sheamus fell off the turnbuckle and landed right next to. Immediately, the thought was that Cena slipped off accidentally, or at least that Sheamus was supposed to fall through a table as well to create a video replay to decide the champion.
Whether it wasn't supposed to happen that way or not doesn't matter now. It sure did shock WWE as 2009 was coming to an end with a virtual unknown as champion.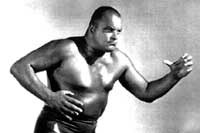 Photo courtesy of Wikipedia
The WWE Championship was relatively new in the early 1970s. Following the World Wide Wrestling Federation leaving the National Wrestling Alliance, they created their own world title. A fictional tournament crowned Buddy Rogers as the first-ever champion, who lost the title to Bruno Sammartino. Sammartino held the title for over 2,800 days before losing to Ivan Koloff. Koloff lost the title three weeks later to Pedro Morales. Morales spent over 1,000 days as champion, but faced Stan Stasiak on December 1, 1973 in Philadelphia.
What really makes this jump out is that this was the first time the title had ever changed hands outside of New York City. WWE was a known fixture in Madison Square Garden, so having their title change hands outside of that arena was shocking to say the least. Philadelphia fans went to that show without thinking the title would change hands and were treated to a delightful surprise.
Stasiak pulled off the upset and would have the shortest reign as champion in the early history of the title. Just nine days later, Bruno Sammartino became the first-ever multi-time WWE Champion. Sammartino's reign this time around was a mere 1,237 days.
Money in the Bank cash-ins are often unexpected and memorable. At this point, Money in the Bank cash-ins were still a perfect percentage of success.
At last year's TLC, Daniel Bryan decided it was finally his time. Mark Henry came into the event as World Heavyweight Champion, but was in a heated rivalry with Big Show and needed a Chairs match to settle things.
Henry and Big Show kept the pressure on one another, but Big Show would ultimately get the best of Henry, winning the World Heavyweight Championship.
Not to be outdone, Henry would beat down Big Show post-match, allowing Bryan to rush in, cash in the briefcase and win the title from simply covering the giant. Bryan celebrated, while Big Show looked around in shock. Big Show had been champion for only 45 seconds. Bryan would hold the title until WrestleMania, when he would lose an 18-second match to Sheamus.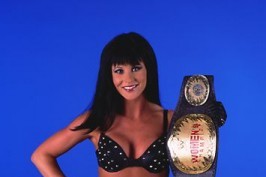 Photo courtesy of loewrestling.com
I'm not putting up video of this match, even though it is out there. It's pretty hard to find, but out there. This match pretty much embodies what women wrestling was about during the Attitude Era. Miss Kitty took part in a Four Corners Pool Evening Gown match at Armageddon 1999 against Ivory, Jacqueline and BB Bush. The point of the match was to get into a pool with an evening gown on and the winner would be the last Diva to not be stripped to bra and panties.
Miss Kitty wasn't much of a wrestler, so leave it to WWE to find a ridiculous match type for her to win the Women's Championship. Ever the exhibitionist, Miss Kitty decided to take off her evening gown in celebration. She also decided to take off her bra, intentionally exposing her breasts for a moment. The footage is out there and it isn't exactly safe for the workplace. Find it on the Internet if you must see it.
Following it right after was Mae Young attempting to do the same thing. She was stopped before doing so. Good thing.
It was Vengeance 2001 and there was a small four-person tournament to crown an undisputed champion. The four superstars would account for three matches to take the two titles and crown one champion. Earlier in the night, Stone Cold Steve Austin defended his WWE Championship against Kurt Angle. The WCW Championship was decided between rivals The Rock and Chris Jericho. The Rock was the current champion, but would lose the match to Jericho, who won his second WCW Championship in the process. Immediately after, Austin came to the ring to unify the titles in a match.
It wasn't in the best interest of Mr. McMahon to see Austin become Undisputed Champion, so he was pulling for Jericho. Also in the corner of Jericho was Booker T, who was technically unemployed at the time following The Alliance dissolving. Booker T came in, hit Austin with a title belt, and escaped through the crowd as the referee came into the ring, counting to three and awarding Jericho both titles.
Jericho was probably the last guy of the four choices to be predicted as Undisputed Champion, but he ended 2001 with two world title belts on him.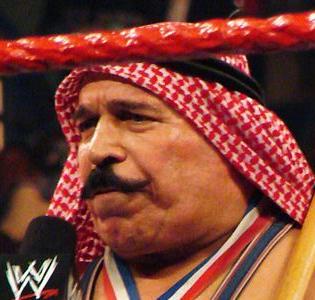 Photo courtesy of Wikimedia Commons
Despite a couple instances of the title being vacated or even lost to another wrestler, WWE recognizes Bob Backlund with the second-longest WWE Championship reign in history. The 2,135-day reign by Backlund finally came to an end on the day after Christmas in 1983, when The Iron Sheik came into the title picture.
The Iron Sheik is known for his patented Camel Clutch submission hold, and it was the fear of Arnold Skaaland, the Hall of Fame manager who was in the corner of Backlund at the time. On that night in 1983, The Iron Sheik locked in that submission hold and Backlund had no way to get out of it. Skaaland was faced with the difficult decision of throwing in the towel. Skaaland, in fear of Backlund's health, tossed a towel into the ring, giving The Iron Sheik the WWE Championship. Backlund never officially submitted.
Four weeks later, Hulk Hogan would defeat The Iron Sheik, ushering in Hulkamania and changing the wrestling landscape forever.