Houston Rockets Player Power Rankings Based on November Performance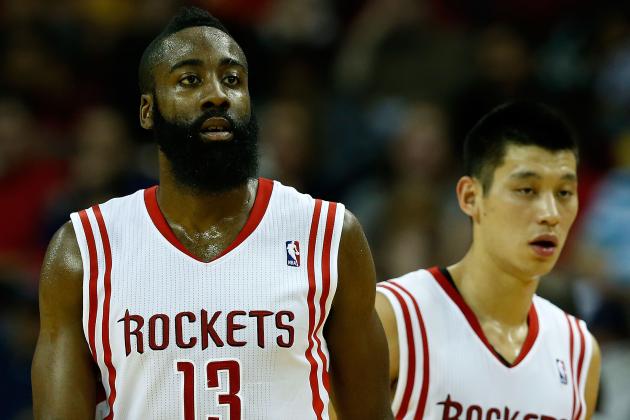 Scott Halleran/Getty Images

Through 16 games of the NBA season, the Houston Rockets have been a pleasant surprise not only in the Southwest Division, but throughout the league.
We've got you covered with the most valuable and least valuable players so far for the Rockets based on where they are through this early part of the season. James Harden is likely at the top of the list, but where does your favorite Rocket stand?
From Chandler Parsons to Patrick Patterson, others are stepping up to take the pressure off of Harden and Jeremy Lin. Omer Asik has also been worth every penny, stepping up in the middle and becoming an early candidate for the league's Most Improved Player award.
Here's a look at the Rockets' power rankings through the month of November. This list does not include Scott Machado or Terrence Jones, both sent to the NBA developmental league earlier this week.
Begin Slideshow

»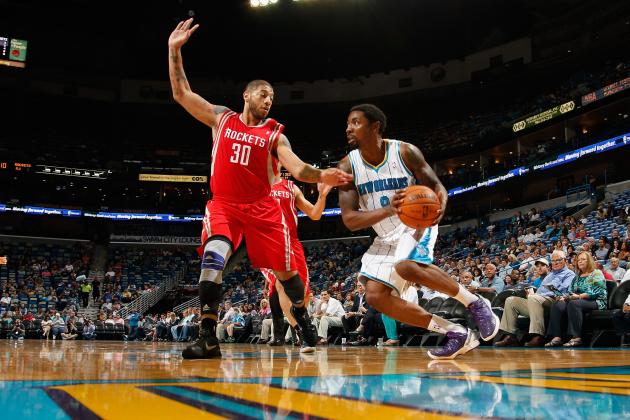 Chris Graythen/Getty Images

Royce White has been the biggest disappointment in all of professional sports this year. His off-the-court issues have spilled over to the Rockets' team issues, and that's never a good thing.
White and the team are trying to work out their differences, as noted by GM Daryl Morey in this USA Today article.
He's still on the active roster, so there aren't any plans to give up on him as a Rocket just yet. Be patient, although the first two months of his career haven't been anything but disappointing.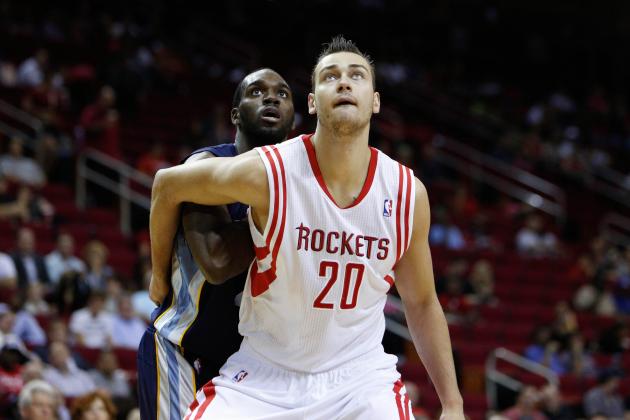 Thomas Campbell-US PRESSWIRE

There hasn't been much of a role for the 2011 draft pick, but I have a feeling he's going to get a chance to produce here shortly. The Rockets are in the race right now, but within the next couple of months, we'll see if they can survive the Western Conference.
If they can't, we'll see Motiejunas, who has just three games of action this year. He's certainly a prospect, and we'll need more time to evaluate what he brings to the NBA table.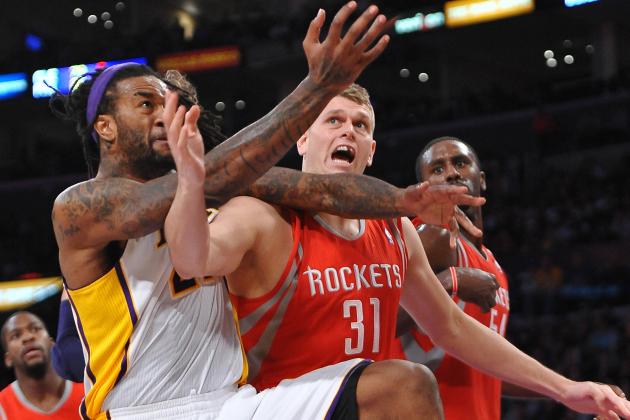 Jayne Kamin-Oncea-US PRESSWIRE

When the trade went through for James Harden, Aldrich became an instant candidate to be in the center rotation behind Omer Asik.
It's been a mixed bag so far for Aldrich, much as it was during his time in Oklahoma City. He's played in just eight games and averaged only eight minutes in those contents, not making enough of a dent to crack the rotation.
At some point in his career, we'll have to give up on his collegiate potential and recognize that he hasn't progressed the way many had hoped coming out of Kansas. We'll monitor his progress in December, but for now, he can't crack the top 10.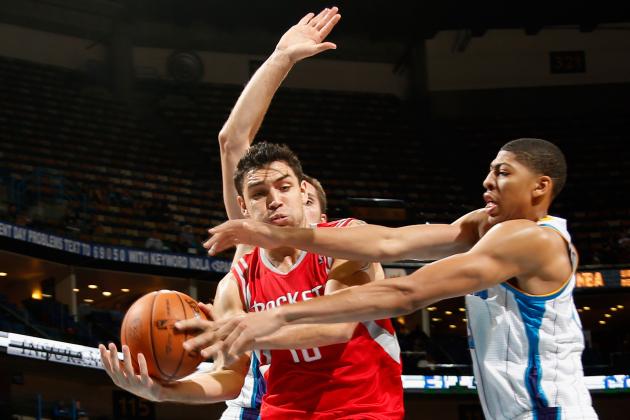 Chris Graythen/Getty Images

Returning from injury on Saturday night, Delfino poured in 13 points and reminded us all why he is a valuable presences as a veteran and as a bench scorer.
Still, his shooting percentage (37 percent from field, 34 from three) isn't great, and the team needs more from him when he's on the court to move up this list.
Conversely, the effort he put in on Saturday is a sign of good things to come if he can stay healthy. With Jeremy Lin carving up defenses, Delfino and Daequan Cook are poised to be the beneficiaries on the outside going forward.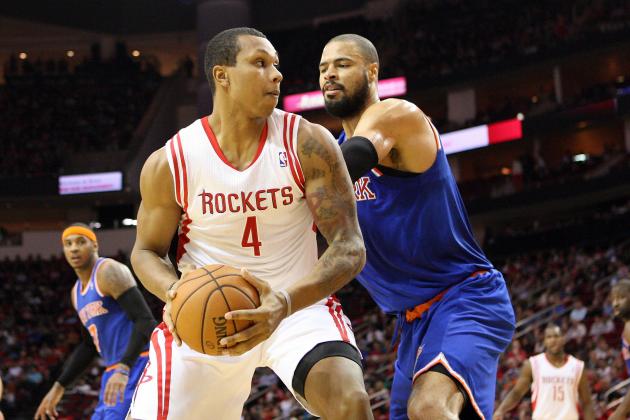 Troy Taormina-US PRESSWIRE

Houston found a nice piece in Smith, the rugged forward who has provided a spark off the bench as a defender and spot scorer. He's shooting 57 percent from the floor, capitalizing on his opportunities when he got the ball.
His energy and intensity continue to catch the eye of the coaching staff and the fanbase. There's a chance he could keep climbing up this list if he continues to finish around the rim and bring the pain on defense.
There's a good chance he made Terrence Jones expendable, so get used to seeing him play a lot more behind Patrick Patterson and the rest of the front court.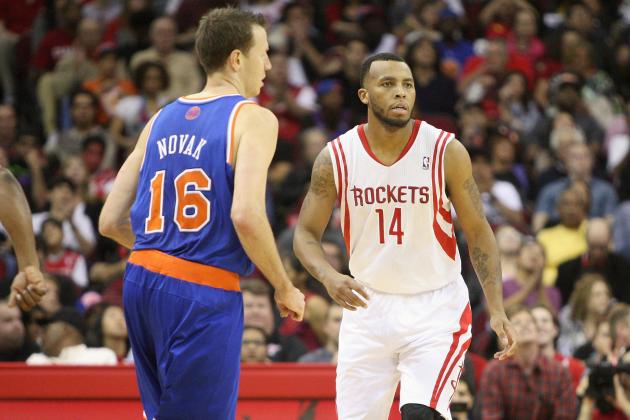 Troy Taormina-US PRESSWIRE

Daequan Cook is an establish three-point shooter and role player in this league, and he was a nice throw-in from Oklahoma City.
He had a nice game in place of Chandler Parsons during his homecoming against the Thunder last week, as noted by NBA Fantasy on Twitter:
Nice game from Daequan Cook (18 pts, 3 3Pts, 7 reb, 4 ast, 1 stl, 1 blk) as he starts in place of Parsons. Add to #WatchList

— NBA Fantasy (@NBAFantasy) November 29, 2012
If the Rockets can get half of that effort from Cook going forward, they'll have a nice asset off the bench late in games in a smaller lineup. Cook's main asset is his three-point shooting, and with his November performance, he's proven that he'll be a main rotation player going forward.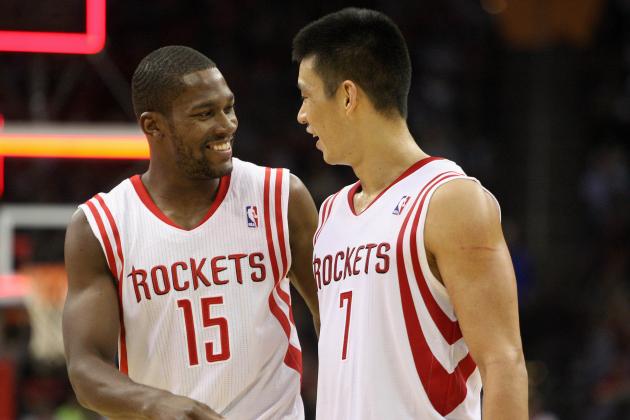 Troy Taormina-US PRESSWIRE

After his time in New York came to an end, there were many that thought Toney Douglas was a bust. He's experienced a resurgence in Houston, now the primary backup PG to Jeremy Lin when the Rockets go to their second unit.
He's played in 15 of 16 games so far and has a nice chemistry with the second unit when James Harden isn't running the show.
A good three-point shooter for coach Mike D'Antoni, Douglas has shown some of that this season, shooting 33 percent from the outside. His 30 percent from the floor is a big concern, and he'll need to do something other than shoot threes to help give the defense a different look.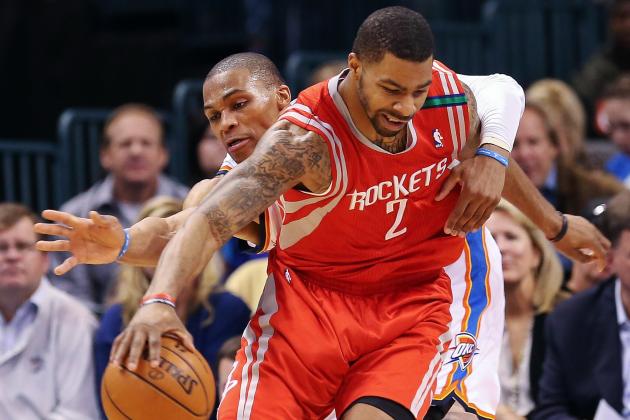 Kevin Jairaj-US PRESSWIRE

The twin from Kansas has really stepped up his play after not getting much run during the first part of his career. After a slow start, Morris has become the sixth man for the Rockets, averaging eight points a game and showing a nice display of versatility and shooting.
In a small lineup at power forward, or even in a big lineup at small forward, Morris can be a mismatch for opposing defenses. He's spent time guarding both positions, and can even stretch the floor from the outside at a 38 percent clip.
Look for Morris to continue to get more and more burn as the season progresses. I think coach Kevin McHale will continue to develop him as a 3/4 tweener that creates problems for the other team.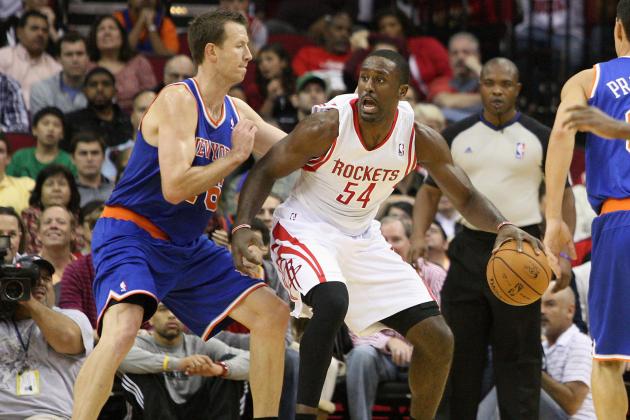 Troy Taormina-US PRESSWIRE

Patrick Patterson is on my short list for one of the NBA's Most Improved. He's averaging 14.6 points through 16 games and also cleaning up the glass for 5.3 per night.
Patterson is shooting above 50 percent from the floor in 30 minutes per night and is even developing a nice shot from the outside. It might be easy to group him in with Morris right now, but Patterson is a smart player that isn't afraid to mix it up with bigger or more athletic players.
Now in the starting lineup for good, will the Rockets continue to rely on him this season and beyond? I can't help but think of a Carl Landry with range when I watch him play—is he destined for the bench?
Thomas Campbell-US PRESSWIRE

After being drafted in the second round, not many had high expectations from Chandler Parsons. I'm prepared to eat my words with him this time around after he single-handedly made Chase Budinger expendable in the offseason.
Parsons is the team's second leading scorer at nearly 16 points per game and is a scalding 42 percent from the three-point line after 15 games. He's contributing in the rebound department as well, chipping in 6.7 per game—good for second on the team.
If you told me a year ago that Parsons would be a top five Rocket, I would have called you crazy. But after watching him emerge as a true playmaker when Houston needs a basket, Parsons is quickly emerging as a legitimate scoring option for a team that needed a consistent presence behind James Harden.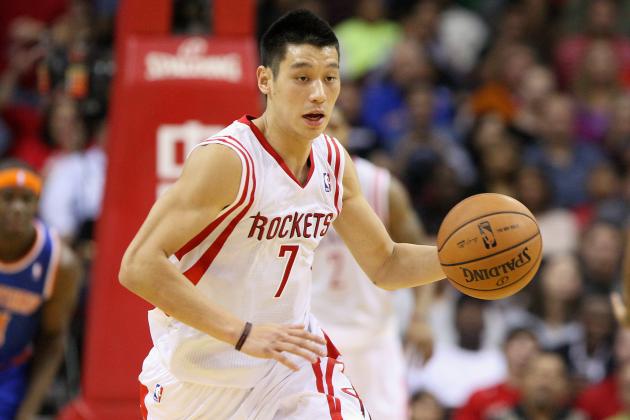 Troy Taormina-US PRESSWIRE

Linsanity has cooled off considerably.
With the first quarter of the season quickly approaching, hopefully Jeremy Lin will use these first few games as motivation to play better the rest of the year.
Lin has been a good point guard, still able to distribute and move the offense the same way he did in New York. But his shooting percentages—notably his three-point mark—have dipped to the point he hasn't been able to match his 2011-12 success.
Don't give up on Lin just yet. His performance still merits a little bit of patience, but also a top three ranking on a team still very much alive in making things tough on any opponent fight tooth and nail for a victory.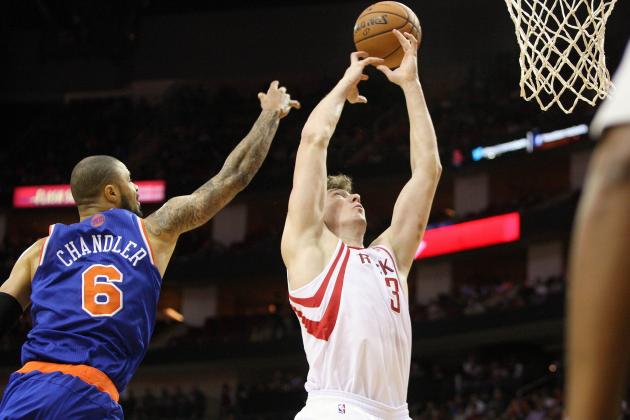 Troy Taormina-US PRESSWIRE

Omer Asik got almost the same contract as Jeremy Lin coming over from the Chicago Bulls, but he's been far more worthy so far than Lin has of the same deal. Who would have predicted that this time last season?
Cleaning up the glass and playing great defense haven't been done by one guy in Houston since Yao Ming retired. It's been a patch job of players like Marcus Camby and Samuel Dalembert, but Houston seems to have really found a player in Asik with room for development while also a solid starter.
Averaging 11.0 points and 12.3 rebounds, Asik has been the second-most important player to the Rockets.
As the season moves forward, we'll start to learn about Asik's ability to play one-on-one defense when the Rockets challenge the Los Angeles Lakers and Denver Nuggets, two teams with challenging centers and guard play that demands attention in the lane.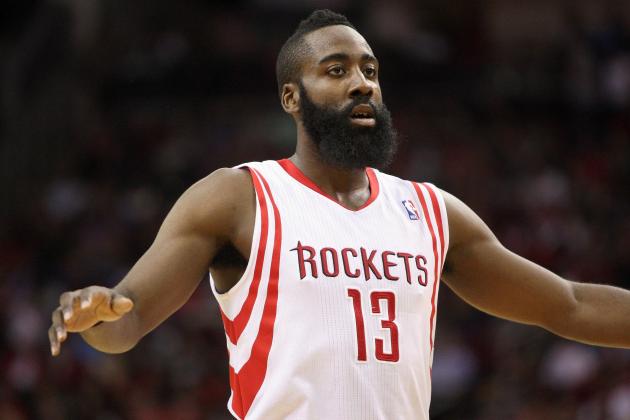 Troy Taormina-US PRESSWIRE

Fear the beard.
If this ranking surprised you, you haven't been watching the Rockets or ESPN this NBA season. Harden is among the league leaders at 24.1 points per game and continues to prove he doesn't need to play second-fiddle to any other player in the league.
The one concern so far has been turnovers. Harden is averaging 4.1 per game, a problem he never had in Oklahoma City because most of his offensive efforts were off of penetration and fast-break moves. With the ball in his hands more, Harden now must learn to put pressure on the defense in the right times.
It's clear that Harden has been one of the most exciting players in the league in 2012 so far. His numbers have dipped since his hot start, but Daryl Morey has been vindicated after making the trade for Harden before the season began. The beard gets the top spot, and it isn't going anywhere anytime soon.