Austin Trout Stuns Miguel Cotto to Retain Junior Middleweight Championship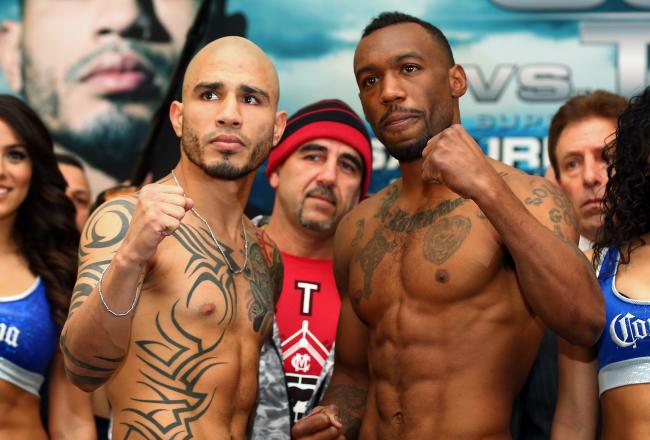 Austin "No Doubt" Trout came into a hostile environment tonight at Madison Square Garden and dominated Puerto Rican legend Miguel Cotto, winning a wide unanimous decision, to retain his WBA championship.
Trout fought a brilliant tactical fight, keeping Cotto at bay with his jab, and preventing the legend from mounting any significant offense.
The decision was highly unpopular inside the heavily partisan Garden, but it reflected the action in the ring, where Trout was dominant.
With the victory Austin Trout moves to 26-0 and retains the WBA junior middleweight championship. Cotto drops to 37-4 in what could be the final fight of his illustrious career.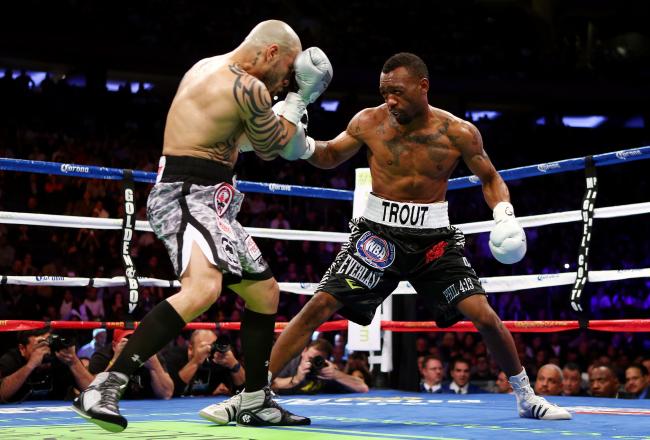 That'll do it for us tonight.
We hope you enjoyed our coverage of Austin Trout's twelve-round unanimous decision victory over Miguel Cotto to retain his WBA junior middleweight championship.
And remember to always check-in here with us as Bleacher Report, your NEW home for boxing.
What a fight and what should be a coming out party for Austin Trout.
The classy Jimmy Lennon Jr. in the ring now with the scorecards.
117-111, 117-111, 119-109
All in favor of the winner and STILL WBA CHAMPION....
AUSTIN "NO DOUBT" TROUT
If the judges are legit there's gonna be a lot of disappointed people here in a few minutes.
Austin Trout wins this fight going away 117-111.
If you hear the words "split decision" then you know this won't pass the smell test.
IMO, Trout is ahead, but going into the last 3 minutes, he has to fight like he needs a knockdown or 2..... #boxing #cottotrout

— Steve Kim (@stevemaxboxing) December 2, 2012
Cotto mounting a furious charge in the 12th. He knows he needs a knockout. Can he pull it off?
Another round for Trout. Cotto needs a knockout to win in the final round. Mark this moment fans. You might be seeing the last fight of a great career for Miguel Cotto.
Nine rounds to two for Austin Trout.
108-101. Austin Trout.
Trout might stop him. He's landing some good clean shots. Cotto is exhausted along the ropes. HUGE upset brewing.
Trout really coming on, gave him the 10th. Dead even on my card but wouldnt be surprised if Cotto was slightly ahead officially. #CottoTrout
— Dan Rafael (@danrafaelespn) December 2, 2012


This fight isn't nearly that close. Some "Austin" chants breaking out now. Quickly booed out by the Cotto fans.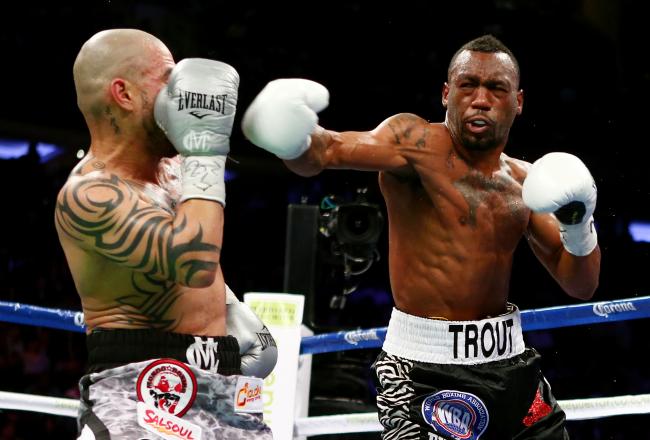 Cotto rallied in the last few seconds, but Trout looked like he had him going right before that.
Miguel Cotto is going to need to do something spectacular to win this fight. He's tired, swelling and getting beaten up by Austin Trout.
Tenth round to Trout.
98-92.
Honestly if these rounds are as close as you guys say, trout will not win a decision.
— Ishe Smith (@IsheSugarShay) December 2, 2012
They're not that close. Trout outboxing him. Cotto landing one, maybe two good shots a round.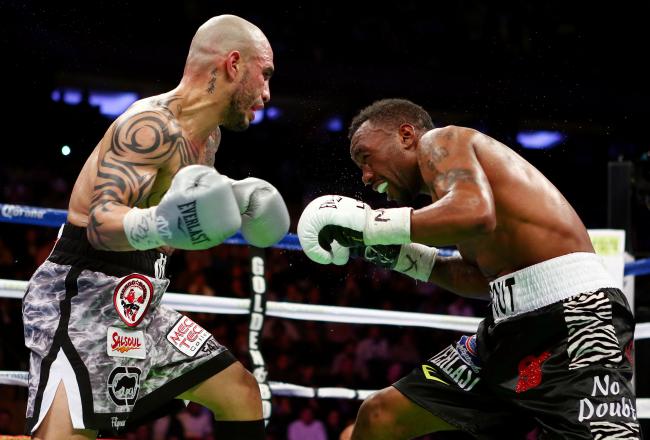 I picked Trout to win this fight by decision. But I didn't expect he would be dominating Miguel Cotto this way. I figured on a close, tough fight. Cotto is getting beat to the punch all night long.
Trout takes the ninth round and is running away on my card.
88-83
Austin Trout is silencing this crowd tonight. He's put on as good a performance on this stage as you could ever hope for. Totally outboxing Miguel Cotto in every facet of the game.
6-2 in rounds after eight.
78-74 Austin Trout.
Trout had his best round of the fight in the seventh, outlanded Cotto and busted up his face. Trout 4-3. #boxing #CottoTrout

— Douglass Fischer (@dougiefischer) December 2, 2012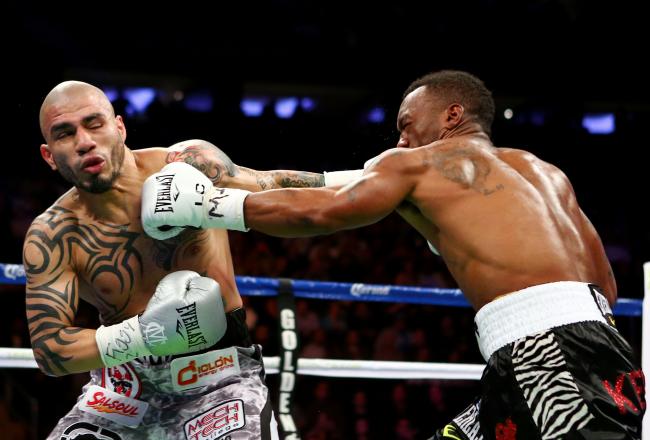 There is absolutely No Doubt that Austin Trout is winning this fight going away right now. He's boxing Cotto's ears off in the center of the ring and has taken all his big shots so far.
5-2 Trout after seven rounds.
68-65
A FURIOUS exchange punctuates that sixth round! Tough to score. Trout outboxed him for the majority of the round and got aggressive at the end but Cotto landed two big shots.
You gotta score the entire round not just a couple of punches.
4-2 Trout.
58-56
Cotto landed a huge right hand that would've knocked out a lot of good fighters. Trout took it, shook his head and boxed on.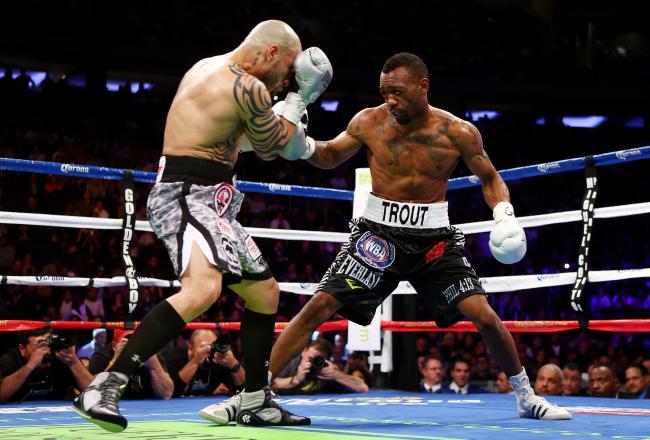 A better round for Cotto. He closed the distance more and did some good work on the inside. Story of the fight—when they're in the center it's all Trout. On the ropes it's all Cotto.
3-2 Trout
48-47
Trout lands one low and the crowd boos. But that was Felix Trinidad's best punch!
Cotto with his first big shot of the fight, a left hook, and Trout took it well and kept boxing him in the middle of the ring.
Trout so far not wilting under the pressure. He's simply outboxing Miguel Cotto right now. Nothing flashy, just the perfect tactical fight. Box from the outside, tie-up on the inside. Cotto can't handle him at a distance.
3-1
39-37 Austin "No Doubt" Trout.
Cotto closing the distance more. Trout still outboxing him but the flashier and crowd-pleasing shots being thrown by Miguel.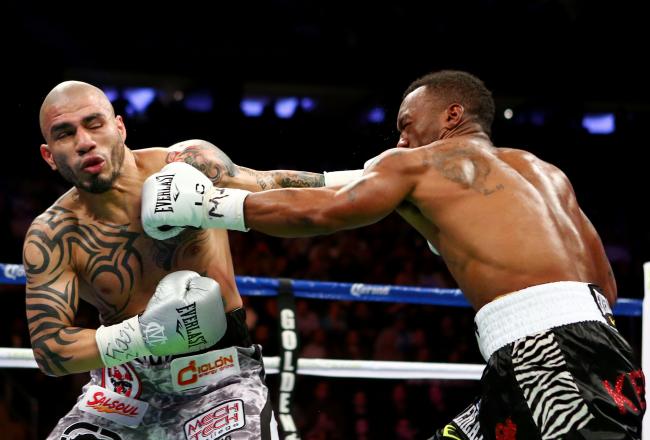 Cotto did a better job of closing the distance in that round. He's pushing the pace now. Gave him that round.
29-28 Trout after three.
Cotto backs Trout onto the ropes but "No Doubt" out quickly. He doesn't want to be there AT ALL.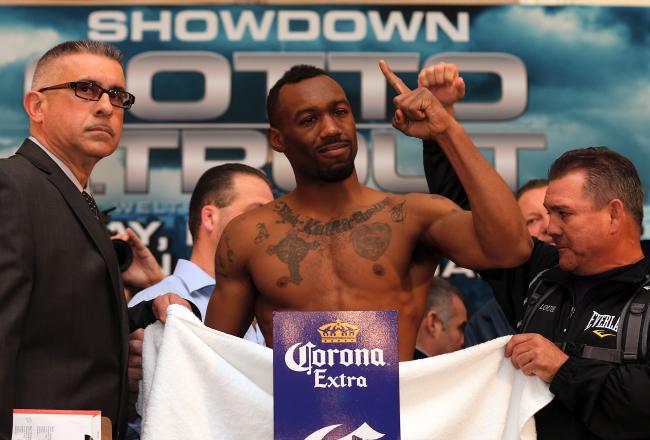 Cotto looking a bit frustrated. Trout has stung him a few times here and takes the second round.
A perfect tactical fight thus far for Austin Trout.
Trout 20-18 after Two.
If Trout can stay at this distance and jab effectively he wins the fight. BIG IF.
This article is
What is the duplicate article?
Why is this article offensive?
Where is this article plagiarized from?
Why is this article poorly edited?