Eagles vs. Cowboys: 5 Keys to the Game for the Eagles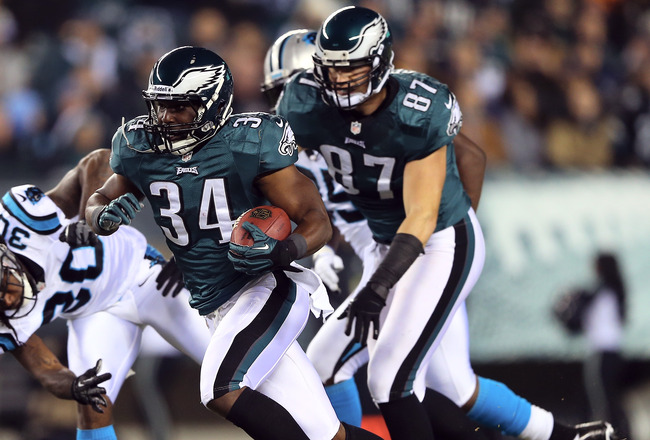 Elsa/Getty Images
At this point in the year, the Philadelphia Eagles approach to all of their games will be damage control.
It's clear that the Birds do not have the right personnel in place to run the table and finish 8-8. Nor do they have coaches who can rest assured about their futures in the NFL.
Regardless, they should (and will) try to win every game just the same as they would if they were in contention.
Sunday's matchup against the Dallas Cowboys is an interesting one because both teams are likely out of the playoff hunt.
Both teams also have coaches that likely will not be returning next year.
Regardless, there are ways the Eagles can leave the stadium on Sunday with a victory.
5. Keep the Ball on the Ground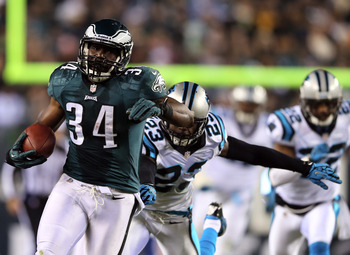 Elsa/Getty Images
If the Eagles want to win on Sunday, they'll have to give the ball to Bryce Brown and trust him not to turn it over, because they certainly will not win by the arm of Nick Foles.
Bryce Brown shocked the football world on Monday with his breakout against an underwhelming Carolina Panthers defense.
Nonetheless, he is a weapon that needs to be utilized in any capacity. Brown is a big back who can power the ball forward. And though draws and screen plays have been a hallmark for Andy Reid in the past, that doesn't mean they can't work now.
4. Stop Dez Bryant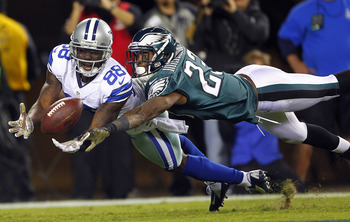 Rich Schultz/Getty Images
Dez Bryant has been on fire as of late, picking up 145 yards in his last two games and catching a touchdown in each of his last three.
Though Eagles cornerbacks haven't been anything to write home about this year, Nnamdi Asomugha should be on Bryant the entire game.
During the teams' last meeting, Tony Romo threw to Dez Bryant, who consistently beat Dominique Rodgers-Cromartie, three times for 87 yards and a touchdown.
If Asomugha can't contain Bryant, it will be a long day for Eagles fans. DRC has proven himself incapable against Bryant, and the Eagles safeties offer no help.
3. Attack Tony Romo
Rich Schultz/Getty Images
With DeMarco Murray missing a significant amount of time this year, the Cowboys have relied on Tony Romo too much.
However, going to the air against the Eagles will be a good thing for the Cowboys.
The Eagles haven't shown as much of the Wide 9 as they have in the past, and Jason Babin has just been released.
You can expect to see a lot less of the Wide 9 and a lot more of Brandon Graham.
Graham will be in place for the exiled Babin, and rookie Vinny Curry didn't look too bad in his debut against the Panthers on Monday.
These two will need to get past the Dallas offensive line and stop Romo before he has the opportunity to pick apart the Eagles secondary. After all, Trent Cole hasn't been the best defensive end in the NFC East this year, so we can't say we expect a whole lot out of him.
2. Manage the Clock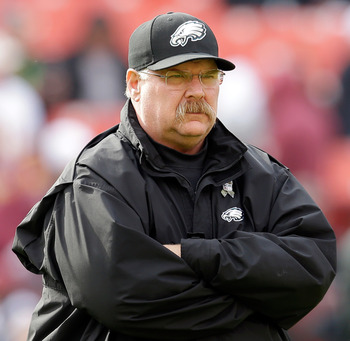 Rob Carr/Getty Images
With Bryce Brown's breakout on Monday, Nick Foles' inability to make things happen and the Cowboys' pass-heavy offense, the Eagles will need to hang on to the ball when they get it.
Enough with the scripted plays and trying to air the ball out on every down. Andy Reid is going to have to recognize that this is a game in which he will need to control the clock.
He can do that by feeding Brown the ball and passing only when necessary.
1. Execute on Defense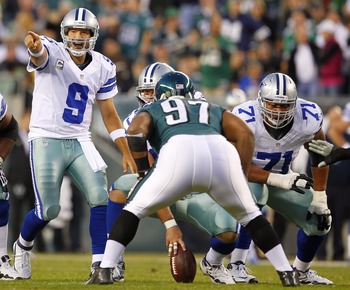 Rich Schultz/Getty Images
It's hard to say that a team with a weak offense that is on a streak of giving up 28 points or more per game has a chance to win. It's also hard even to consider a key to the game being not missing tackles and biting on play action. It's even harder to say that this is a problem for a professional football team.
However, that is the case for the Philadelphia Eagles.
They are going to get burned by the Cowboys receivers a few times, but they'll have to try to put a cap on how many times that happens by sticking with their men and finishing tackles.
As I said before, this game will be more about damage control than anything else for the Birds. And the proper execution of fundamentals and preparedness will dictate the extent to which that control will be successful.
Keep Reading

Philadelphia Eagles: Like this team?