Oklahoma State Cowboys vs. Baylor Bears: Live Scores, Analysis and Results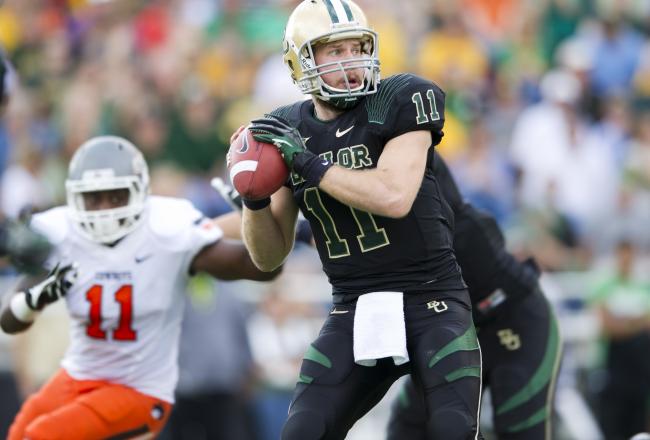 Cooper Neill/Getty Images
FINAL: Baylor 41, Oklahoma State 34
Baylor and Oklahoma State were locked in a traditional Big 12 Conference shootout, but the Bears emerged with a 41-34 victory to improve to 7-5 on the season.
Both teams came up with great offensive plays and numerous defensive stops, but Baylor came through thanks to an excellent performance from quarterback Nick Florence, who finished with 295 yards through the air.
OSU was led by 130 yards on the ground from Joseph Randle and 336 yards through the air from Clint Chelf.
However, the tipping point in the game was an incredible 76-yard run from Baylor's Lache Seastrunk, who came up with a cramped quad mid-way through the run, but finished the play to put the Bears ahead by two touchdowns late in the fourth quarter.
Thank you for following our live coverage today, and stay tuned for our in-depth recap still to come.
Here's our final recap from Waco. Thanks again for following along with us here at B/R.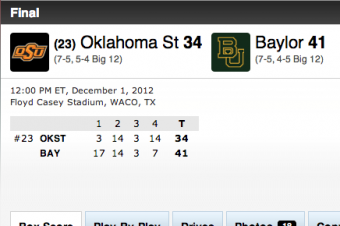 FINAL: Baylor 41, Oklahoma State 34
Baylor comes through with the victory after a few kneel downs and improves to 7-5 on the year. Check back here in a bit for an in-depth recap.
In the meantime, you can check out the box score from ESPN here.
Onside Kick Recovered by Baylor
There was a serious scrum for that kick, but Baylor comes out with it and the Bears will now be able to kneel this clock out.
Fans growing restless as the wind won't allow this ball to stay on the tee. Not good news for OSU, as a holder means one less person on the hands team to recover the kick.
Oklahoma State Touchdown
Baylor 41, Oklahoma State 34—Fourth Quarter, 1:16
We aren't quite done yet here in Waco, as Chelf finds David Glidden wide open in the end zone for a touchdown.
It will all be on this onside kick for OSU now.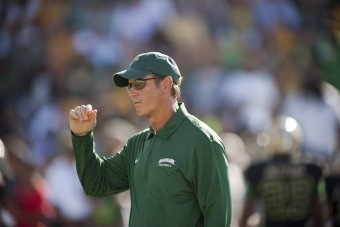 Cooper Neill/Getty Images
Art Briles has really done a great job at Baylor. BU was regarded as the doormat of the Big 12 Conference and now the Bears are perennial contenders.
Chelf spreading the ball out a bit and OSU is moving down field, however, the clock is now under the two-minute mark.
Baylor Punt
Baylor 41, Oklahoma State 27—Fourth Quarter, 2:49
OSU will have it back, but I doubt that will be enough time to score two touchdowns. Unless Seastrunk is magically healed and switches uniforms.
There just hasn't been enough from Chelf and the Cowboys through the air today for OSU to keep up with what Baylor has done on offense.
OK State did a great job at slowing Terrance Williams, but Baylor flat out made more plays in this game.
Oklahoma State Turnover on Downs
Baylor 41, Oklahoma State 27—Fourth Quarter, 3:53
That will probably do it for the Pokes. Baylor holds strong defensively one more time and now Baylor will just have to salt a few minutes off this clock.
Can you say SportsCenter Top 10?
Wow, what an amazing run that was by Seastrunk. I'm still shocked, and I'm sure OSU is too.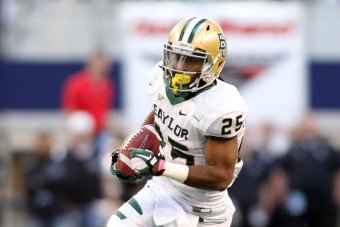 Tim Heitman-US PRESSWIRE
Baylor Touchdown
Baylor 41, Oklahoma State 27—Fourth Quarter, 5:11
Wow what an effort from Seastrunk, just beasting his way into the end zone despite apparently tweaking his hamstring! That 76-yard run just instantly erased the OSU touchdown drive and might have won Baylor this game.
Unbelievable individual effort.
Holding call will erase an excellent return from Jones. When a flag is thrown on the kickoff, it's almost always a holding call.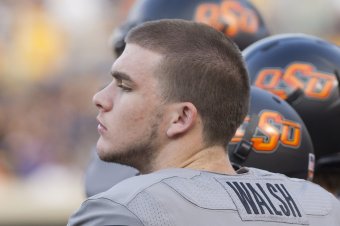 Richard Rowe-US PRESSWIRE
Oklahoma State Touchdown
Baylor 34, Oklahoma State 27—Fourth Quarter, 5:30
Walsh with his second rushing touchdown of the day and OSU is still in this game. Cowboys will need a quick defensive stop on this drive. After forcing the first Baylor punt of the game on the previous possession, that certainly isn't out of the question.
Pokes in the pistol on third down and Randle makes a big-time play. Walsh finds him on a little dump off and Randle just made that play happen.
Red. Zone. Penalties.
That cannot happen, especially when a team is down two touchdowns in the fourth quarter.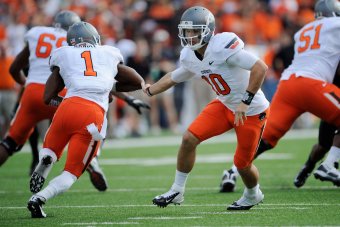 Jerome Miron-US PRESSWIRE
Cowboys need to continue this tempo and put the ball in the end zone. Chelf seems to have located his confidence, making some nice throws on this drive, which bodes well for OK State.
Tempo is up now for OSU with the clock winding below 7:00.
Chelf cuts that one through the wind. He'll need a few more of those going forward.
Baylor Punt
Baylor 34, Oklahoma State 20—Fourth Quarter, 9:01
Spencer Roth matching Quinn Sharp's great punting on the day, pinning OSU deep on this drive. Cowboys need a touchdown here.
Oklahoma State Punt
Baylor 34, Oklahoma State 20—Fourth Quarter, 11:15
Excellent return set up by Terrance Nathan and Baylor is in great position to put this game out of reach after another huge stand from the Bears defense.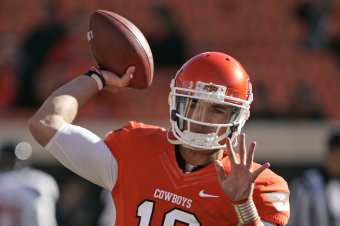 Brett Deering/Getty Images
Wind is whipping in Waco, but it's hard to blame Chelf's stuggles on that. Nick Florence is just shy of 300 yards in the same wind.
Briles not happy with that holding call and I can see why. Not sure where the defensive hold was there.
Every team, *except West Virginia:
If Baylor holds on today vs. #okstate, Art Briles will have beaten every team in the Big 12 in just four years. At Baylor. Amazing.

— David Ubben (@davidubben) December 1, 2012
This article is
What is the duplicate article?
Why is this article offensive?
Where is this article plagiarized from?
Why is this article poorly edited?