Arizona Cardinals vs. New York Jets: Live Score, Highlights and Analysis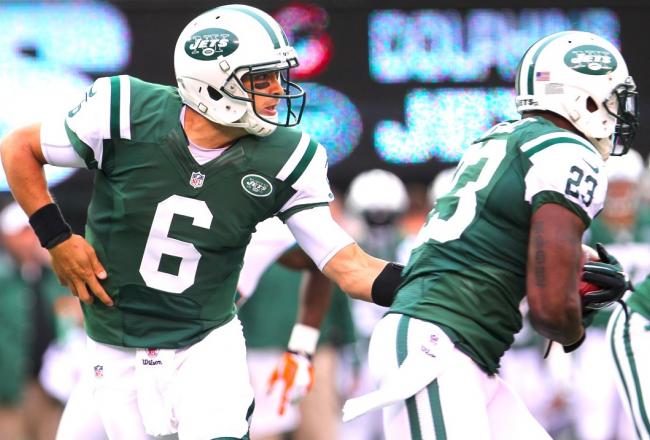 Within a matter of minutes, this game when from being the snoozefest of the afternoon to the top of the headlines, as the Jets benched Mark Sanchez in a 7-6 win.
Neither offense was playing like an NFL team, but the Jets were at least able to move the ball enough to score a touchdown (the took a knee on the goalline to end the game).
Meanwhile, the Cardinals offense was simply immobile with Ryan Lindley under center. If a quarterback of Kevin Kolb or John Skelton's stature is in the game, Arizona likely wins this one.
Now, Rex Ryan has a big decision to make as to who his starting quarterback will be going forward. Does he go with the popular McElroy or the franchise player in Sanchez? Only time will tell.
Final Score
Jets 7, Cardinals 6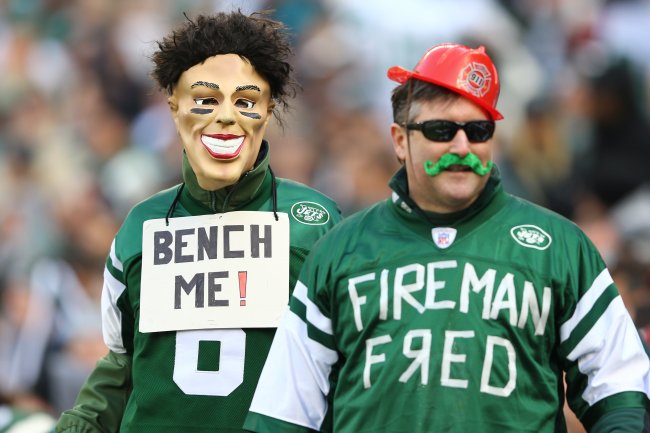 Al Bello/Getty Images
That does it! Final score: Jets 7, Cardinals 6. Thanks for following along!
1:21 4th Qtr
Shonn Greene with a heads up play to take a knee on the goalline. Unselfish play. That should wrap it up with a few kneel downs.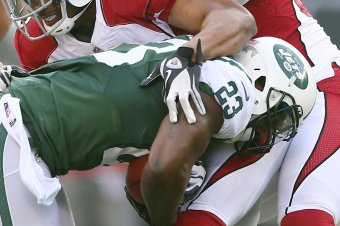 Elsa/Getty Images
2:35 4th Qtr
Adrian Wilson just misses timing the snap and is called for a brutal offsides call. Jets get a first down, and Greene follows up with a strong run.
Seriously, Sanchez doesn't make the back-shoulder throw McElroy just made.

— J.P. Pelzman (@JPPelzman) December 2, 2012
3:40 4th Qtr
Spectacular catch by Jeremy Kerley to give the Jets a crucial first down. A drop there would have likely led to a Jets punt.
4:17 4th Qtr
The Jets offensive line has had a phenomenal game in all phases. Great protection and massive holes in the run game.
That is a bad illegal contact call on the Cardinals. Was within five yards.
5:02 4th Qtr
McElroy does have more speed than given credit for and is willing to use his legs. That hit he took was hard, but sometimes getting hit on runs can ease a quarterback into the game.
Shonne Greene actually just bounced a run to the outside. I call it McElroy Magic.
8:26 4th Qtr
Cardinals get into another 3rd down. Yep you guessed it....they fail to convert. Muhammad Wilkerson with the sack.
The Cardinals are now a staggering 0-15 on third downs. Simply not NFL standard.
9:20 4th Qtr
The Jets go three and out. While the Jets may have scored with McElroy under center, he really has not done much Sanchez was not able to do already. Unless he lights it up the rest of the game, Sanchez could certainly be the starter next week.
10:44 4th Qtr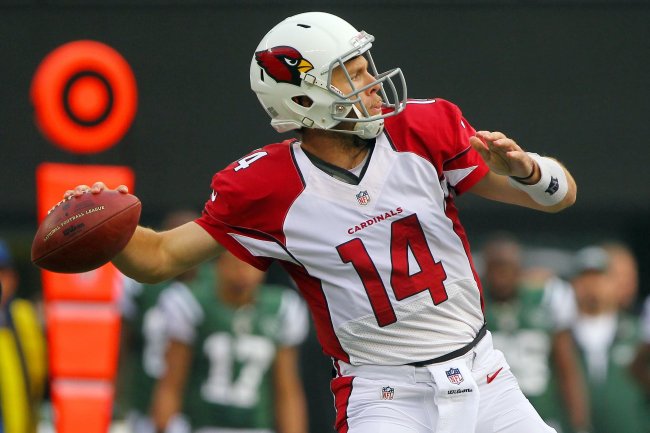 Ed Mulholland-US PRESSWIRE
Ryan Lindley misses a wide open Fitzgerald and the Cardinals are forced to kick a field goal. If the Cardinals lose, it will be solely on Ryan Lindley's shoulders. NFL quarterbacks should make that throw in their sleep.
Jets 7, Cardinals 6
11:50 4th Qtr
TERRIFIC catch by Michael Floyd, giving the Cardinals the first first down in a long time.
12:00 4th Qtr
New Jet Kalil Bell fumbles after a hit by Kerry Rhodes. Rhodes leaving his mark on this game, win or lose.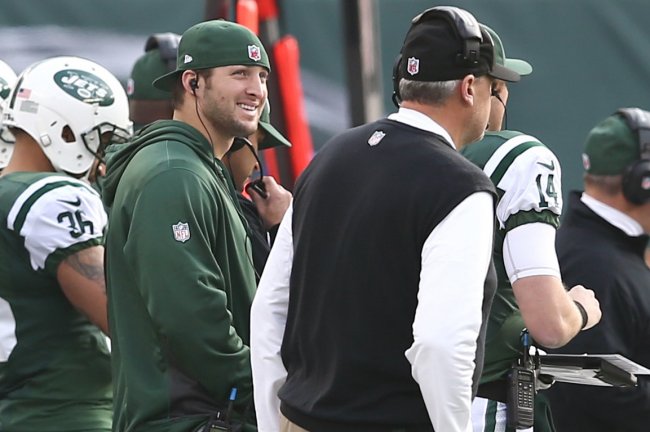 Debby Wong-US PRESSWIRE
Here is a question worth asking. If Tebow was active, would Sanchez have been pulled? Rex can deal with McElroymania. Tebowmania is a whole new animal.
12:00 4th Qtr
The Cardinals have yet another three-and-out. Can we see two quarterback changes in the same game?
Meanwhile, update on Joe McKnight's injury.
McKnight out with a rib injury

— Brian Costello (@BrianCoz) December 2, 2012
Hall of Fame induction next week.
Greg McElroy's induction into the Jets Ring of Honor tentatively scheduled for Wednesday -- the day after his ride up the Canyon of Heroes.

— Bart Hubbuch (@HubbuchNYP) December 2, 2012
Give Rex Ryan credit for making the move to possibly save the game for the Jets. Ryan has never benched Sanchez before, but he clearly had seen enough of Sanchez wasting his defense's masterful performance.
14:55 4th Qtr
McElroy touchdown on a bootleg to Jeff Cumberland. MetLife stadium explodes. Jets lead, 7-0.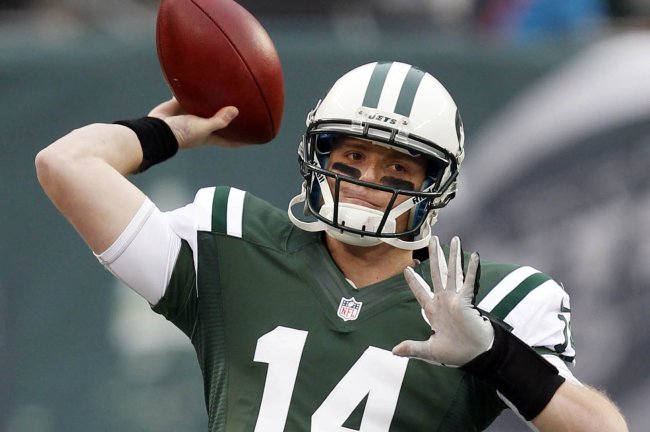 The Star-Ledger-US PRESSWIRE
McElroy has not done anything spectacular, but he has given the Jets offense new energy. Jets need a touchdown here in the worst way.
With a 3rd down on the one-yard line, I doubt they will put the ball in the hands of McElroy. The Jets need points here.
1:46 3rd Qtr
Greg McElroy draws a late hit penalty that puts the Jets in a goal-to-go situation. Put your orders in for #14 jerseys while they're still available.
McElroy's second pass to Stephen Hill is complete for a first down. Not a terrible accurate throw, but the crowd in New York loves it.
3:40 3rd Qtr
Three straight runs for the Jets, as they cross midfield. McElroy magic.
Imagine if this was Tebow:
Crowd now on its feet cheering McElroy... #nyj #jets

— Kimberley A. Martin (@KMart_LI) December 2, 2012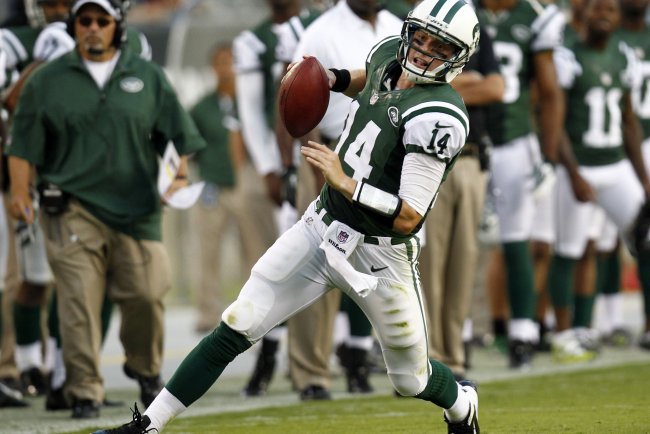 Jeff Zelevansky/Getty Images
5:29 3rd Qtr
Jets defense holds strong, and the Jets get the ball back. McElroy time.
This article is
What is the duplicate article?
Why is this article offensive?
Where is this article plagiarized from?
Why is this article poorly edited?

New York Jets: Like this team?