Patriots vs. Dolphins: Final Report Card, Player Grades for Miami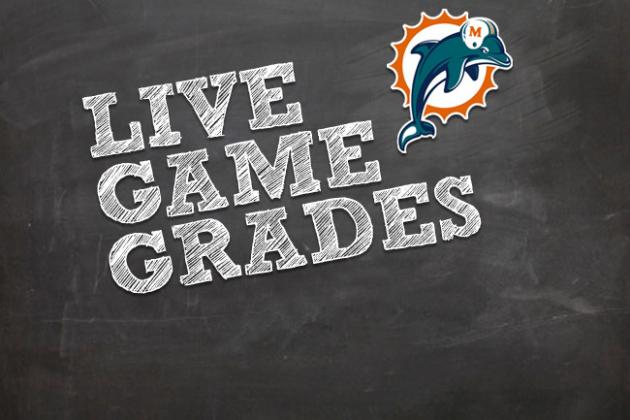 Final Score:
New England 23

Miami 16

You have to give credit to the Miami Dolphins. They played hard in this game and made it a lot closer than most expert believe they should've.
This is also a quasi-comeback, as Miami was down 17-3 at one point in the game, and yet was still in it at the end of the game. One bounce of an on-side kick could've been the difference in this game.
Despite the defense's great effort though, offense and special teams let them down. Miami is pretty much out of the playoff race, but there were plenty of good signs for the future going forward in this game, as well as a reminder of what Miami will need in order to contend for the AFC East in 2013 and beyond.
Begin Slideshow

»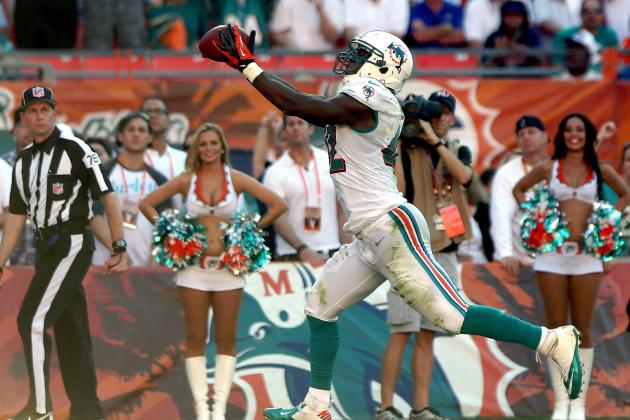 Marc Serota/Getty Images

Overall Game Grade — C
Considering that Jake Long was out of the game for most of it, Miami's offensive line wasn't terrible. Sure Tannehill got sacked three times and had a fumble, but Miami's running game was able to get some production thanks to some good blocking, especially on the left side where Jonathan Martin filled in well.
As for the passing game, let's not discuss that. It wasn't very good, not even mediocre. Miami wins this game if the passing game was clicking.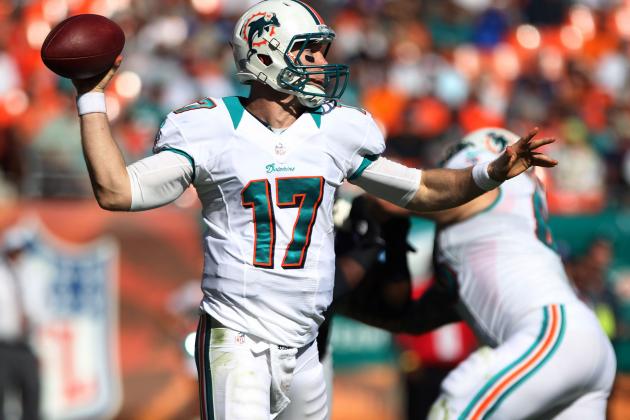 Marc Serota/Getty Images

Overall Game Grade — C-
I honestly think I'm being nice to Tannehill with this overall game grade, but considering that his rushing touchdown was Miami's only touchdown of the game (and another big run that got Miami close to the first down), as well as the fact that a better receiving corps would've helped him this afternoon, he still had his failings.
He wasn't terribly accurate as he went 13-of-29. He also is responsible for three of New England's points thanks to his second quarter fumble.
He will improve upon this game, but at times he seemed intimidated by New England's defense. It was decent enough that I'm not concerned about him going forward, but still bad enough that I feel confident in saying that Tannehill was the difference between a win and a loss in this game. Had Miami gotten the Ryan Tannehill from his games against Oakland, Cincinnati, Arizona or Seattle, Miami wins.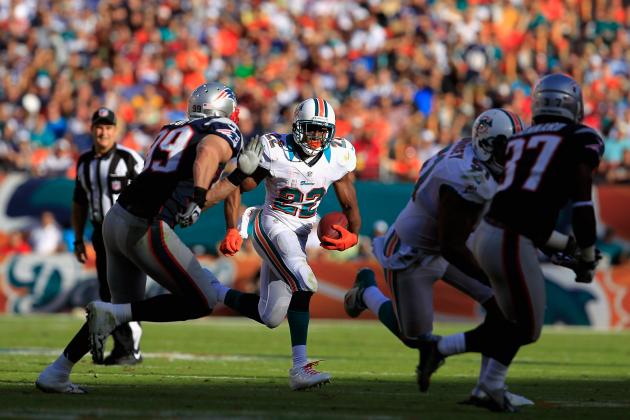 Chris Trotman/Getty Images

Reggie Bush — B+
Despite a few times when Bush was caught behind the line of scrimmage and didn't have much room to work, Bush had a good game against New England while running for 64 yards on 15 attempts.
Daniel Thomas — C
Thomas' average of 2.0 yards per carry doesn't look particularly good, and he made a huge mistake by not staying to block Jerod Mayo on a key sack in the fourth quarter which forced Miami to settle for a field goal. Despite that, he did have a couple of good runs on the afternoon, including one on fourth-and-one that got Miami the first down.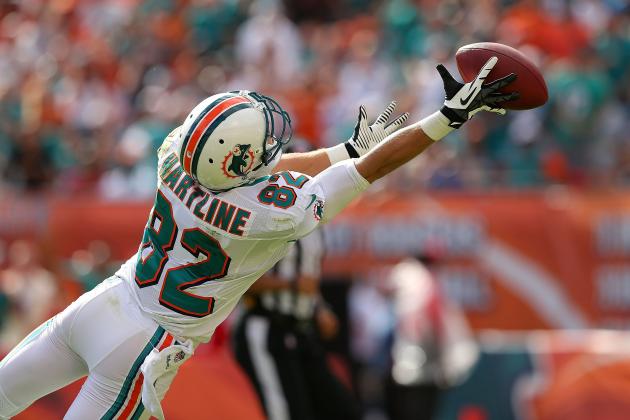 Mike Ehrmann/Getty Images

Brian Hartline — B
Hartline only had five catches, but by gaining 84 yards on those catches, he made them count. The Dolphins do need more help at wide receiver, but once they get it, look out for Hartline, who will actually improve with a true number one lining up on the opposite side of him.
Davone Bess — F
Bess will probably get the lone F on this game, but he deserves it. He had a few key drops in the first half, and was ignored by Miami's offense in the second half. This wasn't his best game, as he came away with only one catch.
Charles Clay — B-
Why does Clay get a B-? Well he only had two catches for 26 yards, but New England actively game-planned for him. He has Belichick's respect, and if Miami had a better receiving corps, his numbers would likely go up as well. I'm happy with what Clay brought to the table today.
Rishard Matthews — C
Matthews only had one catch, but it was a nice one that went for 28 yards. I'd like to see him targeted more in the future, as he seems to be picking up the offense well.
Anthony Fasano — D
I wasn't happy with his blocking for the most part, and he was responsible for a costly Dolphins penalty. He only had one catch, when really he should've been sought out more.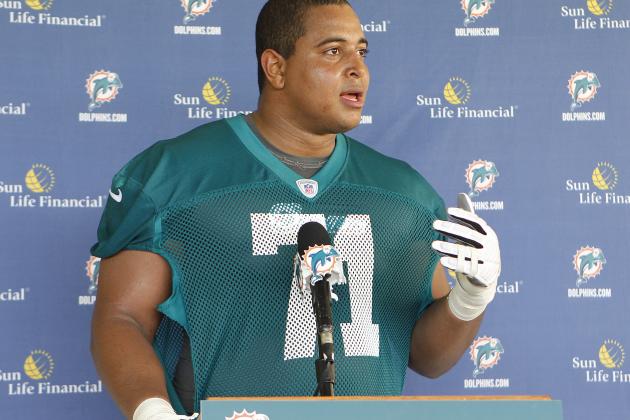 Joel Auerbach/Getty Images

Jonathan Martin — A
Ladies and gentlemen, I'd like to introduce you to the new left tackle for the Miami Dolphins, Jonathan Martin. Martin filled in well for Jake Long, who had struggled all season. With this game likely being Long's final in a Miami Dolphins uniform, Martin showed us that he's deserving of the left tackle spot.
Richie Incognito — B
He could've been better, but he did do a good job adjusting to having some one different besides him on the left side. Incognito also recovered what could've been a costly fumble, and for the most part helped to keep Tannehill clean.
Mike Pouncey — A
With no Jake Long anymore (and likely never again), Pouncey now has the job of being the leader of Miami's offensive line. He's been great this year, and will only improve. He did a great job today.
John Jerry — B-
I don't think Jerry was too bad today. I know there will be a debate, but while he started off slow, he got better throughout the game despite having to deal with a new right tackle beside him. I'd prefer Miami draft a guard in April to replace Jerry, but for today, he was better than expected.
Nate Garner — D
Yes, he was bad today, and if he was a starter he'd get an F. But because of the circumstances, I will give him a D, even though he was perpetually abused by New England's line.
Jake Long — B (for his career)
This will likely be the last time I draft Jake Long, so I felt it appropriate to grade his career. From 2008 until 2010, there wasn't a better left tackle in the NFL. His last two seasons though knock his grade down to a B. Because of those seasons and this triceps injury, Long likely won't be back in Miami, but while he was here, he was an immense help, especially with the running game.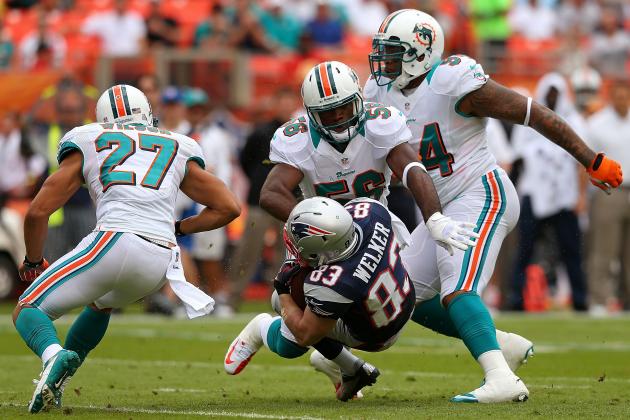 Mike Ehrmann/Getty Images

Overall Game Grade — A
Why such a high grade? Consider the competition. They kept Tom Brady below 300 yards. Considering that Mark Sanchez threw for 300 yards twice against Miami, while Kevin Kolb and Carson Palmer also attained that mark, the fact that Brady didn't reach that plateau is a victory.
New England's running game also struggled up until Miami's defense showed signs of exhaustion. And you knew there would be signs of exhaustion when you consider that New England held onto the ball for 33 minutes and 16 seconds.
Alex Trautwig/Getty Images

Cameron Wake — A
A touchdown saving sack, two tackles and an additional quarterback hit showed vintage Cameron Wake. He loves playing the Patriots and today it showed.
Paul Soliai — A
Soliai was his usual self today in helping stop the Patriots running game (until that last drive, which again I excuse from the defense due in part to their time spent on the field throughout the game), and even picked up a sack for himself.
Randy Starks — B
Starks was hurt early on, but came back into the game despite the elbow injury and was instrumental in helping to stop New England's running game. Solid effort. I also have to give props to Starks for his "they dropped" comment when asked about Tannehill. I'm sure you know what he was referring to by "they". (Also worth noting, that's not an insult on his part.)
Jared Odrick — C
Odrick's performance was very so-so, nothing more. He did record a tackle, and he did hit Brady once, but other than that, it felt like he wasn't on the field.
Tony McDaniel — A
A tackle and a pass deflection that should've been intercepted. I also credit McDaniel for being upset with himself after he dropped the interception, even though he's a defensive lineman and did his job just by deflecting it. If Vontae Davis showed that much passion he'd still be in Miami, and I'd love to see Sean Smith get that upset with himself after dropping a sure interception.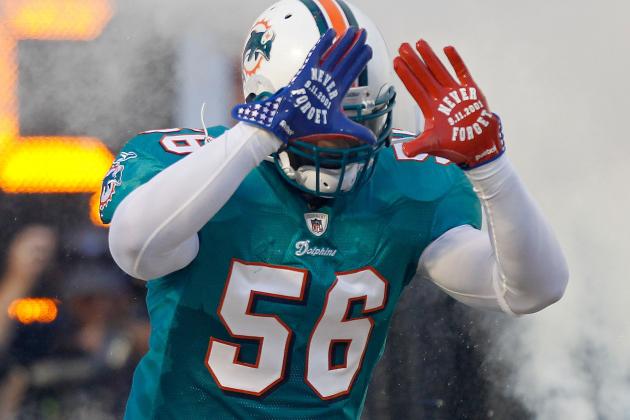 Mike Ehrmann/Getty Images
Seriously Getty Images? No pictures of a Dolphins linebacker in your library from today's game?
Kevin Burnett — B+
Anyone notice something New England was missing from today's game, other than Rob Gronkowski?
Koa Misi — A
Seriously, anyone notice something New England didn't do against the Dolphins defense that they usually do?
Karlos Dansby — B+
Times up. They didn't abuse Miami's linebackers like they usually do. In fact, Miami's linebackers held their own. Koa Misi had a sack to go along with his five tackles, while Dansby and Burnett combined for 21 tackles.
Great job by Miami's defensive line.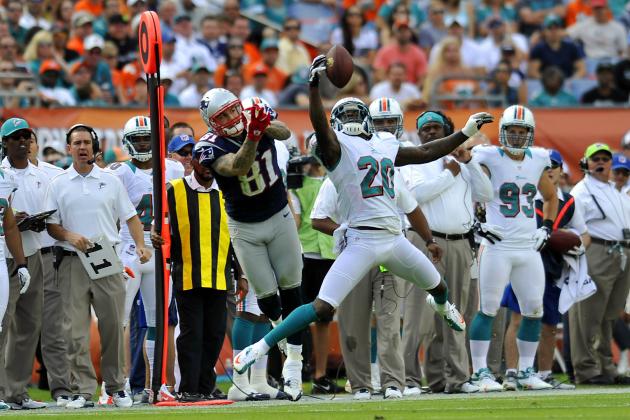 Steve Mitchell-US PRESSWIRE

Sean Smith — C-
Smith didn't have any tackles today. That's right, none. On top of that, Wes Welker was in control of that matchup, and it seemed to be the only receiving matchup won by the Patriots. It was enough for New England to win, but just a tip to Sean Smith: you know you can bump the receivers within the first five yards off of the line of scrimmage. Don't be too afraid to jam them there buddy.
R.J. Stanford — B-
Two tackles, but he wasn't killed today. I'll take it.
Nolan Carroll — B-
Only one tackle, but Carroll's name wasn't called for a penalty or a missed tackle. I'll take it from him.
Jimmy Wilson — D
Defensively he was alright, but thanks to his roughing the kicker penalty, he undid a great defensive stand. That's worth a D.
Reshad Jones — A+
An interception, a sack, 11 tackles, and a pass deflection. Tremendous game for Jones, who was Miami's MVP against New England.
Chris Clemons — A
Seven tackles and an overall good game from Clemons. Outstanding job by both of Miami's safeties.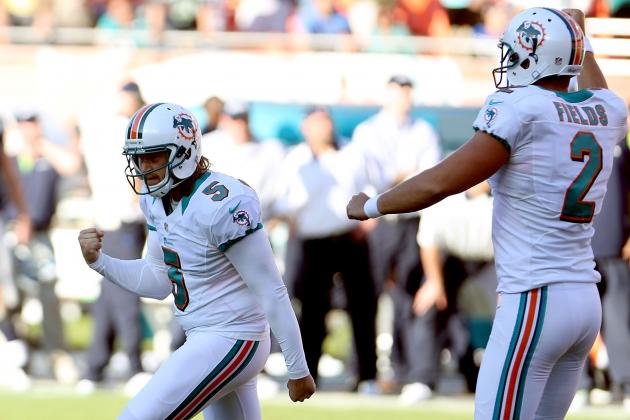 Marc Serota/Getty Images

Overall Game Grade — B
One bobbled Fields snap? Seven points for New England. A roughing the kicker penalty? Seven points for New England.
New England's final victory margin? Seven points. Please Dolphins fans, help me find the connection.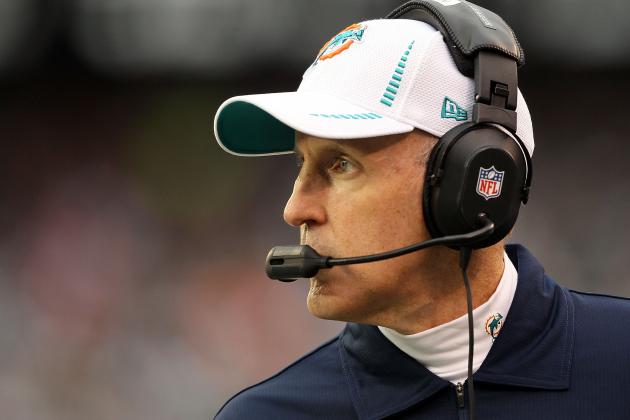 Alex Trautwig/Getty Images

Overall Game Grade — B
So Miami's playoff chances ended today, and I'm sure you are waiting for me to lay into the Dolphins coaching staff for this game. But I won't. I thought they did a good job for the most part, as most of the mistakes were player mistakes and nothing more.
Sure, the offensive game-plan could've been better, but again, if the plays called are executed, we aren't griping about that. I also give credit to the Dolphins for being disciplined in the second half. Even though New England dominated in yards and time of possession, the Patriots only came away with six points in the half. That's impressive.
I don't believe in moral victories, but this is a moral win for Miami. If Tannehill just played a little bit better, Miami likely comes away with a victory.