Buccaneers vs. Broncos: Final Report Card, Player Grades for Denver
Denver Broncos 31 Tampa Bay Bucs 23
The Denver Broncos are AFC West champions for the second straight season after an eight point win over Tampa Bay.
Denver trailed 10-7 at halftime but came out of the break with a huge third quarter.
Tampa Bay fought valiantly to keep it close, but Denver held on for the victory in the end.
Click forward for player grades and analysis from this game.
Begin Slideshow

»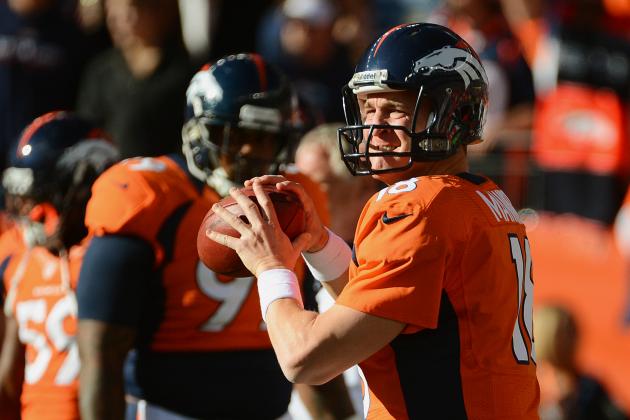 Garrett Ellwood/Getty Images

Peyton Manning: A-
Peyton Manning played a solid game on Sunday, continuing his pursuit of the NFL's Comeback Player of the Year award and possibly even the MVP of the league.
Manning finished 27-of-38 for 242 with three touchdowns and a 103.2 rating. His lone error came on a throw in the third quarter in which he tried to hit Jacob Tamme over the middle and never saw linebacker Lavonte David.
Early in the third quarter, Manning had a 3rd-and-1 play where it looked like he had enough room to run for the first down. Instead, he threw to Knowshon Moreno, who was lying on the ground. Somehow, Manning completed the pass and earned a first down, prompting opposing head coach Greg Schiano to slap him on the helmet out of respect.
Manning has thrown for 3,502 yards with 29 touchdown passes on the year and he has the Broncos on a seven game winning streak.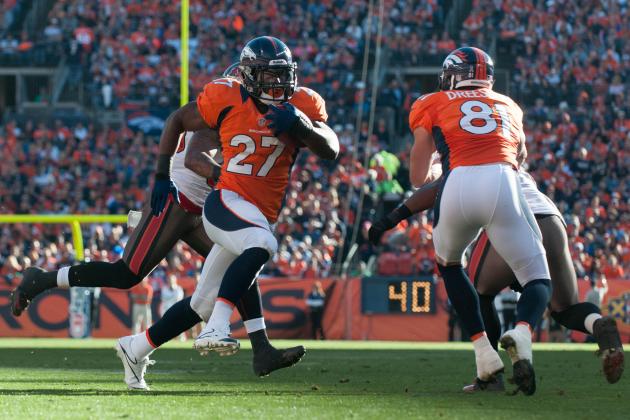 Dustin Bradford/Getty Images

Knowshon Moreno: B-
Moreno earned his second consecutive start and had 20 carries for 69 yards. What was troubling is that his yards per carry went down each quarter. At halftime, he was getting 5.6 yards per carry and he finished the game at just 3.5. This may prompt the coaching staff to give Moreno less of a workload, as he seems to slow down as the game goes. Moreno added four catches for 14 yards out of the backfield, one of which the aforementioned catch where he was down on the field.
Ronnie Hillman: B-
It's unclear why the team has favored Moreno over Hillman since the injury to Willis McGahee, but Hillman has been used sparingly in his absence. On Sunday, he was asked to carry the ball five times, picking up 29 yards. That translates to 5.8 yards per carry. Denver might not be ready to trust Hillman in pass protection, but he needs more than five carries a game.
Lance Ball: D
Ball got two carries in the second quarter. On 2nd-and-14 from the Tampa Bay 44-yard line, Ball lost two yards. On the very next play, facing a 3rd-and-16, Denver conceded a punt, handing it to Ball again, this time for no gain.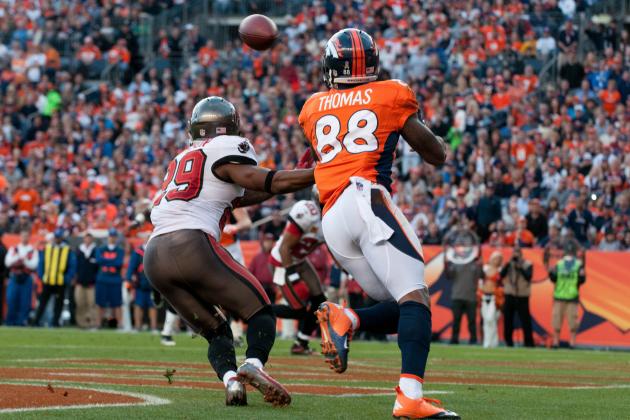 Dustin Bradford/Getty Images

Demaryius Thomas: A
Thomas is becoming a serious threat at the wide receiver position, the one the Broncos hoped they got when they made him a first round selection in 2010.
Thomas grabbed eight balls for 99 yards with two scores, bringing his 2012 totals to 69 receptions, 1,114 yards and eight touchdowns. He is becoming increasingly hard to cover and he is definitely turning into Manning's favorite target.
Eric Decker: C
Decker had a relatively quiet day Sunday, catching just two passes for 17 yards. He did make the recovery on the onside kick late in the game, however.
Tampa Bay came into the game ranked dead last in the league in pass defense. Decker should have been a bigger factor in this game.
Matthew Willis: B-
With Brandon Stokley injured, someone had to step up and fill his role and Willis was the one to do that. Trailing 10-7 at halftime, it was Willis who made some plays in the passing game that got the Broncos' offense into rhythm.
He finished the day with three catches for 22 yards on five targets and strange as it may seem, he was a necessary cog to open up the field for Denver.
Brandon Stokley: N/A
Stokley missed the game due to injuries to his wrist and hip.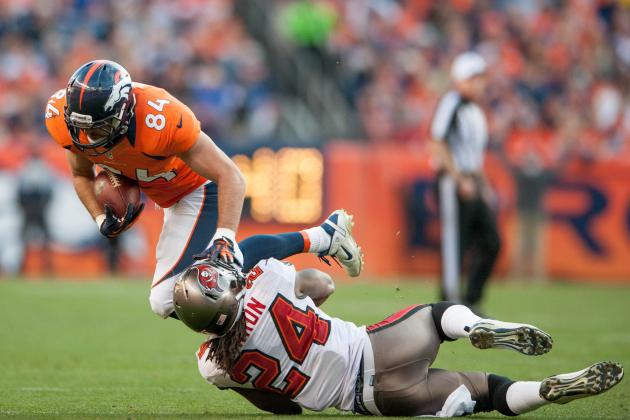 Dustin Bradford/Getty Images

Jacob Tamme: A-
Tamme is putting together a very respectable year from a receiving perspective. He totaled nine catches for 89 yards on Sunday against the Bucs, taking advantage of the middle of the field.
Manning targeted Tamme 13 times and he got nearly 10 yards a catch. With the threat of Thomas on the outside, Tamme could easily wind up the teams second leading receiver this season and his role as a security blanket for Manning in the underneath passing game could be very key in the team's playoff run.
Joel Dreessen: D
Dreessen didn't figure much into the gameplan against Tampa Bay and with the emergence of Tamme, his playing time may start to decrease, as well.
Dreessen was held without a catch on Sunday and was only thrown to twice.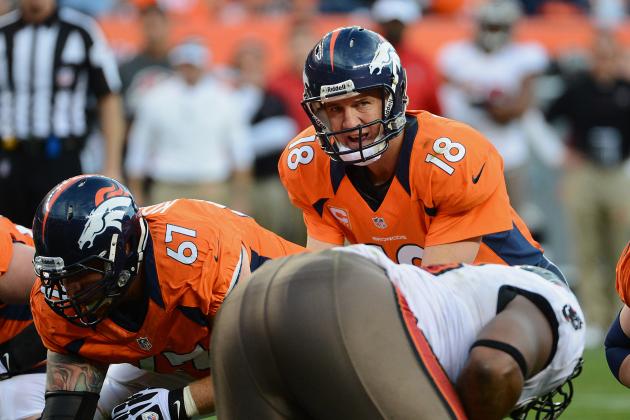 Garrett Ellwood/Getty Images

Ryan Clady: A
Manning could not ask for a better left tackle right now. Clady, a perennial Pro Bowler, is not allowing much pressure at all on the Broncos' prized quarterback and could likely be going to Hawaii again.
Zane Beadles: B
Beadles helped open up some holes in the run game late, but it would still be nice to see the line get more of a push. Beadles was flagged once in the game for holding on Denver's first drive of the second half.
Dan Koppen: B
Koppen has proved an important signing for the Broncos and has filled in well since the injury to starter J.D. Walton. Koppen did botch a snap to Manning in the first quarter. On 3rd-and-6 from their own 24-yard line, he failed to get the ball to Manning but Manning was able to pick it up and heave it downfield in the direction of Willis, but it fell incomplete and forced a Denver punt. If not for the heads up play by Manning, Tampa would have had a big turnover deep in Denver territory.
Chris Kuper: B
It's nice to see Kuper on the field, especially since Manny Ramirez has not been 100 percent lately. He was decent in the run game on Sunday and helped Denver keep Manning upright on pass plays.
He did draw a flag in the second quarter, getting called for a holding penalty after Manning hit Tamme for 14 yards on 2nd-and-14. This hampered a promising drive for the Broncos.
Orlando Frankin: B
Franklin drew the assignment of blocking Bucs defensive end Michael Bennett and he kept him a non-factor on Sunday.
Franklin was penalized once, getting a facemask penalty on the same drive that ended after Koppen botched the snap.
Garrett Ellwood/Getty Images

Derek Wolfe: B
The Broncos' top draft pick this season is steadily getting better each week and becoming a bigger part of the defense.
He finished with three tackles on Sunday and teamed with safety Mike Adams to put Bucs running back Doug Martin down for a 1-yard loss in the first quarter.
Justin Bannan: C
Bannan wasn't much of a factor Sunday, making just two tackles but also drawing a costly 15-yard penalty for grabbing the facemask of Martin on a tackle in the first quarter.
Elvis Dumervil: C
Dumervil could not seem to beat left tackle Donald Penn off the line and get much pressure on Freeman and he tallied just two tackles on Sunday. He was also penalized once for a neutral zone infraction.
Kevin Vickerson: B
Vickerson made just three tackles in the game, but he helped push the pocket back in the face of Freeman, rushing him into throws and throwing off Tampa Bay's timing.
Mitch Unrein: A-
When Mitch Unrein looks back on his career, this will be the game he remembers. In the first quarter, Denver brought in one of their heavy packages after Moreno ran the ball down to the 1-yard line. Looking as if they'd run again, Unrein, lined up at fullback, ran into the end zone and Manning floated him a touchdown pass.
Late in the third quarter, Unrein got pressure on Freeman and hit him just as he released the ball. The ball ended up in the hands of Von Miller who ran it in for a 26-yard touchdown.
Unrein came into the game with five tackles on the season, so this is one he'll be talking up for a long time.
Sealver Siliga: N/A
Siliga made one tackle for the Broncos, but he didn't see enough action in order to evaluate.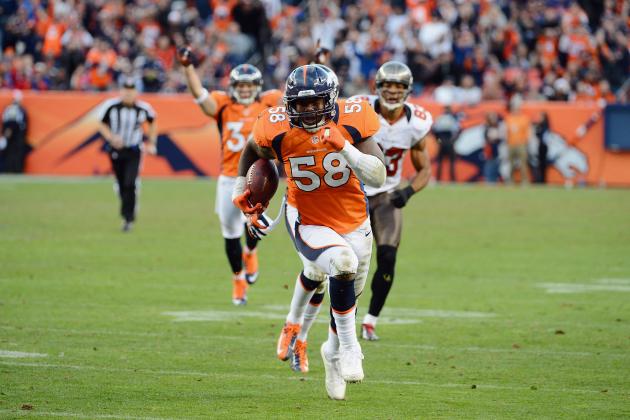 Garrett Ellwood/Getty Images

Von Miller: A
J.J. Watt and Aldon Smith will certainly have a case, but Von Miller looks like the best defensive player in football.
Despite a roughing the passer penalty that kept a Tampa Bay drive alive, Miller redeemed himself with his interception return for a touchdown.
In the fourth quarter, Miller was able to get the only sack of the game, swatting the ball out of Freeman's hands at the same time. Freeman was able to recover the ball and Miller appeared to be shaken up on the play. As Denver closed out the victory, he was seen on the sidelines taking in some oxygen.
Wesley Woodyard: C
Woodyard left the game with an undisclosed injury and finished with just three tackles.
Danny Trevathan: B+
Filling in for Woodyard, Trevathan looked really good. He made three solo tackles and deflected a Freeman pass.
Keith Brooking: C
Brooking is a player that is beginning to show his wear and tear. He did make a couple of tackles on Sunday, but the Broncos would be best served to work Trevathan in more often.
D.J. Williams: B
Playing in his second game since returning from his nine game suspension, Williams is still just one of many linebackers Fox and Del Rio are rotating in. He does, however, look very good. He finished with two tackles and a pass deflection.
Steven Johnson: N/A
Johnson saw game action on Sunday and was even credited with one tackle, but he didn't play enough to be evaluated. It's clear that the Broncos have several linebackers that they believe in.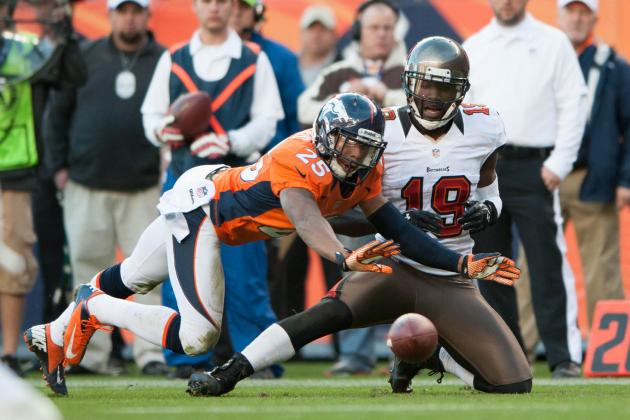 Dustin Bradford/Getty Images

Champ Bailey: A
Bailey continues to shine as one of the league's best cornerbacks. He held Vincent Jackson to just three catches and made three tackles with one pass defensed. He did have a ball hit him right in the chest and should have been intercepted, but still a solid day for Bailey.
Chris Harris: B+

Whether it's Harris or Tony Carter, one of them is always stepping up when the Broncos need it. Harris had another good day on Sunday, despite Mike Williams catching six passes for 93 yards and a touchdown. Harris tied for the team lead with six tackles and had two pass deflections.
A roughing the passer penalty against Miller erased an interception Harris made and he came close on two other occasions to picking off a Freeman pass.
Jim Leonhard: B
Leonhard is starting to get worked into the rotation more and more by the week. He made three tackles on Sunday.
Mike Adams: B
Adams is having a good year in Denver and is starting to become a force in the run game, cheating up from his safety spot. This was evidenced when he was in on a 1-yard loss by Martin in the first quarter.
Rahim Moore: B-
Moore is having a much better year than his rookie campaign, but he could improve. He had two tackles on Sunday but he also took a big chance when Freeman threw a deep ball to Jackson. Moore positioned himself about five yards in front of Jackson, looking for the interception. He managed to get a hand on the ball, deflecting it away from Jackson, who was waiting in the end zone for what looked like it would be an easy Tampa Bay touchdown.
Tony Carter: B

Harris seemed to get more of the work on Sunday, but Carter still found himself with two passes defensed in the game. Carter has been a very nice surprise for Denver this year.
Dustin Bradford/Getty Images

Matt Prater: B-
Prater did what he does best by booming each kickoff out of the end zone, but he wasn't perfect with his field goals. He made one from 31 yards but was wide right from 47, a distance he is usually automatic from.
On the year, Prater is now 17-for-22 on field goal attempts.
Britton Colquitt: A
Colquitt averaged 44.8 yards per punt on Sunday and placed three of them inside the 20-yard line, two of which were inside the 10-yard line.
Trindon Holliday: A
Holliday continues to be the Broncos' secret weapon. He had 121 combined return yards on Sunday, and came very close to breaking another one. More than halfway through the third quarter, he fielded a Michael Koenen punt and after making a few guys missed, he got the outside and only a diving tackle from behind prevented a touchdown. Still, it was a 45 yard return and was part of Denver's massive third quarter.
Coverage Team: A
An "A" grade has to go out to the coverage team. Aside from a great play from Omar Bolden to prevent a punt from going into the end zone for a touchback that pinned the Bucs at their own 4-yard line right before halftime, the team as a whole held Tampa Bay to a total of 15 return yards.
Garrett Ellwood/Getty Images

Coaching Staff: B-
The Broncos coaching staff called a good game on Sunday, particularly with their halftime adjustments. It was key in this game to get the ball in the hands of players like Willis and Tamme in order to open things up for Manning.
It would be nice to see them rely on Hillman a little more and maybe split carries between he and Moreno.
The protection schemes have been great as Manning is leaving with a clean jersey more times than not and when he has the time to stand back in the pocket and throw, any team is in trouble.
One concern is the team getting a little conservative. With the score 31-13, the game was for all intents and purposes over, but the play calling allowed Tampa Bay to hang around and even have a chance to recover an onside kick in the end.
On defense, Jack Del Rio has his guys playing great football and some head coaching offers are almost sure to come his way.