Jaguars vs. Bills: 3 Keys to the Game for Buffalo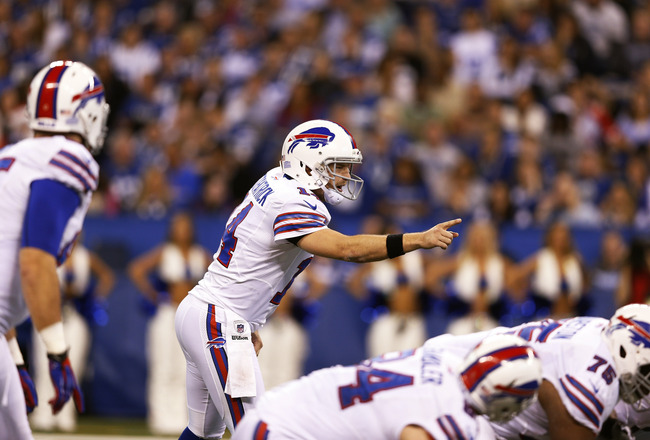 Joe Robbins/Getty Images
The Buffalo Bills have a chance to salvage what little is left of their playoff chances this weekend when the Jacksonville Jaguars come to town.
A game that features two underwhelming teams that seem to be doing more jockeying for a top-10 pick than playoff spots will fittingly be blacked out this weekend.
The Jaguars are used to playing in front of ghost fans, but for Buffalo this isn't a normal occurrence, even though the Bills are normally out of the playoff picture by Thanksgiving. Bills fans have always showed up in the masses late into December, but it seems like the fanbase is finally getting smart and letting the team suffer for another season of pathetic performances.
If you are one of those people who gets pleasure out of watching awful football, then we have some keys to the game for you!
Run the Ball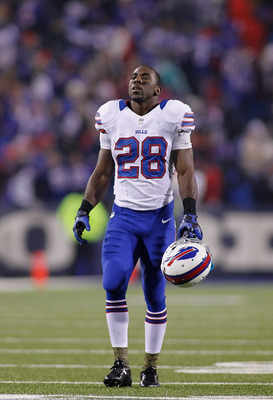 Free C.J. Please?
Rick Stewart/Getty Images
In case you've missed it, there were already two articles written about this topic today.
Erik Frenz, the AFC East blogger for Bleacher Report tackled it here, and contributor Bobby Kittredge gave his installation here. Give these guys some reads for their hard work.
If you've read any of my articles over the past two months, you know my frustration with the team's commitment to the run game.
The issue is so painfully obvious that the coaching staff can't get out of its own way.
The winning formula is humorously easy for Buffalo. You win if you run and lose if you let Fitzpatrick rifle the ball freely. Unfortunately, they've chosen the losing formula seven times already this season and show no signs of improving on that stat.
Get with the program, Chan. Let C.J. Spiller and Fred Jackson run wild against the Jaguars' 29th-ranked run defense.
Also, it would be nice if they did away with the empty backfield sets on first down. I hope that isn't too much to ask.
Let Stevie Johnson Do His Thing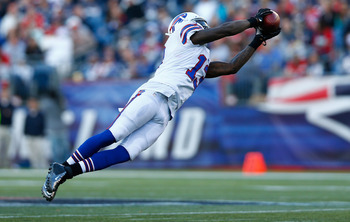 Jared Wickerham/Getty Images
Stevie Johnson called out his head coach this week after a bad offensive game against the Colts because he feels that Gailey is limiting what they can do (via Tim Graham, The Buffalo News). Johnson thinks that Fitzpatrick should be calling plays from the field based on what he sees instead of Gailey force-feeding them in.
Fitzpatrick obviously has the ability to audible at the line if he doesn't like something. Considering he is a pretty smart individual, I'll say he has the capacity and freedom to audible with ease.
Unfortunately, the latest comment by Johnson makes me think otherwise.
Gailey gets cute at the worst times and conservative at the other worst times. For every great call he makes, he makes two bad ones to counteract the first call.
Fitzpatrick needs to do whatever he can to take shots down the field, while also finding his No. 1 receiver.
The Jaguars are the 31st-ranked defense for a reason, so the Bills should be able to find gaps in the Jacksonville defense. Johnson isn't a fast guy, but he is easily one of the best route-runners in the league.
He'll likely be matched up against Derek Cox, a fourth-year man out of William and Carey, who currently sits tied for third in the NFL with four interceptions.
As long as Fitzpatrick doesn't force the ball to a fault, Johnson could very well be on his way to a consecutive 100-yard game.
Force Chad Henne into Turnovers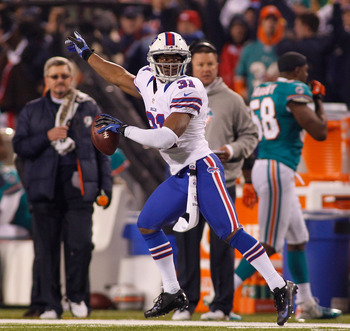 Rick Stewart/Getty Images
The Jaguars have seen a bit of a resurgence since Chad Henne has come in to spell the injured Blaine Gabbert. If the Jags weren't so invested into Gabbert, then I would have said they should have started Henne from the get-go.
Henne can make all of the big throws that you want out of the mid-level starter, but he was up and down during his stint with the Dolphins.
He got his first start of the year last week against the Titans, and the Jaguars won their second game of the year to improve to 2-9. Henne also kept them in that overtime thriller with the Texans but couldn't close the door at the end.
The former Wolverine has had serious issues with turnovers in the past because he often relies on his strong arm on tough throws. He's never had a touchdown-to-interception ratio better than 1:1, but he has seven touchdowns to only two interceptions in five appearances this year.
Buffalo will need to press him early in the contest and allow its playmaking safety Jairus Byrd do what he does best—take away the ball.
Mario Williams has been on rampage since his bye-week wrist surgery. He now his 8.5 sacks on the season, three of which came in the loss to the Colts last weekend. If the suddenly electric combination of Williams and Kyle Moore can create hurried throws from the end spots, then Buffalo should be able to get its hand on a ball or two.
Turnovers will ultimately be the key to this game for the Bills.
Keep Reading

Buffalo Bills: Like this team?