Names to Know: Rubio Rubin Lighting Up U-17 Fields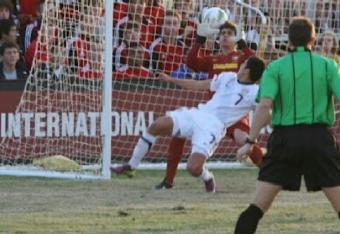 Rubio Rubin Twitter photogragh, 2011 Nike International Friendlies

The U.S. U-17s lead the pack at the four-team Nike International Friendlies in Lakewood Ranch, Fla., thanks to midfielder/forward Rubio Rubin and his three goals and three assists in two games.
Friday night, the U-17s defeated Turkey 4-1. Rubin added a goal and an assist to his tally from Wednesday's opener, when the U.S. youths tied Brazil 4-4.
The Portland Timbers Academy player was involved in each of those four goals, and was named Man of the Match.
Highlights and commentary from U.S. U-17 game against Brazil
Against Turkey, Coach Richie Williams subbed Rubin and Alan Winn in at 62 minutes, with the game tied 1-1. The move paid off, as the two quickly combined with back-to-back assists to one another to put the U.S. up 3-1.
This is not the first year in which Rubin has scored important goals for the U-17s.
Check out this video, which starts with an amazing flick Rubin directed past the keeper in the same tournament last year. That 2011 goal, also against Brazil U-17s, helped the U.S. side to a game win as well as a tournament championship in the round-robin annual Nike event.
Rubio Rubin scores against Brazil in last year's Nike International Friendlies
Apparently proud of the goal, the image is now the background for Rubin's Twitter account.
Perhaps more interesting are his comments beginning at the 2:50 mark of the above video. When this U-17 says he is aiming for qualifiers, he is talking about the senior USMNT qualifiers for the Brazil World Cup.
It is good to have goals (in both connotations of the word), but this one might represent a little youthful dreaming.
Rubin, as we read on the video at the 5:30 mark, has been criticized for not having barn-burning speed or an intimidating stature. However, we should remember that sounds a little like early criticisms of Michael Bradley.
And like Bradley (as well as Landon Donovan), Rubin has been named U.S. Soccer Young Male Athlete of the Year.
Finally, consider that Rubin explicitly said he wanted to prove last year's championship in the Nike tournament was no fluke.
Rubin came into this year's tournament with eight international goals in 2012, and added three more in the last few days. Combined with his three additional assists in Florida, he is establishing a fairly credible track record for pursuing his objectives.
Just accomplishing what he already has in the game is noteworthy. This is especially true, given that his family could not afford some of the more expensive training and club opportunities that are available for players of his abilities.
That financial realization taught him that he had to work harder than other players just to get as far. And when he was helped along the way (even in less expensive club situations, other team parents chipped in to help with some of Rubin's expenses), he knew he had to stay humble.
Portugal will be the next youth team trying to stop the humble and hard-working Rubin. They have done it before, having already beaten the U.S. side earlier this year in a one-goal game.
If the U.S. U-17s reverse that result on Sunday, they will seal a repeat of their 2011 championship in this Nike tournament.
Both Portugal and the U.S. have four points after two games. They both have tied Brazil and beaten Turkey. The U.S. leads Portugal at the moment on the basis of goal differential.
Brazil is still in the running with their two ties. Should Portugal and the U.S. tie tomorrow, Brazil can claim the championship with a win over Turkey. But in tie-breaking scenarios, that U.S. three-goal win over Turkey carries a lot of weight.
This is the 10th anniversary of the Nike tournament, though only the third in which a champion will be recognized from the round-robin play. Deciding to keep the event's name created the oddity of competitive "friendlies."
Turkey won the tournament in 2010.
For Rubin, while playing for the senior USMNT within the next two years may ultimately prove to be a bridge too far, the future is certainly promising.
The same could be said for American fans of the game, who may be wondering whether the pool of talented U.S. players is, in fact, getting deeper.
This article is
What is the duplicate article?
Why is this article offensive?
Where is this article plagiarized from?
Why is this article poorly edited?

United States (National Football): Like this team?