Pac-12 Championship 2012: Stanford vs. UCLA Live Scores, Analysis and Results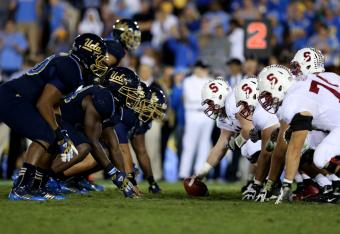 Stephen Dunn/Getty Images
FINAL: Stanford 27, UCLA 24
The Stanford Cardinal have won the 2012 Pac-12 Conference football championship over the UCLA Bruins in a 27-24 battle that went right down to the final minute.
The hometown Cardinal were challenged mightily by the South Division champion Bruins, but won thanks to a late touchdown pass from quarterback Kevin Hogan to receiver Drew Terrell.
UCLA outgained Stanford, but simply made a few too many mistakes in the contest, which spelled its demise in the end.
Now, Stanford will look forward to a Rose Bowl berth where it will take on the winner of the Big Ten Conference title game.
Thanks for joining along with us for our live coverage and feel free to provide your thoughts and analysis of the game in the comment section below.
Here's our final recap. Thanks again for following along!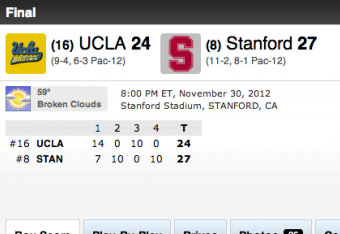 Here's a shot of the final box from ESPN: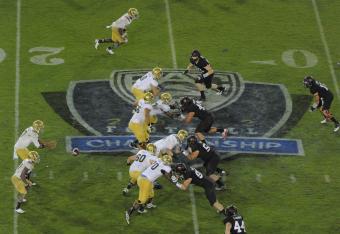 FINAL: Stanford 27, UCLA 24
What a game in Stanford!
UCLA certainly had its chance to win, but the Cardinal did just enough to claim the title.
More recap to come.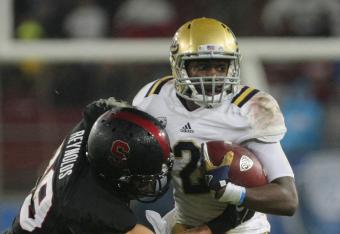 UCLA Missed Field Goal
Fairbairn misses wide left and Stanford will be the 2012 Pac-12 Champions!
UCLA Fourth Down
Not a safe throw by Hundley into traffic on third down, but it falls incomplete. Field goal attempt coming.
Nice, safe call by Mora and UCLA with the quick out.
First Down
Hundley hits Johnson to move the chains! What poise by the freshman!
UCLA at the Stanford 40-yard line. 0:47 remaining.
Fourth Down
Johnathan Franklin, who has been money for UCLA has a huge drop on third-down swing pass. It's down to this.
Hundley just misses on a dangerous throw to Johnson. 1:06 remaining.
Roughing the Passer
Wow, just a terrible penalty by Stanford's Trent Murphy. UCLA already near midfield now with the clock ticking near one minute.
Stanford Punt
Stanford 27, UCLA 24—Fourth Quarter, 2:18
UCLA will have just over two minutes and zero timeouts now to take the ball about 80 yards for the win or less for the tie.
Incomplete pass! UCLA comes up with the defensive stop it needed. The game now hinges on this final Bruin drive.
Here's the game, folks. 2:29 remaining for the Pac-12 title.
Great play from Datone Jones to force an enormous third down and long.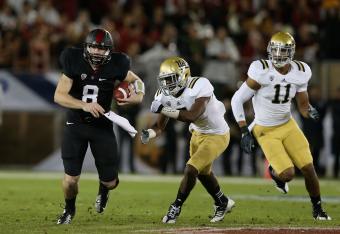 Stanford first down! Bruins forgot all about Hogan on the zone read and he made them pay.
UCLA just burnt its last timeout. Will have about four minutes minutes to work with if it can come up with a stop here.
UCLA Punt
Stanford 27, UCLA 24—Fourth Quarter, 4:39
Hundley nearly threw his second pick, overlooking linebacker A.J. Tarpley. It was the sack by Josh Mauro that set the play up, however.
Look for Stanford to pound this clock out now against a tired UCLA defense. Bruins need a quick stand.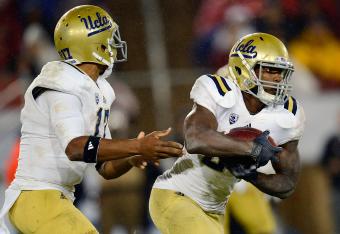 Franklin now over 200 yards for the game.
Stanford was offsides but Franklin went the opposite direction for an easy first down anyway. His success continues as the Cardinal defense is looking tired as well.
Who says rematches can't be fun?
Regardless of outcome tonight, no one can say that this game was a replica of last weeks. Either team could still win title #Stanford #UCLA

— Annabel Stephan (@AnnabelStephan) December 1, 2012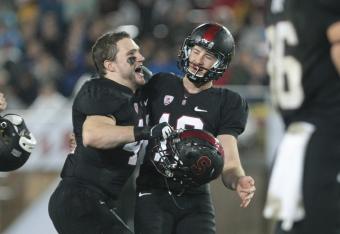 Stanford Field Goal
Stanford 27, UCLA 24—Fourth Quarter, 6:49
Jordan Williamson boots his second field goal of the day to give Stanford the lead.
Tough spot for UCLA now trailing by three. Still a lot of time left to take down off this clock, but points are the main priority.
It'll be on the shoulders of a freshman quarterback, no less.
OR a holding penalty from Stanford. That may work as well.
Bruins may need a turnover to survive.
As expected, the pounding from the Stanford offense is starting to noticeably wear on the UCLA defense.
Don't really understand this, but I think it's a good thing?
This Fox announcing crew sounds like the old Alabama Cable Network group calling the high school game of the week. And I love it.

— Josh (@JoshuaBBlack) December 1, 2012
This article is
What is the duplicate article?
Why is this article offensive?
Where is this article plagiarized from?
Why is this article poorly edited?