2013 MLB Free Agency: The Top Remaining Free Agents at Each Position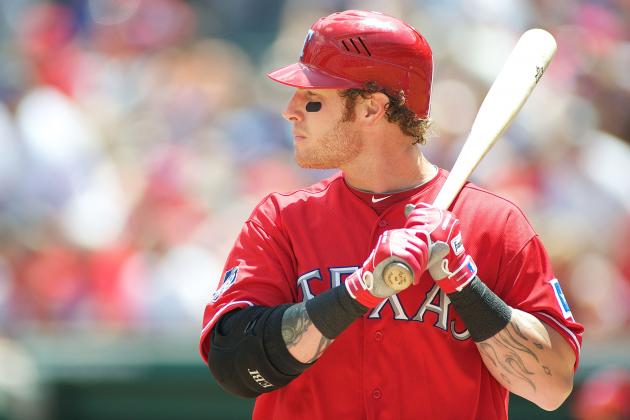 Cooper Neill/Getty Images

As the winter meetings kick off this Monday, there is likely to be a flurry of action both on the trade market and in free agency.
While a few free agents have found new homes, there are still a ton of decisions to be made between now and the start of spring training, starting with where the offseason's top available players in Josh Hamilton, Zack Greinke and Michael Bourn will be suiting up.
Here is an updated look at the top remaining free agents at each position, and a quick overview of what they bring to the table.
Begin Slideshow

»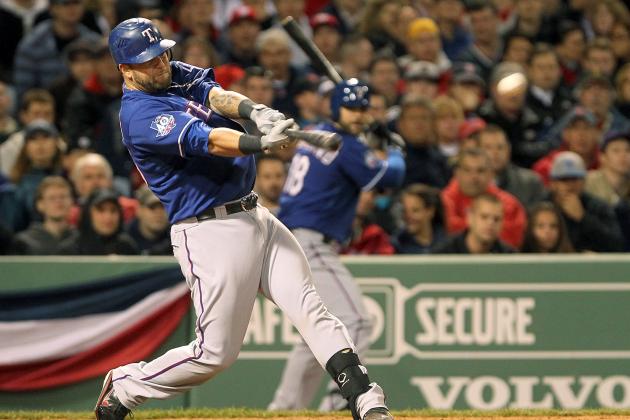 Jim Rogash/Getty Images

Starting Caliber Players at Position
1. Mike Napoli
2. A.J. Pierzynski
With Russell Martin signing a two-year, $17 million contract with the Pirates, the crop of viable starting catchers has thinned to two.
Napoli is also being targeted as a first baseman by some teams, though he would have more value as a catcher where he has perhaps the best power at the position.
Meanwhile, Pierzynski is coming off of a career year and will likely look for a salary in excess of what Martin got after a .278 BA, 27 HR, 77 RBI season.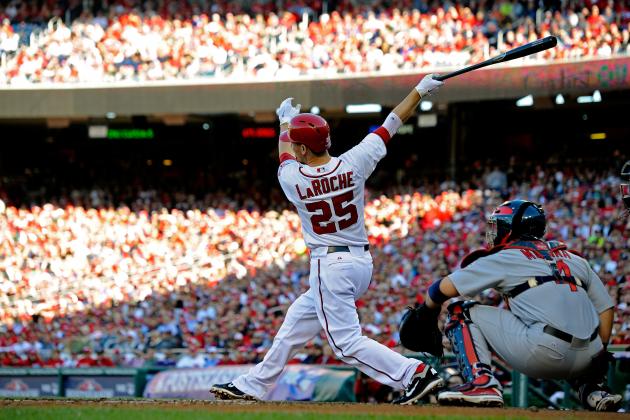 Patrick McDermott/Getty Images

Starting Caliber Players at Position
1. Adam LaRoche
2. Mark Reynolds
3. Carlos Pena
4. James Loney
After last year's first base crop was headlined by Albert Pujols and Prince Fielder, this year's group is significantly weaker but not without option.
LaRoche is the best option by far, coming off of a .271 BA, 33 HR, 100 RBI season but all signs point to him re-signing with the at this point (h/t MLB.com).
Reynolds was non-tendered by the Orioles, as he snapped a streak of three straight season with 30-plus home runs with a .221 BA, 23 HR, 69 RBI line. His power is appealing and he proved to be a very good defensive first baseman after shifting over from third.
Pena has decent pop, good on-base skills and plays good defense. However, he'll again struggle to hit .220 and his power isn't what it once was. Loney, meanwhile, could be a good value in what will be his first full season out of the Los Angeles Dodgers.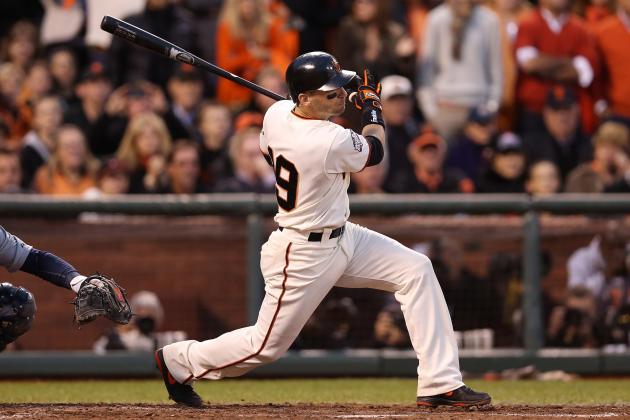 Christian Petersen/Getty Images

Starting Caliber Players at Position
1. Marco Scutaro
2. Kelly Johnson
Scutaro was quietly one of the best pickups of the deadline, as he hit .362 BA with three homers and 44 RBI while posting a 2.1 WAR in 61 games with the Giants after coming over from the Rockies.
He then not so quietly broke out in the postseason on his way to NLCS MVP honors and what will likely be a nice payday.
Johnson, re-signed by the Blue Jays to a one-year, $6.38 million deal last offseason, once again provided solid power for the position (16 HR, 55 RBI) but little else. Still, it's a thin market at the position and he'd be an upgrade for several teams.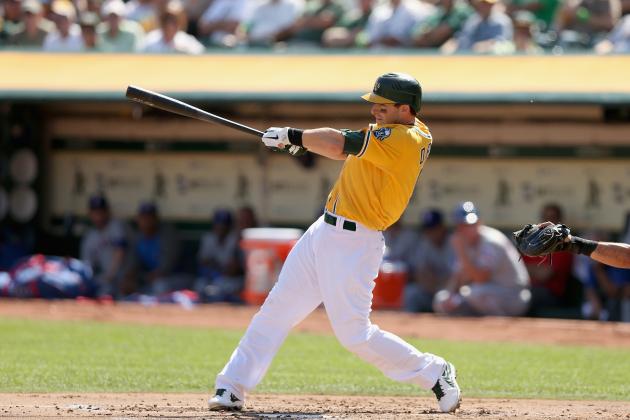 Ezra Shaw/Getty Images

Starting Caliber Players at Position
1. Stephen Drew
2. Hiroyuji Nakajima
The shortstop market is as thin as ever, which could make Indians trade candidate Asdrubal Cabrera the most valuable commodity on the trade market.
Drew will be signed by someone to start, despite hitting just .223 last season between Arizona and Oakland. The 2013 season will be his first full season back from a gruesome ankle injury, and at 29 years old, there is still plenty of time for him to return to the form that made him one of the top offensive options at the position.
Nakajima appeared headed to the Yankees last offseason when the team won the bidding rights to him, but the two sides failed to reach and agreement and he is now free to sign wherever he wants. He has the tools to hit .300 with double digit home runs and steals.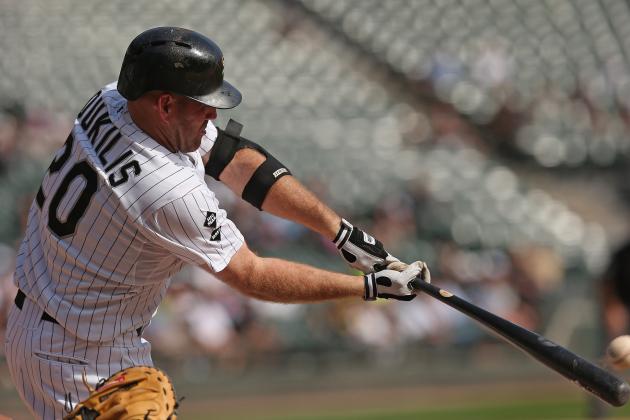 Jonathan Daniel/Getty Images

Starting Caliber Players at Position
1. Kevin Youkilis
2. Placido Polanco
3. Scott Rolen
No longer the MVP-caliber offensive player he once was, Youkilis still represents the best option on the market at third base and he was solid in shoring up the position for the White Sox last season.
The Phillies declined their $5.5 million option on Polanco as injuries limited him to just 90 games last season and he hit just .257 when he was on the field. At 37-years-old, he's better suited to be a utility type, but he may get a chance at a starting job somewhere.
Rolen appears headed for retirement, but if he does opt to return he's still a viable starting option.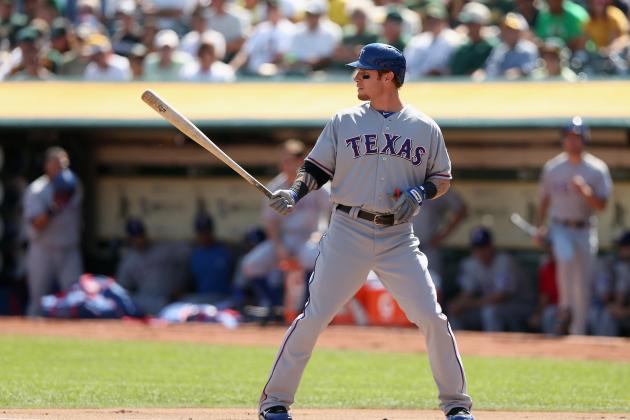 Ezra Shaw/Getty Images

Starting Caliber Players at Position
1. Josh Hamilton
2. Ryan Ludwick
3. Delmon Young
Hamilton is the prize offensive player of the market, and to this point no clear favorite has come forward. There is certainly still the chance he could return to the Rangers, but wherever he signs he'll be as big a huge risk/reward guy with MVP offensive skills but a significant injury history.
After garnering little interest on the free agent market last offseason, Ludwick wound up signing for $2 million with the Reds with an option for 2013. He went on to hit .275 BA, 26 HR, 80 RBI and opted to decline the option in search of a multi-year deal which he's likely to receive.
Young has been a disappointment throughout his career, but he has decent pop and will likely find a starting role once the other major chips have fallen on the outfield market.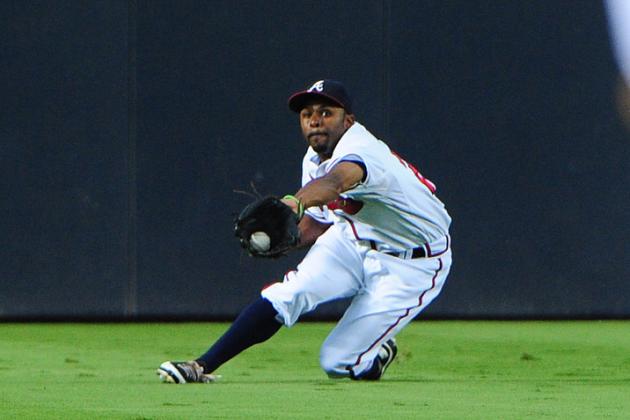 Scott Cunningham/Getty Images

Starting Caliber Players at Position
1. Michael Bourn
2. Angel Pagan
3. Shane Victorino
With B.J. Upton signing a five-year, $75.25 million contract with the Braves, the market has now been set for Bourn and Pagan who are both expected to get sizable deals.
Bourn is among the most dynamic table-setters in the game, and brings Gold Glove defense to center field as well. That said, he's a prime candidate to be overpaid this offseason based on his somewhat one-dimensional offensive game.
Pagan enjoyed a bounce back season for the World Champion Giants after coming over in a trade with the Mets last offseason, while Victorino put up some of the worst numbers of his career but remains a good power/speed threat.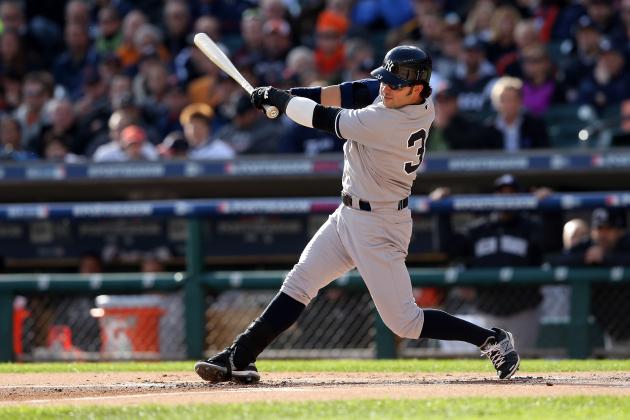 Leon Halip/Getty Images

Starting Caliber Players at Position
1. Nick Swisher
2. Ichiro Suzuki
3. Cody Ross
Not quite an elite offensive option, Swisher has averaged a line of .268 BA, 26 HR, 87 RBI during his four seasons with the Yankees and has topped the 20 home run mark each of the past eight seasons.
Ichiro rejuvenated his career following a trade to the Yankees last July, as he hit .322 in 67 games with the Yankees. The 39-year-old still has plenty left in the tank, as he continues to push for 3,000 hits (2,606 career hits).
Ross settled for a $3 million contract from the Red Sox after a poor 2011 season, and he significantly boosted his stock for this winter with a .267 BA, 22 HR, 81 RBI season.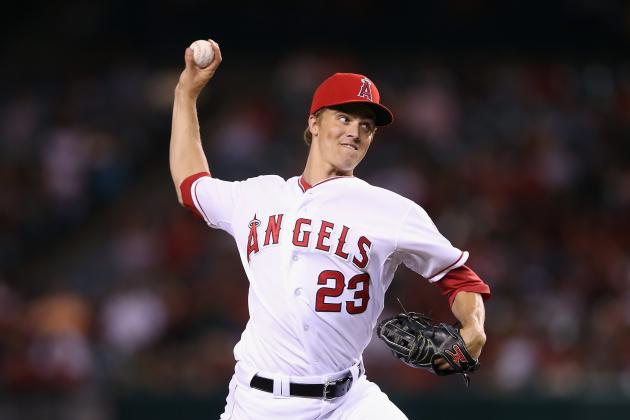 Jeff Gross/Getty Images

Rotation Locks
1. Zack Greinke
2. Kyle Lohse
3. Anibal Sanchez
4. Edwin Jackson
5. Brandon McCarthy
6. Ryan Dempster
7. Shaun Marcum
8. Dan Haren
9. Joe Saunders
Greinke is in a class by himself at the top of the starting pitching market, and it appears that he will be staying in Los Angeles, whether it is re-signing with the Angels or joining the free-spending Dodgers.
Lohse and Sanchez will both get big money deals, and are both solid No. 2 or 3 starters on a contender. Lohse is coming off of a career year during the regular season, and Sanchez did plenty to boost his stock during the Tigers' postseason run.
The rest of this group is a collection of proven veterans (Jackson, Dempster, Saunders) and high upside guys with injury concerns (McCarthy, Marcum, Haren).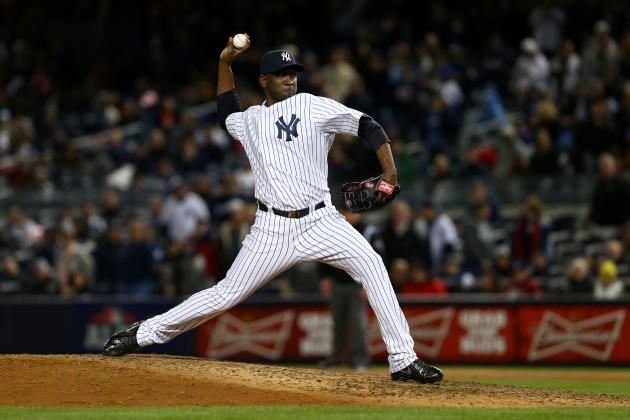 Elsa/Getty Images

Closers and Setup Men
1. Rafael Soriano
2. Joakim Soria
3. Brian Wilson
4. Mike Adams
5. Sean Burnett
6. Francisco Rodriguez
7. Jason Grilli
A number of the market's top relievers have already signed for the 2013 season, as Mariano Rivera, Jonathan Broxton and Ryan Madson have all already signed.
Soriano is the only one of the above group likely to wind up in a closing role. Soria and Wilson were once among the best ninth inning guys in all of baseball, but they'll likely be taken along slowly as both are returning from Tommy John surgery.
Adams and Burnett are proven, elite setup men while Grilli is also a veteran option coming off of a terrific season.
K-Rod is the wild card of the bunch, as he could thrive in the right situation and will likely benefit from leaving Milwaukee either way.