Chick-Fil-a Bowl 2012: LSU vs. Clemson TV Info, Predictions and More
Two of the biggest names in college football will square off in this year's Chick-fil-A Bowl as the LSU Tigers will battle the Clemson Tigers.
LSU has had a terrific season, finishing the regular season with a 10-2 mark. The only issue is that so did numerous other SEC teams, which brings the Tigers here to Atlanta.
Clemson also finished the year with a 10-2 record and were an impressive 7-1 in the ACC this season.
If you want to see a great offense in Clemson battle a great defense in LSU, then this is the game for you.
Let's go ahead and preview the 2013 Chick-fil-A matchup between LSU and Clemson—right here, right now!
Game Day Info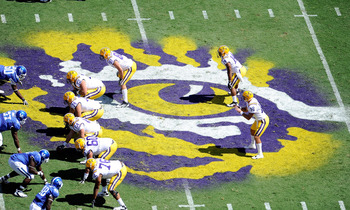 Stacy Revere/Getty Images
Where: Atlanta, Ga
When: December 31, 2012
TV: ESPN
Live Streaming: WatchESPN
Betting Line: TBD
Key Storylines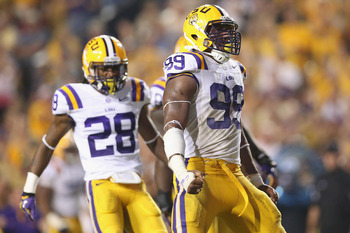 Ronald Martinez/Getty Images
The key storyline in this game will be how Clemson's high-scoring offense handles LSU's suffocating defense.
Clemson ranks sixth in college football in points per game, averaging 42.3 per contest.
Dabo Swinney's team has put up 30-plus points against the likes of Florida State, West Virginia and NC State this season, three quality college football teams.
But make no mistake about it, this LSU defense is one of the best in the nation.
The Tigers have held their opponents to a total of 203 points through 12 games this season, an average of just 15.6 points per game.
Something has to give in this matchup of dominant offense vs. dominant defense, right?
LSU Depth Chart and Injury Report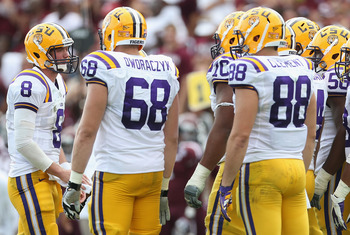 Ronald Martinez/Getty Images
Offense
QB: 8 Zach Mettenberger
17 Steven Rivers
RB: 33 Jeremy Hill
42 Michael Ford
11 Spencer Ware
27 Kenny Hilliard
FB: 44 J.C. Copeland
43 Connor Neighbors
Z: 3 Odell Beckham Jr.
10 Russell Shepard
Y: 80 Jarvis Landry
X: 86 Kadron Boone
LT: 68 Alex Hurst
RT: 72 Vadal Alexander
LG: 70 La'el Collins
RG: 74 Trai Turner
C: 64 P.J. Lonergan
Defense
LE: 49 Barkevious Mingo
LT: 77 Josh Downs
RT: 18 Bennie Logan
90 Anthony Johnson
RE: 99 Sam Montgomery
LB: 52 Luke Muncie
LB: 46 Kevin Minter
LB: 57 Lamin Barrow
CB: 32 Jalen Collins or 28 Jalen Mills
CB: 24 Tharold Simon
FS: 1 Eric Reid
SS: 6 Craig Loston
Notable Injuries: LB Kwon Alexander, OT Chris Faulk
Clemson Depth Chart and Injury Report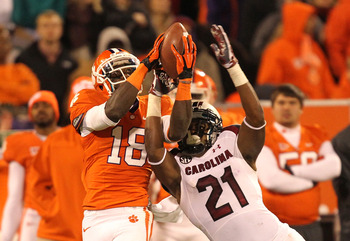 Streeter Lecka/Getty Images
Offense
QB: 10 Tajh Boyd
RB: 23 Andre Ellington
FB: 40 Darrell Smith
Z: 6 DeAndre Hopkins
Y: 18 Jaron Brown
H: 2 Sammy Watkins
LT: 63 Brandon Thomas
RT: 70 Gifford Timothy
LG: 68 David Beasley
RG: 62 Tyler Shatley
C: 55 Dalton Freeman
Defense
DE: 97 Malliciah Goodman
DT: 91 Josh Watson
DT: 50 Grady Jarrett
DE: 93 Corey Crawford
LB: 33 Spencer Shuey
LB: 46 Jonathan Willard
LB: 34 Quandon Christian
CB: 9 Xavier Brewer
CB: 26 Garry Peters
FS: 31 Rashard Hall
SS: 5 Jonathan Meeks
Notable Injuries: OL Kalon Davis
LSU Player to Watch: Zach Mettenberger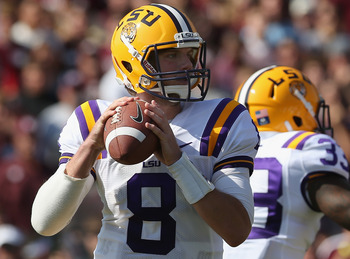 Ronald Martinez/Getty Images
Zach Mettenberger has had an up-and-down season this year, but all eyes will be on him in this game.
The Tigers' first-year signal-caller has to be the player to watch for LSU because this will be his first postseason bowl as a starter with LSU.
When Mettenberger is good, this LSU team is among the best in the country.
But when he struggles, like he did against Florida earlier this season, this offense becomes ineffective.
In the Tigers' other loss this season, against Alabama, Mettenberger played great, having arguably his best game of his college career at LSU. But if that hadn't been the case, one might argue that Alabama would have blown the Tigers out.
Either way, Clemson is a soft defense and we have seen quarterbacks eat up the Tigers' secondary throughout this entire season.
Can Mettenberger do the same?
Clemson Player to Watch: Tajh Boyd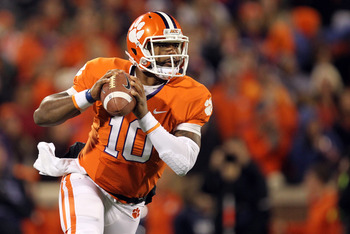 Streeter Lecka/Getty Images
Put it this way: If Clemson beats Florida State, wins the ACC, and would be playing for a BCS Bowl, it is likely that Tajh Boyd would be a legitimate Heisman Trophy candidate.
Yes, he is that good.
This season, Boyd has thrown for 3,550 yards and 34 touchdown passes. He has also rushed for 492 yards and nine more touchdowns on the ground.
Those are enormous numbers, and if LSU is going to win this football game, the Tigers are going to have to find some way to at least slow down Clemson's star quarterback.
Keep an eye on Boyd in this one and how he plays against this LSU defensive unit, which will likely be the best defense he has seen all season.
Key Matchups
Streeter Lecka/Getty Images
The top matchup that everyone should be looking forward to seeing in this game will be Clemson's star wide receivers against LSU's shutdown secondary.
For years, LSU has been known for its exceptional play in the secondary, and that is no different this year, even though the Tigers only returned one starter in that secondary from last year's SEC Championship team.
Tharold Simon is one of the top cover corners in the nation and he will likely be matched up against Sammy Watkins.
Eric Reid is an All-American safety, but how will he do against the dominant duo of Watkins and DeAndre Hopkins?
Get your popcorn ready!
LSU Will Win If...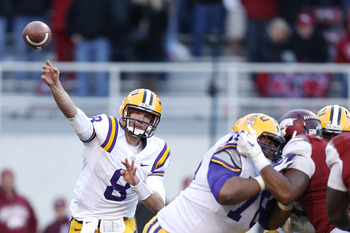 Wesley Hitt/Getty Images
The LSU Tigers will win this game if they stick with their normal game plan on both sides of the ball.
Why does that sound so easy?
Because LSU is the better football team in this game.
If LSU can establish the run with freshman Jeremy Hill and make consistent, high-percentage passes with Zach Mettenberger, then the Tigers should be able to control the pace of the game on the offensive end.
On defense, it is no secret that Clemson likes to air it out and put points up on the board. But Clemson has not seen a defense like what they will see in this matchup with LSU.
LSU will make it tough for Tajh Boyd to have much time to stand in the pocket and throw the ball around like they are used to.
If LSU plays their style of football, the Tigers should leave Atlanta with a victory.
Clemson Will Win If...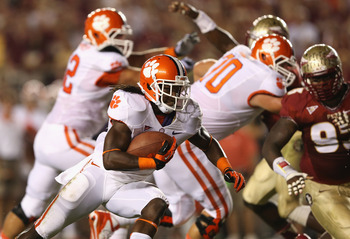 Streeter Lecka/Getty Images
Clemson will win this game if this team plays near-perfect football.
Don't get me wrong, the Tigers are a good football team. But, LSU is a great football team, and this is going to be Clemson's biggest challenge of the season.
On offense, Clemson needs a big game from Tajh Boyd. He is the engine that makes this Clemson offense go, and if he can create some big plays in this contest, Clemson should be able to hang around with LSU.
On defense, this unit needs to find a way to slow down LSU's rushing attack.
In reality, Clemson's defense hasn't been able to slow down any elite teams this season, which is why I think this could be a long day for this defense.
This team needs to play their best if they are going to win this game.
Prediction
How will LSU first-year quarterback Zach Mettenberger play in his first NCAA Division I college bowl game?
That is the biggest question heading into this matchup.
Don't be surprised to see LSU rely heavily on the run and mix in some simple, high-percentage passing plays in order to get Mettenberger comfortable early on.
Clemson will put up some points on this LSU defense, but can they find balance on offense against this LSU defense?
If Tajh Boyd and Andre Ellington can run the ball, and Boyd can get the ball in the hands of Watkins and Hopkins in the passing game, then this should be a very exciting college football contest.
In the end, I think that LSU's defense proves to be the more dominant unit.
They say defense wins championships, right?
Make it: LSU 24, Clemson 21
Keep Reading

Clemson Football: Like this team?