MAC Championship: Northern Illinois vs Kent State: Live Score, Results, Analysis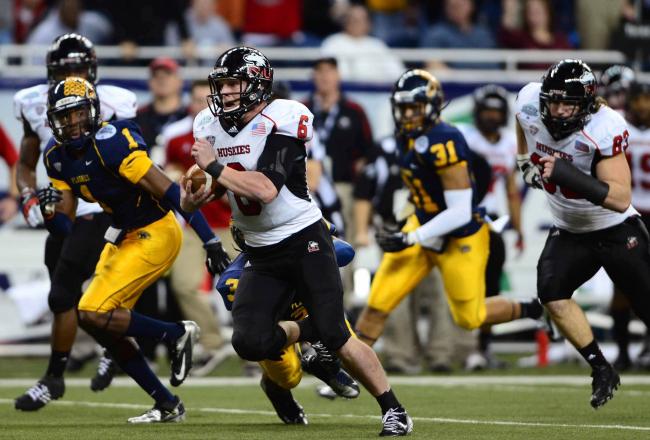 The Kent State Golden Flashses and Northern Illinois Huskies will duke it out at Ford Field for the 2012 MAC title.
Andrew Weber-US PRESSWIRE
Northern Illinois 44 Kent State 37 - Final Score
The No. 21 Northern Illinois overcame three turnovers and a furious comeback by the No. 17 Kent State Golden Flashes in the final five minutes of regulation to become the Mid-American Conference champions for a second straight year.
Despite out-gaining the Golden Flashes 524-260 in total yardage, Northern Illinois' defense gave up 14 points in the fourth quarter and Kent State scored a defensive touchdown to help keep its BCS bowl hopes alive for as long as possible.
Kent State had no answer for junior dual-threat quarterback Jordan Lynch, though. The MAC's offensive player of the year finished the game with 372 total yards and four touchdowns.
Lynch also broke Denard Robinson's single-season record for most rushing yards by a quarterback on a 44-yard rush in the third quarter.
Northern Illinois held Kent State's dynamic duo of Trayion Durham and Dri Archer to a combined 87 yards and one touchdown. Both running backs entered the game with more than 1,000 yards apiece on the ground.
The Huskies now have an outside shot at a BCS bowl berth if the Texas Longhorns, Boise State Broncos and UCLA Bruins suffer losses in their respective games this weekend.
Also, be sure to check out the 10 things we learned about Northern Illinois' victory over Kent State.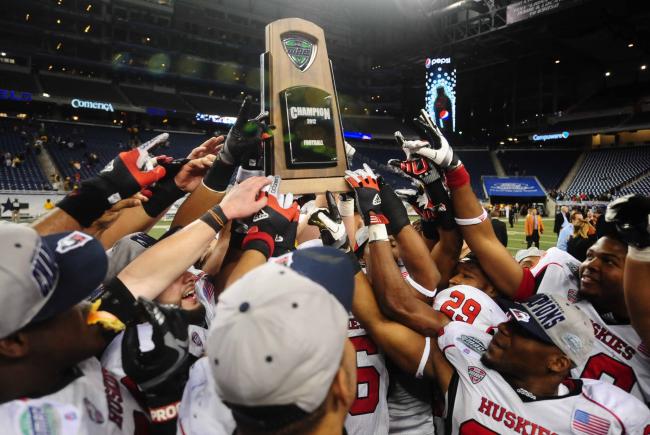 Northern Illinois outlasted a feisty Kent State team and are now the two-time defending MAC champions.
Jordan Lynch may not get an invite to New York for the Heisman Trophy presentation, but the junior dual-threat quarterback did it all for the Huskies and converted several critical third downs to keep drives alive.
The Huskies' defense also proved to be more than up to the task of shutting down Dri Archer and Trayion Durham, who finished the game with a combined 87 rushing yards. Kent State's rushing offense, which normally averages over 240 yards per game, only managed to accrue 70 yards on the ground.
Northern Illinois has some BCS hopes now, but there chances of actually earning an at-large bid are extremely slim.
The Texas Longhorns and UCLA Bruins are taking on top 10 opponents this weekend, and are not going to fall very far in the national rankings even if they lose. The Boise State Broncos are also in prime position to sneak into the BCS picture, so the Huskies will be rooting for the Nevada Wolf Pack to pull off an upset tomorrow night against Chris Petersen's squad.
Northern Illinois and Kent State will both be tough to beat in whatever bowl game the two wind up in, and one of these teams may wind up back at Ford Field again in the Little Caesars Pizza Bowl.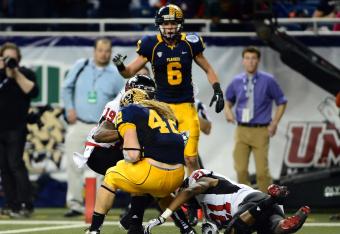 The Kent State Golden Flashes will not be the first MAC team to play in a BCS bowl game after their 44-37 loss in double overtime to the Northern Illinois Huskies.
Dri Archer and Trayion Durham were never able to get anything going on the ground, and Northern Illinois' defense pressured, hit and sacked quarterback Spencer Keith all night.
The Huskies made Keith beat them with his arm, and the senior from Little Rock, Arkansas made a couple of clutch throws late in the game, including a 19-yard touchdown toss to Tim Erjavec to tie the game with less than a minute left in regulation, but it was too little too late for the Golden Flashes.
Keith finished the game 15-of-36 for 190 yards, one touchdown and two interceptions.
The Golden Flashes kept themselves in the game by forcing three turnovers and living off of mistakes like they have all season long, but Kent State had no answer for Jordan Lynch.
This loss does not take away from what head coach Darrell Hazell, his staff and the players accomplished at Kent State this season.
The Golden Flashes had more double-digit loss seasons than six-win seasons entering the 2012 campaign, but they managed to win 11 games this year. Hazell and Kent State deserve a lot of credit and recognition for what it did this year.
Both teams deserve a round a applause for their efforts in tonight's game! #MACtion

— MAC Fan Experience (@ExperienceMAC) December 1, 2012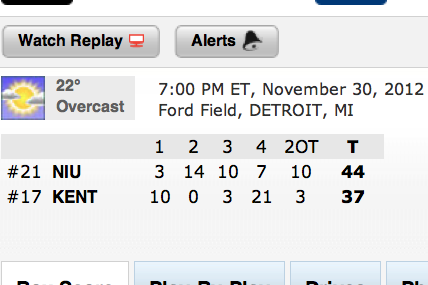 Final box score per ESPN.com.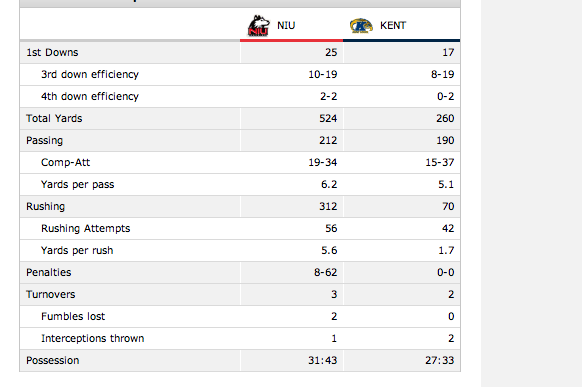 Final stats per ESPN.com.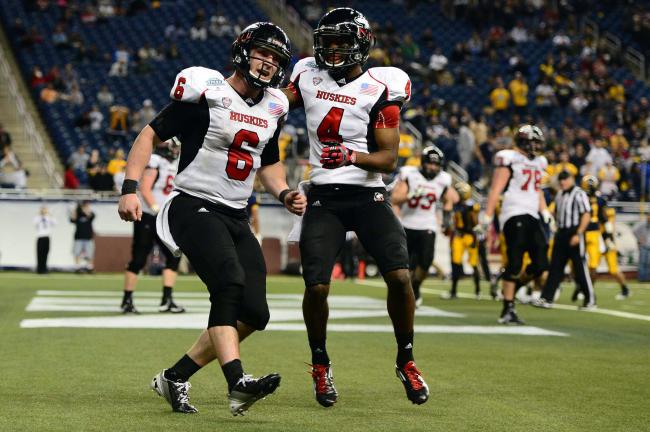 Northern Illinois Interception!
The Huskies intercept Keith's final pass attempt in the end zone and Kent State's BCS bowl hopes end at Ford Field in the MAC title game.
Northern Illinois repeats as champions of the Mid-American Conference!
Kent State will call a timeout to talk it over.
This play should be a pass to either Archer or Humphery. Those have been the Golden Flashes most reliable targets tonight.
BCS hopes are at stake.
Keith nearly throws the game away on second down. Fortunately an NIU linebacker dropped it. Incomplete pass on third down sets up one play to tie this game up again.
Kent State runs the ball on first and second down. I like the strategy trying to set up a third and manageable since it's four-down territory for the Golden Flashes. NIU's defense just stood its ground, though.
The Golden Flashes get bailed out by a pass interference penalty along the sideline. Looked extremely questionable to me.
Kent State needs a touchdown in order to keep its BCS hopes alive.
Northern Illinois Touchdown! Northern Illinois 44 Kent State 37
Daniels breaks off a 23-yard run on first down to set NIU up at the Kent State two-yard line.
Lynch dives across the goal line for the touchdown!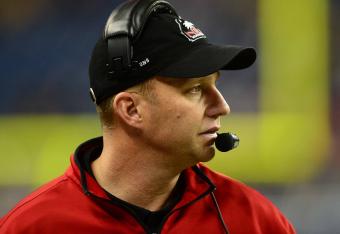 Northern Illinois Field Goal! Kent State 37 Northern Illinois 37, End of First Overtime
Sims is now 3-for-3 as well for the Huskies. Nails a 40-yarder to send this one to a second overtime.
Both kickers narrowly kept those inside the left upright.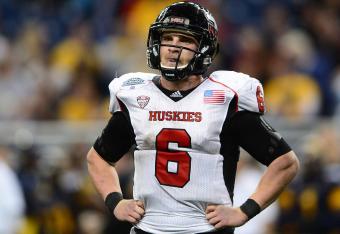 NIU comes out and runs two rushing plays up the middle for two yards, and Lynch is covered up by the Kent State defense on third down. Lynch forced one into traffic.
Kent State Field Goal! Kent State 37 Northern Illinois 34
Cortez is now 3-for-3 on field goal attempts tonight. Knocks a 33-yarder through to give Kent State the lead.
Kent State Fumble!
Erjavec fumbles a pitch on a reverse play, and luckily the Golden Flashes fall on the ball. NIU looked to have the play covered well anyway.
Durham back in the game for Kent State and plows forward to the NIU five-yard line.
Play is reversed! Kent State now has first down at the NIU 14-yard line.
Kent State got a horrible spot there. Clearly looked like Erjavec tip-toed the sidelines and stayed in long enough to get across the first down marker.
Play is being reviewed, and should give Kent State a first down at the NIU 14 or 15-yard line.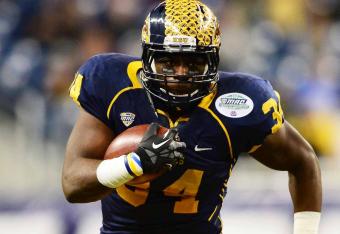 Durham goes to the sidelines holding his ankle after rushing for four yards on the first play of overtime. Bad news for Kent State.
NIU wins the toss and opts to go on defense. Standard procedure there by the Huskies.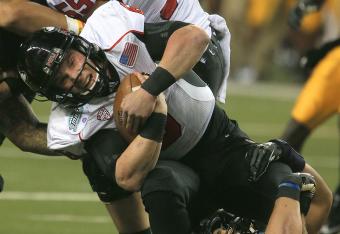 End of Regulation
NIU opts to let the clock run out after Lynch takes a sack. Very conservative play-calling there with two timeouts.
Kent State has all the momentum heading to overtime, but NIU has had the better offense tonight.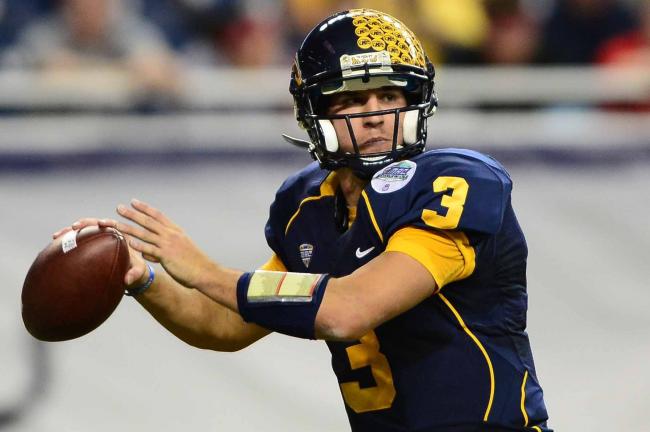 Kent State Touchdown! Northern Illinois 34 Kent State 34, 0:44 remaining in the game
Keith rolls out and hits junior tight end Tim Erjavic in the end zone to tie the game up!
Northern Illinois has plenty of time left on the clock with two timeouts to win this game, though.
Northern Illinois Timeout! 0:52 remaining in the game
NIU coaches must not have liked what Kent State came out in there. Timeout will give them a chance to re-group and leaves two for the offense.
Kent State Timeout!
The Golden Flashes have converted two third downs on this drive already, but are 6-for-15 tonight.
Look for a pass to Archer or Humphery.
This article is
What is the duplicate article?
Why is this article offensive?
Where is this article plagiarized from?
Why is this article poorly edited?