Steelers vs. Ravens: Instant Grades, Analysis for Baltimore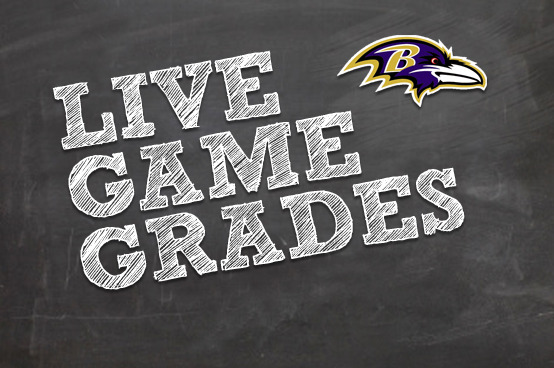 Baltimore: 20
Pittsburgh: 23
Final Score
The Ravens have squandered a valuable opportunity and choked away another game. The Steelers win thanks to a walkoff field goal by Shaun Suisham and a generous Ravens offense that did nothing in the fourth quarter.
This is the Ravens first home and divisional loss since December 2010, where they were also beat by the Steelers. It's a crippling loss that delays the clinching of an AFC North title and gives both the Cincinnati Bengals and the Steelers new playoff lives.
Begin Slideshow

»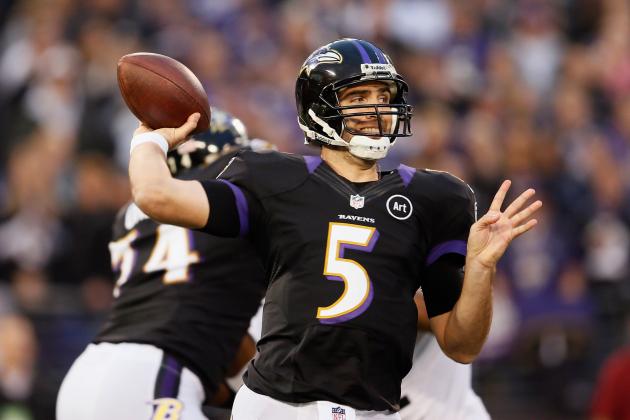 Rob Carr/Getty Images

Joe Flacco- D
It looks like Flacco brought his poor road play back home for this game. Yes, he was good in spurts such as the touchdown to Anquan Boldin.
He was also bad in spurts too and unlike last time when he did a good job as a game manager, he turned the ball over multiple times. He threw one interception and surrendered a fumble on his fourth and final sack of the day.
One telling stat is that Flacco literally had two receptions the entire second half. That is not the kind of winning production that you are going to get from your quarterback in most NFL games.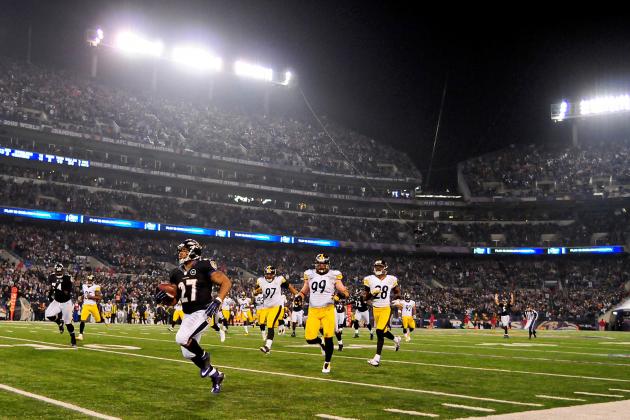 Evan Habeeb-US PRESSWIRE

Ray Rice- B+
Rice did most of his damage in the 3rd quarter where he racked up 44 rushing yards. This included a 34-yard touchdown that at the time gave the Ravens a seven point lead.
Rice got no touches in the fourth quarter, which is another example of the Ravens horribly flawed offensive gameplan. 78 yards and a touchdown is very impressive against a team like the Steelers. It's difficult to wonder what could have been had Rice gotten more than the 12 rushing attempts he had in the game.
Bernard Pierce- B-
Although he only had 34 rushing yards, Pierce was impressive with his limited touches. He brings something to the run game that Rice doesn't have, namely his ability to run between the tackles. With eight attempts compared to Rice's 12, could it be that the Ravens are trying to make this a timeshare?
Vonta Leach- B-
Leach added another component to his gameplay, catching the ball. He had four catches for 40 yards, which is definitely a lot more than his usual catch production. He also contributed with some nice blocks during Rice's runs.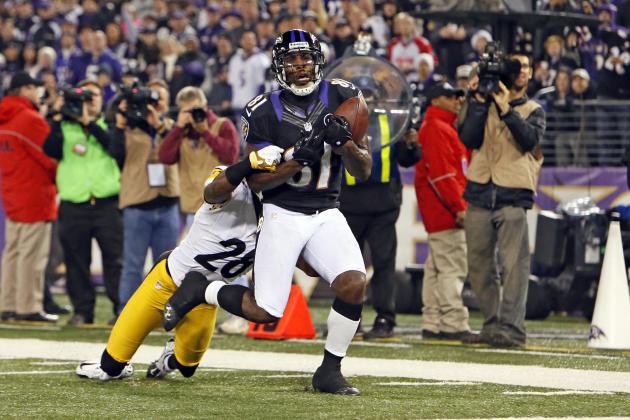 Mitch Stringer-US PRESSWIRE

Anquan Boldin- C
It's difficult to decide what to weigh Boldin's grades on. He did have five catches for 81 and a touchdown, which was by far the best performance any Ravens receiver had on the day.
On the other hand though, Boldin killed the team with three penalties. He had three penalties, all of which cost the offense 20 yards.
Torrey Smith- C+
Definitely a better game for Smith than the last time he played against the Steelers. He grabbed in three balls, all of which went for eight or more yards. Still the Steelers seemingly have figured him out as they held him for zero catches after the second quarter.
Jacoby Jones- D+
Jones was non-effective in both the passing game and the returning game. His one catch went for five yards even though he was targeted multiple times.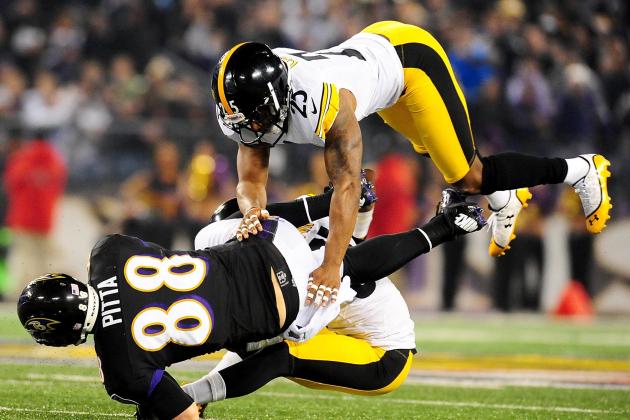 Evan Habeeb-US PRESSWIRE

Dennis Pitta- C-
Only one catch for Pitta on the day, who was the only tight end to do anything with the Ed Dickson injury. He did look very good on his one catch which went for 19 yards. He was also overthrown by Flacco multiple times.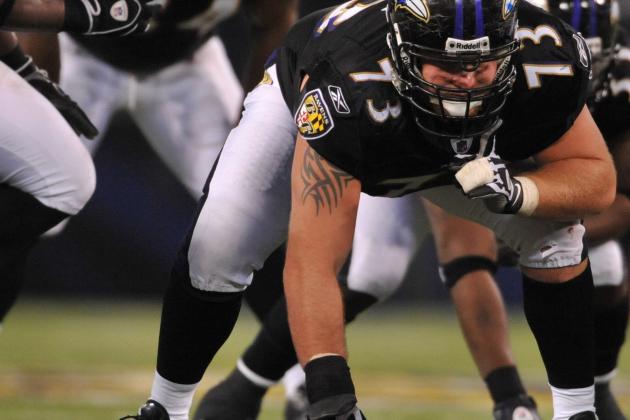 Larry French/Getty Images

Michael Oher- C+
Oher still causes way too many penalties. He got his penalty for today out of the way early with an unnecessary roughness penalty early in the first quarter. He also had some issues with pass protection.
Bobbie Williams- C-
Williams continues to look old and overmatched as a starter. He was beat around today by the Steelers pass rush.
Matt Birk- C-
Birk had a bad game as well. He lost the battle at the line of scrimmage and struggled in blocking the Steelers defensive linemen.
Marshal Yanda- D
Yanda didn't help very much with the run blocking game. He also failed to contain James Harrison.
Kelechi Osemele- C+
Osemele was doing all right containing the Steelers pass rush initially. He just couldn't hold up though and he was beat by Ziggy Hood on a bad sack play.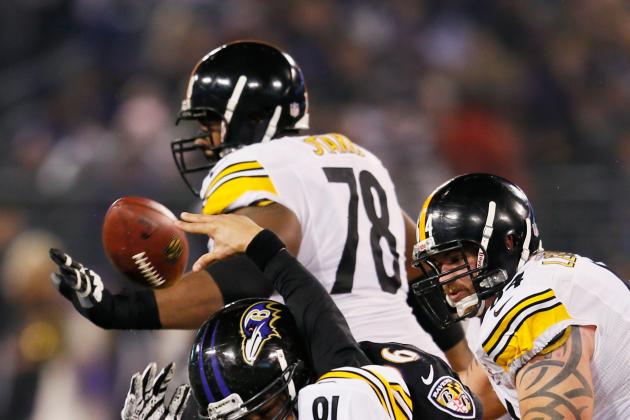 Rob Carr/Getty Images

Arthur Jones- C
Jones did add another sack today which was his highlight. He now has three sacks in two weeks after previously not having a sack on the season.
Pernell McPhee- D+
Back after a few weeks sitting out from injuries, McPhee didn't have an impressive return. He still got the start but only had one tackle to show for it. With the sack production that Jones has had lately, it might be better if he became the starter.
Terrence Cody- C-
Both Cody and Ma'ake Kemoeatu did nothing to impress at nose tackle. Cody got one tackle and he had trouble wrapping up Jonathan Dwyer who got most of his 49 rushing yards running up the middle.
Ma'ake Kemoeatu- D
Despite starting, Kemoeatu didn't even record a tackle in this game.
Haloti Ngata- D+
Ngata had one of his worst games this season as he also recorded no stats.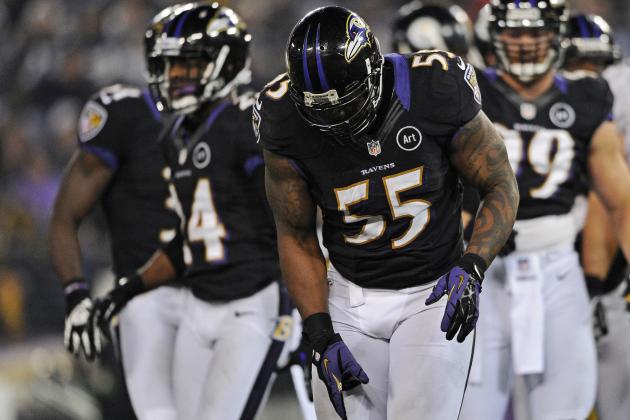 Patrick Smith/Getty Images

Terrell Suggs- C-
Perhaps Suggs' miraculous comeback was a little too miraculous. He's been pretty limited in frequent weeks and today he only had two tackles before leaving the game with an arm injury.
Courtney Upshaw- C
Upshaw didn't start today but he still put together four tackles and got some pressure on Charlie Batch.
Brendon Ayanbadejo- C+
Ayanbadejo got the start in place of Dannell Ellerbe. It showed too cause he only had two tackles and wasn't all over the field like Ellerbe usually is.
Jameel McClain- B
Unlike Ayanbadejo, McClain was making a lot of noise across the field. He got four tackles in one of his better games of the season.
Josh Bynes- C-
Bynes had limited time today and did all right with one tackle.
Paul Kruger- C
The late roughing the passer penalty really hurt Kruger and the defense. Besides that though, he did all right as he continued to provide some pass rush by recording a sack.
Albert McClellan- C+
McClellan had a dumb penalty as well. However he did manage four tackles and came ever so close to blocking a punt.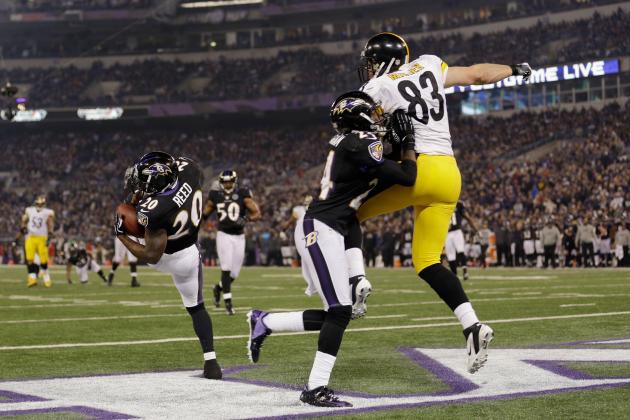 Rob Carr/Getty Images

Corey Graham- B+
Graham was again a very solid starter. He picked off an errant Antonio Brown pass and for the most part he kept his receiver guarded well. Between his nine tackles and interception, he had the best night of any Ravens defenders.
Cary Williams- D
It wasn't nearly as good a night for Williams. He let Brown and Sanders get open and was beat several times in the fourth quarter.
Chykie Brown- D
Brown got some playing time on extra receiver sets and he did all right though his coverage skills still need improvement.
Bernard Pollard- C+
You got to love the intensity Pollard brings to every game. He had eight tackles including a brutal one late in the fourth that helped get the crowd in the game.
Ed Reed- C+
Reed recovered the Emmanuel Sanders fumble. He also somehow took an interception from the Ravens one to nearly the 50 yard line. His coverage issues bring his grade down a bit but in many ways this was a vintage Ravens-Steelers performance for Reed.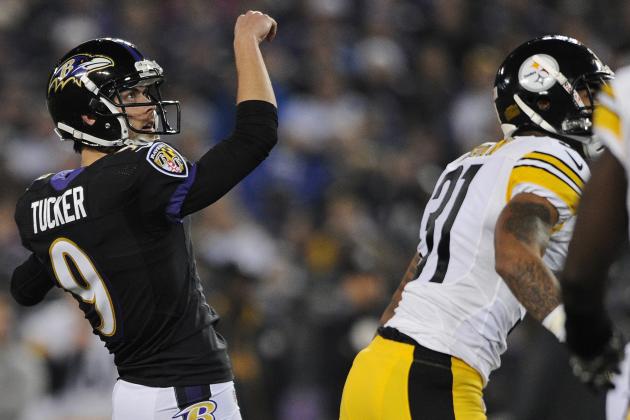 Patrick Smith/Getty Images

Justin Tucker- B-
Tucker was two-for-two on field goals, including a lengthy 45 yarder. He's still nearly automatic at home and continues to be great from longer distances.
Sam Koch- C+
Koch had five punts today, including one that went for 57 yards. For the most part, he did his job to keep the team in good field position.
Jacoby Jones- C-
Jones had no impact in the return game tonight as the Steelers wisely kicked it away from him. Definitely a disappointment considering the tear he had been on and the touchdown he scored against the Steelers last time.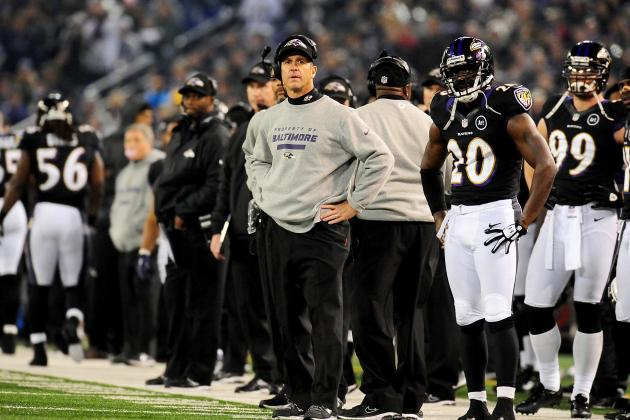 Evan Habeeb-US PRESSWIRE

John Harbaugh- D-
The coaching has to take the brunt of the blame for this loss. Harbaugh's challenge in the third quarter was idiotic as the team didn't stand to gain anything substantial from it. Ultimately it helped to hurt them late in the end when they ran out of timeouts early.
He did not have his team ready today. Mistakes were plenty as they somehow lost to a reeling Steelers team down to their third-string quarterback. It's clear that Mike Tomlin outcoached Harbaugh today.
Cam Cameron- F
Oh Cam. What will it take to put through your brain that you should give the ball to your Pro Bowl running back late in the fourth quarter?
Seriously, one rush in the fourth quarter? Cameron completely forgot about balancing the attack and instead passed eight times in a close fourth quarter. This took time off the clock and did wonders in assisting the Steelers comeback.
Dean Pees- D+
Don't worry, Pees isn't getting off the hook here either. His defensive schemes were awful and they somehow let an old backup like Charlie Batch get some deep passes open. The pass rush was here but again it wasn't nearly enough to help get the win.