NFL Rookie Report: Grading Every Rookie Class Heading into Week 14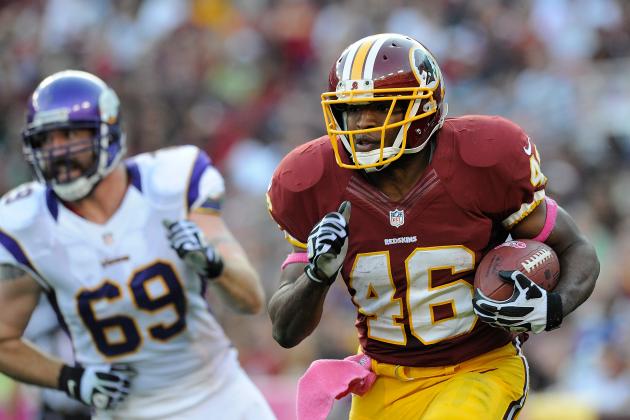 Draft classes are scrutinized as they are being formed and immediately after the draft, without the rookies ever stepping foot into a NFL training room or football field.
Thirteen weeks of action has revealed much about each team's draft class and how wrong we were about many rookies. Some have been predictably good, while we have seen our typical share of disappointments.
How does each team's rookie class grade out heading into Week 14? Click through to find out.
.
Begin Slideshow

»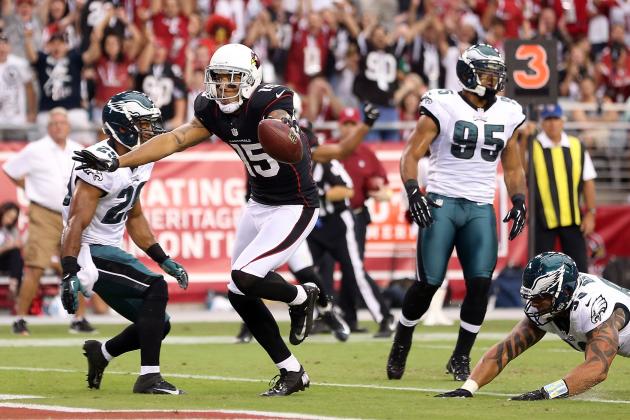 Christian Petersen/Getty Images

Draft Picks: Michael Floyd, WR, Notre Dame (13); Jamell Fleming, CB, Oklahoma (80); Bobby Massie, OT, Mississippi (112); Senio Kelemete, OG/T, Washington (151); Justin Bethel, S, Presbyterian (177); Ryan Lindley, QB, San Diego State (185); Nate Potter, OT, Boise State (221)
This season has been a mess for the Cardinals, and the rookie class has not helped much.
Floyd, drafted to complement Larry Fitzgerald, couldn't even get on the field at the beginning of the season. Andre Roberts has been far more effective as a No. 2 receiver, though Floyd has come on in recent weeks.
Perhaps the most damning part of this class has been Bobby Massie's contribution—or lack thereof—to the pass-blocking along this offensive line. He has improved a bit in recent weeks, but this has been a forgettable rookie season for the offensive tackle.
There has not been much contribution from this class in general, but Ryan Lindley has really dragged the class down. In fairness, he was not supposed to see the field with John Skelton and Kevin Kolb—however poor they are themselves—in front of him on the depth chart.
We now know why he was a late-round pick.
Rookie Class Grade: D+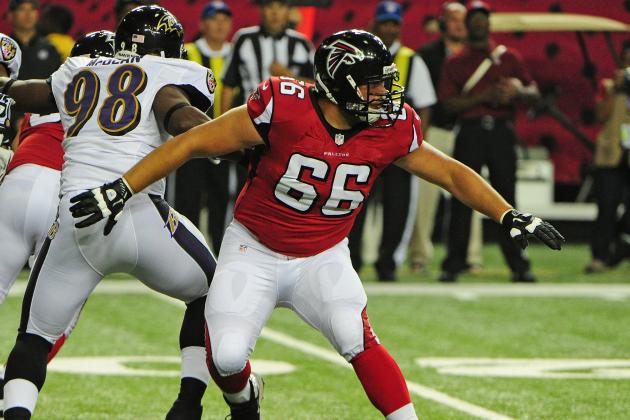 Scott Cunningham/Getty Images

Draft Picks: Peter Konz, C, Wisconsin (55); Lamar Holmes, OT, Southern Mississippi (91); Bradie Ewing, FB, Wisconsin (157); Jonathan Massaquoi, DE, Troy (164); Charles Mitchell, S, Mississippi State (192); Travian Robertson, DT, South Carolina (249)
The Falcons were very much in "win now" mode heading into the season, meaning there would be few opportunities for rookies to contribute right away. Without a first-rounder, thanks to the deal that netted them Julio Jones, offensive lineman Peter Konz was their top pick.
The former Wisconsin center was pressed into action at guard when Garrett Reynolds was injured, and Konz has not given the starting gig back. The other rookies have contributed very little.
Rookie Class Grade: C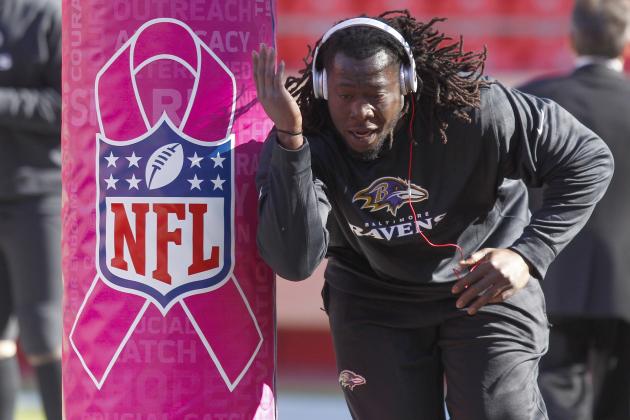 Kyle Rivas/Getty Images

Draft Picks: Courtney Upshaw, OLB, Alabama (35); Kelechi Osemele, T, Iowa State (60); Bernard Pierce, RB, Temple (84); Gino Gradkowski, C, Delaware (98); Christian Thompson, S, South Carolina State (130); Asa Jackson, CB, Cal Poly (169); Tommy Streeter, WR, Miami (198); Deangelo Tyson, DT, Georgia (236)
Baltimore trade out of the first round and selected Courtney Upshaw to help their defensive front, not knowing at the time that Terrell Suggs would tear his Achilles and miss the first part of the season.
He has not been outstanding, netting just two sacks and 27 tackles, but Upshaw has been adequate for the Ravens on defense.
Kelechi Osemele, their second pick of the draft, has been quite good at right tackle for the Ravens.
One of their best rookies has actually been undrafted free agent Justin Tucker, who continues to nail field goals after Billy Cundiff was no longer able to make kicks regularly in the NFL.
Bernard Pierce has also been a good backup running back to Ray Rice, though the Ravens should perhaps think about utilizing Rice more than they have at times this season.
Rookie Class Grade: B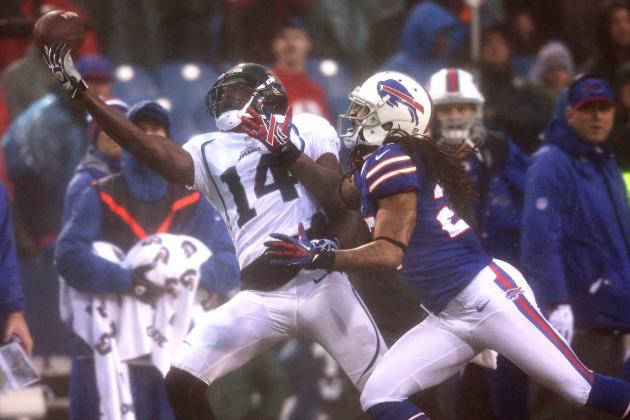 Tom Szczerbowski/Getty Images

Draft Picks: Stephon Gilmore, CB, South Carolina (10); Cordy Glenn, OT, Georgia (41); T.J. Graham, WR, N.C. State (69); Nigel Bradham, OLB, Florida State (105); Ron Brooks, CB, LSU (124); Zebrie Sanders, OT, Florida State (144); Tank Carder, LB, TCU (147); Mark Asper, OG, Oregon (178); John Potter, K, Western Michigan (251)
The draft's second cornerback off the board has not played nearly as well as its first. Stephon Gilmore was brought in to help shore up a bad Buffalo secondary, but he has not done much to improve it in his first season, allowing three touchdown passes and intercepting zero to this point.
Glenn, on the other hand, has been a bit of a pleasant surprise after falling all the way out of the first round, where many had him going. Glenn has started most games at left tackle and rates among the Top 25 among all tackles according to Pro Football Focus.
Nigel Bradham is the only other rookie with real playing time, and he has been average at best.
Rookie Class Grade: C+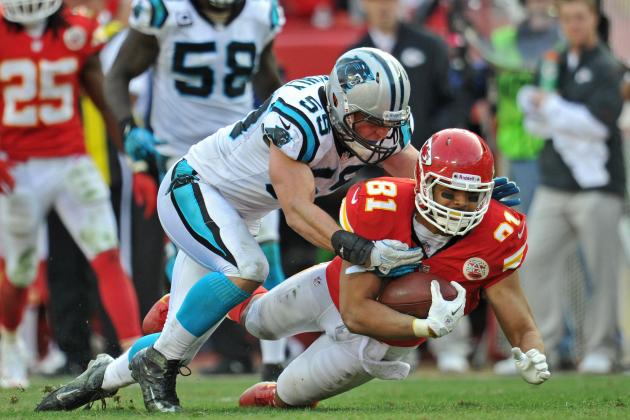 Peter Aiken/Getty Images

Draft Picks: Luke Kuechly, LB, Boston College (9); Amini Silatolu, G, Midwestern State (40); Frank Alexander, OLB, Oklahoma (103); Joe Adams, WR, Arkansas (104); Josh Norman, CB, Coastal Carolina (143); Brad Nortman, P, Wisconsin (207); D.J. Campbell, S, California (216)
The Panthers needed help on defense, though the need at linebacker might have been less than elsewhere on that unit.
Still, Luke Kuechly has performed well, particularly when he took over as the starting middle linebacker when Jon Beason was injured again. The rookie leads his team in tackles by a good margin and is tied for 13th in the league with 68 solo tackles.
Fellow rookie Josh Norman is second on the team with 49 tackles, a bit surprising considering he is a cornerback. Unfortunately, Norman needs some work in coverage, where he has allowed opposing quarterbacks a 97.3 NFL rating on balls thrown his way.
Frank Alexander has also contributed a good amount on defense as a reserve, racking up 27 total quarterback pressures on just 412 snaps.
All in all, though, the defense has not improved much from last year. Maybe another year of seasoning will help.
Offensively, the Panthers needed some help along the line as well, and they thought they got some when they drafted Amini Silatolu. He has been among the league's worst guards, though, garnering one of the worst single-game grades on Pro Football Focus this season with a -9.0 rating against the Bears.
Rookie Class Grade: B-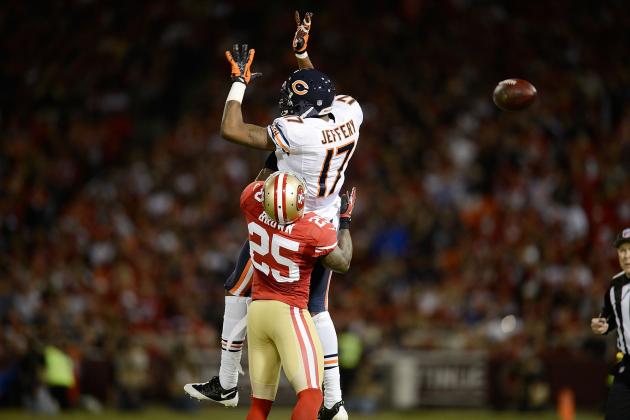 Thearon W. Henderson/Getty Images

Draft Picks: Shea McClellin, DE, Boise State (19); Alshon Jeffery, WR, South Carolina (45); Brandon Hardin, S, Oregon State (79); Evan Rodriguez, TE, Temple (111); Isaiah Frey, CB, Nevada (184); Greg McCoy, CB, TCU (220)
Outside an injury-limited season from Jeffery and rotational work for McClellin, the Bears have not gotten much out of this draft class.
McClellin has contributed just three sacks and 25 total quarterback pressures on 291 defensive snaps—not terrible, but not great for a pass-rusher.
Jeffery had some nice games before he started getting injured. A broken hand sidelined him for a few weeks, then he had surgery to repair some knee damage the game after he got back.
Rodriguez has started to make noise in recent weeks, finally catching his first passes against Minnesota and Seattle.
Rookie Class Grade: C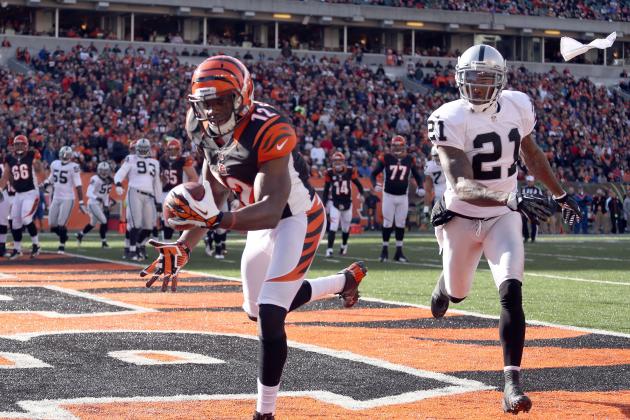 Andy Lyons/Getty Images

Draft Picks: Dre Kirkpatrick, CB, Alabama (17); Kevin Zeitler, OG, Wisconsin (27); Devon Still, DT, Penn State (53); Mohamed Sanu, WR, Rutgers (83); Brandon Thompson, DT, Clemson (93); Orson Charles, TE, Georgia (116); Shaun Prater, CB, Iowa (156); Marvin Jones, WR, California (166); George Iloka, S, Boise State (167); Dan Herron, RB, Ohio State (191)
One of the league's best draft classes according to draftniks has not quite lived up to the hype.
Kevin Zeitler has been fantastic at guard, grading out as the seventh-best guard in the league to date according to PFF. The Bengals and everyone else knew they got a steal when they got him that late.
Mohamed Sanu is the only other rookie to really contribute for this team. After injuries stalled him early in the year, Sanu scored four touchdowns in three games before being sidelined for the season with another injury.
Kirkpatrick has also been dealing with injuries all year, appearing in just three games on 43 snaps thus far.
Devon Still has done a decent job rotating in on that defensive line
The Bengals do boast one of the best undrafted free agent signings of the year in Vontaze Burfict. Antics on and off the field annihilated Burfict's draft stock, but Cincinnati took a chance on him as a free agent.
Burfict has 85 combined tackles according to Pro Football Reference, not bad for an undrafted outside linebacker.
Rookie Class Grade: B-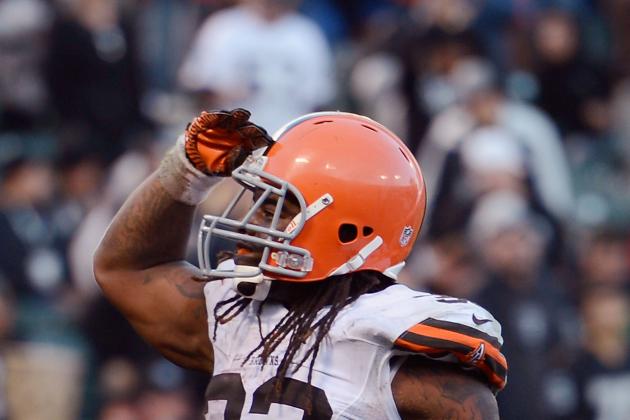 Thearon W. Henderson/Getty Images

Draft Picks: Trent Richardson, RB, Alabama (3); Brandon Weeden, QB, Oklahoma State (22); Mitchell Schwartz, OT, California (37); John Hughes, DT, Cincinnati (87); Travis Benjamin, WR, Miami (100); James-Michael Johnson, LB, Nevada (120); Ryan Miller, OT, Colorado (160); Emmanuel Acho, LB, Texas (204); Billy Winn, DT, Boise State (205); Trevin Wade, CB, Arizona (245); Brad Smelley, TE, Alabama (247); Josh Gordon (2nd round supplemental pick)
For all the flak Cleveland got for trading up to take a running back and drafting a 28-year-old quarterback in the first round, their draft class has been pretty good. This is a young team with many rookies getting playing time; they may not be good, but the Browns have a pretty good, young core.
Doug Martin and Alfred Morris have gotten all the publicity as great rookie running backs, but Trent Richardson has quietly been a horse for the Browns, without whom they might not have four victories. Richardson leads all rookies with 44 receptions, and he is on pace to hit 1,000 rushing yards in the next game or two.
Brandon Weeden has had his ups and downs as you might expect from any rookie quarterback as he is one of the worst-rated quarterbacks in the league, but he has looked better than some of his counterparts that have years of NFL experience on him.
Of course he has had help from fellow rookie Josh Gordon, who has justified the second-round pick the Browns used in the supplemental draft. After a predictably slow start, the big-play threat has a good shot at 1,000 receiving yards.
Mitchell Schwartz has been solid along that offensive line as well. He rates just behind Cordy Glenn at right tackle according to PFF, having given up just three sacks on the year.
Billy Winn established himself as a starter on that defensive line, contributing adequately to a defense that has been quietly great for much of the season. John Hughes has done so as a rotational lineman as well.
Even undrafted rookies L.J. Fort and Josh Cooper have gotten in on the action. Again, this is a young team.
Rookie Class Grade: A-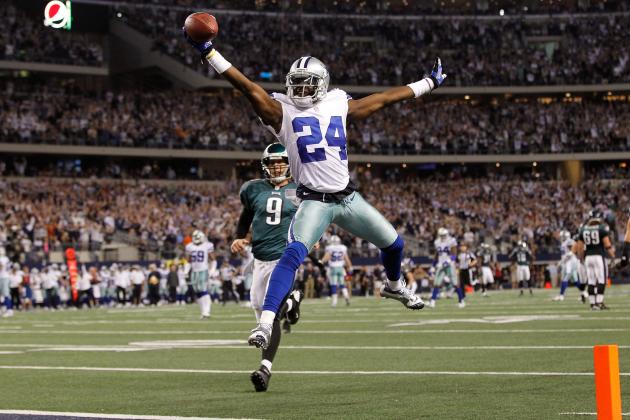 Tom Pennington/Getty Images

Draft Picks: Morris Claiborne, CB, LSU (6); Tyrone Crawford, DE, Boise State (81); Kyle Wilber, OLB, Wake Forest (113); Matt Johnson, S, Eastern Washington (135); Danny Coale, WR, Virginia Tech (152); James Hanna, TE, Oklahoma (186); Caleb McSurdy, LB, Montana (222)
Outside of Morris Claiborne, the Cowboys have not gotten much out of their draft picks.
There is a reason Dallas traded up to get the top cornerback in the class, though it has not been rainbows and lollipops for the first-year man out of LSU. Claiborne has given up four touchdowns and intercepted just one pass, allowing a 112.3 NFL rating to opposing quarterbacks throwing his direction.
Outside Tyrone Crawford, who has gotten on the field on a limited basis in a defensive line rotation, there has been little contribution from this class.
Danny Coale was unable to capitalize on the offseason hype due to a season-ending injury. Cole Beasley has recently started to make some noise as an undrafted rookie after doing the same in the preseason, and that is about it.
Rookie Class Grade: C-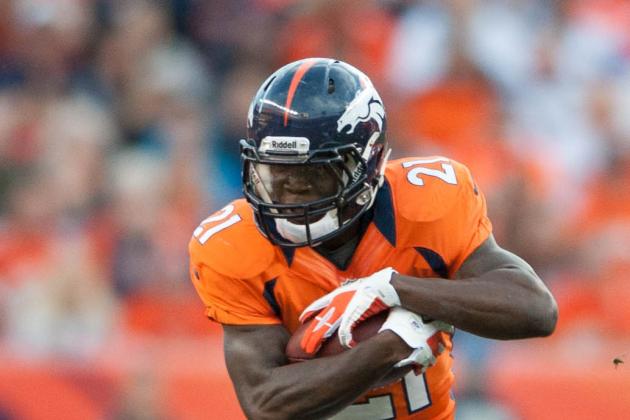 Dustin Bradford/Getty Images

Draft Picks: Derek Wolfe, DT, Cincinnati (36); Brock Osweiler, QB, Arizona State (57); Ronnie Hillman, RB, San Diego State (67); Omar Bolden, CB, Arizona State (101); Philip Blake, C, Baylor (108); Malik Jackson, DT, Tennessee (137); Danny Trevathan, OLB, Kentucky (188)
Things are good when you have MVP candidates on both sides of the ball. Peyton Manning and Von Miller are keying a fantastic run for the Broncos, one that has not seen much contribution from rookies.
Derek Wolfe has been the biggest contributor on defense, earning a starting gig along the defensive line and doing a decent job.
Ronnie Hillman got a lot of buzz heading into the season but has seen little action despite injuries at running back. His lack of pass-protection skills have held him back despite the upside he presents.
Rookie Class Grade: C
Andy King/Getty Images

Draft Picks: Riley Reiff, OT, Iowa (23); Ryan Broyles, WR, Oklahoma (54); Dwight Bentley, CB, Louisiana-Lafayette (85); Ronnell Lewis, DE, Oklahoma (125); Tahir Whitehead, OLB, Temple (138); Chris Greenwood, CB, Albion (148); Jonte Green, CB, New Mexico State (196); Travis Lewis, LB, Oklahoma (223)
The Lions went from playoff team to irrelevant all over again thanks to some offseason turmoil and poor execution. Some of the rookies have done well despite the results.
Riley Reiff has been in and out of the lineup, but he has played well on the offensive line. Ryan Broyles played quite well after stepping in for the troubled Titus Young; another knee injury has unfortunately ended his season.
One of the more surprising rookies has been late-round cornerback Jonte Green, who has been decent in that Lions secondary.
Rookie Class Grade: C+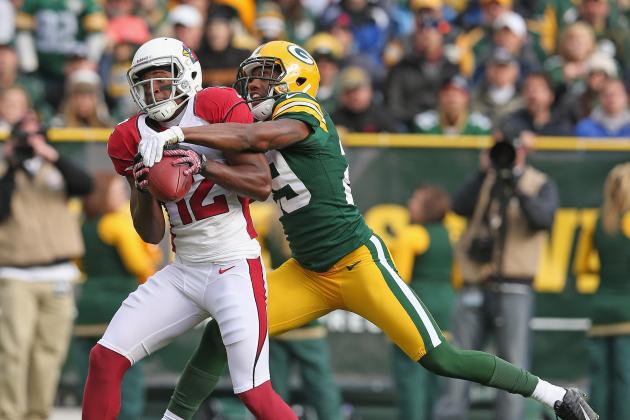 Jonathan Daniel/Getty Images

Draft Picks: Nick Perry, DE, USC (28); Jerel Worthy, DT, Michigan State (51); Casey Hayward, CB, Vanderbilt (62); Mike Daniels, DT, Iowa (132); Jerron McMillian, S, Maine (133); Terrell Manning, OLB, NC State (163); Andrew Datko, OT, Florida State (241); B.J. Coleman, QB, Chattanooga (243)
Defense was the name of the game for the Packers in the draft as you can plainly see by their draft picks. Unfortunately, the defense has not improved much thanks to more injuries.
Casey Hayward has been, by far, the best rookie for the Packers. He has quietly been one of the league's best rookie defensive backs. Opposing quarterbacks have a NFL rating of 27.6 on throws to his receiver. That is not a typo.
Hayward has five interceptions. It has gotten to the point where quarterbacks have stopped throwing at him; he has seen exactly one target in each of his past two games.
Unfortunately, the rest of the rookie class has not been nearly as good.
Nick Perry was decent on the outside until an injury shelved him. Jerel Worthy has been a rotational defensive end and a poor one at that. The same can be said about Mike Daniels, though he has played far less.
One other relatively good find was Jerron McMillian at safety, who has provided good depth at the position while playing well in his time on the field.
Rookie Class Grade: B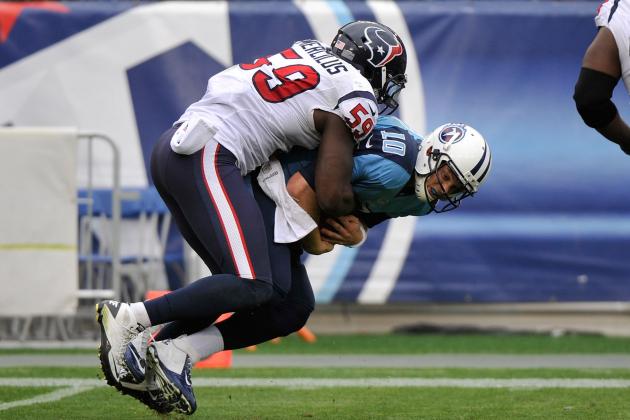 Frederick Breedon/Getty Images

Draft Picks: Whitney Mercilus, OLB, Illinois (26); DeVier Posey, WR, Ohio State (68); Brandon Brooks, OG, Miami (OH) (76); Ben Jones, C, Georgia (99); Keshawn Martin, WR, Michigan State (121); Jared Crick, DT, Nebraska (126); Randy Bullock, K, Texas A&M (161); Nick Mondek, T, Purdue (195)
Much like the Falcons, the Texans are in it to win it this season with little room for rookie errors, but injuries have pushed them into the limelight.
Whitney Mercilus was drafted to mitigate the loss of Mario Williams, but he had not seen much action until injuries forced him into a starting role. He has managed five sacks thus far, though, including two in his first start last week against Tennessee.
DeVier Posey has been outshined by fellow rookie and much lower draft pick Keshawn Martin, who has shown flashes in limited duty.
Ben Jones stepped in for an injured Antoine Caldwell and has started ever since, doing a decent job at right guard, though the Texans have rotated him out of games throughout the season.
Even Jared Crick has gotten in on the action, rotating in for a handful of defensive snaps per game, a number that has increased in recent weeks.
All in all, it has been an underwhelming class that has helped nonetheless.
Rookie Class Grade: B-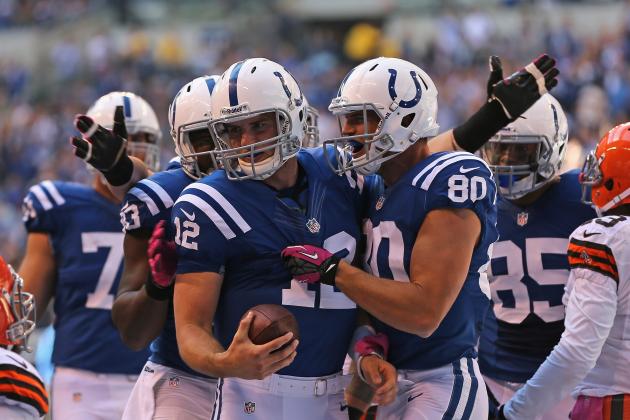 Jonathan Daniel/Getty Images

Draft Picks: Andrew Luck, QB, Stanford (1); Coby Fleener, TE, Stanford (34); Dwayne Allen, TE, Clemson (64); T.Y. Hilton, WR, FIU (92); Josh Chapman, DT, Alabama (136); Vick Ballard, RB, Mississippi State (170); LaVon Brazill, WR, Ohio (206); Justin Anderson, OT, Georgia (208); Tim Fugger, DE, Vanderbilt (214); Chandler Harnish, QB, Northern Illinois (253)
Few draft classes can boast this many key contributors in one year.
Andrew Luck is a leading Rookie of the Year candidate, leading his team to an impressive turnaround from a 2-14 season just a year ago. He has had help in the form of fellow rookies T.Y. Hilton, Vick Ballard, Coby Fleener, LaVon Brazill and Dwayne Allen.
All those rookies have made significant contributions to varying degrees.
It all comes back to Luck, though, who has been brilliant despite what some of his numbers say. He is leading all rookie quarterbacks with 3,596 passing yards—on pace for nearly 4,800 right now—and he has led his offense.
He may be tied for the league lead with 16 interceptions—holding that honor with none other than Drew Brees, incidentally—but no other rookies have been asked to do more than Luck has, whose scheme does not dictate easy throws.
The Colts have themselves a fantastic young crop of offensive players that will improve together, a scary thought for opposing defenses down the line.
Rookie Class Grade: A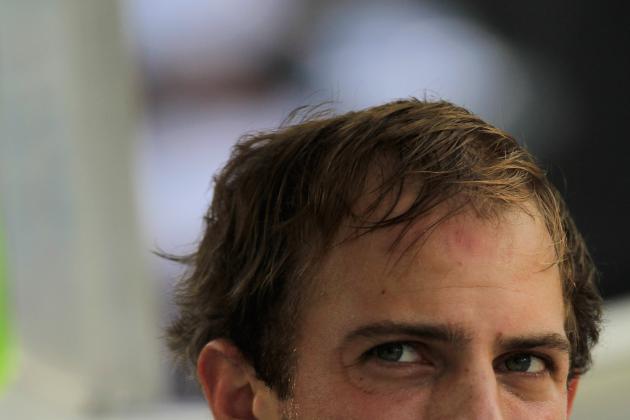 Chris Trotman/Getty Images

Draft Picks: Justin Blackmon, WR, Oklahoma State (5); Andre Branch, DE, Clemson (38); Bryan Anger, P, California (70); Brandon Marshall, OLB, Nevada (142); Mike Harris, CB, Florida State (176); Jeris Pendleton, DT, Ashland (228)
By now you must know the Jaguars took a punter in the third round. While that might have been ill-advised, he has been the team's best rookie.
That also says a lot about the state of the Jaguars.
Justin Blackmon seemed like a disaster during the first half of the season, unwilling to sustain blocks and unable to get separation. Something clicked for him when Chad Henne took over, though, and he has been much better ever since.
Outside those two, Mike Harris has been the biggest contributor for the Jaguars. He has not allowed much in the 289 defensive snaps he has played, including zero touchdowns while intercepting a pass.
Andre Branch was drafted to help the pass rush but has just one sack and 13 total quarterback pressures in 404 snaps. He has simply not lived up to his second-round status yet.
Rookie Class Grade: B-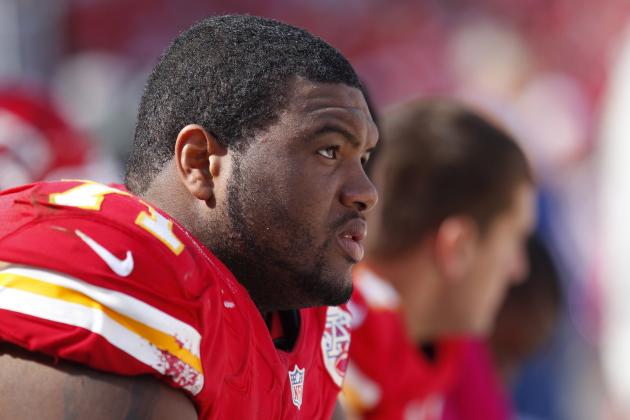 Kyle Rivas/Getty Images

Draft Picks: Dontari Poe, DT, Memphis (11); Jeff Allen, OT, Illinois (44); Donald Stephenson, OT, Oklahoma (74); Devon Wylie, WR, Fresno State (107); DeQuan Menzie, CB, Alabama (146); Cyrus Gray, RB, Texas A&M (182); Jerome Long, DT, San Diego State (218); Junior Hemingway, WR, Michigan (238)
The Chiefs have been rather bad this season, and their rookies have not been much help.
Dontari Poe was a third-stringer on the depth chart heading into the preseason before working his way up to a starting gig, where he has done a decent-at-best job at nose tackle.
Jeff Allen and Donald Stephenson have both been pressed into action along that offensive line, but neither has made a huge impact.
Rookie Class Grade: C+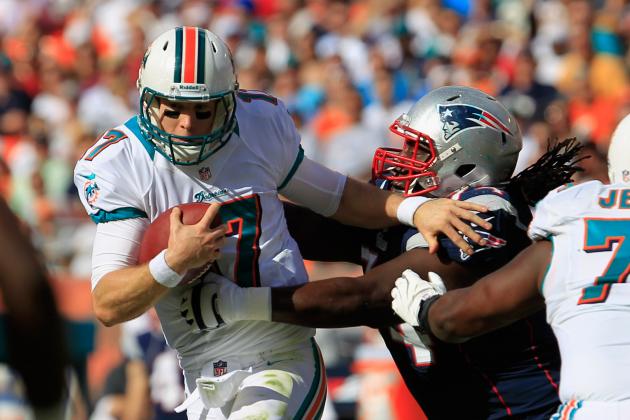 Chris Trotman/Getty Images

Draft Picks: Ryan Tannehill, QB, Texas A&M (8); Jonathan Martin, OT, Stanford (42); Olivier Vernon, DE, Miami (FL) (72); Michael Egnew, TE, Missouri (78); Lamar Miller, RB, Miami (FL) (97); Josh Kaddu, OLB/DE, Oregon (155); B.J. Cunningham, WR, Michigan State (183); Kheeston Randall, DT, Texas (215); Rishard Matthews, WR, Nevada (227)
It looked like the Dolphins got a couple of draft weekend steals when they had Jonathan Martin and Lamar Miller fall into their laps in the second and fourth rounds, respectively. That has not been the case thus far with the rookies.
Martin has been roasted while learning a new position at right tackle—he will finally move back to his original left tackle position this week after Jake Long was put on IR—and Lamar Miller has been nonexistent outside of one great showing against the Raiders due to pass-blocking issues and Miami practically forcing Daniel Thomas into the lineup.
Olivier Vernon has made some plays, but he is a limited player right now. Michael Egnew has not even been active despite some opportunities; he is most famous for getting eviscerated on HBO's Hard Knocks.
Of course, Miami's biggest prize was quarterback Ryan Tannehill, who has had a bit of a learning curve as a rookie. He has played well for stretches, most notably leading the Dolphins to a come-from-behind victory against the Seahawks, but he has also thrown just seven touchdowns in 12 games.
Rookie Class Grade: C+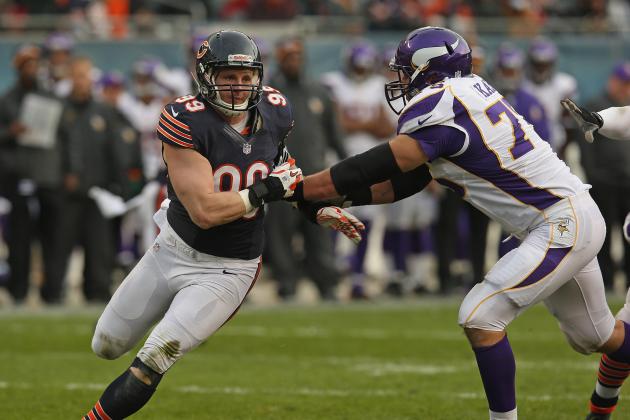 Jonathan Daniel/Getty Images

Draft Picks: Matt Kalil, OT, USC (4); Harrison Smith, S, Notre Dame (29); Josh Robinson, CB, UCF (66); Jarius Wright, WR, Arkansas (118); Rhett Ellison, FB, USC (128); Greg Childs, WR, Arkansas (134); Robert Blanton, CB, Notre Dame (139); Blair Walsh, K, Georgia (175); Audie Cole, LB, NC State (210); Trevor Guyton, DE, California (219)
The Vikings hit on a lot of players in this year's draft, and it all started with Matt Kalil.
The rookie left tackle has been one of the best in the league, not surprising for the consensus best offensive lineman in the draft.
Harrison Smith has proven worthy of the trade back into the first round the Vikings made as well, but Josh Robinson needs some work.
Blair Walsh has given Greg Zuerlein and Justin Tucker a run for their money for the best rookie kicker in perhaps the best rookie class in history at the position.
Rookie Class Grade: B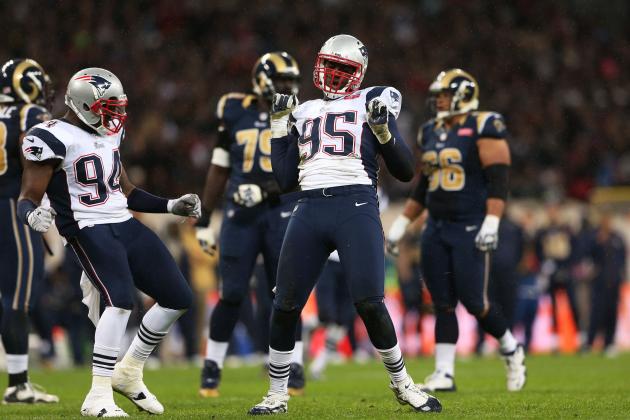 Scott Heavey/Getty Images

Draft Picks: Chandler Jones, DE, Syracuse (21); Dont'a Hightower, LB, Alabama (25); Tavon Wilson, S, Illinois (48); Jake Bequette, DE, Arkansas (90); Nathan Ebner, S, Ohio State (197); Alfonzo Dennard, CB, Nebraska (224); Jeremy Ebert, WR, Northwestern (235)
Bill Belichick went against his own grain when he traded up to nab both Chandler Jones and Dont'a Hightower. They were both good decisions.
Jones has been excellent when healthy; it is no wonder Mike Mayock said he would be the best defensive player to come out of the draft.
Tavon Wilson has proven Belichick right after many questioned his relatively lofty draft status, and Alfonzo Dennard has rewarded the Hoodie's faith with solid play while staying out of trouble off the field.
Rookie Class Grade: B+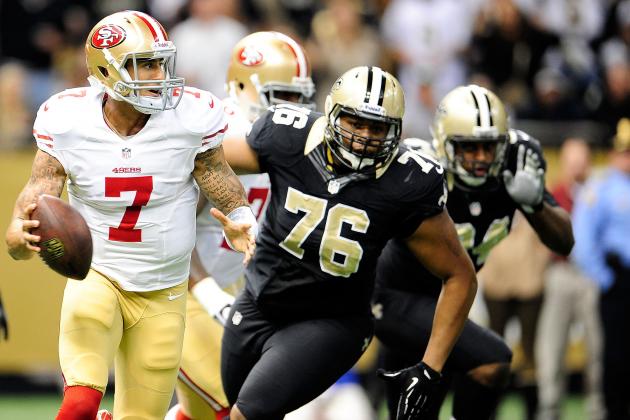 Stacy Revere/Getty Images

Draft Picks: Akiem Hicks, DT, Regina (89); Nick Toon, WR, Wisconsin (122); Corey White, S, Samford (162), Andrew Tiller, OG, Syracuse (179); Marcel Jones, OT, Nebraska (234)
Mark Ingram cost the Saints a first-round pick this year. The bounty scandal cost them more.
Their first pick, Hicks, has done a decent job as a backup defensive tackle, but that is about it. Corey White is the only other rookie who has gotten any playing time, and he has been a negative part of that bad secondary.
Rookie Class Grade: D+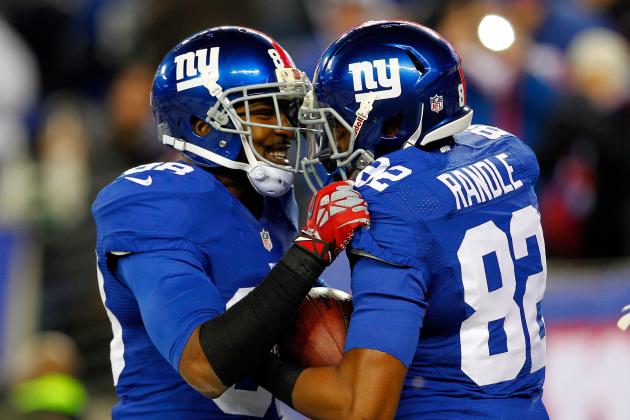 Rich Schultz/Getty Images

Draft Picks: David Wilson, RB, Virginia Tech (32); Rueben Randle, WR, LSU (63); Jayron Hosley, CB, Virginia Tech (94); Adrien Robinson, TE, Cincinnati (127); Brandon Mosley, OT, Auburn (131); Matt McCants, OT, UAB (201); Markus Kuhn, DT, NC State (239)
It seemed like the Giants were simply reloading in the draft. Unfortunately, their draft picks have not worked out quite like they planned.
If only the Buccaneers didn't hop the Giants for Doug Martin, things might look a bit different in that New York backfield. As it stands, David Wilson still cannot get a whiff of playing time despite an injury to Andre Brown.
Rueben Randle's playing time has been erratic, but he has improved as the season has gone on. Jayron Hosley, on the other hand, has not been terribly good as a rookie—opposing quarterbacks are completing 72.7 percent of passes thrown his way for a 121.1 NFL rating.
Markus Kuhn has been the only other big contributor, a poor rotational player along that defensive line.
Rookie Class Grade: C-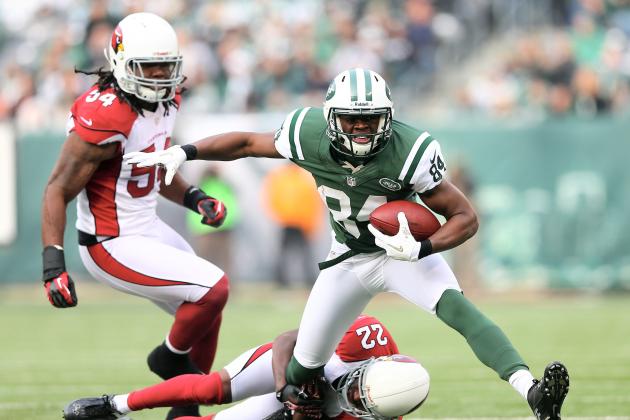 Elsa/Getty Images

Draft Picks: Quinton Coples, DE, North Carolina (16); Stephen Hill, WR, Georgia Tech (43); Demario Davis, LB, Arkansas State (77); Josh Bush, S, Wake Forest (187); Terrance Ganaway, RB, Baylor (202); Robert Griffin, OG, Baylor (203); Antonio Allen, S, South Carolina (242); Jordan White, WR, Western Michigan (244)
Things would be much nicer in New Jersey if their personnel decisions worked out.
While that may apply to their quarterback position more than anything, take a look at their draft.
Quinton Coples has done a decent enough job at defensive end, even if his playing time has dwindled after peaking mid-season.
If Stephen Hill could hang onto the ball more often he would be much more heralded. Alas, key drops have defined his season. (Though, in fairness, he has only dropped six passes—far less than perceived. He has also had to deal with Mark Sanchez at quarterback.)
Demario Davis has been the only other rookie to play a significant amount, filling holes at inside linebacker rather inadequately.
Rookie Class Grade: C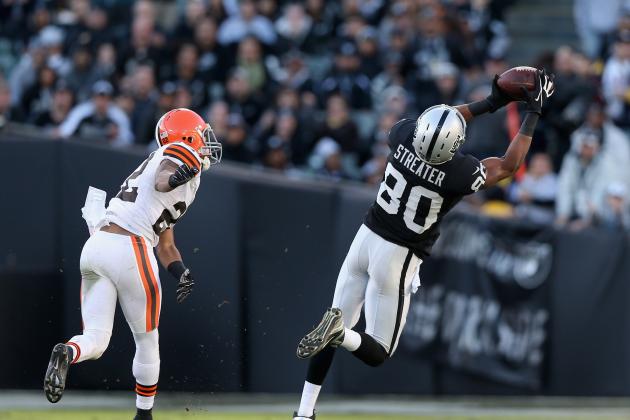 Ezra Shaw/Getty Images

Draft Picks: Tony Bergstrom, OG, Utah (95); Miles Burris, OLB, San Diego State (129); Jack Crawford, DE, Penn State (158); Juron Criner, WR, Arizona (168); Christo Bilukidi, DE, Georgia State (189); Nathan Stupar, OLB, Penn State (230)
The Raiders did not have much in the way of draft picks during the 2012 NFL draft, but it is quite telling when their best rookie has been an undrafted free agent.
Rod Streater has had his ups and downs, including a horrendous dropped pass that he pushed into a defenders arms, but he has arguably been Oakland's best receiver this season.
Rookie Class Grade: C-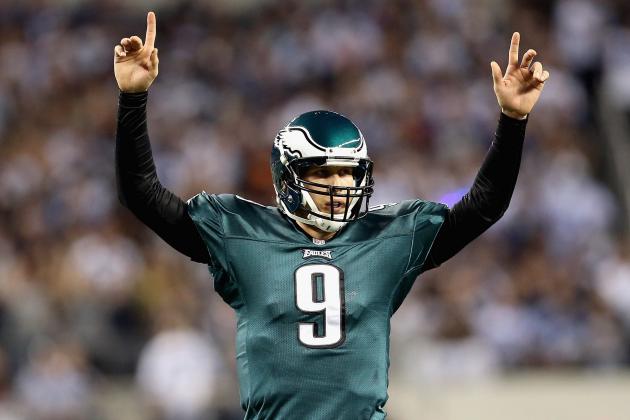 Ronald Martinez/Getty Images

Draft Picks: Fletcher Cox, DT, Mississippi State (12); Mychal Kendricks, LB, California (46); Vinny Curry, DE, Marshall (59); Nick Foles, QB, Arizona (88); Brandon Boykin, CB, Georgia (123); Dennis Kelly, OT, Purdue (153); Marvin McNutt, WR, Iowa (194); Brandon Washington, OG, Miami (FL) (200), Bryce Brown, RB, Kansas State (229)
Rookies have been a bright spot in an otherwise lost season for the Eagles. Even an unheralded quarterback is getting in on the action.
Nick Foles' draft stock took a hit with some poor pro day workouts, but the Eagles still snatched him up in the third round. That has proven wise; Foles won the backup quarterback job with a fabulous preseason and now leads the Eagles to the end of their miserable season.
The defensive line got a boost from Fletcher Cox, and Brandon Boykin has been a steal after all, playing well in that secondary. But Mychal Kendricks has been abysmal after a decent start to his season, though he continues to garner playing time.
Perhaps the steal of the draft has emerged late in the season as Bryce Brown has torched defenses after taking over for an injured LeSean McCoy; he may have given pause to the Eagles on how they will utilize that backfield when McCoy comes back.
Rookie Class Grade: B+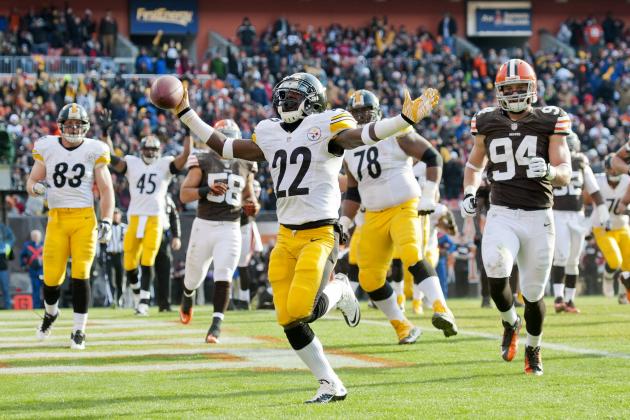 Jason Miller/Getty Images

Draft Picks: David DeCastro, OG, Stanford (24); Mike Adams, OT, Ohio State (56); Sean Spence, LB, Miami (FL) (86); Alameda Ta'amu, DT, Washington (109); Chris Rainey, RB/WR, Florida (159); Toney Clemons, WR, Colorado (231); David Paulson, TE, Oregon (240); Terrence Frederick, CB, Texas A&M (246); Kelvin Beachum, OG, Southern Methodist (248)
Injuries have ravaged the Steelers, and rookies have not been immune.
David DeCastro, widely considered the second-best offensive lineman in the draft, was lost for the year to a torn ACL before the season even began. The same happened to linebacker Sean Spence.
One guy who has been able to contribute is Mike Adams.
A work ethic that was perceived as weak knocked Adams out of the first round and all the way to Pittsburgh in the second. His NFL indoctrination was rough, but he has been surprisingly solid after permanently taking the starting gig at right tackle.
Chris Rainey has contributed on special teams, and David Paulson has gotten on the field as an extra blocker.
Rookie Class Grade: Incomplete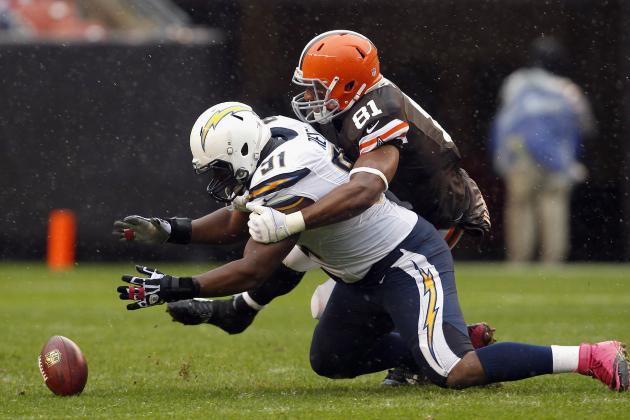 Matt Sullivan/Getty Images

Draft Picks: Melvin Ingram, OLB, South Carolina (18); Kendall Reyes, DT, Connecticut (49); Brandon Taylor, S, LSU (73); Ladarius Green, TE, Louisiana-Lafayette (110); Johnnie Troutman, OG, Penn State (149); Dave Molk, C, Michigan (226); Edwin Baker, RB, Michigan State (250)
Melvin Ingram was drafted to rush the passer. He has one sack.
The only other rookie that has contributed significantly is Kendall Reyes, who has done a decent job rotating in at defensive end.
Rookie Class Grade: D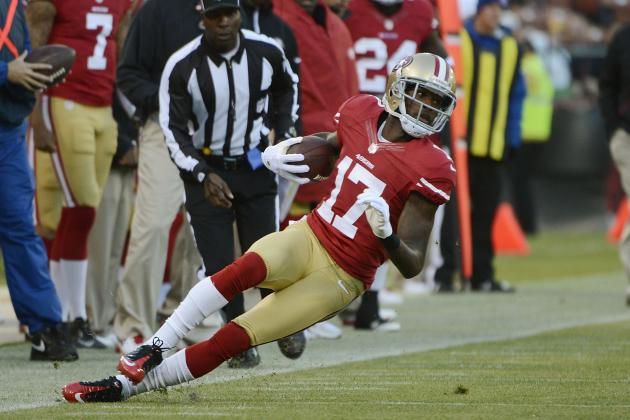 Thearon W. Henderson/Getty Images

Draft Picks: A.J. Jenkins, WR, Illinois (30); LaMichael James, RB, Oregon (61); Joe Looney, OG, Wake Forest (117); Darius Fleming, LB, Notre Dame (165); Trent Robinson, S, Michigan State (180); Jason Slowey, C, Western Oregon (199); Cam Johnson, OLB, Virginia (237)
It still looks like a good draft class, but we will have to wait to see what they can do. The 49ers have simply not had much use for their rookies this season; Jenkins and James, their top two draft picks, have not even seen the field.
That might change in coming weeks as injuries mount and the season nears an end, but for now there is simply not much to go on.
Rookie Class Grade: Incomplete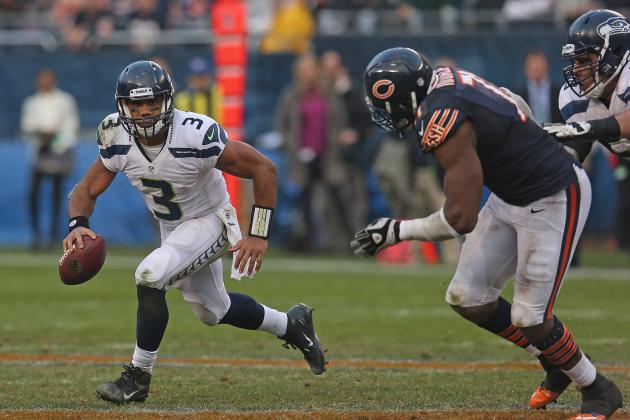 Jonathan Daniel/Getty Images

Draft Picks: Bruce Irvin, OLB, West Virginia (15); Bobby Wagner, LB, Utah State (47); Russell Wilson, QB, Wisconsin (75); Robert Turbin, RB, Utah State (106); Jaye Howard, DT, Florida (114); Korey Toomer, LB, Idaho (154); Jeremy Lane, CB, Northwestern State (172); Winston Guy, S, Kentucky (181); J.R. Sweezy, DE, NC State (225); Greg Scruggs, DE, Louisville (232)
In answer to my rhetorical query on the Indianapolis slide, Seattle's rookie class might match or even exceed Indy's in important contribution.
Bruce Irvin is nearing double-digit sacks, thus far justifying the high draft pick Seattle used to take him.
Bobby Wagner has been one of the more underrated rookies in the league. The rookie linebacker was so good in the preseason that the Seahawks traded away incumbent Barrett Ruud. He has not disappointed during the season.
Of course the coup de grâce came in the form of Russell Wilson.
The diminutive quarterback shined so brightly during the preseason that Seattle had no choice but to name him the starter. After some bumps in the road, Wilson has really found his stride, playing as well as Andrew Luck and Robert Griffin III in recent weeks while helping Seattle get to 7-5 and in playoff position.
Robert Turbin has been a decent backup for Marshawn Lynch as well, rounding out a fantastic first four picks for the Seahawks.
Rookie Class Grade: A-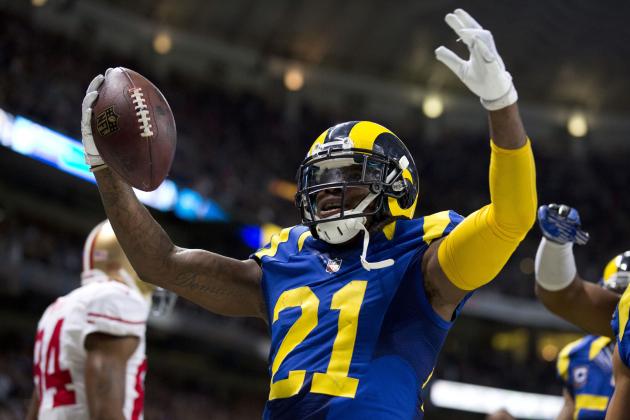 David Welker/Getty Images

Draft Picks: Michael Brockers, DT, LSU (14); Brian Quick, WR, Appalachian State (33); Janoris Jenkins, CB, North Alabama (39); Isaiah Pead, RB, Cincinnati (50); Trumaine Johnson, CB, Montana (65); Chris Givens, WR, Wake Forest (96); Rokevious Watkins, OG, South Carolina (150); Greg Zuerlein, K, Missouri Western State (171); Aaron Brown, OLB, Hawaii (209); Daryl Richardson, RB, Abilene Christian (252)
Whatever the Rams got for the second overall pick that ultimately became Robert Griffin III may never be enough, but the Rams did well with their return.
They finally settled on Michael Brockers after trading down a couple of times, a defensive tackle who has been solid in the middle for the Rams.
Brian Quick has not quite developed like they would have liked, but Janoris Jenkins has been worth every bit of risk Jeff Fisher assumed when he drafted the rookie out of North Alabama.
Isaiah Pead's preseason issues coupled with Steven Jackson's continuing success and Daryl Richardson's emergence—a late-round rookie himself—has kept him off the field for much of the season.
One pleasant surprise has been Chris Givens, who has given the Rams a deep threat and relatively reliable receiver they otherwise do not have outside oft-injured Danny Amendola.
Then, of course, is Greg "The Leg" Zuerlein, who has single-footedly kept the Rams in games and even beaten the 49ers.
Rookie Class Grade: B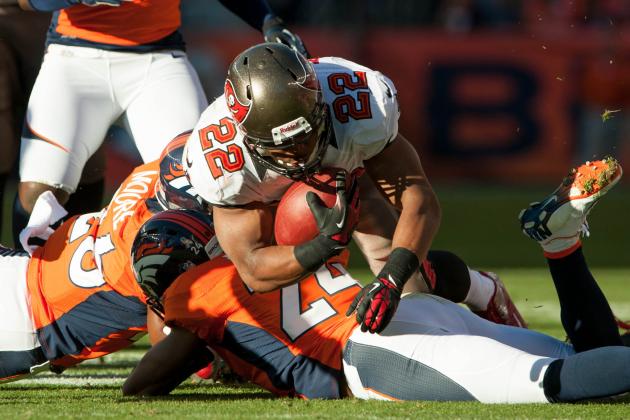 Dustin Bradford/Getty Images

Draft Picks: Mark Barron, S, Alabama (7); Doug Martin, RB, Boise State (31); Lavonte David, LB, Nebraska (58); Najee Goode, LB, West Virginia (140); Keith Tandy, CB, West Virginia (174); Michael Smith, RB, Utah State (212); Drake Dunsmore, TE, Northwestern (233)
No team, save the Seahawks, nailed their first three picks more than the Buccaneers.
Mark Barron, Doug Martin and Lavonte David have all been impact rookies, helping the team stay in the thick of the NFC playoff race. Dougie Howser is a legitimate candidate for offensive rookie of the year
The rest of their draft has not been quite so successful, but the Buccaneers could be in for big things if they can keep drafting well at the top of the draft like this.
Rookie Class Grade: B+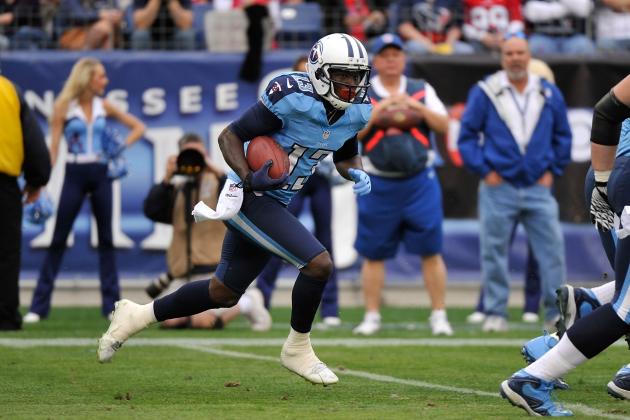 Frederick Breedon/Getty Images

Draft Picks: Kendall Wright, WR, Baylor (20); Zach Brown, LB, North Carolina (52); Mike Martin, DT, Michigan (82); Coty Sensabaugh, CB, Clemson (115); Taylor Thompson, TE, Southern Methodist (145); Markelle Martin, S, Oklahoma State (190); Scott Solomon, DE, Rice (211)
There have been few bright spots for the Titans this season, but you can count some rookies among them.
Kendall Wright has not exploded onto the scene, but he led rookie receivers for much of the season until Justin Blackmon finally got his act together and had a couple of huge games.
Zach Brown has been thrown into the fire a bit with injuries at linebacker, and he has performed admirably while Taylor Thompson has done well in limited duty at tight end.
Rookie Class Grade: B-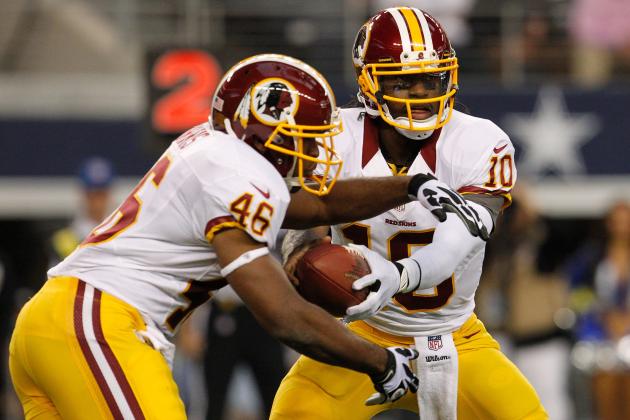 Tom Pennington/Getty Images

Draft Picks: Robert Griffin III, QB, Baylor (2); Josh LeRibeus, OG, Southern Methodist (71); Kirk Cousins, QB, Michigan State (102); Keenan Robinson, OLB, Texas (119); Adam Gettis, OG, Iowa; (141); Alfred Morris, RB, FAU (173); Tom Compton, OT, South Dakota (193); Richard Crawford, CB, Southern Methodist (213); Jordan Bernstine, CB, Iowa (217)
Washington's draft class might not have as many significant contributors as Indianapolis' or Seattle's, but they have two of the best in the entire draft.
Robert Griffin III is on a collision course with the Offensive Rookie of the Year Award, and he said he would vote for his teammate, Alfred Morris. The Redskins might be the envy of many teams this year.
Outside those two, though, there has been little else of note among Washington rookies. Richard Crawford is the only other one who has surpassed 100 snaps, and he has not played since Week 6.
Considering the cap penalties Washington will suffer this offseason and the lack of a first-round pick, the Redskins must draft well and get more rookies contributing. It is hard to argue with the success of RG3 and Morris when evaluating this year's class, though.
They have been special.
Rookie Class Grade: A-