Kobe Bryant Hits 30K Points Club: How Does Black Mamba Compare to Other Members?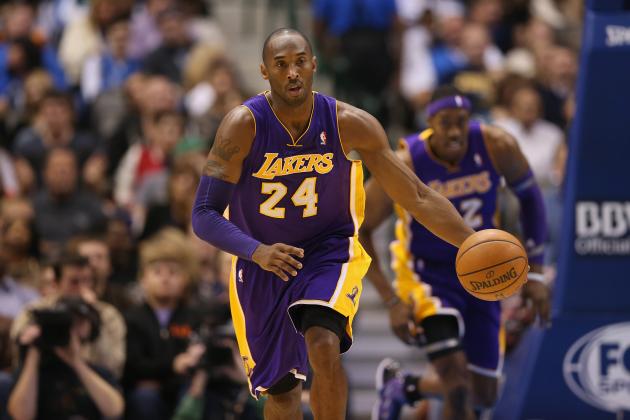 Kobe Bryant has made it.
After 16-plus prolific seasons, the Black Mamba has officially joined the 30,000-point club, an exclusive group that only includes the likes if four other players. And he's done it at the budding age of 34, making him the youngest to reach such a plateau.
Sure enough, Bryant's latest feat only serves as further proof that he will go down as one of the greatest to ever play the game. His offensive prowess can be matched by few, a notion that can now be held true historically.
But where does he currently stand among the best scorers to ever grace the hardwood?
Wilt Chamberlain, Michael Jordan, Kareem Abdul-Jabbar and Karl Malone have all laid claim to this milestone before him, yet does that take away from the offensive innovation that is Kobe?
Regardless of how Bryant measures up to what is now a grouping of the Fantastic Five, nothing should be taken away from what he has accomplished. Nor should it downplay all that he is capable of still achieving.
Begin Slideshow

»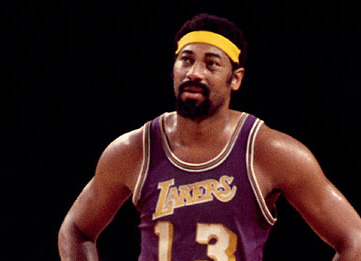 Photo courtesy of NBA.com.
Career Point-Total: 31,419
All-Time Rank: Fourth
Wilt Chamberlain dropped his 30,000th point in the latter half of the 1971-72 campaign, the 15th season of his career.
Though it took him about one year less than it took Kobe Bryant to do it, the game was much different then.
The 7'1" Chamberlain towered over absolutely everyone and basically had his way on the offensive end whenever he wanted.
Obviously, this is not meant to take away from anything he did, because he was a fantastic scorer. But he would be hard-pressed to drop 100 points in today's version of the NBA, even in his prime. Heck, he'd have a difficult time matching Bryant's career-best of 81 in this day and age.
Furthermore, his point-totals didn't necessarily translate into championships. He won just two titles in 16 years—one of which was won the season he reached 30,000 points—compared to Bryant's five.
Still, Chamberlain was one of the best scorers to ever step foot on the floor. He averaged 30.1 points per game over his 16-year career on 54 percent shooting from the floor.
Even at a time when Chamberlain faced little resistance at the basket, his marks are nothing short of incredible.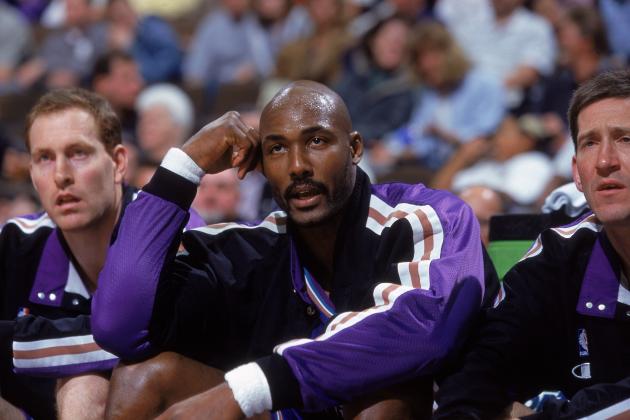 Career Point-Totals: 36,928
All-Time Rank: Second
Like Wilt Chamberlain, Karl Malone scored his 30,000th point during the 15th year of his career.
Malone eclipsed such a milestone in the second-half of the 1999-00 campaign, and became the third player to do so.
After his historic accomplishment, Malone went on to play another four years, ultimately allowing him to score the second-most points in NBA history.
Again, while nothing can be taken away from the power forward, his rise to the top just didn't hold as much purpose as Kobe Bryant's.
Sure, Malone average 25 points per game on 51.6 percent shooting from the floor in 19 seasons. And yes, he was selected to 14 All-Star games and named league MVP twice, but he never won a title. Not before he hit 30,000 points, and not after.
Bryant has already led a championship cause five times. So while his point-totals do not stack up to Malone's right now, he has the hardware to go along with this crowning achievement.
Malone, however, does not.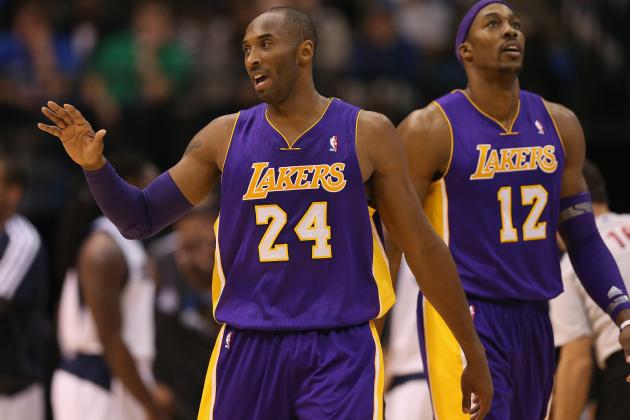 Career Point-Totals (to date): 30,000
All-Time Rank: Fifth
Kobe Bryant is the man.
Yes, he took longer than the previous two on this list to reach 30,000 points in terms of seasons played, but he did so at the age of 34, making him the youngest player to reach this milestone. He also did it while winning more titles than Karl Malone and Wilt Chamberlain combined.
Bryant has been the embodiment of an offensive powerhouse for over 16 years. He's been named to a 13-consecutive All-Star teams (14 in total), owns the record for points scored in All-Star games and has a league MVP and five championship ring under his draw-string as well.
And he's not even done.
At 34, Kobe is playing some of the best basketball of his career; he seemingly appears as if he could player forever.
As we know all too well, though, there's no such thing as forever in the NBA. Kobe will be forced to retire soon enough.
But not before he continues to light up the scoreboard, ultimately finding himself higher than the fifth spot on the league's all-time scoring list.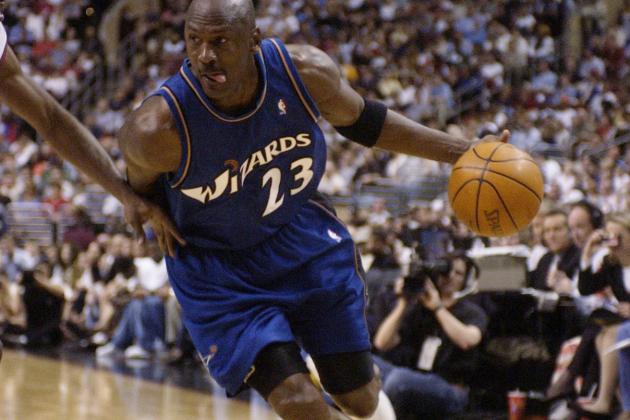 Career Point-Totals: 32,292
All-Time Rank: Third
Michael Jordan was the second quickest player 30,000 points in theory.
Jordan scored his 30,000th point during his 14th season, but he had retired a multitude of times prior.
Even more interesting about His Airness' path to 30,000, is that he eclipsed this milestone as a member of the Washington Wizards, not Chicago Bulls. In fact, he hit such a mark against the Bulls.
Ironic? You bet.
Still, despite the gluttony of retirements and him being unable to accomplish such a feat with the Bulls, Jordan is still one of the most talented scorers the game has ever seen, and one of the most talented scorers to boot.
Over the course of a 15-year career, Jordan won six championships, was named to 14 All-Star games and earned himself a league MVP award on five separate occasions.
I'm stating the obvious, but this is clearly not bad company Bryant finds himself in at all.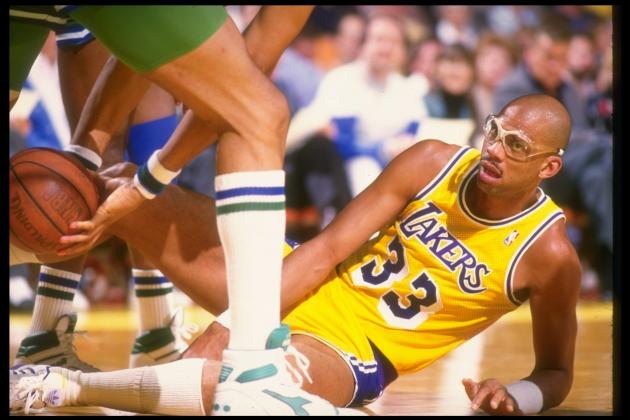 Career Point-Totals: 38,387
All-Time Rank: First
Kobe Bryant's the man, but Kareem Abdul-Jabbar is the King.
It took the towering center just 13 seasons to eclipse the 30,000-point mark. If you take into consideration that he accomplished such a feat in November of the 1983-1984 campaign, it was essentially 12.
No one could score in the post with as much ease as Abdul-Jabbar, not even Wilt Chamberlain. In fact, no one has been able to score the way he did since; he averaged 24.6 points on 55.6 percent shooting for nearly two decades. That's absolutely absurd—in a good way.
Most impressive about Kareem's reputation as a scorer, though, was everything else he accomplished to go along with it.
Abdul-Jabbar is the owner of six league MVP awards, 19 All-Star selections and six championship rings—three of which came after he surpassed 30,000 points.
If Bryant can even score half has many points in his twilight as Kareem did, while adding some additional hardware in the process, he'll pass Michael Jordan with ease.
As far as catching Abdul-Jabbar, though? I'm not sure anyone ever will.