College Football Week 14 Predictions: Last-Second Breakdowns for Top 25 Clashes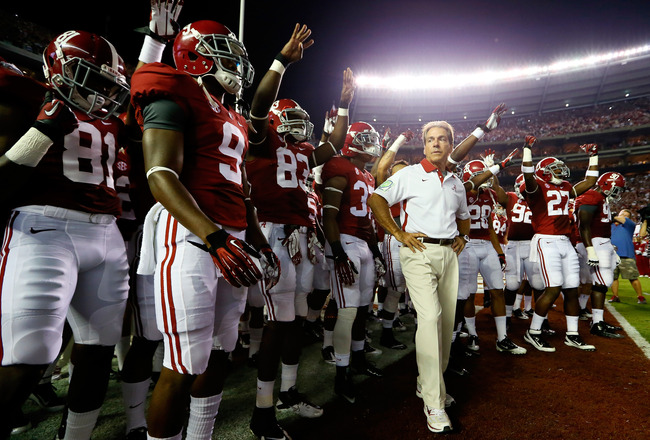 Bowl season is coming up in the 2012-2013 college football campaign, and after what we saw in Week 13, we can be assured that this will be a stretch to remember...unlike that time you pulled your hamstring.
Florida's power running game got the best of Florida State's run defense, Stanford held an explosive UCLA squad in check, Oregon demolished Oregon State, South Carolina squelched high-powered Clemson, Ohio State finished the season undefeated after a victory against Michigan and Oklahoma won a thriller over Oklahoma State.
It's times like these when you wish college football was played year round.
Week 14 features some more dazzling matchups, including a showdown between No. 2 Alabama and No. 3 Georgia in the SEC Championship Game, a rematch between Stanford and UCLA in the Pac-12 Championship Game, a Big 12 clash between Texas and Kansas State and the MAC title game featuring Northern Illinois and Kent State.
Let's take a look at each of the Top 25 matchups this week.
Note: All stats via CFBStats.com unless otherwise noted
No. 16 UCLA at No. 8 Stanford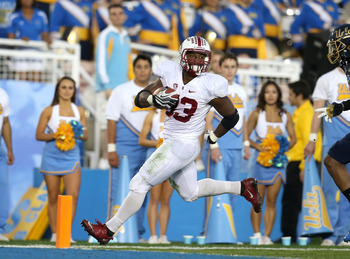 Key to the Game: UCLA Passing Attack vs. Stanford Pass Defense
After what we've seen from Stanford in its past two games against UCLA and Oregon, it's safe to say the Cardinal know how to stop the run.
Last week, Jonathan Franklin, who ranks eighth in the country in rushing yards this season, managed just 65 yards on 21 carries after rushing for 171 yards and two touchdowns in the thriller against USC.
In that sense, the key for UCLA has to be tossing the pigskin.
Despite being a freshman, Brett Hundley ranks second in the Pac-12 in yards per pass attempt (8.1), and he's tossed 26 touchdowns to 10 interceptions (via CFBStats.com).
Hundley went 20-of-38 while averaging just 6.9 yards per attempt, tossing one touchdown to one interception, against Stanford last week.
The question is, will this be a repeat performance against the Cardinal, or will the freshman find ways to do more damage?
I hate to be a buzzkill for Bruins fans, but I don't think this matchup will be any different, especially considering it will be in Stanford.
Prediction: Stanford 30, UCLA 20
No. 18 Texas at No. 6 Kansas State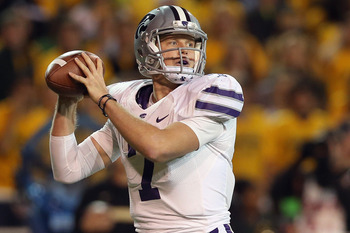 Key to the Game: Texas Run Defense vs. Kansas State Rushing Attack
It's only natural for Kansas State fans to hesitate given the flop against Baylor two weeks ago, but I don't think they have anything to be worried about.
Why?
Because the Wildcats are averaging 201.1 rushing yards per game this season behind dual-threat quarterback Collin Klein and junior running back John Hubert, and Texas has allowed 4.92 yards per carry—104th in the nation.
That includes giving up 217 yards and two touchdowns on the ground in the 20-13 loss to TCU last week.
Prediction: Kansas State 40, Texas 27
No. 21 Northern Illinois at No. 17 Kent State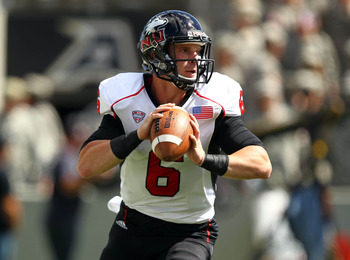 Key to the Game: Kent State Pass Defense vs. Northern Illinois Passing Game
It's no secret that both Northern Illinois and Kent State like to run the ball, but both have also generally played good run defense throughout the season.
Kent State, however, has particularly struggled against the pass. The Golden Flashes have allowed 7.4 yards per pass attempt (tied for 69th in the country) and 25 passing touchdowns (tied for 100th).
And before you argue that they also have notched 22 interceptions, know that Northern Illinois junior quarterback Jordan Lynch has tossed four picks all season, in addition to the 1,611 yards and 16 touchdowns he's posted on the ground.
Prediction: Northern Illinois 40, Kent State 30
No. 2 Alabama at No. 3 Georgia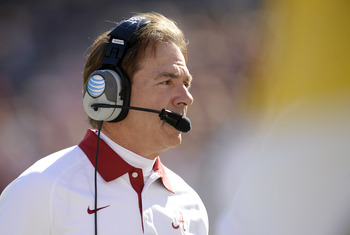 Key to the Game: Georgia Run Defense vs. Alabama Rushing Attack
A lot of people see Georgia potentially pulling the upset in this game, but I worry about the Bulldogs' past two games against Georgia Tech and Georgia Southern.
Even though they were blowout wins, the Bulldogs allowed a combined 608 rushing yards in those two games.
Alabama has averaged 5.42 yards per carry this season—10th in the nation. That includes Eddie Lacy and T.J. Yeldon combining for 159 rushing yards and one rushing touchdown in the 21-17 victory over LSU on Nov. 3.
I think that, combined with Alabama's defense, will send the Crimson Tide to the 2013 BCS Championship Game.
Prediction: Alabama 27, Georgia 20
Final Thoughts
As we head down the final stretch, I have a few shoutouts and thought bubbles.
No matter how UCLA's season ends, I think it's important to note the turnaround of this program. The 38-28 victory over USC on Nov. 17 was something to behold in a landmark victory for the Bruins.
Senior running back Johnathan Franklin should be remembered in Pasadena for a long time after the 171 yards and two scores he posted on the Trojans, and the Bruins still have freshman quarterback Brett Hundley.
David Shaw deserves all the accolades he has gotten taking over for Jim Harbaugh at Stanford. He's coached the Cardinal to a 21-4 record (16-2 Pac-12) since assuming head coaching duties in 2011.
There's also senior running back Stepfan Taylor, who has posted at least 1,000 rushing yards in his past three seasons at Stanford and was instrumental in wins over USC, Oregon State, Oregon and UCLA this season.
Don't forget about Kansas State dual-threat Collin Klein, who was on top of the world before crashing down against Baylor two weeks ago. He may not win the Heisman, but everybody knows the impact he made for the Wildcats.
Also, don't forget to watch Northern Illinois at Kent State on Friday. The MAC gets a bad name, but Northern Illinois' Jordan Lynch is simply a joy to watch.
Last but not least, if you aren't excited about Alabama at Georgia, you may want to get yourself checked out. Not only does this matchup boast two of the top three teams in the nation, a berth in the 2013 BCS Championship Game is on the line, not to mention the SEC title.
So do whatever you need to do, take care of whatever you need to take care of before Saturday's games.
Then sit back and enjoy.
Keep Reading