10 Greatest Trash Talkers in MMA History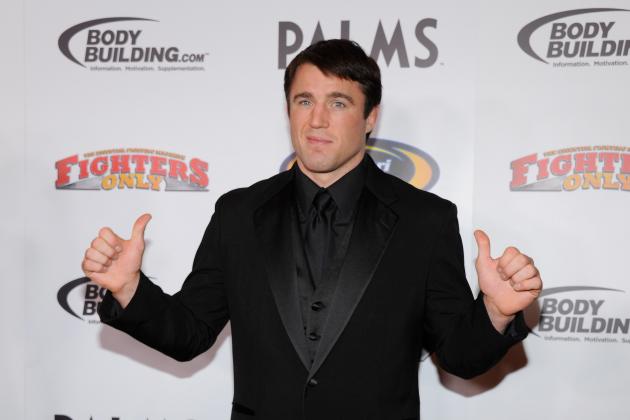 Trash talk is defined as insulting or boastful speech intended to demoralize, intimidate or humiliate someone.
In sports, it is very common for athletes to jaw back and forth at each other. They do it to try to get inside an opponent's head, to force them to make a mistake or lose their control.
In the world of mixed martial arts, that can be deadly, as you can quickly be knocked out or submitted.
Let's take a look at the ten greatest trash talkers in MMA history.
Begin Slideshow

»
Before Jorge Rivera's fight with Michael Bisping at UFC 127, people thought of Rivera as a quiet, mild-mannered fighter.
But when you face off with Michael Bisping, more often than not, you will get into a war of words.
Rivera and the Ranger Up team created numerous videos to mock Bisping, and they worked to a science.
The video above wasn't supposed to come out until the pre-fight show, but was leaked early. This video took this feud to another level, and cemented Rivera on this list.
When you hail from New York, trash talking is in your blood.
The Long Island native was embroiled in one of the most bitter feuds in UFC history with former welterweight champion Matt Hughes.
After Serra defeated Georges St-Pierre at UFC 69 to win the welterweight belt, Hughes called Serra's win a fluke, and off went the start to the feud.
They coached opposite each other on season six of The Ultimate Fighter, and squared off against each at UFC 98 with Hughes winning by unanimous decision.
No one really remembers the fight, as it was more remembered for the trash talk that ensued, with Serra at the forefront of it all.
Josh Koscheck is one of the most brash personalities in all of MMA.
The former UFC welterweight title contender put himself on the map with the way he disparaged UFC welterweight champion Georges St-Pierre leading up to their UFC 124 fight.
Koscheck mocked Canadians, calling St-Pierre every name in the book.
More telling to many fans was the trash talk between Koscheck and former UFC light heavyweight champion Tito Ortiz.
Ortiz said in the video above that Koscheck was going to lose to St-Pierre. Koscheck didn't take too kindly to those words, and even challenged Ortiz to a fight.
To say Frank Mir isn't confident would be an understatement.
A lot of people feel that Mir is very arrogant by the way he comes off.
The feud he had with former UFC heavyweight champion Brock Lesnar escalated leading into the rematch at UFC 100 to unify the heavyweight championship.
Mir disparaged the way Lesnar trained, mocking his background and a whole lot more, even going as far to say he wanted to kill Lesnar.
People are probably wondering why Ronda Rousey would be added to this list.
She is a woman, and women aren't really known to trash talk. But with Rousey, that has definitely changed.
Whether it was campaigning for a fight with Miesha Tate, the epic trash talk leading into that fight, or the war of words with Cris Cyborg—for all of those reasons, that's why "Rowdy" made the list.
Ken Shamrock was one the guys that put MMA on the map with his legendary fights in the '90s against Royce Gracie.
For that feud, and the way he fought in the early days, Shamrock was deemed "The World's Most Dangerous Man."
Shamrock went on to wrestle in the WWE in 1997, and stopped wrestling for the organization in 1999, but even while he was a pro wrestler, Shamrock would still corner guys in the UFC.
That was when the feud between Shamrock and Tito Ortiz started.
Ortiz beat Guy Mezger at UFC 19 in 1999, and after Ortiz won by TKO, he flipped off Shamrock after the fight ended.
Whenever Ortiz said anything of slight, Shamrock would explode and go into a rage. It was one of the most epic feuds in the history of the UFC due to the pre and post-fight trash talk from Shamrock.
Nick Diaz is one of the most colorful personalities in all of MMA.
The native of Stockton, California has been engaged in a war of words with the likes of Frank Shamrock, "Mayhem" Miller and Georges St.Pierre, just to name a few.
Whether it's taunting during press conferences and in the cage, the Stockton slap or the infamous middle finger, that's what makes Nick Diaz who he is.
"Rampage" Jackson is one of the most polarizing figures in all of MMA.
The former UFC light heavyweight champion trash talking has made him a star in the eyes of fans.
Whether it was the war of words with Chuck Liddell or the legendary feud with Rashad Evans, Jackson always managed to one up his competitor.
The feud with Evans displayed some of the best trash talking we have ever seen, as shown in the video above.
Tito Ortiz is not only a Hall of Famer inside the cage, but he's also a Hall of Famer with his mouth.
Ortiz has squared off against some of the best the sport has had to offer, including the likes of Chuck Liddell, Randy Couture, Ken Shamrock and Vitor Belfort.
It was the feuds with Liddell and Shamrock that made Ortiz a household name.
Perhaps Tito's funniest line regarding Shamrock: "I am Rick James, and you are my bi**h."
This should not be a surprise.
Chael Sonnen, without question, is the best trash talker that the world of MMA has ever seen.
Sonnen has tangled with Anderson Silva, Rampage Jackson, Lyoto Machida and Wanderlei Silva.
That's only naming a few. We don't have enough space to name all the guys Sonnen has talked trash about.
The video posted is some of the best of Sonnen. Grab your popcorn and take a listen.