NHL to Air New Reality Show (Satire)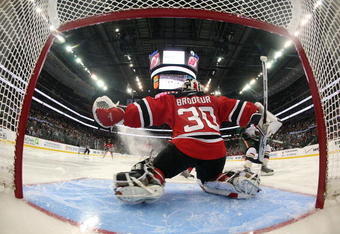 (Photo by Bruce Bennett/Getty Images)
Move over Brody Jenner, the NHL Network is set to air a spin-off of your MTV reality show.
Martin Brodeur, the new all-time, winningest goaltender, stars in "Bromance: Hockey Style." Brought to you by executive producers Ryan Seacrest, Ashton Kutcher and Elisha Cuthbert.
Martin will intimately audition current and former NHL stars who want to have the honor of being Marty's "Bros" and earn a spot on The Brodeur All-Star Team.
I managed to steal a bunch of episodes so I can give you a sneak peek at some exciting moments and who the finalists are.
****SPOILER ALERT****
If you don't want to know everything about this series, read no further.
Bromance: Hockey Style
Episode 1: The premiere episode features 60 NHL stars vying for one of 18 spots in the "Igloo," a Bryn Mawr, N.J. mansion. The ballroom has been converted into an ice rink and the entire place is adorned with hockey memorabilia.
Lyndon Slewidge sings "Oh Canada" to open the show allowing viewers in the United States to wonder why Canadians never joined the American Revolution.
The hopeful hockey players arrive at the entrance to the mansion on a Zamboni adorned Marty's masked face.
Oddly enough, Sean Avery was told not to even get off the Zamboni and to leave immediately.
The guys are ushered onto the ice where they meet Eddie Johnston, who played every single minute in goal for the '63-'64 Bruins.
He explains to the players that they will participate in a shooting contest to determine the 12 players who will remain in the "Igloo."
The guys all participate in a bunch of shooting drills against Ron Hextall, Patrick Roy, Tim Thomas and, surprise surprise, Martin Brodeur. There was a few tense moments when Eddie took a puck to the head, but he managed to wrap up the segment, holding a towel to his bloody noggin.
Marty picked the following players to stay on and still have a chance to be on his All-Star Team: Chris Chelios, Wayne Gretzky, Ron Hextall, Jari Kurri, Mario Lemieux, Evgeni Malkin, Mark Messier, Alexander Ovechkin, Denis Potvin, Bobby Orr, Steven Stamkos, and Jonathan Toews.
Sidney Crosby had to bow out because the NHL needed him for 7,384 interviews.
I personally think the NHL forced Brodeur to choose a lot of retired players to attract a bigger chunk of the 45- to 85-year-old demographic.
Episode 2: In the second episode, Marty holds a talent show. Steven Stamkos was eliminated when his voice cracked during his rendition of "Somewhere Over the Rainbow."
Episode 3: Throughout this episode, Bobby Orr and Denis Potvin hang out on the porch sipping Molsons and making fun of the "kids" in the competition. They think they're a lock to be the two defensemen, seeming to forget about Chris Chelios.
Potvin is surprised to receive a "show misconduct" after dropping the gloves against Ron Hextall. Hextall is given five minutes for fighting, a 10-minute misconduct, and a two minute instigator penalty.
Episode 4: With Ron Hextall out of the lineup due to penalties, Marty takes the boys into the country for some moose hunting. Boy, was Johan Hedberg surprised!
The players chased Hedberg through the boreal forest, chucking pucks at him until he gave up. Once he lost his blocker in a fast moving stream, it was all over.
Jari Kurri and Mark Messier were both eliminated when they kept arguing over who Wayne liked the most. Marty uncharacteristically screamed at one point, "The show is about me! I'm the star of the show!"
Episode 5: In a prank to test the guys, Marty has launched a bogus clothing line. Every single piece in the collection has 552 little "w's" on it. The players are told they must model the clothes at a red-carpet event, and they do look ridiculous.
Alexander Ovechkin is eliminated when he tells phony reporters covering the event that his clothing line is much cooler.
Episode 6, the Finale: The guys all return to the "Igloo" to play three-on-three in an exciting game you only get to see during the All-Star Weekend. Brodeur, Gretzky, Lemieux and Orr play against Hextall, Malkin, Toews and Chelios.
The score ends up being 127-125—a lot more like a cricket match than a hockey game.
In this episode, Marty makes his final cuts. He eliminates Hextall, citing his tackling of Chris Chelios during the game, even though they were on the same team.
Marty then eliminates Evgeni Malkin and Jonathan Toews. In a surprise move, Brodeur names Mike Eruzione the captain of his team.
Mike comes out of nowhere, jumps up on the coffee table and motions for the remaining members of his team to join him. Gretzky, Lemieux, Orr, Chelios and Brodeur all climb onto the coffee table.
After a flash of the camera bulb, the coffee table collapses and the six men fall to the ground in a giggling, face washing heap of NHL manhood.
I hear there are plans for a "Real Housewives of Saskatoon" if they manage to secure an NHL club.
This article is
What is the duplicate article?
Why is this article offensive?
Where is this article plagiarized from?
Why is this article poorly edited?