New York Jets: Top 5 Lessons Learned in 2012 Season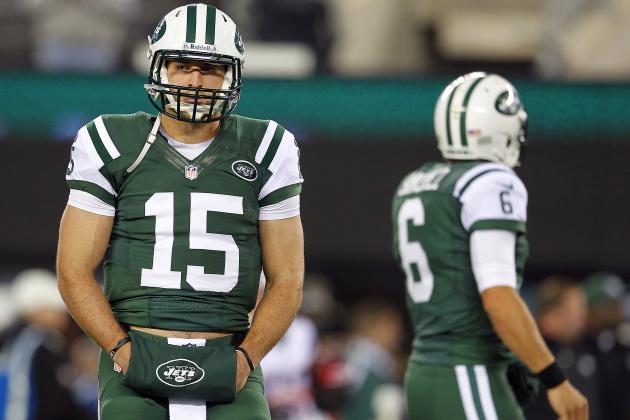 Rich Schultz/Getty Images

The New York Jets (5-7) failed to execute a simplified game plan en route to a lame-duck win over the Arizona Cardinals (4-8) in Week 13 to keep their dismal playoff chances alive.
The lone bright spot in the Jets' victory over Arizona was third-string quarterback Greg McElroy, who engineered a touchdown on his first drive in regular-season action.
It was an anomaly in a season consumed by Tebow-mania and the Sanchez Effect.
Nobody envisioned that the seventh-round draft pick out of Alabama would spark a quarterback controversy, but he did.
It remains unknown if McElroy will suit up next week when the Jets fly into Jacksonville to take on a terrible Jaguars squad, but it's possible that he gives his team the best chance to win.
The Jets have endured team-wide quarrels, coaches' dissension and quarterback controversy this season. They've become the most unstable franchise in professional football, but there are lessons to be learned from all of that.
The following entails five pivotal lessons learned for the New York Jets in the 2012 season:
Begin Slideshow

»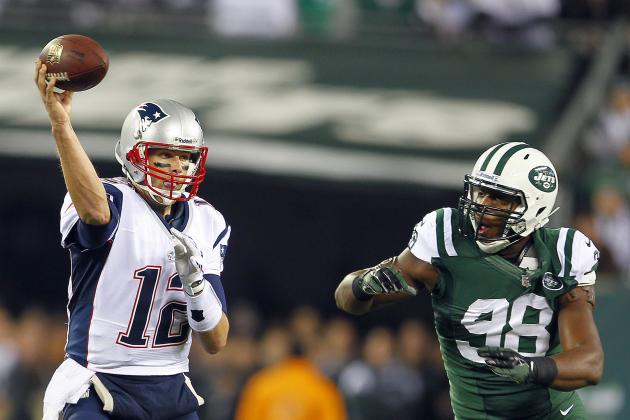 Rich Schultz/Getty Images

The Jets have combined to rack up an ineffective total of 19 sacks through 12 games in the 2012 season, good enough to rank 29th in the NFL.
Head coach Rex Ryan and his staff have failed to produce a pass rush capable of stifling opposing quarterbacks into making mistakes and committing turnovers.
Defensive end Quinton Coples was selected as the Jets' first-round draft pick last offseason and has proven to be a crucial draft blunder in the Ryan coaching era.
Coples has registered two sacks in his rookie season while combining for 20 tackles, numbers that signify his glaring inability to rush the passer.
Ryan and Co. passed up on Chandler Jones, another defensive end who was selected by the New England Patriots (9-3) later in the first round of the same draft.
He's recorded 6 sacks and 34 tackles thus far in his rookie campaign to combat Coples' dismal numbers.
The entire Jets defensive front has failed to pressure the quarterback all season, though.
Defensive end Muhammad Wilkerson is the team's leading sack leader with 2.5, a number that clearly indicates why the Jets defense has taken a plunge into the depths of mediocrity.
There isn't a team in the NFL that can win without a pass rush and the Jets are no exception.
There isn't a concise method for fixing that problem, especially given the Jets' salary cap issues and seeming lack of successful talent evaluators.
But no team in the NFL knows better than the Jets that it's borderline impossible to stave off potent offenses when the opposing QB has all day to throw.
David Welker/Getty Images

Tim Tebow is a national phenomenon and a backup quarterback. The Jets' inability to utilize the run-first QB created a problem, though.
Still, Tebow is a tough-minded football player with big-play ability. He's definitely not the answer to uplift the Jets from mediocrity, but he can be part of the solution.
Recognizing Tebow as a playmaker as opposed to a quarterback could potentially help the Jets formulate a future role for the run-option player.
It's become apparent that first-year offensive coordinator Tony Sparano is not a wildcat genius capable of churning Tebow into a dominant force for a dozen plays per game, but that doesn't mean that Tebow can't have a positive impact on the Jets.
Tebow is not the answer for the Jets at quarterback, but he's one of the most optimally-dynamic players in the game.
The Jets don't have to win because of Tim Tebow, but they can certainly win with him.
The training camp controversy that pitted Mark Sanchez against Tebow was vastly erroneous. Tebow-mania transferred Sanchez from the brink of mediocrity to holding a clipboard on the sideline.
The Jets supposedly acquired Tebow via trade to enlighten Sanchez. Tebow was supposed to ignite an embattled quarterback and help lift him to greatness.
Instead, Sanchez has regressed beyond reasonable expectation.
Did Tebow-mania ruin Mark Sanchez, or was he already destined to be average at best?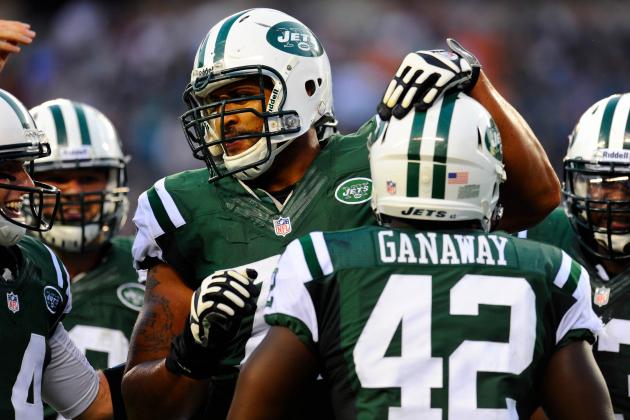 Dale Zanine-US PRESSWIRE

The Jets' offensive line was a trademark when the team reached consecutive AFC Championship games in head coach Rex Ryan's first two seasons at the helm.
It's become a serious problem since then.
The Jets have allowed 30 sacks in the 2012 season, turning themselves into a module for bad offensive efficiency.
Ryan's run-oriented approach on offense has become insignificant because of bad protection up front, forcing the Jets into third-and-long situations and frequent three-and-outs.
Their 37.8 conversion percentage on third downs ranks 18th in the NFL.
The numbers don't lie.
Bad protection on the offensive front has greatly enhanced the Jets' inability to score points and sustain drives.
The Jets' offensive line needs to be rebuilt if the Jets are going to readopt the ground-and-pound philosophy under Ryan and allow the quarterback to manage football games, as opposed to being forced to win them.
New York doesn't have the personnel at quarterback to overcome long-field situations on third down.
Failed projects such as left guard Vladimir Ducasse and former right tackle Wayne Hunter have handicapped the Jets in constructing a strong offensive line.
The Jets are mediocre in the trenches, both on offense and defense.
Bad protection up front has disabled an already-struggling offense and forced the Jets into long-field situations, causing Sanchez to throw further downfield and into traffic on a more constant basis, often leading to game-changing giveaways.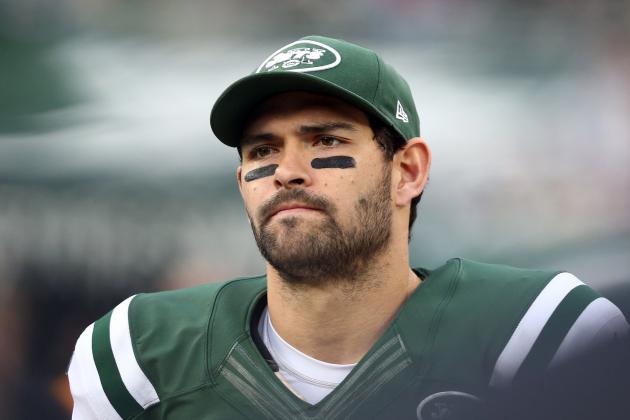 Debby Wong-US PRESSWIRE

Mark Sanchez was drafted to be a franchise quarterback. He was supposed to lead the Jets to the promised land for the first time since Joe Namath did it in 1969.
Now, it appears as though Sanchez is destined for a career consumed by mediocre game-play. His decision-making skills are lackluster and his instincts are below average.
Sanchez has the talent necessary to succeed in the NFL, but he often forces passes into thick coverage, largely affecting his turnover total on a game-to-game basis.
The fourth-year quarterback has thrown more interceptions than touchdown passes in the 2012 season. He's committed 13 picks to combat his five lost fumbles and has failed to sustain any resemblance of consistency on a wide scale.
Sanchez frequently turns the ball over in opposing territory, devastating the Jets' ability to put points on the scoreboard.
He's easily defeated and often looks rattled on the sidelines, handling Sparano's dilapidated reactions to his latest football faux pas by committing another giveaway on the subsequent possession.
Sanchez holds a 28.4 total QBR to rank 32nd of 34 qualifying quarterbacks. The man that was supposed to lead the Jets to championship glory has a total quarterback rating that only beats rookie Brandon Weeden (26.1) and backup John Skelton (19.3).
Acknowledging that Sanchez is incapable of leading this franchise to a Super Bowl title is perhaps the most important lesson learned by the Jets in the 2012 season, especially after granting the so-called "Sanchize" a $40-million extension last offseason.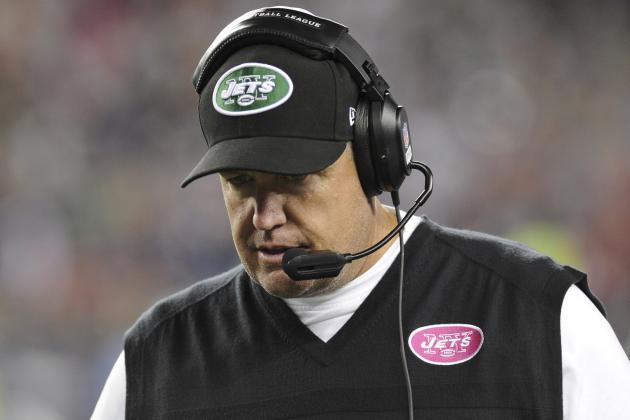 Bob DeChiara-US PRESSWIRE

Rex Ryan is the most boastful head coach in professional sports. He proudly rides his pedigree as a successful defensive coordinator to a status that he's never earned.
The Jets rank 23rd in total yards allowed per game in 2012, checking in at 336 on average.
Ryan was unable to revamp a disoriented defense after losing superstar cornerback Darrelle Revis for the remainder of the season after just three regular season games.
The Jets have been relatively successful at limiting the opposition's air attack, though that's mostly because they surrender 137.7 rushing yards per contest.
Opponents have pounded the Jets between the tackles to defeat a relatively weak defensive front.
The 2012 version of Ryan's defense is not tenacious or authoritative.
Instead, they allow the opposition to convert on 41.8 percent of third downs, a major component in the Jets' ugly season-long performance this season.
The Jets don't withstand the offensive firepower to come back from late-game deficits, adding pressure to the defense to get off the field.
Ryan and defensive coordinator Mike Pettine have faced enormous difficulty in overcoming the loss of Revis, who is widely considered to be the best defensive back in professional football, but ultimately failed to reconstruct certain personnel packages on defense to fill the void and remain near the cusp of upper echelon defenses in the NFL.