Will Mike D'Antoni Win a Championship with the New York Knicks?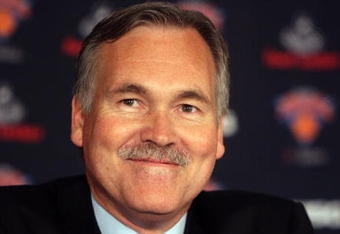 (Photo by Mike Stobe/Getty Images)
Since before he was even hired as the New York Knicks' head coach, there were constant grumblings from media members and fans alike that Mike D'Antoni's "run and gun" style would never be conducive to winning championships in the NBA.
Yes, his coaching style does have its flaws, and yes, his teams do lack a consistent defensive presence.
However, I truly believe that with a solid roster matching his playing style, D'Antoni has the potential to lead the Knicks to a title in a few years' time.
Of course, as big of a fan as I am of D'Antoni, I will admit that right now, the Knicks are not playing good (or average, or even mediocre) defense.
But when judging the D of one of Mike's teams, you cannot just cite stats like opponent points per game and claim he's deficient as a coach.
With the "run and gun" style that D'Antoni employs, teams are guaranteed not only more possessions, but also more open looks due to most shots being taken in transition.
Even though they give up large point totals, that does not mean that D'Antoni's teams are incapable of playing solid defense.
Mike cares more about making opponents work for their scores than the number of points allowed. He believes that, during the course of the track meet of a game that his team's style creates, the opposing team will get worn out and fold, allowing his team, in turn, to "out-offense" the opponent.
There have been too many times this year that I have been pressed to my television screen, begging David Lee to hedge more aggressively on a screen-and-roll or for the Knicks not to switch off of ball-screens (leaving countless mismatches late in games for teams to easily capitalize on).
Sadly, I've got to lie to myself that the Knicks play even average defense. But I believe that this is as much of a result of an undermanned roster as it is bad defensive game planning.
It is unfair to expect any coach to turn a front court of David Lee (a true power forward) and either Jared Jeffries (a scrub) or Al Harrington (a terrible defensive player) into a competitive defensive lineup. Not only is there a complete lack of size, but there is also no true shot-blocking presence keeping opposing guards out of the lane.
Even in Phoenix, D'Antoni utilized a small front-court lineup in order to maximize his team's potential in the transition game. While Amare Stoudemire was more of a shot-blocking presence in the paint than anyone the Knicks have, the Suns were still among the worst in the league in opponent's field goal percentage and opposing PPG year after year.
But to give the man credit, this was not because of flawed schemes or overmatched lineups, but rather, the lightning-fast tempo of the "Seven Seconds or Less" (SSOL) offense. Within this offensive system, ranking badly within the league in these categories is a fact of life.
But looking back at Mike's Phoenix squads, the Suns forced opponents to work much harder for their points than New York does by following the game plan that their coach set in order to take advantage of the opponent's lack of endurance.
The system worked better in the desert largely due to the personnel fitting D'Antoni's style much better. Until Steve Kerr entered the equation and messed with the chemistry in Phoenix, D'antoni's lack of defense was not a problem. In his four seasons there, he averaged 58 wins per season.
When asked about his defensive schemes, D'antoni once said,
"One thing's for sure, we averaged 58 wins in four years, so 58 times a year we were the best defensive team on the floor".
I will be the first to admit that regular season wins do not translate into championships and that the Playoffs are a different type of basketball.
But Mike was just two wins away from leading the runnin' and gunnin' Suns to the NBA Finals. And he did that without Amare in the lineup for nearly the entire season. That has to mean something.
In New York, D'Antoni has brought a certain amount of toughness. While that has never been his strong suit, he has turned a soft team of prima donnas into a group that could well grind their way into the postseason, despite having far less talent than the year before. True, it is in the Eastern Conference, but we are taking baby steps here.
Furthermore, D'Antoni has brought his unique offensive system to the Knicks and has thereby restored excitement in the Garden.
Within his attack, three things are stressed: the fast break, the pick-and-roll, and endurance.
D'Antoni operates under the belief that in the fourth quarter, while his guys are shooting with fresh legs, the opposing players will be running in concrete.
The scheme allows players to maximize their talent by putting them in the open court, rather than restricting them to systematic offensive roles ala the coaching of Jerry Sloan. Not to say that methods like that can't be effective, but show me the person that foresaw Nate Robinson putting up these types of numbers this season, and I will gladly endorse them as the Knicks' next GM.
Year after year, Mike's teams are among the league leaders in points per game and field goal percentage. It would be an understatement to call his clubs "prolific" scorers.
In my opinion, the most beneficial aspect of D'Antoni's offense is its ability to play to players' strengths rather than their weaknesses. Guys like Danilo Gallinari and David Lee can play facing the basket, utilizing their strength, quickness, and outside shooting (a new talent for Lee that is still developing, but is becoming one of his greatest assets) rather then putting them in a traditional back-to-the-basket role.
Furthermore, his up-and-down style does not emphasize set offensive positions, allowing his teams to operate perfectly well without a traditional center and further honing their ability to take the opponents out of their half-court comfort zone.
This game style controls the dominance of bigs like Shaq, Yao Ming, or Zydrunas Ilgauskas. The smaller Knicks lineup can force them to run the floor and guard players off the block.
Of course, all this praise being given, for a coach to win a title, he does need the players to do so. That's is why the Knicks aren't going to be holding up any trophies at the end of this year (except for Nate Robinson holding his dunk contest trophy while staring at himself in the mirror).
But the good news in regards to a future title in New York is D'Antoni's great relationship with his players (discounting Stephon Marbury, but come on, are you really going to hold that against him?) and his beloved offensive style.
In a league where stats are so valued and fun is at times minimized (once again, look at Sloan), it is a player's dream to play for a guy like Mike.
The Knicks roster, while currently very undermanned, does have some really good potential. Wilson Chandler is turning into a legitimate NBA small forward (or shooting guard, depending on surrounding players), and Danilo Gallinari has shown great promise.
With one middle-to-high draft pick this year, the Knicks will have some serious young talent come 2009-10.
That being said, David Lee and Nate Robinson are concerns now because of their contracts. Maybe they will both be in New York next seaosn, or maybe only one of them will.
Who knows; both are restricted free agents at year's end and will require far heftier paychecks than they have now. I say New York should retain at least one of them for the next few years to keep the roster stocked.
Toss in a stud from the "Summer of LeBron" in 2010, and the Knicks could be downright scary.
Now, I am not saying James will be a Knick, although he would fit flawlessly into D'Antoni's system with his unique athletic ability, power, new-found range, and fabulous defensive presence.
However, the amount of talent floating around the NBA that summer will be unbelievable.
With the cap room to give out at least one (and possibly two, if N.Y. can dump Eddy Curry) max contract, the Knicks will acquire a skilled player or two during that offseason. In a perfect world, they would provide the Knicks with the final two pieces to their championship puzzle.
Regardless of what their names are (I trust the brilliant Donnie Walsh to pick respectable acquisitions), whoever is included in the influx will improve the defensive talent.
As they grow more athletic and are able to throw more versatile bodies in the front court, the constant switching on picks will diminish, and the Knicks will be able to become more aggressive on the defensive end.
To boot, as they are able to formulate a roster built for this particular style of play, the increased athleticism will enable to Knicks to improve on the defensive boards, where they are currently dreadful.
Whether it was the rave reviews D'Antoni got from the "Redeem Team", or the Playoff success he had in Phoenix, I completely believe Mike D'Antoni can capture the 'ship that has eluded the Big apple since the mid 70's.
Being a basketball purist, I will forever believe that defense wins championships.
But I now believe that, under the right circumstances, with championship-caliber players, D'Antoni will be able to deliver what is necessary to mount the trophy upon the Knicks' mantle.
As a Knicks fan, I sure do hope I'm right.
This article is
What is the duplicate article?
Why is this article offensive?
Where is this article plagiarized from?
Why is this article poorly edited?

New York Knicks: Like this team?