10 Under-the-Radar CBB Teams Who Could Make It to March Madness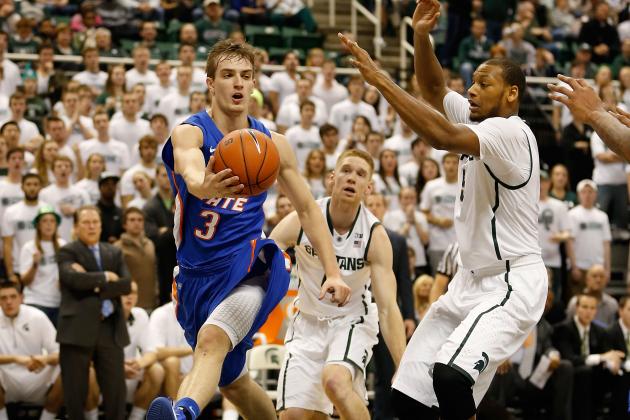 Some teams are flying under the radar and could make March Madness appearances.
Every year in college basketball, there are teams who fly under the radar until March.
This year is no different.
The season is not even a month old, and college basketball is already wildly unpredictable, with some squads who have improved and seem poised to get into the Big Dance in March. At the top of the college world, the Indiana Hoosiers are back, and the Duke Blue Devils look as good as ever.
Other than that, the landscape of college basketball is shifting every day with a new upset from a team that people gave no chance to be any good this year, proving the unpredictability of this sport.
Let's analyze 10 under-the-radar teams who could make it to March Madness if they keep up their strong play to start the season.
Begin Slideshow

»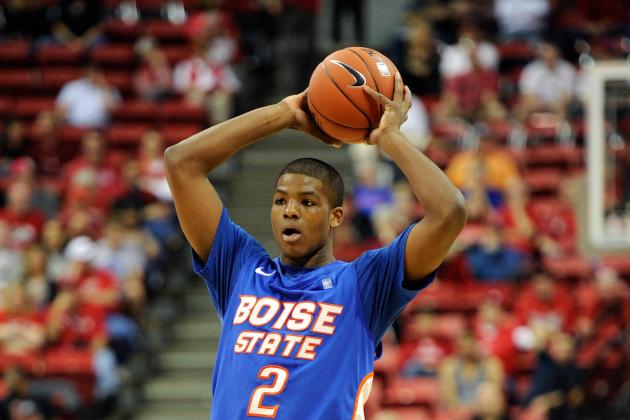 Marks is one of the nation's most underrated players.
A school known for its very successful football program and bizarre blue field, the Boise State Broncos do indeed have a basketball program—a good one.
Last year, the Broncos were 13-17 and 3-11 in the Mountain West Conference, but they look like a completely different team this season. Led by sophomore guard Derrick Marks, who is averaging 19.5 PPG, including a career-high 35 in a recent 83-70 upset over No. 11 Creighton on the road, the Broncos are off to a 5-1 start.
Also, they nearly knocked off Tom Izzo's Michigan State Spartans in East Lansing, falling 74-70 in a tight contest.
The Broncos also feature sophomore guard-forward Anthony Drmic, a versatile Australian who is averaging 14.3 PPG and 5.7 RPG so far.
The Broncos could cruise through the rest of their nonconference slate, but the true test begins with conference play in a tough Mountain West that features three currently ranked teams (UNLV, San Diego State, New Mexico). It would be a big leap for this Boise State team to jump from the cellar to near the top of the conference standings and into the NCAA Tournament.
They will be tested, but so far, so good.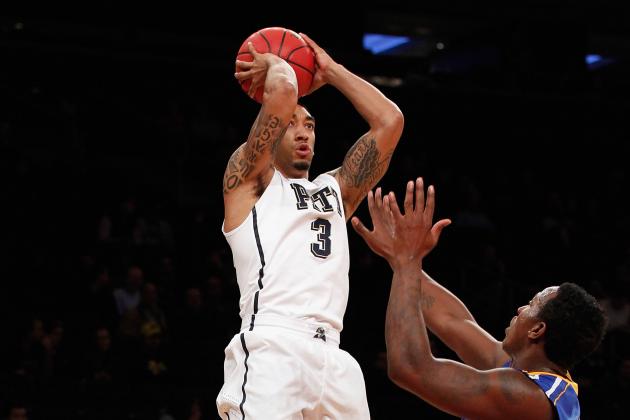 Pitt is off to a strong 6-1 start.
Pittsburgh missed the NCAA Tournament in 2012 for the first time since 2001, but don't expect the same this year. Head coach Jamie Dixon won't accept another disappointing year.
In fact, Dixon has never missed the NCAA Tournament with Pitt. With 25-win campaigns being the norm, it was a shock to see the Panthers struggle last year.
This year, the Panthers are off to a 6-1 start, with their only a 67-62 defeat against the No. 4 Michigan Wolverines. While they haven't beaten anyone of note, Pitt still has the potential to surprise some people in the Big East.
Last year, they finished on a high note, with a CBI title over Washington State and a 22-17 record for the year despite being 5-13 in Big East play.
The Panthers send out a very-balanced attack. Six players are averaging over 6.5 PPG so far this year, and the Panthers are ninth in the nation in field-goal percentage, making 51.3 percent of their shots.
The Big Ten may be getting all the hype as the best conference in the nation, but the Big East will be brutal once again—especially if the Panthers are back where they belong.
The Owls always seem to surprise people with their solid play.
Fran Dunphy's team always seems to sneak up on people despite their recent success. Last year, the Owls were 24-8, A-10 Conference regular season champs and beat Penn State in the NCAA Tournament before falling to South Florida in the third round of tournament.
This year, they are off to a 4-0 start, led by senior Scootie Randall, who is averaging 17.3 PPG and 6.8 RPG in the early-going.
Unlike many of their counterparts, the Owls will be battle-tested before they reach the conference slate, with games against top-ten teams Duke, Syracuse and Kansas all on the schedule. The Owls will also have to contend with Butler and VCU this year, who were added to the A-10 and have a track record of success in recent NCAA tournaments.
The Owls are well-coached and always seem under-appreciated even though they've been to the Big Dance every year since 2008.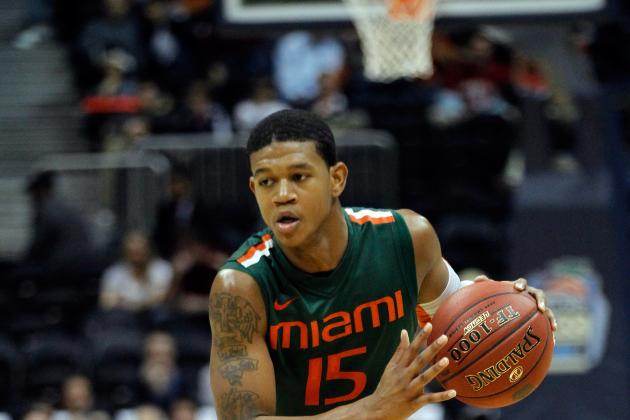 The Hurricanes looked poised to make it to March this year.
There has never been a question as to whether the Miami Hurricanes have the talent to reach the NCAA Tournament. It seems this team has underachieved whenever they get a big upset win or there is buzz surrounding them.
This year, however, has a different feel to it for this group. Led by sophomore point guard Shane Larkin—the son of MLB Hall-of-Famer Barry Larkin—the Hurricanes look like a viable threat to contend in the ACC this year and have five scorers averaging 10 or more PPG in their 4-1 start.
Skeptics point to an ugly 63-51 loss at Florida Gulf Coast in their second game of the season as proof this team doesn't have what it takes.
However, Miami upset No. 13 Michigan State 67-59 in the Big Ten/ACC Challenge behind senior Trey McKinney Jones' career-high 18 points.
Second-year coach Jim Larranaga seems to have this program moving in the right direction as the Hurricanes are seeking to make their first NCAA Tournament appearance since the 07-08 season. This year, it looks like they may have the mental toughness to match their talent.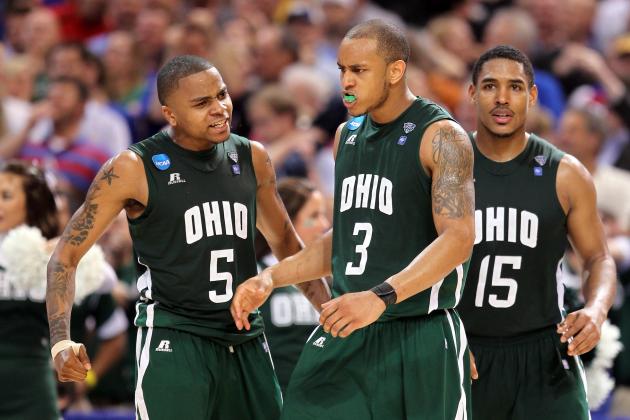 The Bobcats nearly upset UNC in the Sweet 16 last year.
New coach? No problem for the Bobcats, who are rolling under the new direction of Jim Christian. The Bobcats are 6-0 and have a game with Memphis on December 5 that could show if they are as good as advertised.
However, the Bobcats do not have a team on their schedule that is currently ranked in the Top 25.
Let's be reminded of what this team did last year. They won the MAC to advance to the NCAA Tournament as a No. 13 seed. Once they got in, they knocked off No. 4 Michigan, No. 12 South Florida, and took No. 1-seeded North Carolina to overtime before losing 73-65. The Bobcats also knocked over No. 3 seed Georgetown back in 2010 as a No. 14 seed.
This team doesn't get much publicity, but they have been in big games and know how to play in the NCAA Tournament. Their five top scorers are back and poised to make another run at it this year.
Don't be surprised if they do it again this year and make a regularity of making noise in the Big Dance.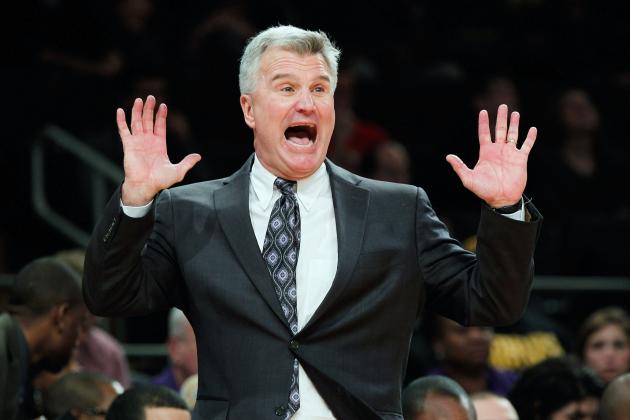 Weber is the new lead guy at K-State.
Don't let former head coach Frank Martin's frightening demeanor make you think new head coach Bruce Weber is soft and dispassionate. Weber, who was fired by Illinois after a disappointing 17-15 mark in his last season with the Illini, is reinvigorated and takes over a solid squad lead by senior Rodney McGruder.
The Wildcats were a No. 8 seed and beat SMU in the second round of the tournament last season before falling to No. 1 Syracuse in the third round.
So far this year, Weber's bunch is 5-1, with their only loss coming in the NIT Season Tip-Off Final to No. 4 Michigan. K-State still must contend with No. 12 Gonzaga and No. 7 Florida in nonconference play before opening with No. 15 Oklahoma State in conference play on January 5.
The Big 12 looks a little weaker this year, giving the Wildcats an opportunity to improve upon their 10-8 conference mark from last year and move into the upper echelon of teams in the conference with the likes of Kansas.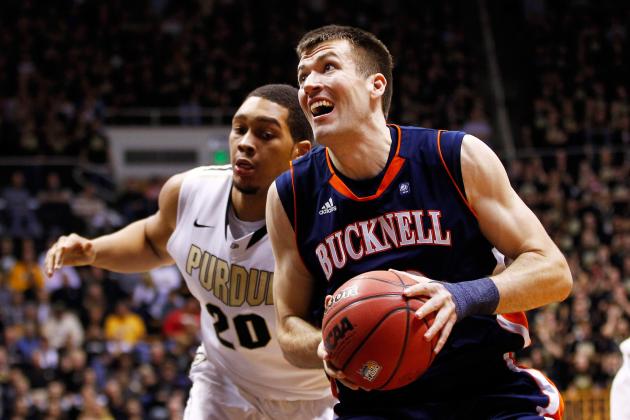 The Bison started the season strong with a win at Purdue.
Last year, the Bison won the Patriot League regular season title but saw Lehigh win the conference championship and relegate them to the NIT, where they beat Arizona before falling to Nevada.
This year, the Bison came out thundering out of the gate, beating Purdue in Mackey Arena in its first game. The Bison are off to a 6-1 start with their only loss to Penn State and are led by senior Mike Muscala, who is averaging a double-double in the early-going (16.1 PPG, 11.1 RPG).
The Patriot League isn't the stiffest test to deal with, but a C.J. McCollum-led Lehigh team will be very good and may be in the Bison's way again this year. The Bison made the NCAA Tournament in '05, '06, and '11, so they know what it takes to get there.
They will also have a big test on January 5 at Missouri, a game that may show if they are worthy of NCAA Tournament consideration.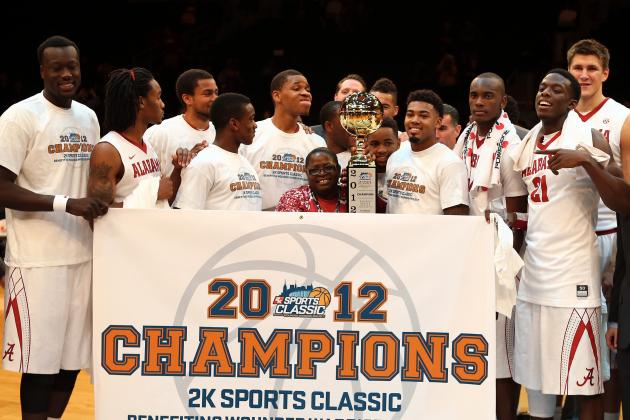 The Crimson Tide are looking to build off a solid 2011-12 campaign.
In the 2010-11 season, head coach Anthony Grant's team went 12-4 in the SEC and was snubbed of a tournament berth. They took second in the NIT. Last year, however, Alabama needed only nine wins in the conference to get into the NCAA Tournament, where they fell to Creighton 58-57 in a second round matchup.
This year, the team is off to a 6-0 start, including a 2K Sports Classic title win by 22 points over Villanova. Led by junior Trevor Releford (18.6 PPG) and sophomore Rodney Cooper (15.8 PPG), this team looks like it could make some noise in March last year.
With the experience gained last year, the Crimson Tide isn't far off from rattling off wins in March when they matter the most.
They still have No. 17 Cincinnati, Dayton, Texas Tech and VCU to tussle with in nonconference play before opening up SEC play.
'Bama also tops the lists of others receiving votes in the AP Top 25 , so voters are taking note this team can be very dangerous come March.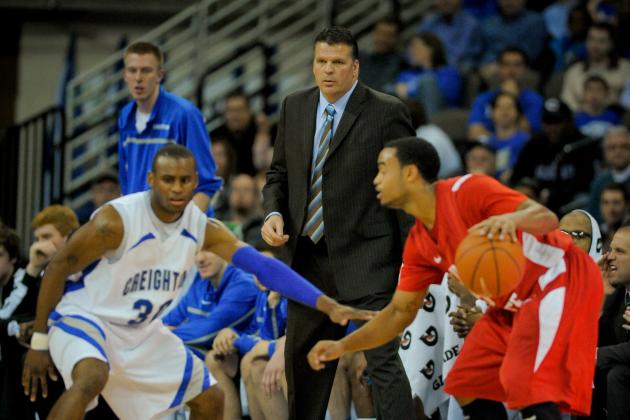 The Redbirds nearly knocked off Creighton in last season's Missouri Valley conference title game.
The Redbirds nearly reached last year's NCAA Tournament, falling in overtime to Creighton in the Missouri Valley conference championship.
This year, Illinois State is 5-1. With wins over Drexel and UAB and their only loss coming in overtime to Northwestern, they are playing very well to start the season,
Next up for the Redbirds? A trip to No. 5 Louisville, a Final Four-caliber team.
The Redbirds are led by two potent scorers in senior guard Tyler Brown (18.8 PPG) and senior forward Jackie Carmichael (16.2 PPG).
Head coach Tim Jankovich will have his team ready for March Madness, as they will not want to suffer heartbreak again in falling just short of the tournament and being put in the NIT again.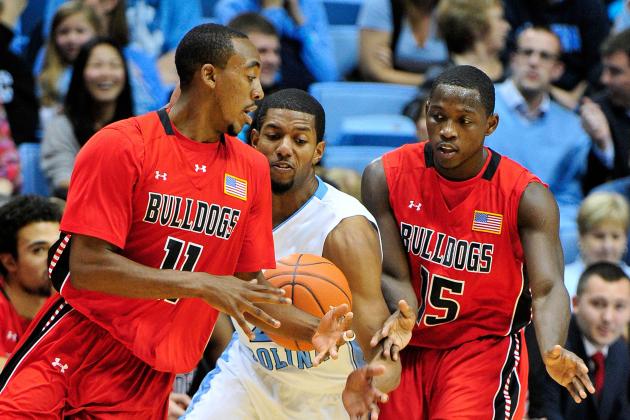 The Running Bulldogs have played many big name opponents in the early-going, including UNC.
The Runnin' Bulldogs certainly haven't avoided tough competition in the first month of the season, playing North Carolina, DePaul, Iowa and Illinois.
Against UNC, they trailed by nine with five minutes to play before falling 76-59. They traveled to DePaul and won by double-digits, but they blew a 23-point lead and lost to Iowa. Against Illinois, a team that is off to an impressive 8-0 start, the Running Bulldogs lost by one point, 63-62 on a long three-pointer by the Illini in the closing seconds.
The Running Bulldogs have played all these opponents tough. At 4-4, their record doesn't stand out, by they gained valuable experience that will certainly help them in Big South conference play.
Look for this team to make a big leap to near the top of the conference standings this year.
Led by sophomores Donta Harper and Max Landis, this team has a bright future after finishing just 6-12 in the Big South last year.