Brooklyn Nets: Gerald Wallace's Tough Guy Mentality Sets Tone for Nets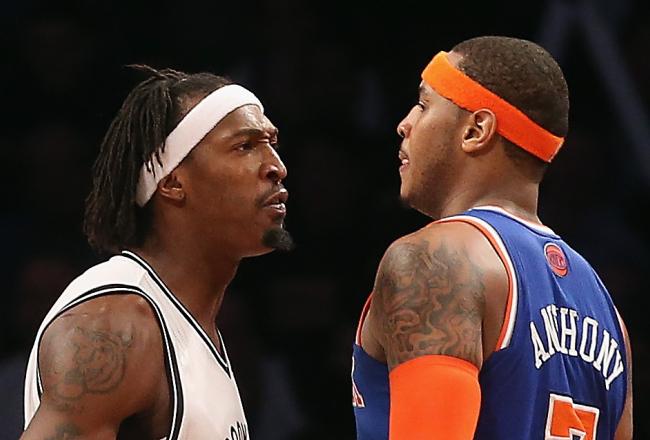 Bruce Bennett/Getty Images
When the Brooklyn Nets pieced together their idea of a championship contender, many focused on the likes of Deron Williams, Joe Johnson and Brook Lopez. The truth of matter is, it is not the big-name players who make this team what they are.
It's Gerald Wallace's tough guy mentality that sets the tone for the Nets.
Although D-Will, Johnson and Lopez will garner headlines, it is Wallace who means the most to this franchise. This is why they traded away what ended up being the sixth overall draft choice in the 2012 NBA Draft to acquire him (via ESPN New York).
It's the same reason they re-signed Crash to a four-year, $40 million contract (via ESPN New York).
Although he will not overwhelm with his stat line, Wallace is one of the league's top all-around defenders. Even at the age of 30, the former Alabama Crimson Tide star is also one of the most explosive athletes in the NBA.
With that being said, Wallace's defensive and athletic abilities are not the reason he sets the tone for Brooklyn. It is the intangibles that range far beyond his physical gifts.
It is Wallace's warrior's mentality that few, if any, can match.
The Nets may have recognizable talent, but they are not winning games by virtue of their skill players. As they make their push for the postseason, their battles will not be decided by their individual talent, either, as the true reason lies much deeper.
It is their gritty and physical nature which complements their everlasting resolve.
Under the Radar Confidence
The 2012-13 NBA season has been one of unpredictable measures. With the underachieving of expected contenders and unexpected rise of teams with insignificant expectations, the Brooklyn Nets could very well emerge as a power franchise in the NBA.
The way they've set that pace early on has been by displaying the one thing that teams such as the Boston Celtics and Los Angeles Lakers appear to lack. Confidence.
This confidence is a direct reason as to why they've won nine of their past 11 games. That includes victories over the New York Knicks, Los Angeles Clippers and Boston Celtics.
The way the Nets have been able to sneak up on their elite opponents has been with a sense of impenetrable self belief. Even as Brooklyn has faced a deficit or lost momentum, they have powered on through every stage of the game.
Even as their shots aren't falling, the Nets keep pushing. A fundamental reason they are 10-4 and a direct result of the mentality instilled by the likes of Gerald Wallace and Reggie Evans.
Take No Nonsense
Contrary to the fact that the 6'1" and 186-pound Rajon Rondo bodied the 6'9" and 235-pound Kris Humphries into the crowd, the Brooklyn Nets are not a soft team. In fact, this is one of the most mentally and physically tough teams in the NBA.
Yet another by product of Wallace's involvement.
The Nets are not the type of franchise that is out to secure a victory by virtue of garnering highlights or headlines. They're the team whom no one wants to play due to the fact that they will approach each game with the same mentality.
Win at all costs.
It isn't just LeBron, folks. Crash dominates it too.
Filling in as Enforcer
The most underrated role on any team is that of an enforcer. Said player is often valued more for their mentality and physicality than their production.
The true importance of their play is the message-sending and teammate-protecting approach they take on a nightly basis.
Prime examples of past and present enforcers include Bill Laimbeer of the famed Bad Boy Detroit Pistons and Kendrick Perkins of the Oklahoma City Thunder. As opposed to Perkins, Wallace is capable of producing at a high level.
Career averages of 13.4 points, 6.3 rebounds, 2.1 assists, 1.5 blocks and 0.9 steals per game prove such a point.
What's key to the Nets as a unit is the fact that Wallace is not afraid to step in with the trash talk or physicality. With his history of locking down elite scorers, that confidence builds in Wallace's ability to send a message.
A message which rings loud and clear with the entire Nets team. Cross anyone on this Nets roster and Wallace will be the first one to make you pay.
Yet another example of how Wallace is the Nets' most valuable player.
This article is
What is the duplicate article?
Why is this article offensive?
Where is this article plagiarized from?
Why is this article poorly edited?

Brooklyn Nets: Like this team?