College Football Recruiting 2013: Burning Questions About the Top 10 RB Recruits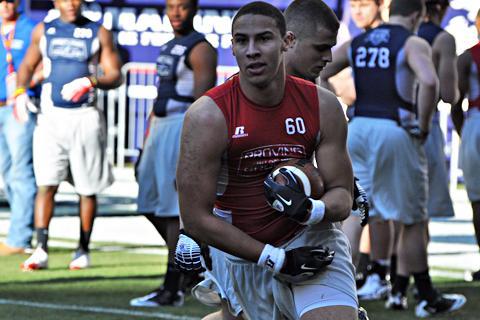 247Sports.com
Questions abound for many prospects in this 2013 class. We've already gone over burning questions for the top 10 QB prospects; today we'll stay in the offensive backfield but move to the RB prospects.
These are the top 10 runners in the country this year and all 10 of them are fine talents. They have big time skills to make early impacts and enjoy great college careers. However, they do have questions surrounding them and for this read we'll ask the top burning question for each top 10 RB.
Any questions?
Begin Slideshow

»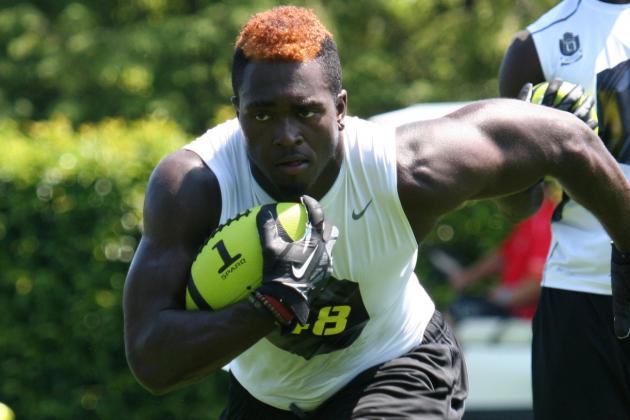 247Sports.com
The big 6'0", 225-pound Virginia native is a rugged back with power, strength and some quickness. His recruitment has a interesting to follow and with Gene Chizik getting fired that could mean a shake up with his list.
Burning Question: Is he Michigan's to lose now?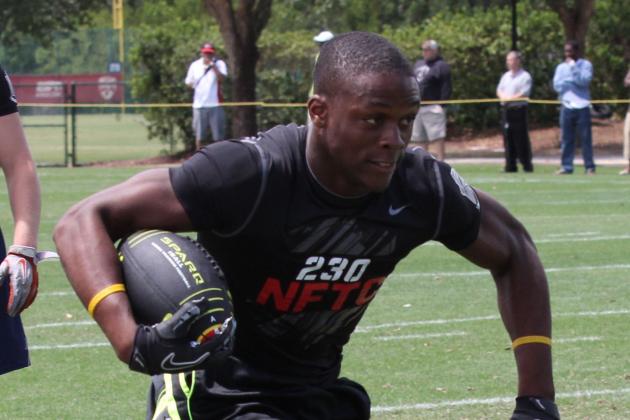 247Sports.com
Green is committed to Florida State, and his main attacking trait is his speed. He is 5'10", 190 pounds and can surge upfield with a great burst, out-run defenses and get to pay dirt quickly.
With his size and speed ratio, you have to start wonder if Green can withstand an every-down pounding. He may or may not be a luxury player.
Burning Question: Is he an every-down back?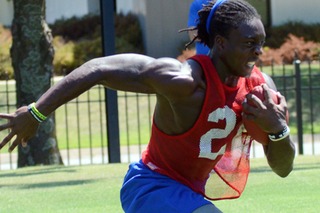 247Sports.com
At 6'0" and almost 215 pounds, Tenpenny has great leg drive, quickness through run alleys and long speed. He runs hard with good instincts and has some tackle-breaking ability.
He's committed to Alabama, along with Tyren Jones and Derrick Henry. With the crowded depth chart in Tuscaloosa at the RB position, Tenpenny could easily go be the man somewhere else.
Burning Question: Should he go somewhere else where he can be the man all by himself?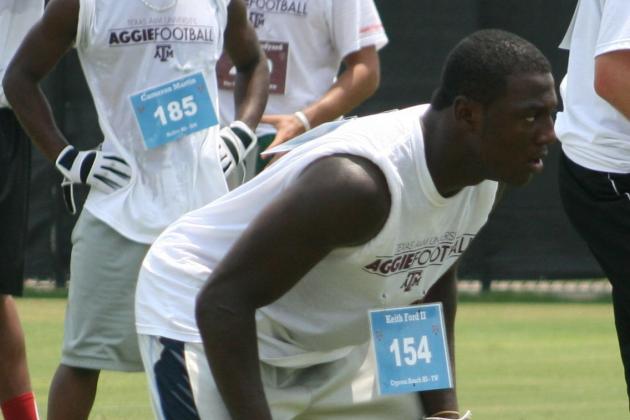 247Sports.com
Ford is a Texan that runs at 5'11", 200 pounds. Watching him on film, I see a back with outstanding vision and natural instincts. He's an aware player with good speed and solid run strength.
Committed to Oklahoma, Ford has what it takes to be prime time offensive player for the Sooners.
Burning Question: How long will it be before he makes an impact?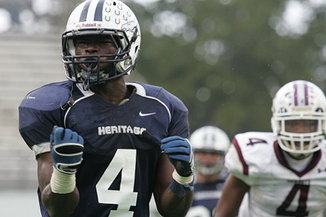 247Sports.com
Bryant is from Florida and is runner that attacks downhill and runs awfully tough. He's 5'10", 205 pounds and has good quickness to and through holes, run strength and can gain yards after contact.
The SEC is where Bryant likely will tote the rock at. The question is now at what school in the conference will that be?
Burning Question: Which is SEC program will land him?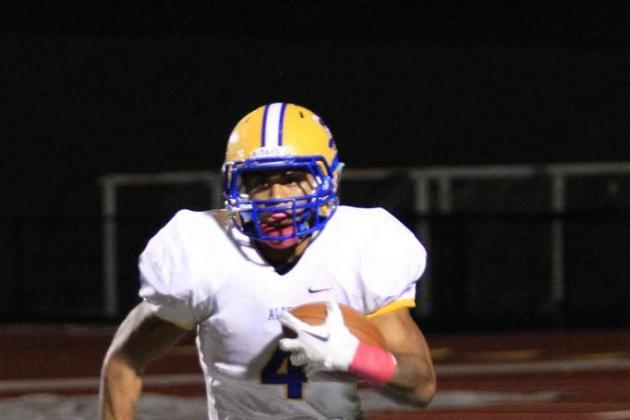 247Sports.com
The 6'0", 218-pound speedster from Oregon is best known for his 10-TD game this year. Tyner is committed to Oregon and should be a seamless fit into the Ducks' speed-based offense.
Tyner loves to get to the edges and show a smooth and quick glide of a burst upfield to jet past defenders. He started the year at 207 pounds but is getting close to 220.
Burning Question: Will the added bulk to his frame hinder his great speed?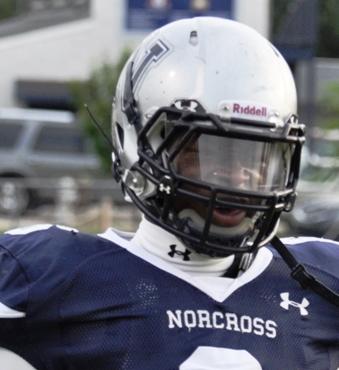 247Sports.com
Kamara is likely going to decide between Alabama and Georgia. He is 5'10", a little over 190 pounds and is close to being a complete running back. Think about Brian Westbrook in his prime when trying to figure out Kamara plays.
Burning Question: Where is he going?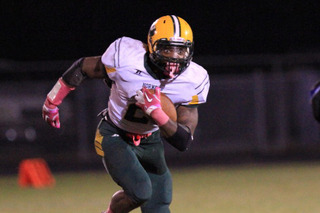 247Sports.com
A big runner at 6'3" and 242 pounds, Henry is a gliding, elusive and athletic runner. He has some strength, but his athletic ability and agility are what make him so great.
At his size, with his movement skills, you start to wonder if Henry will be best suited at another position such as LB or DE. I don't think so, but it's out there.
Burning Question: Will he stay at RB at Alabama?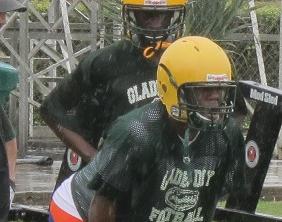 247Sports.com
Committed to Florida, Taylor is the all-time leading rusher in Florida, and that is a huge accomplishment when you think of all the great backs that have played in the Sunshine State.
At 5'11", 216 pounds Taylor has natural instincts, vision, feel, awareness and agility. He's got rare quickness and shows a good burst. His long speed is the only major concern in his game.
Burning Question: Does he have enough long speed to make consistent long runs?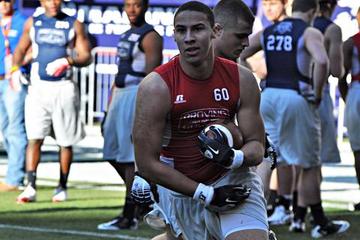 247Sports.com
Isaac is tall and long back with some bulk at 6'3", 220 pounds. He runs with good speed, elusiveness, quickness through alleys and instincts. What separates Isaac from others is his ability to consistently catch the football like a WR.
It's not a problem for him to split out, run a route, separate at a junction point from a defender and catch the ball with his hands.
Burning Question: Will his receiving ability, hands and ball skills be put to use at USC?
Edwin Weathersby is the College Football Recruiting Analyst for Bleacher Report. He has worked in scouting/player personnel departments for three professional football teams, including the New York Giants, Cleveland Browns and the Las Vegas Gladiators of the Arena League. He spent a year evaluating prep prospects and writing specific recruiting and scouting content articles for Student Sports Football (formerly ESPN Rise-HS). A syndicated scout and writer, he's also contributed to WeAreSC.com, GatorBait.net and Diamonds in the Rough Inc., a College Football and NFL Draft magazine.