San Antonio Spurs vs. Miami Heat: Live Score, Results and Game Highlights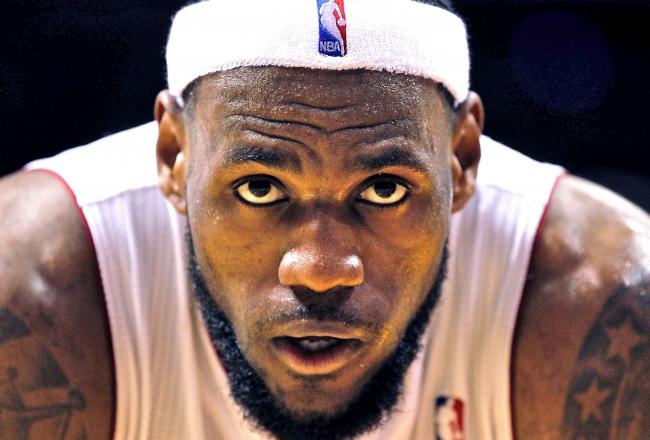 The Miami Heat edged the San Antonio Spurs, 105-100.
For those of you tuning in to see a star-powered matchup between the Miami Heat and San Antonio Spurs, you are going to be sorely disappointed. Greg Popovich has announced that he will sit four of his most important players.
When the Heat took the floor, they did not look at Tim Duncan, Tony Parker or Danny Green in the starting unit, nor did they see Manu Ginobili off the bench. All four players are not in attendance tonight for the Spurs.
Both teams enter with just three losses, Miami at 10-3 and San Antonio at 13-3. The Heat hold a one-game lead in the Southeast Division, while the Spurs sit a half-game back of Memphis in the Southwest.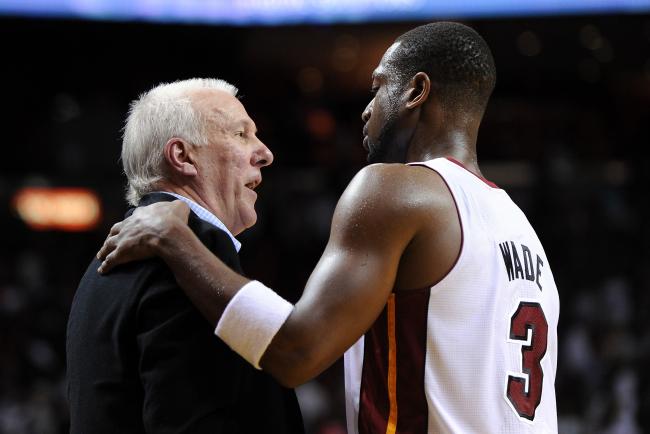 Miami 105, San Antonio 100 - Final
What Greg Popovich didn't mention when he held Tim Duncan, Manu Ginobili, Tony Parker and Danny Green out of Thursday night's game, was that he fully intended to win it. Really, he shouldn't have to explain anything at this point in his career.
Popovich took a team of mostly reserves and role players and almost took down the defending NBA champion Miami Heat, on their home court.
Outside of the final three to five minutes of the game, the argument can be made that the Spurs outplayed the Heat. In the end though, the superstars of Miami took over when it mattered most and defeated the Spurs.
LeBron James finished with 23 points, nine rebounds and seven assists, but it was Chris Bosh who played consistently well throughout the game. Bosh finished with 18 points and 12 rebounds. Dwyane Wade added 19, but took 17 shots to get there. Off the bench Ray Allen collected 20 points, three of which were a clutch bomb late in the final quarter.
The Spurs played admirably even though they were vastly outmatched talent-wise. Gary Neal led the way with 20 points and seven assists. Tiago Splitter put together another solid performance inside, as the big man put up 18 points and nine rebounds in the start. Nando De Colo had a great second half and tallied 15 points, while Matt Bonner had the bare minimum double-double of 10 points and 10 rebounds.
The Heat emerged victorious mainly because of the talent mismatch favoring them. They made the cardinal sin of allowing a subpar team to remain in the game for far too long. When that happened the Spurs started believing in themselves and each other. Luckily the talent gap was to big to cross. In the end it was the stars of the Heat who took over the final minutes and put the Spurs away.
The Heat go through a lot of dry spells. Thursday night they played long segments where no one was contributing to offensive rhythm. This is where it is an excellent idea to have Ray Allen coming off the bench. Nobody can stop a slump faster or more effectively than Allen. During those draughts Miami went through, Allen came in and hit a few jump shots to keep Miami afloat in the middle of the game.
Finally, ball security played a great role in the outcome of the game. The Spurs did not take care of the basketball, and turned it over 19 times. That led to 20 extra points for the Heat. LeBron James grabbed four of Miami's 11 steals. Gary Neal gave away the ball six times, while Patrick Mills and Nando De Colo combined for nine additional turnovers.
When you don't care for the ball against a team like Miami, you are giving up a lot of transition buckets. The Heat are too good to grant extra possessions, and the Heat shot six more attempts than San Antonio.
Really, this was a win for both teams. The Heat stay in first place in the Southeast Division and are undefeated at home. However, the Spurs gained a lot of valuable experience. What Popovich did was allow his reserves to gain confidence against a very good team. That will pay dividends down the road as they will be called on in big games and big moments.
Miami 105, San Antonio 100 - Final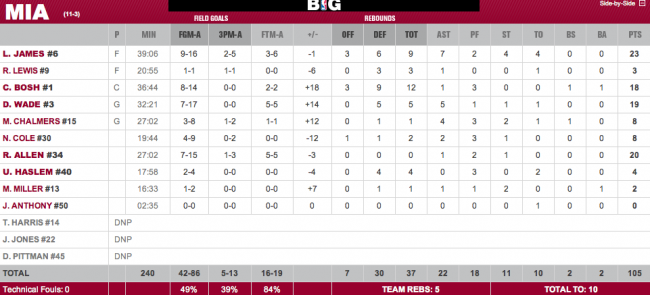 Miami Heat Boxscore, courtesy of NBA.com
Miami 105, San Antonio 100 - Final
San Antonio Spurs Box Score, courtesy of NBA.com
Miami 105, San Antonio 100 - Final
San Antonio Spurs Plus/Minus:
Nando De Colo: -4
Patrick Mills: -16
Tiago Splitter: -5
Boris Diaw: -17
Gary Neal: +5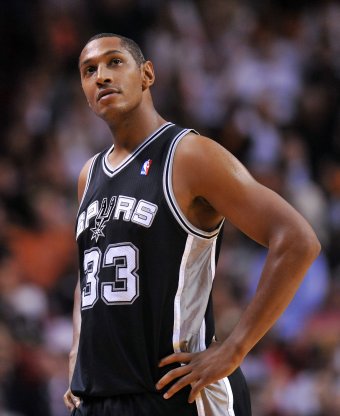 Matt Bonner: 0
James Anderson: +9
Cory Joseph: +5
DeJuan Blair: -2
Miami 105, San Antonio 100 - Final
Miami Heat Plus/Minus
LeBron James: -1
Dwyane Wade: +14
Chris Bosh: +18
Rashard Lewis: -6
Mario Chalmers: +12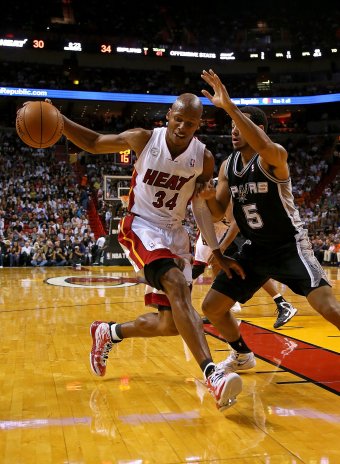 Ray Allen: -3
Norris Cole: -12
Udonis Haslem: -4
Joel Anthony: 0
Mike Miller: +7
Miami 105, San Antonio 100 - Final
What could have been a blowout wound up being an exciting matchup right down to the wire.
Stay tuned here to Bleacher Report for postgame analysis and stats.
Miami 105, San Antonio 100 - :3 Remaining in Fourth Quarter
That is going to do it at AmericanAirlines Arena, as the Miami Heat will pull this one out over the San Antonio Spurs. A great fourth quarter, as the Heat outscored the Spurs 32-24 in the final frame.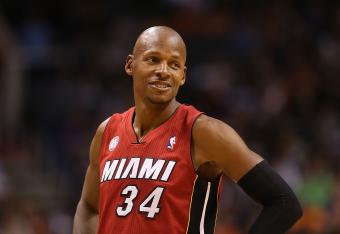 Miami 101, San Antonio 100 - :13 Remaining in Fourth Quarter
Tiago Splitter with a pair of free throws, but the Spurs mess up and let Ray Allen get the inbounds pass.
Who wants to guess what happens here?
Miami 101, San Antonio 98 - :22 Remaining in Fourth Quarter
The Spurs went to Gary Neal, but he was swallowed up by LeBron James and Udonis Haslem before getting a three off.
James hit just 1-of-2 freebies on the other end. A three still ties it, but Miami has done a great job closing out this quarter with defensive pressure and clutch baskets.
Odd, but Matt Bonner is not on the court, down three with 20 seconds to go.
Miami 100, San Antonio 98 - :22 Remaining in Fourth Quarter
Have to figure the Spurs look to Gary Neal on this possession. Leads the team with 20 points, but honestly who knows with this current group.
Tiago Splitter is 7-of-12 on the game.
Miami 100, San Antonio 98 - :22 Remaining in Fourth Quarter
The superstars are taking over in the final minutes of the fourth quarter. LeBron James and Dwyane Wade with back to back buckets to bring Miami within one.
Then Ray Allen, a little past his prime but was a superstar, hits an enormous three bailing out an awful possession.
Miami 93, San Antonio 95 - 2:22 Remaining in Fourth Quarter
Or this?
Miami 91, San Antonio 95 - 2:51 Remaining in Fourth Quarter
If this one comes down to the last shot, do we see this?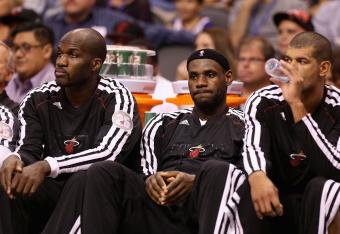 Miami 89, San Antonio 95 - 3:00 Remaining in Fourth Quarter
LeBron James starting to do all he can, but teammates still not hitting shots. James also took the first 40 minutes off tonight. 18 points, nine rebounds and six assists right now, but this performance is not what it should have been.
Miami 87, San Antonio 92 - 4:21 Remaining in Fourth Quarter
You want a visual representation of confidence grown in this game?
Nando De Colo for a DEEP three.
Miami 83, San Antonio 87 - 6:00 Remaining in Fourth Quarter
Chris Bosh and Tiago Splitter starting to go at it now. Good to see Splitter showing the confidence. This whole game is a confidence builder for San Antonio's regular reserves.
The Spurs use some great defense to turn the tables and go up four with just six minutes remaining.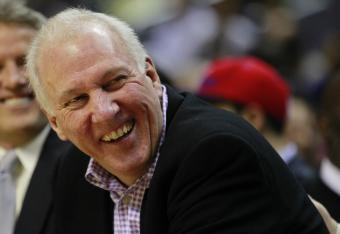 Miami 81, San Antonio 81 - 8:30 Remaining in Fourth Quarter
Honestly, this is looking like Greg Popovich just likes to challenge himself once in a while. He is coaching a fantastic game right now, highlighted by that Patrick Mills three pointer to tie the game at 81.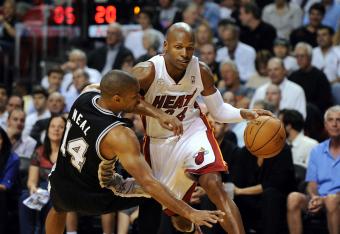 Miami 81, San Antonio 78 - 9:20 Remaining in Fourth Quarter
Ray Allen with four points in the opening of the fourth quarter.
The Heat opened the quarter with both Dwyane Wade and LeBron James on the bench. Allen and Norris Cole have managed to outscore the Spurs, though. Thanks to the Heat's role players, they have the lead.
Allen pushes himself into double-digits, with 13 points on 6-of-12 shooting.
Miami 73, San Antonio 76 - End of Third Quarter
Gary Neal leads four San Antonio Spurs in double-figures with 15 points. He also has dished out six assists. Tiago Splitter has 12 points, while Nando De Colo and Matt Bonner have scored 10 each. Bonner is still one rebound away from a double-double.
Chris Bosh is holding court at 18 points, a game-high. LeBron James has 16 points, six rebounds and four assists. Dwyane Wade has 13 points, rounding out the Miami Big Three.
Miami 73, San Antonio 76 - :6 Remaining in Third Quarter
A confident Nando De Colo is a quality NBA point guard. He has reached that level in the second half. Not a good sign for Patrick Mills minutes moving forward.
De Colo came away with two big steals this quarter, that last one led to the lead-taking free throws.
Awful decision there by Ray Allen. Fouling James Anderson at the buzzer on a three allows the Spurs to put some cushion between them and the Heat before the final frame.
Miami 71, San Antonio 70 - 1:21 Remaining in Third Quarter
Chris Bosh has been playing some fantastic basketball this season. Next to Carmelo Anthony and LeBron James, he may be the only lock to make the Eastern Conference All-Star team in the frontcourt.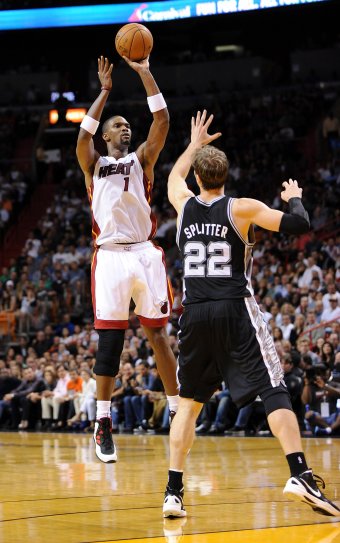 Bosh's move to center has freed him up a lot offensively. Tonight is tough to judge based on the competition defending him, but he has toasted the Spurs' bigs.
Also, there are dos minutos left.
Miami 66, San Antonio 64 - 3:05 Remaining in Third Quarter
Erik Spoelstra's timeout appears to have woken up the Heat, who have racked up six straight points to take a lead.
Chris Bosh is leading the way with 18 points and has been the lone offensive force for the home team tonight. Bosh has hit 8-of-12 from the field.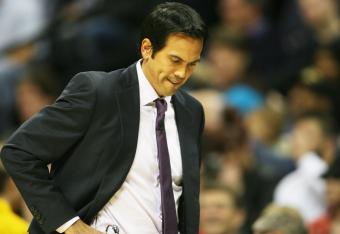 Miami 60, San Antonio 64 - 5:05 Remaining in Third Quarter
Erik Spoelstra is not a happy camper right now. The Heat have played lackadaisical all night and now the Spurs are putting together a run.
Nando De Colo is finally showing some confidence in penetrating with the ball. He has eight points and four assists. Gary Neal has continued his great effort with 15 points on 6-of-12 shooting.
Miami 56, San Antonio 55 - 7:21 Remaining in Third Quarter
Heat 47, Spurs 44. Spurs trail by just three points despite 10 TOs and starting two Frenchmen not named Tony Parker.
— Joseph Goodman (@MiamiHeraldHeat) November 30, 2012

Good to see the Miami Heat beat writers have a sense of humor, but this is starting to get concerning. The Heat's stars should have fully taken over by now.
Here is Joseph Goodman of the Miami Herald.
Miami 54, San Antonio 50 - 9:06 Remaining in Third Quarter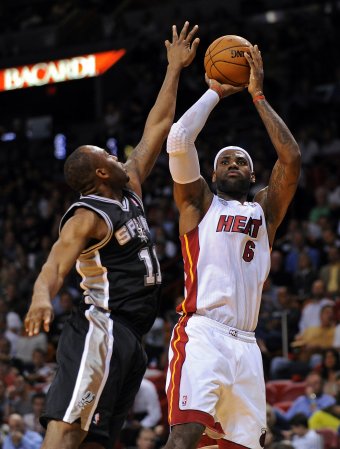 Tiago Splitter has some very nice offensive moves on the post. May not be physical enough to do this consistently, but in games like this against thinner opponents, Splitter is very effective. He now has 12 points on 6-of-8 shooting.
LeBron James is starting to make plays now. Won't get an assist on that last Chris Bosh basket, but that is what it was. James lofted the ball just to get it over the defender and onto the rim, knowing Bosh was following for the flush. Heady play by James.
This article is
What is the duplicate article?
Why is this article offensive?
Where is this article plagiarized from?
Why is this article poorly edited?