On Thursday, the Washington Nationals finally made some noise on the hot stove airwaves. As reported by The Washington Post's Adam Kilgore, the Nats traded one of their top prospects, right-hander Alex Meyer to the Minnesota Twins in exchange for center fielder Denard Span.
What a mistake.
No doubt, Washington is on the losing end of this deal. It's not that Span isn't a solid player, he is, but the price they paid is far too steep for the package they're getting in return.
Alex Meyer (click here for a scouting report), the club's 23rd overall pick in 2011, is one of the game's hottest young pitching prospects. Standing at 6'9", the former Kentucky Wildcat boasts a nearly unrivaled potential. He's only twenty-two years old and has just one year of pro pitching experience to his name, but his fastball already sits firmly in the 90-94 MPH range and his razor-sharp curveball is one of the best in the minors.
A late-bloomer in college, Meyer broke out in 2011 as a junior. He tore apart the SEC, leading the conference with four complete games and 110 strikeouts in 101 innings. Combined with his performance, Meyer's superb size, fastball velocity and electric breaking stuff earned him his first-round selection in the 2011 draft. The Nationals were so enamored with his potential, that they even considered taking him at the sixth overall slot, where they drafted Anthony Rendon instead.
He made his pro debut last season, opening the spring in the South Atlantic League with the Hagerstown Suns. Despite his lack of experience, he needed little time to adjust to more advanced pro lineups. He threw five shutout innings in his first start on April seventh and never looked back.
Does this trade favor the Nationals or the Twins?
Through his first eighteen starts, he posted a 3.00 ERA and racked up 107 strikeouts in 90 innings. His performance not only earned him a spot pitching in the prestigious All-Star Futures Game, but it impressed the Nationals enough to promote the first year hurler to the Carolina League.
Following the promotion, Meyer continued to dominate opposing hitters. Through his final seven starts, he posted a 2.31 ERA and 32 strikeouts in 39 innings pitched.
Even for a top draft pick, Meyer's first season was a massive success. After breaking out as a college junior, he's continued to display his talent and remarkable baseball aptitude by shutting down hitters in the pros. Between two minor-league levels last season, he totaled a 10-6 record with a 2.86 ERA and 139 strikeouts through 129 innings pitched. He walked only 34 batters, impressive for a young power arm, and he maintained an above-average groundout-to-flyout ratio above 2.0 for the entire season.
True, Meyer is a prospect, and all prospects come with risk (possibility is part of the word's definition), especially those that haven't pitched above the low minors. But, his ceiling is phenomenal and he has all of the tools to develop in to a number-one starter in the MLB. He's isn't a projection-only guy either, backing up his top prospect status with a lights out performance last year.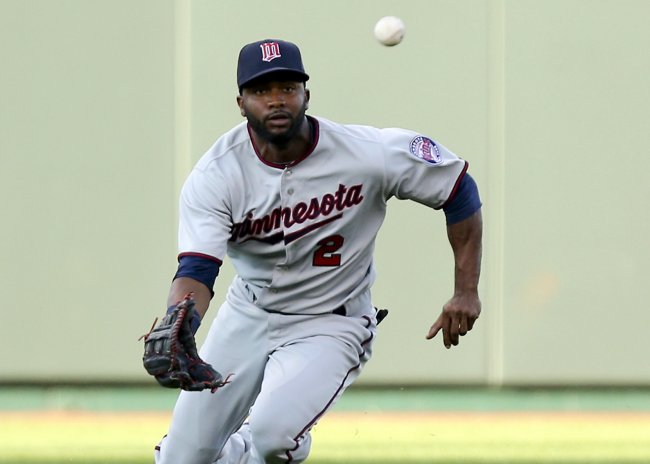 Ed Zurga/Getty Images
What did the Nationals get in return? Not much.
Now, Span isn't a bad player by any stretch. In fact, he's developed in to one of the game's better center fielders.
In his five MLB seasons, he's posted a .284/.357/.389 batting line, and he's averaging 70 walks and 45 to extra-base hits annually.
Span's also tailor-made for a leadoff spot in the National League. He's maintained a walk rate around nine percent the past few years while his strikeout rate has dropped annually since 2008, and he managed an impressive 10.9 percent K% last year. He isn't a punchless hitter either (.126 ISO last season), and he's maintained an above-average weighted on-base average in every season of his MLB career. Even though he's surrounded by a lifeless Twins lineup lately, his .332 career wOBA suggets he's a well-above-average run producer.
Defensively, Span has made a name for himself as one of the American League's most reliable center fielders. Since Span assumed the Twins' center field duties back in '08, the only everyday AL center fielders with higher ultimate zone ratings (via fangraphs.com) are Franklin Gutierrez, Austin Jackson and Jacoby Ellsbury. Last season, his 2.4 dWAR ranked him third (baseball-reference.com) in the American League among all positions and first among center fielders.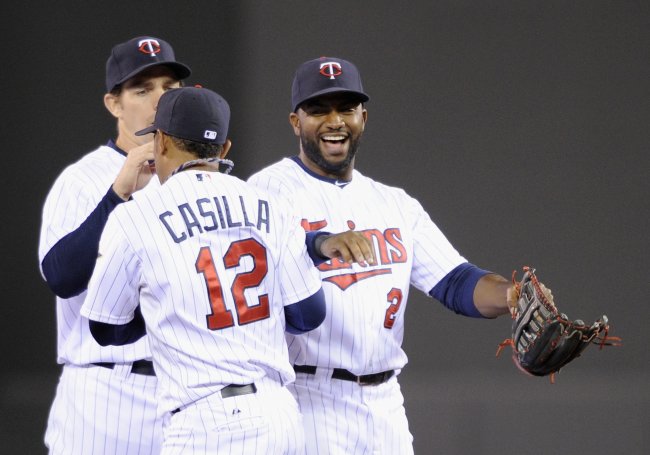 Hannah Foslien/Getty Images
Though he's never hit more than eight home runs in a season, Span has more punch in his bat than he's often given credit for. He collected 38 doubles and 46 extra-base hits last season—a very solid total considering he spends half of his games in the power-sapping Target Field. His ISO has increased over the past three seasons too, from a measly .026 in '10 to .126 in '12.
So far, it sounds like the Nationals and Twins made a deal that serves both sides fairly well. But here's where it gets weaker: Span, though a solid player, is already 28 years old, and he's already maxed out his potential. His skill set limits him to the edges of the lineup card, and his marginal speed and lack of pop from the left side could relegate him to a bench role quickly if he doesn't maintain well-above-average glove work.
More importantly, the Nationals are losing a blue-chip prospect, yet they aren't really addressing a major need. Manning center field last season, Rookie of the Year Bryce Harper proved to be a superb overall contributor. As a nineteen-year-old, he ranked among the league's top ten in runs scored and triples, and he wrapped 57 extra-base hits and posted a .340 on-base percentage.
Defensively, he's already proving himself as one of the top glove men in the league. In less than a full season's worth of work, he was 1.4 defensive wins above replacement. His 9.7 UZR ranked third among starting center fielders last season, and he would've had a shot at leading the NL if not for a few early season errors.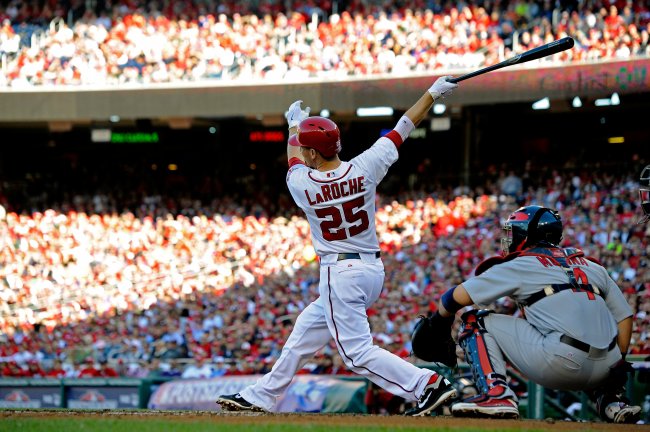 Patrick McDermott/Getty Images
Adding Span will shift Harper over to an outfield corner, where his glove could play up even more. But the problem is, the Nationals already have Jayson Werth in right field and Mike Morse in left. The addition of Span will effectively displace one of those two, and with Werth's hefty contract, it will likely be Morse. In that case, Morse's shoddy defense will relegate him to first base, where the team wanted to keep 2012 Gold Glove and Silver Slugger winner Adam LaRoche.
LaRoche is a free agent and before this deal, there was no guarantee that he'd return to Washington. Now that Span is in Washington, though, it looks very unlikely that LaRoche will be a National in 2013. And that hurts. The Nationals are losing a premium defensive first baseman that ranked in the league's top ten in home runs (fourth with 33), extra-base hits (fifth with 69) and total zone runs (first with 13).
If LaRoche does return, then Washington will be forced to trade the displaced Mike Morse. A bargain-basement slugger, Morse earned just $3.25 million last year and is set to earn $6.75 in 2013. Though injuries slowed out of the gate last year, he recovered to hit .291 with eighteen home runs and thirty-six extra-base hits in 406 at bats. Over the past two seasons, he totaled a .297/.343/.515 line, and when healthy, he's arguably their lineup's most feared hitter. Beyond his on-field performance, Morse is also one of the team's clubhouse leaders.
So, while the Nationals are adding Span, a 3-4 win player, they'll be forced to sacrifice another 3-4 win, parting with either Mike Morse or Adam LaRoche. Adding to the sting, is the fact that they sent a young fireballer packing for Minnesota.
Meyer is well on his way to making a major league impact, and even if he falls short of his ace-level ceiling, he's a sure bet to be an impact-level contributor out of the bullpen or in the middle of the rotation. He's armed with all of the ingredients for stardom: electric stuff, size, strength, baseball smarts and he's already putting together a top-shelf resume. He's got swing-and-miss stuff, and unlike many other young flamethrowers, he also keeps the ball on the ground and in the park, and he's done a fine job of managing his walk totals.
Like all young ballplayers, Meyer will earn near the league minimum in his first two or three big league seasons. His talent suggests he's capable of posting 6-10 wins above replacement in that period, but even if he falls in the more average 3-6 rWAR area, he'd still be a much more valuable commodity than Span. If Meyer earns an average of $500K in salary in his first three big league seasons, and posts a 6 rWAR in that span, he'll be producing each win for just $250 grand in salary.
Assuming the Nationals pick up his 2015 contract option, Span will earn $20.25 million over the next three years. Let's say he improves upon his his current level of annual production slightly and posts an 9.0 rWAR over that timespan—he posted an 8.6 rWAR over the past three. In that case, Span will be worth $2.25 million per win above replacement.
The average free agent center fielder has commanded about $5 million per rWAR (about 6 $/fWAR) since 2007. So, at 2.25 $/rWAR, Span is a relative bargain by comparison. However, keeping Meyer projects to be an even greater bargain, even if he produces half of what he's capable of over his first three seasons. Plus, if the Nationals kept Meyer and didn't trade for Span, they'd also be able to hold on to Morse and LaRoche, two All-Star caliber contributors.
Finally, by trading Meyer for an aging centerfielder, the Nationals essentially dealt from an area of need to add to one of their strengths.
Yes, their big league club is very deep in arms, and they ranked atop the NL in most pitching metrics last season. But the minors is a different story. Outside of Meyer, they have few impact-level arms between Lucas Giolito and the MLB. Matt Purke and Kylin Turnbull are still years away from an MLB relevance and Brett Mooneyham, Dan Rosenbaum and Sammy Solis are all looking more like bullpen arms than future rotation members.
Starting pitching is a very exhaustible resource, and though Washington has plenty of electricity in the MLB, they've traded away all of their depth the past two seasons.
On the other hand, centerfield and outfield are two areas Washington is stocked in. The Harrisburg Senators' Brian Goodwin (scouting report) is a five-tool superstar with the plate discipline and sweet swing to flourish atop the Nats' lineup, while Michael Taylor (scouting report) and Eury Perez (scouting report) both have Gold Glove defensive chops. Destin Hood (scouting video) has been pushed to the corners by the superb gloves of Taylor and Goodwin throughout his career, but he too has the ingredients to develop in to a star center fielder.
In terms of value, it always makes more sense to build from within rather than spend on expensive veterans. Young players are tens of millions cheaper than aging stars, and even when a large portion don't pan out, the investment generally pays off. The Nationals are definitely familiar with the fruits of sticking to this strategy. By committing to the draft and player development and not making trades like this one, they were able to build a cheap, star-powered team of young players that should keep them in the playoff hunt annually for (nearly) the next decade.
Overall, the Nationals added a very good player in Denard Span. But they simply paid too much to get him. Meyer is a blue-chip prospect and a definite keeper, not an arm a contender trades for anything less than a name brand product. Now that they've sent him packing, they've also sacrificed starting pitching depth in the minors. Even worse, Span also blocks top prospect center fielders like Brian Goodwin and Michael Taylor. Plus, by adding him, the team has to part with one of their key contributors from 2012, either Mike Morse or Adam LaRoche.