BCS Bowl Projections 2012: Predicting Scores of Potential Matchups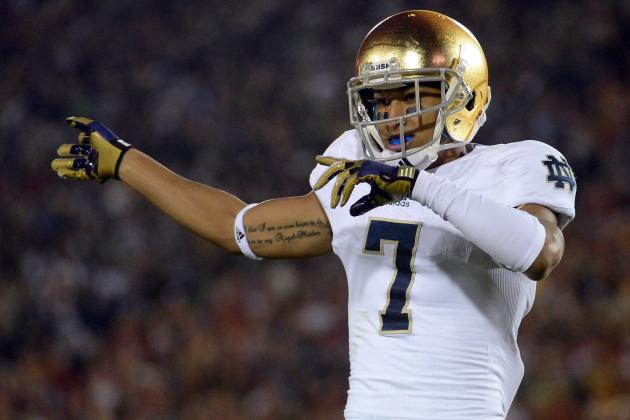 This weekend's slate of college football games has multiple conference titles hanging in the balance and therefore plenty of potential to stir up the current BCS bowl projections.
Some teams are virtual locks for BCS status, while others are continuing to scrap for at-large berths. A slot in the national championship game will even be on the line come Saturday.
Bearing all of that in mind, let's get a little clairvoyant—hopefully not misguidedly so—and look into the future to determine what sort of craziness the BCS bowls will foster as another thrilling season approaches its conclusion.
Begin Slideshow

»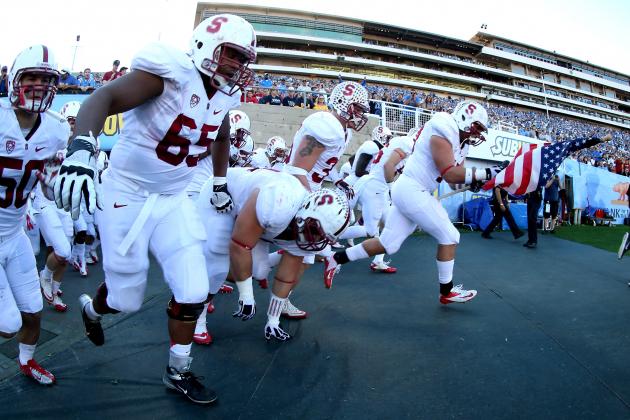 No. 8 Stanford 17, No. 12 Nebraska 13
This should be a knockdown, drag-out affair with two extremely physical teams doing battle in the marquee bowl with the longest history.
Although the Cornhuskers do need to win against Wisconsin in the Big Ten conference championship, they should be able to manage.
Meanwhile, the Cardinal get a rematch at home with UCLA, a team they just beat down in Pasadena 35-17. David Shaw's team would certainly love to return to this stadium for the second time in three games, and you can count on them doing so.
As for how the actual game between these two would play out once they traverse their respective roads to Pasadena, it would be a test of wills. Stanford has endured a much more difficult schedule in 2012, which is why I am partial to giving them the upper hand in what would be a hotly contested battle.
The quarterback advantage is always huge, and that would have to go to Huskers sophomore Taylor Martinez over redshirt freshman Kevin Hogan of the Cardinal, despite his admirable play in recent weeks. Hogan will be facing the top pass defense in the nation, and must continue to be extremely efficient, as too many turnovers would devastate the Cardinal.
Martinez would have an easier time against the Cardinal secondary, but Stanford happens to have the best rush defense in the country, allowing just over 71 yards per game on the ground.
Much of Martinez's game is based on his ability to run, and the Cardinal showed their ability to shut down a dual-threat dynamo on the road at then second-ranked Oregon. Senior RB Stepfan Taylor would prove to be the ultimate difference for Stanford, willing his resilient team to yet another hard-fought victory.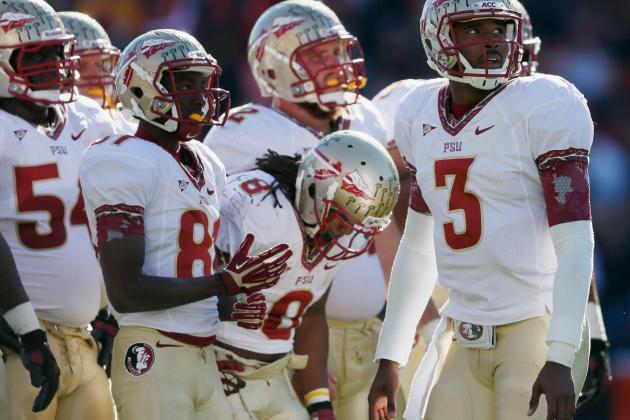 No. 12 Florida State 34, No. 17 Kent State 28
The BCS is confusing enough as it is with all the computer formulas, and the Golden Flashes aren't making it any easier in other aspects.
Here is the understanding: by placing in the top-16 in the Week 15 standings and finishing higher than either Rutgers or Louisville—who will battle it out for the Big East title on Thursday night—Kent State will be eligible for a BCS at-large bid.
That could entice the Orange Bowl to select them with their pick to take on the perceived ACC champion Seminoles, who only have to dispose of 6-6 Georgia Tech in the conference championship game.
It's not exactly a lock for Jimbo Fisher's bunch—particularly with how they struggled against the Florida Gators' run-heavy attack in last week's loss—but it shouldn't be much of a problem.
After the Golden Flashes beat Northern Illinois to win the MAC, they should slide into that coveted top-16 spot and be ranked higher than the two Big East teams gunning for the BCS. Although this may seem like a massive mismatch, Kent State does have two incredible running backs: Dri Archer and Trayion Durham.
That dynamic duo has run for well over 1,000 yards a piece and scored a combined 28 TDs on the ground. The problem is the Golden Flashes' defense. Even if their offense could hold the ball for the majority of the game, Florida State and QB EJ Manuel would find a way to put points on the board.
This would be a classic case of the underdog fighting to justify their place on the big stage against one of the premier programs in the sport. But ultimately, Golden Flashes' head coach Darrell Hazell's outstanding run of 10 straight wins would come to a halt.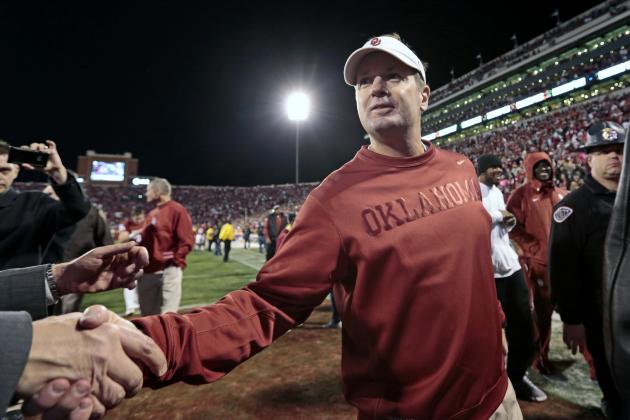 No. 4 Florida 27, No. 11 Oklahoma 14
With Kansas State likely to win the Big 12, the Sooners will be sent to the Superdome in New Orleans to represent the conference against the Florida Gators and their extremely tough defense.
One of the Sooners' only two losses came early in the season to the Wildcats, who went on to be ranked No. 1 for a while. Then, a home defeat to Notre Dame later on sealed the Sooners' fate for national title contention.
Bob Stoops has been criticized for not quite getting it done in the big games, and this will be no exception.
The Gators—who looked like a different team for the worse in the weeks leading up to the annual clash with arch-rival Florida State—responded with a resounding 37-26 victory on the road.
As much as the Oklahoma defense has struggled lately, giving up 34 or more points in their last three outings, it's difficult to back the Sooners based on how their potential opponent is trending. With QB Jeff Driskel having time to fully heal his injured ankle for the Gators, Will Muschamp's team should be at full strength and poised to take down their fellow major conference foe.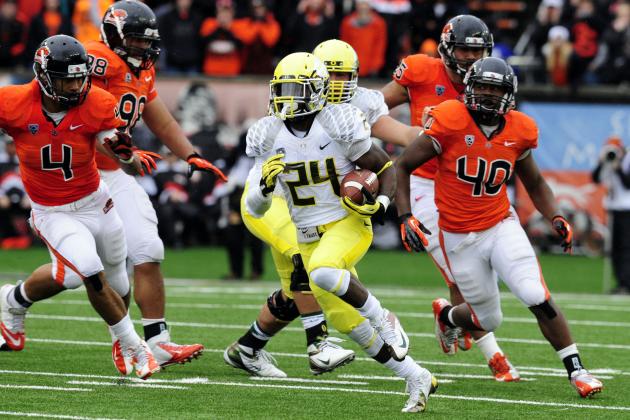 No. 6 Oregon 48, No. 5 Kansas State 38
A battle of dual-threat QBs and outstanding senior running backs will define this game. Both defenses are somewhat overlooked, but this will be a shootout regardless.
The Ducks are led by redshirt freshman Marcus Mariota under center—or rather, in the shotgun—who was getting some Heisman hype before the 17-14 overtime loss to Stanford at home. Still getting hype for that highly coveted award is RB Kenjon Barner, who ran for nearly 200 yards in last week's big win over Oregon State.
Collin Klein orchestrates the high-powered Wildcats' attack, and was the Heisman front-runner himself before KSU's season was derailed in Waco against Baylor. Not to be overlooked is John Hubert, who is a nice compliment to Klein in the team's explosive running game.
Oregon lost to a really tough Cardinal team, but the Wildcats' loss to Baylor is far more alarming. It even casts doubt that they will be able to beat No. 18 Texas at home this weekend to win the conference, despite how inconsistent the Longhorns have been.
Barner and Klein probably lost out on their shot at the Heisman to superb Texas A&M freshman QB Johnny Manziel, so look for each to produce huge games in Glendale.
But the Ducks will ultimately be too much for the Wildcats to handle.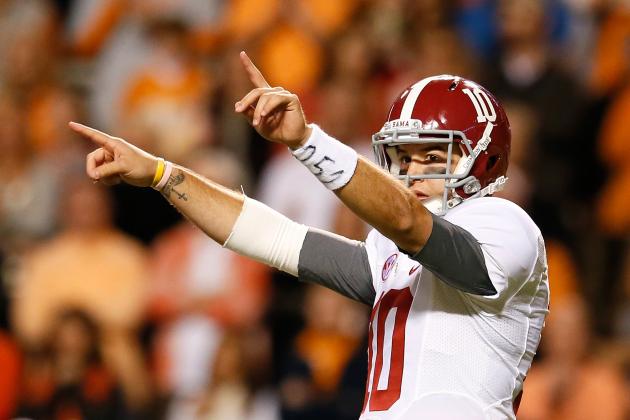 No. 2 Alabama 20, No. 1 Notre Dame 17
As hinted at before, the Crimson Tide will play for the right to face the top-ranked Fighting Irish on Saturday in the SEC championship game against No. 3 Georgia.
After a home loss to the Texas A&M Aggies, it looked as though the Tide had no chance of repeating as national champions. Now that they have been given a new golden opportunity, don't expect them to blow it—at least in terms of reaching the title tilt with Notre Dame.
Head coach Brian Kelly has officially brought the Irish back to national prominence with a brilliant 12-0 season that hasn't looked spectacular at times, but has produced optimal results.
This clash of outstanding defenses will be epic to watch, but it should be slightly higher scoring than anticipated. Irish QB Everett Golson's athleticism may give Alabama issues, so they will have to put at least some points on the board to keep up.
Both running games are fantastic, but A.J. McCarron has a cooler, more experienced head on his shoulders than Golson does—or at least has proven as such.
Golson only recently grabbed hold of the starting job with Notre Dame, while McCarron led the Tide to the national championship last year. McCarron continues to show excellent poise and proved he could be clutch in a big moment when he drove Alabama to a game-winning drive at LSU.
It will definitely be close, but expect the SEC to continue to reign supreme and for the Tide to find a way to roll to its second consecutive national championship.