Will We Ever See Another Year-Long Title Reign in WWE?
Use your ← → (arrow) keys to browse more stories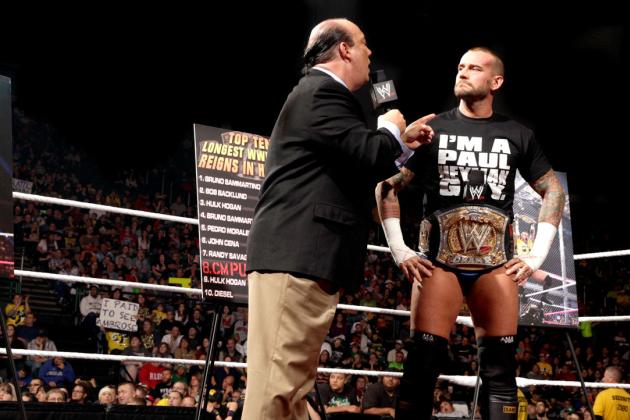 Photo Credit: WWE.com
Both the Internet and WWE have made a big deal about the length of time CM Punk has spent as the WWE Champion. This Monday's episode of Raw will be the 379th day, the day before Punk ties John Cena's longest single reign with the belt before he had to give it up due to a torn pectoral muscle. For the last time anyone else held the WWE Championship for that long, you would have to go back to Hulk Hogan's first reign nearly 30 years ago.
At some point, Punk will finally lose the title and bookmark another chapter in wrestling history. Cena's reign ended in late 2008. Two men like them were probably never expected to end up in the same company during the same points in their careers. I imagine Punk's record, which will be the longest in the "modern era" of professional wrestling, will be considered unbreakable.
All it is going to take is the next version of Cena and Punk to prove them wrong.
I am only speaking of the WWE Championship when discussing lengthy title reigns. At this point, every other title with varying levels of prestige should change hands with at least some frequency. It's great to build someone as champion, but the payoff is different when you're talking about the WWE title versus, say, the Divas Championship.
Incredibly, had John Cena or CM Punk come to prominence in the beloved Attitude Era, they may never have had the chance to break the records that they did.
Stone Cold Steve Austin and The Rock, two of the biggest stars in the history of wrestling who main evented three WrestleManias together and helped turn WWE into the global media corporation it is today, never had a title reign come even close to a year. Triple H had to wait until the tail end of his longest time as WWE Champion, 210 days before losing it to Edge at Survivor Series 2008. Mick Foley, despite his legacy, was champion for a collective 47 days over three reigns. If The Big Show can make it out of TLC as the World Heavyweight Champion, he will have held that title for as long as he was WWE Champion all the way back in 1999.
This says quite a lot about not only how WWE feels about Punk and Cena but how they want the public to perceive them. Essentially, we are to believe that despite the accolades of the superstars of the late 1990s and into the early 2000s, John Cena was (and still is, to an extent) more powerful and less beatable than all of them. Cena was made into the new Hulk Hogan and the only thing likely stopping Cena from breaking every record Hogan ever held was the modern wrestling that includes monthly pay per views and weekly live television on cable.
Years later, CM Punk dropped a bomb on the world and beat John Cena for the WWE Championship. The man who finally stood up to the WWE machine and its golden boy was awarded with the most prestigious belt in wrestling. While this was admirable in its own right, the fruits of Punk's labor are only finally starting to become apparent. After this Monday's Raw, the guy who spoke his mind and warranted change in the WWE will be the king of today's mountain.
One day, I have no doubt that the WWE Championship will be wrapped around the waist of the same person for an entire calendar year. It will not, however, happen as soon as Punk did it after Cena. The stars would have to align in another once-in-a-lifetime fashion in order to have someone on the same level as either man catapult himself into championship contention and be able to carry the weight of the entire WWE on his shoulders for that length of time. Whoever it is could be in The Shield, down in NXT or wrestling in front of 48 people this weekend.
When it does happen, we can all look back and remember when we first watched records like these get set and subsequently broken.
The prize is out there for someone who wants it bad enough.