Best NCAA Women's Hockey Performances of November 2012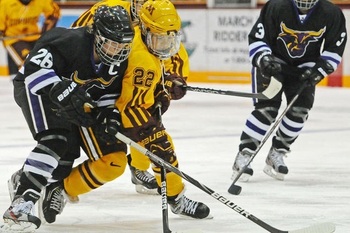 Hannah Brandt and Minnesota State forward Kari Lundberg battle for the puck at Ridder Arena, Image By Ichigo Takikawa http://www.mndaily.com/2012/11/19/gophers-set-winning-streak-record-sweep
The month of November 2012 provided NCAA fans with more superlative performances in women's ice hockey. The Minnesota Golden Gophers started their season at a remarkable 16-0 mark. Dating back to last season, the Golden Gophers now own two NCAA records: Longest consecutive winning streak and longest consecutive road wins streak.
Hannah Brandt continues to make history, while making a strong case to be the first freshman in NCAA history to win the prestigious Patty Kazmaier Award. In the first 16 games of the season, Brandt had 18 goals and 25 assists for an astounding 43 points.
During November, programs such as Harvard, Dartmouth and Cornell have shown that they are ready to contend for the ECAC crown. While Jillian Dempsey continues to provide great leadership for Harvard, freshman backstop Emerance Maschmeyer shows that the future is bright. Having won her first three decisions for Harvard, Maschmeyer is emerging as a superstar in the making.
Dartmouth features an all-Canadian recruiting class, and its greatest recruit might be third generation star Laura Stacey. The great granddaughter of King Clancy, Stacey had two goals and seven assists in the first eight games of her Dartmouth career. With senior captain Camille Dumais on hand, Stacey has a great mentor to learn from.
While Cornell has eight freshmen, it boasts one of the greatest recruiting classes ever. On defense, Cassandra Poudrier is an offensive minded defender, while Morgan Richardson is a defensive-minded defender. The two freshmen both scored their first NCAA goals in the same game. As both have won gold medals with Team Canada at the IIHF Under-18 women's worlds, the dynamic duo are poised to be anchors on Cornell's blueline for seasons to come.
15: Rebecca Vint Ties RMU Colonials Record for Most Goals in One Game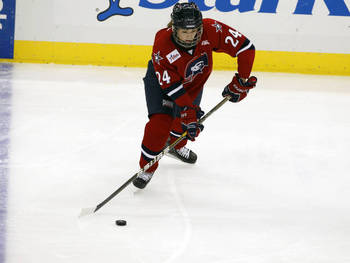 Image courtesy of RMU Colonials Athletics
Against new CHA rival Penn State (in a road contest), Rebecca Vint scored 5 goals in a November 10 contest. Not only was it the first hat trick of her career, but the 2012 CHA Rookie of the Year tied Helen Picnic's team record for most goals in one game. Picnic set the record on October 27, 2006 versus Chatham. For the month of November, she contributed 12 points as the Colonials went 6-1-1.
14: Hockey's Other Wickenheiser Has a Big Series Versus Penn State
Photo by Don Adams, Jr. http://www.lindenwoodlions.com/news/2012/11/19/WHOCKEY_1119124045.aspx?path=whockey
During the Lindenwood Lady Lions series against the Penn State Nittany Lions, Alison Wickenheiser logged a team-high four points. The first contest resulted in a 5-1 triumph in which Wickenheiser contributed with two assists in the second period. One of those assists was on the game-winning goal. The third period would find Wickenheiser adding a goal. The following day, she logged an assist in the third period to give the Lady Lions a 2-1 lead.
13: Poudrier and Richardson Log First NCAA Goals in Cornell Win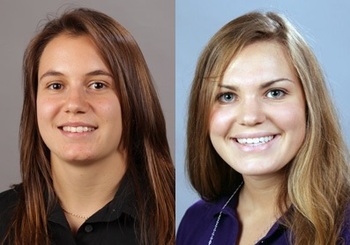 Poudrier and Richardson (courtesy of Cornell Athletics)
In a 4-0 win over the Princeton Tigers (their seventh consecutive), two Cornell freshmen earned their milestone first NCAA goals in the win. After a 2-0 lead (in which Jillian Saulnier logged the 25 goal of her career), Cassandra Poudrier and Morgan Richardson each scored for their first markers. Poudrier's goal came at the end of a power play. With Alyssa Gagliardi's shot bouncing off of Taylor Woods, Poudrier put the rebound past
12: Providence Friars Have Remarkable Week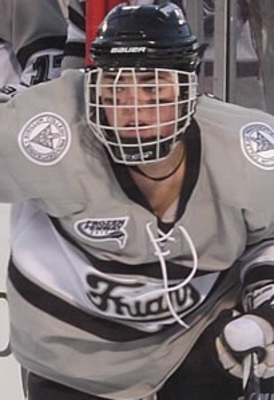 Beth Hanrahan, Obtained from Hockey East http://www.hockeyeastonline.com/women/pres1213/201211/nov26wwr.php
Two Friars players had big contributions as part of a week filled with highlights. Beth Hanrahan enjoyed a three goal week. The 18th Annual Mayor's Cup between the Friars and Brown Bears on November 23 found Hanrahan logging a goal for the Friars. A November 25 win over Union College found her contributing with a two point performance.
Goaltender Bryant also contributed to the Friars' success. As the Friars tied Brown in the Mayor's Cup, she made 25 saves in the contest. Two days later, she logged her first career shutout. In the 4-0 win over the Union Dutchwomen, she made 24 saves.
11: Morgan Illikainen's First Career Goal Is an Overtime Game Winner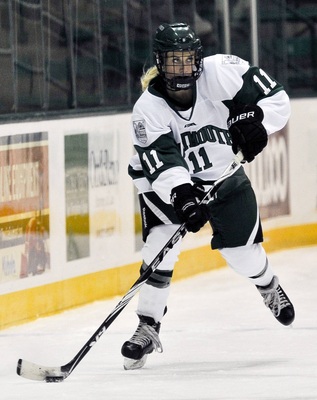 Photo by Doug Austin
A November 2 overtime contest between the Dartmouth Big Green and the Yale Bulldogs provides a source of heroics for Mogan Illikainen. Senior captain Camille Dumais found Illikainen with 1:11 left in the overtime frame. The sophomore from Grand Rapids, Minnesota put the puck past Jaimie Leonoff as Dartmouth came back from a 2-0 deficit.
10: Boston College Eagles Win Nutmeg Classic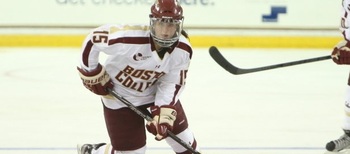 Courtesy of BC Eagles athletics http://www.bceagles.com/sports/w-hockey/recaps/112412aaa.html
Emily Field logged two goals and an assist in the championship game of the Nutmeg Classic. In a 5-0 win over the Yale Bulldogs, Field's three points led all scorers. During the Nutmeg Classic, Boston College also defeated the Quinnipiac Bobcats in the semifinals by a 3-0 tally.
9: Katie Milligan Logs First Career Shutout in Conference Victory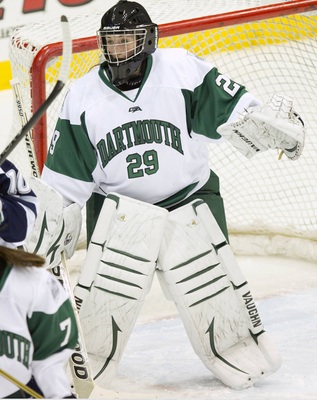 Photo by Doug Austin
Dartmouth's sophomore netminder, Katie Milligan, earned her first career shutout in a 1-0 victory over the Brown Bears. The November 3 victory saw Milligan make 11 saves in the third period. With the win, the Big Green scored back to back wins on the road. The game winning tally was scored by Camille Dumais, as Milligan made 19 saves in the win.
8: Jillian Dempsey Extends Her Point Scoring Streak to 21 Games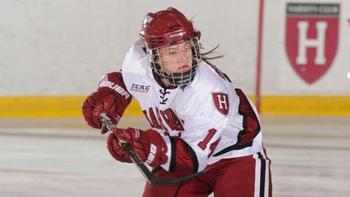 Image courtesy of NCAA website
A November 23 contest versus the Colgate Raiders resulted in Jillian Dempsey contributing with two assists in a 4-1 triumph. The following day, she accumulated a first period goal and an assist on the game winner as the Crimson snapped their seven game losing streak to the Big Red. With the win, the Crimson also snapped the Big Red's eighth game winning streak.
7: Laura Stacey Logs Her First Career NCAA Goal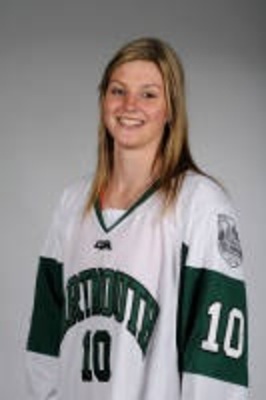 Image courtesy of Dartmouth athletics
The great granddaughter of Hockey Hall of Famer King Clancy, Laura Stacey earned her first NCAA goal in a November 6 contest. Three different skaters from the Big Green scored as the Big Green prevailed by a 3-2 score over the New Hampshire Wildcats. Stacey collected a pass from Lisa Berreman. She put the puck past Wildcats goaltender Vilma Vaattovaara on a top shelf goal at the 4:11 mark of the second period.
6: Minnesota Ties NCAA Record for Most Consecutive Road Wins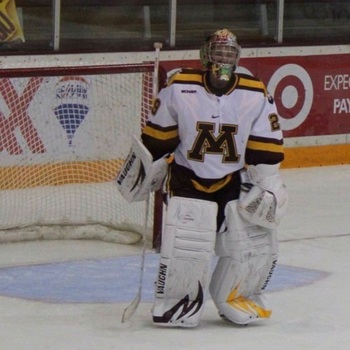 Photo obtained from Twitter
With Amanda Kessel providing a two goal game, the Golden Gophers prevailed in their contest by a 4-0 score. With the win, Minnesota tied the New Hampshire Wildcats for the NCAA record in most consecutive road wins with 15. Ironically, the Golden Gophers tied the record in a November 25 match at New Hampshire. The Golden Gophers improved to a remarkable 16-0-0 mark on the season.
Amanda Leveille earned a shutout in only her second career start. It was the first time since October 2, 2010 that a goaltender other than Noora Raty started in a road game for Minnesota.
5: Megan Bozek and Hannah Brandt Have Big Weekend Versus Minnesota State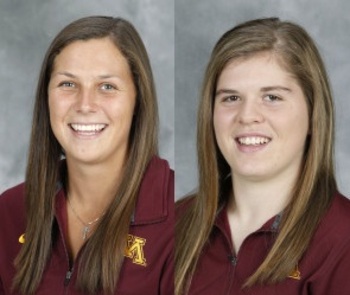 Images courtesy of Golden Gophers athletics
The November 16-17 sweep of the Minnesota State Mavericks extended the top ranked Golden Gophers unbeaten streak to an astounding 14 games. Big contributions came from Megan Bozek and Hannah Brandt. Bozek logged two goals and three assists as part of a sterling five-point weekend performance. Two of her assists came on Hannah Brandt's goals in the November 16 win. In the November 17 win, Bozek logged two goals, including a power play marker.
Hannah Brandt continues to establish herself as the premier rookie in the NCAA. In the sweep, she contributed with five points. She was involved in all three Golden Gophers markers in the 3-0 win on November 16 with two goals and one assist, respectively. The following day, she scored the game winning goal and contributed an assist in a 9-1 whitewash. Her 38 points make her the top scoring freshman in the NCAA.
4: Emerance Maschmeyer Continues Her Undefeated Streak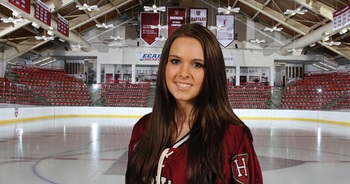 Photo courtesy of Harvard Crimson athletics
As Harvard snapped its losing streak to Cornell, Emerance Maschmeyer was a crucial factor in the win. She made 21 saves in the November 24 win to extend her undefeated streak to 3 wins. Cornell's loss was its first in ECAC conference play. Maschmeyer ranks first in the NCAA in Goals-Against Average (0.67) and finds herself tied for first in Save Percentage (.961).
3: Jocelyne Lamoureux Contributes with a Seven Point Weekend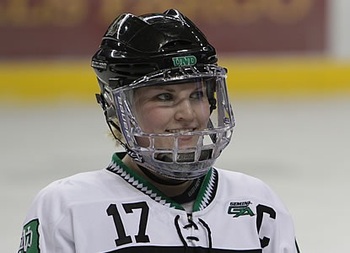 http://www.wcha.com/women/recaps13.php?wndkosu1.o13
A November 17-18 road conference sweep over the Bemidji State Beavers found Jocelyne Lamoureux factor in the game-winning goals in both triumphs. The November 17 win found Lamoureux contribute with two assists, including Michelle Karvinen's game winning tally.
On November 18, Lamoureux exploded for a five-point performance including a hat trick (the game winning goal was part of the performance) and two assists for a 7-3 victory. With the performance, she increases her career point total to an astounding 224 points (104 goals, 120 assists). Her sister Monique contributed with a four-point weekend, including a power play goal as she registered a plus/minus rating of +7.
2: Brianne Jenner Has a Career Day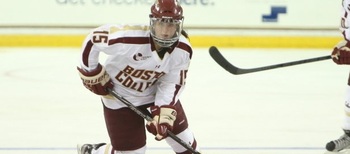 A November 16 victory found Brianne Jenner establishing a career high with six points. With Cornell having logged 9 goals in the win over Colgate, Jenner accumulated four goals and two assists. The following day, she recorded two goals and an assist for a nine-point weekend in the series sweep over the beleaguered Raiders. Through the first seven games of the season, Jenner had 16 points.
1: Brianna Decker Scores Career Goal 100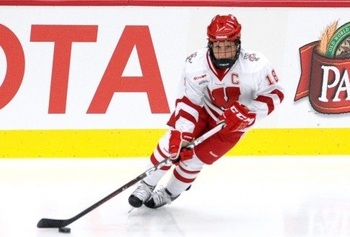 Photo by Dale Steenburg
November 23: Brianna Decker logs two goals in a 6-0 win over the St. Cloud State Huskies. With the win, Decker becomes the third Wisconsin women's player in the history of the storied program to log 100 career goals. Her 100th career goal was scored in the third period as Karley Sylvester took the initial shot. Decker picked up the rebound and buried it past St. Cloud goaltender Julie Friend for the historic goal.
Keep Reading