Identifying the Biggest Strengths, Weaknesses of Top Remaining Free Agents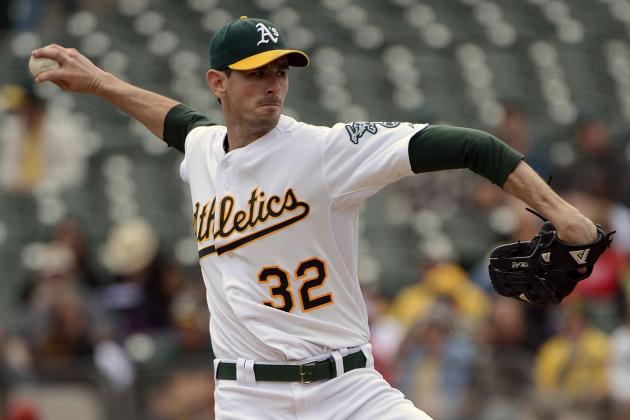 Deciding how to spend their available funds on the free-agent market is among the biggest decisions a general manager faces.
The risk and reward of each player has to be weighed as the team decides how to best invest its funds towards building a winner.
Here is a quick overview of the top 30 remaining free agents on the market and their biggest strengths and weaknesses as a free-agent target.
Begin Slideshow

»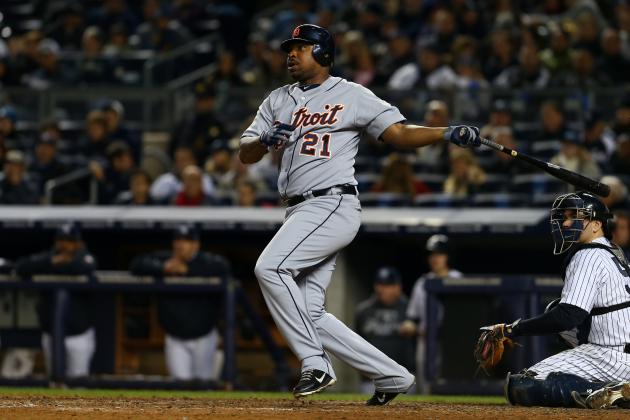 Biggest Strength: Decent power, good postseason track record.
A former No. 1 overall pick and top-prospect in baseball, Young has been a major disappointment to this point in his career. He had 18 home runs and 74 RBI last season and is two years removed from a 21 HR, 112 RBI season with plenty of time to return to those numbers at 27 years old.
Biggest Weakness: Immaturity as a person and a player.
Young ran into trouble last season when he was arrested in New York for hate crime harassment (h/t ESPN), and he has a track record of making bad decisions after serving a 50-game suspension in the minors for throwing a bat at an umpire (h/t ESPN). On the field, Young has made virtually no progress in the plate-decision department, walking 20 times in 574 at bats last season for a dismal .296 OBP.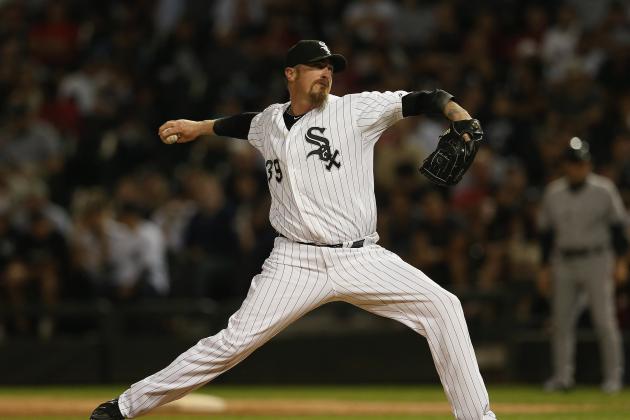 Biggest Strength: Role versatility.
Over his 11-year career, Myers has spent nine seasons as a starter but has also served as closer in 2007 for the Phillies and this past season for the Astros. Upon being traded to the White Sox, he shifted to a setup role and posted a 3.12 ERA in 35 appearances. He could return to the rotation, but regardless of what role he winds up in, he has proven capable of succeeding regardless of when he takes the ball.
Biggest Weakness: Capable of many roles, average in all of them.
The fact that he is able to fill a number of roles makes Myers a valuable commodity on the free-agent market. However, the simple fact is that he is an average pitcher. Aside from his stellar 2010 season (14-6, 3.14 ERA), he has gone 83-85 with a 4.36 ERA, and it seems as though he's best suited to stick in a setup role at this point.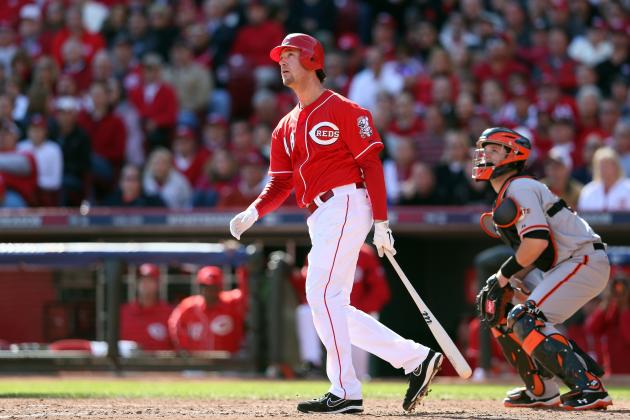 Biggest Strength: Run production skills.
While he has never matched the .299 BA, 37 HR, 113 RBI season he put together in 2008, Ludwick has been a reliable run producer since averaging 80 RBI per season. Last season, he wound up hitting cleanup while Joey Votto was on the DL, and his .309 BA, 14 HR, 46 RBI second-half will certainly boost his value.
Biggest Weakness: Potential for regression after a production spike.
In the two seasons prior to 2012, Ludwick hit just .244 with a .708 OPS. While some of that had to do with the fact that he was playing in San Diego, he will be 34 next season, and regardless of where he winds up playing, his stats should fall somewhere between that .244 average and the numbers he put up last season.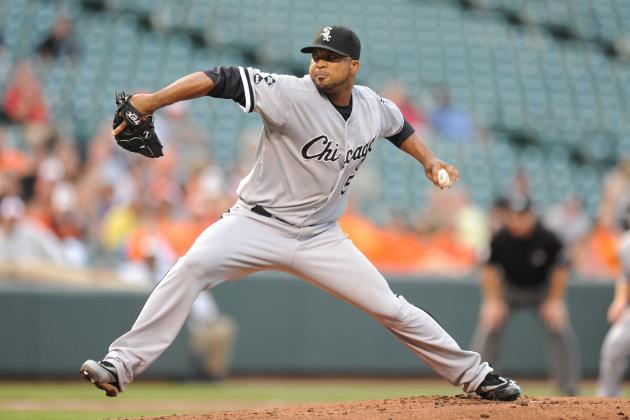 Biggest Strength: Still has ace-caliber stuff when he's right.
Liriano struggled to the point of being demoted to the bullpen last season, but upon his return to the rotation, he showed why he was once one of the most promising arms in the game. In back-to-back starts in July, he struck out a combined 25 hitters over 14 innings of work, and in his first nine starts back from the bullpen he had a 2.84 ERA.
Biggest Weakness: He's among the most frustratingly inconsistent pitchers in the game.
For his entire career, Liriano has tantalized the Twins with his overpower stuff but burned them time and again with his inability to stay healthy as well as to be effective on the mound. Look no further than his final start with the team before being traded to the White Sox, when he capped the above mentioned nine-start stretch by going 2.2 innings and allowing seven earned runs. He went on to post a 5.40 ERA in 12 appearances (11 starts) with the White Sox.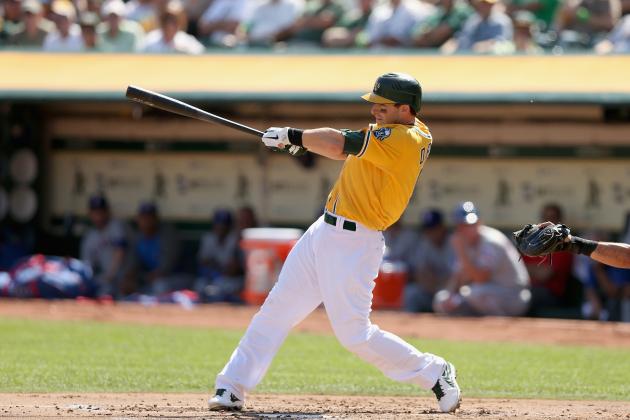 Biggest Strength: A capable starting shortstop, bounce-back candidate.
While "capable" may not be the best compliment you can pay a player, for Drew it is likely enough to result in a solid payday this offseason. He will have no trouble finding a job sincce he is still only 29. In his first full season back following a gruesome ankle injury, he is a prime bounce-back candidate.
Biggest Weakness: He is a sure-thing to be overpaid.
As literally the only viable starting option at shortstop on the free-agent market, Drew will be pursued by a number of teams, and depending on how potential trades for Asdrubal Cabrera and Yunel Escobar turn out, there could be a bidding war of sorts for Drew. Regardless, coming off of a .223/.309/.348 season, Drew is a safe bet to earn more than he's worth at this point.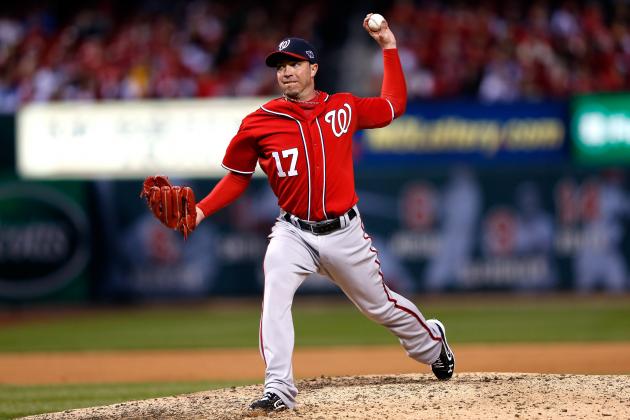 Biggest Strength: Solid left-handed reliever.
Generally speaking, left-handed relievers can find big league jobs until they physically can't pitch anymore, and the best lefty reliever on the market this offseason is Burnett. He declined a $3.5 million option to become a free agent, and he likely made a good decision as the three-year, $18 million deal Jeremy Affeldt signed is a good expectation of what he's worth.
Biggest Weakness: Inconsistent peripherals
While Burnett has been stellar in his four seasons with the Nationals (354 G, 3.58 ERA), his other numbers have been tough to predict. His per-nine numbers over the past three seasons show what I'm talking about: (2010: 7.4 H/9, 2.9 BB/9, 8.9 K/9), (2011: 8.6 H/9, 3.3 BB/9, 5.2 K/9) and (2012: 9.2 H/9, 1.9 BB/9, 9.1 K/9). The numbers have always resulted in success, but his increasing hit rate and sporadic strikeout numbers are at least reason to pause.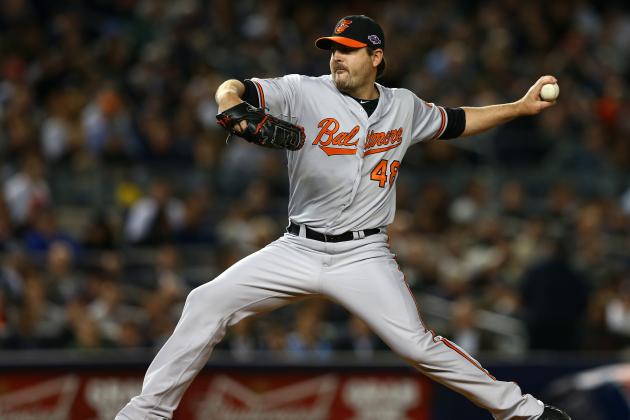 Biggest Strength: Best left-hander on market.
While this season's starting pitching market is deep, it is very short on left-handed pitchers. Guys like Jeff Francis and Francisco Liriano will likely attract some interest, but for a team looking to add a southpaw starter, Saunders is the best option. He boosted his stock with a strong showing for the Orioles down the stretch, going 3-3 with a 3.63 ERA in seven starts.
Biggest Weakness: High hit rate, low strikeout rate.
Throughout the course of his career, Saunders has always pitched to contact, and as a result he has a 9.6 H/9 mark and 1.369 WHIP for his career. Keeping in line with him being a control pitcher, Saunders has just a 5.1 K/9 mark, and he is as reliant on his defense and luck as any pitcher in baseball.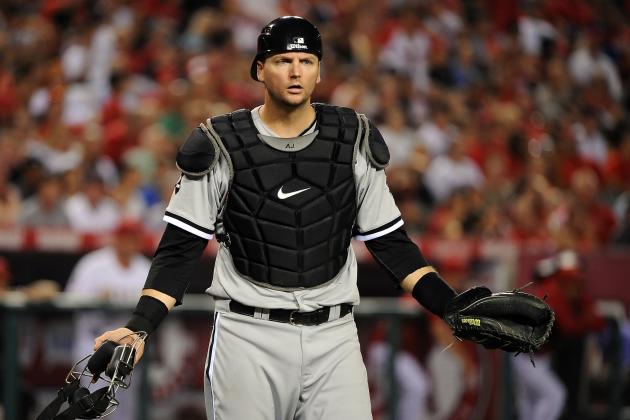 Biggest Strength: Veteran leadership and plus offense behind the plate.
The catching market is thin as always, and with Russell Martin signing with the Pirates, Pierzynski and Mike Napoli are the only viable starting catchers on the market. Pierzynski has been a key veteran leader for the past eight seasons in Chicago, and he's coming off of a career year in which he hit .278 BA, 27 HR and 77 RBI.
Biggest Weakness: Likely to be overvalued following career year.
After back-to-back seasons in which he failed to reach double-digits in home runs, Pierzynski exploded for a career-high 27 this past season. He made six million last season, and that is likely to be right around what he's worth this coming year, but because of his gaudy stats in 2012, he's a prime candidate to be over-paid by someone hoping to match those numbers.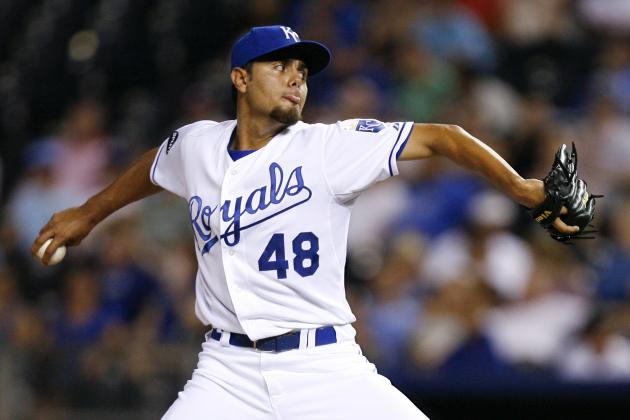 Biggest Strength: Low-risk option capable of making a huge impact.
From 2008-2010, Soria was one of the best closers in all of baseball as he saved 115 games while posting a 1.84 ERA and 10.0 K/9. Coming off of an injury, he will likely be signed to be a setup man wherever he lands, but if he proves healthy, he could very well be closing at a high level once again by season's end.
Biggest Weakness: Uncertainty surrounding return from Tommy John surgery.
Soria likely won't be ready for Opening Day, and how a pitcher bounces back from Tommy John surgery really varies from case to case. As a pitcher with good secondary stuff, he is not as reliant on a blazing fastball to get guys out, but his health remains a question mark until he proves otherwise.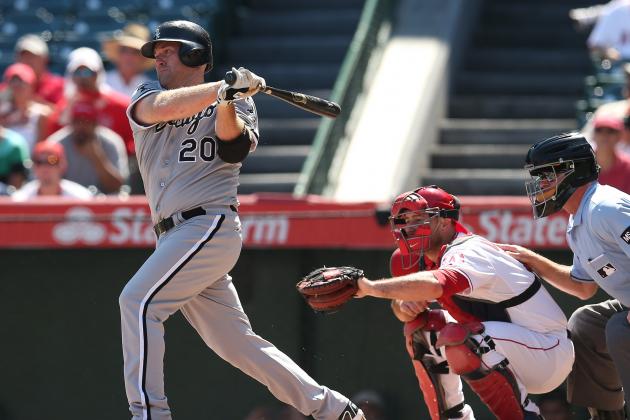 Biggest Strength: Run production from the hot corner.
Youkilis, a fan-favorite in Boston, struggled to a .233 BA, 4 HR, 14 RBI line through 42 games in Boston before the team cut ties with him and shipped him to the White Sox. His arrival shored up what was a black hole for the White Sox, as he had 15 home runs and 46 RBI in 80 games with the South Siders.
Biggest Weakness: Drop-off was swift last season, may get worse before it gets better.
After posting a career-low slash line of .258/.373/.459 in 2011, Youkilis hit the cliff last season as those numbers plummeted to .235/.336/.409. His on-base percentage was always one of his biggest assets, and at 34 his days of being a .900 OPS player are likely behind him, and even .850 may be unreachable at this point.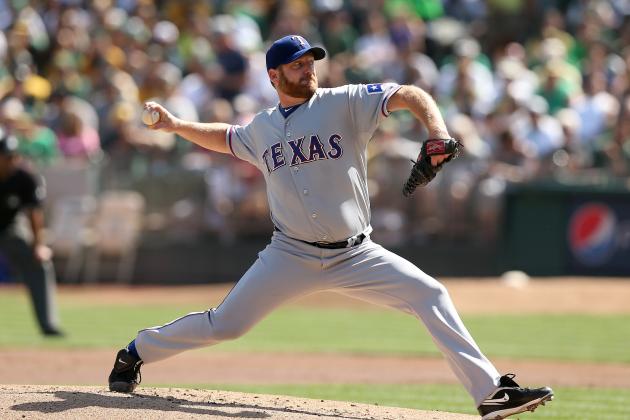 Biggest Strength: Proven veteran who provides a good clubhouse presence.
Dempster moved from the Cubs' bullpen to their rotation back in 2008, and since then he's gone 65-49 with a 3.74 ERA while making at least 28 starts each season. He's well-known as one of the funnier guys around the league, and he brings a positive veteran influence to any clubhouse.
Biggest Weakness: Flopped in first AL action and is getting old.
Dempster was having a terrific season with the Cubs when he was dealt to the Rangers at the trade deadline, and in what was his first taste of the American League, he struggled mightily with a 5.09 ERA over 12 starts. He'll be 36 years old next season, so there may be more to his late-season struggles than simply changing leagues.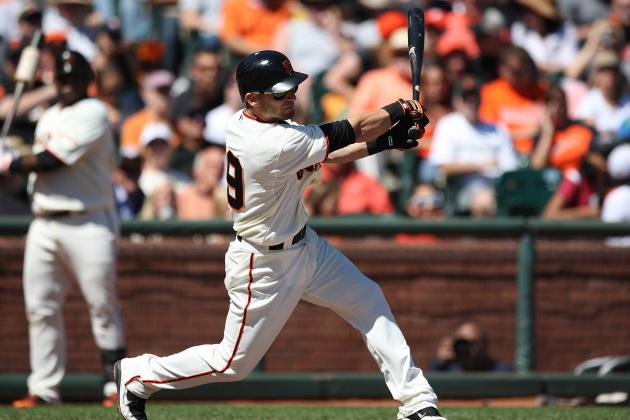 Biggest Strength: High average hitter at very thin position.
A .276 career hitter, Scutaro hit .362 in 243 at bats with the Giants last season after coming over from the Rockies at the deadline. He then went on to hit .328 in the postseason, winning NLCS MVP honors and boosting his free-agent value in the process. Not only is he a solid offensive addition to any lineup, but he is really the only second base option on the market this offseason.
Biggest Weakness: Postseason heroics likely to be overvalued.
Scutaro was not cheap to begin with after making six million last season, but following his terrific stretch run and impressive postseason, he is likely to earn far more than he normally would have this offseason. The Giants re-signed Aubrey Huff to a two-year, $22 million deal following their 2010 World Series run and that backfired, and the same could happen with Scutaro.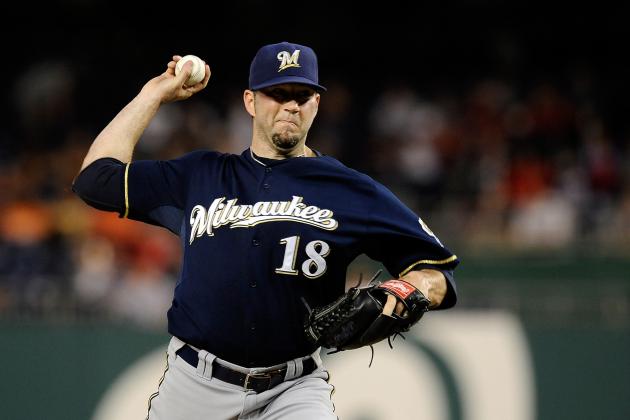 Biggest Strength: Potential steal, top of the rotation potential.
To get an idea of the upside that a healthy Shaun Marcum has, look no further than the fact that the Brewers shipped Brett Lawrie to the Blue Jays to acquire him prior to the 2011 season. He had back-to-back 13-win seasons with a 3.59 ERA in 2010 and 2011 and is a viable No. 2 starter option who should come at a relatively low cost.
Biggest Weakness: Injury concern.
The reason Marcum will come at a low cost is because he is coming off of a season in which he made just 21 starts, missing nearly two months while dealing with shoulder problems. He has dealt with shoulder issues in the past, missing the entire 2009 season after undergoing Tommy John surgery, and that should be enough of a red flag to keep his cost down.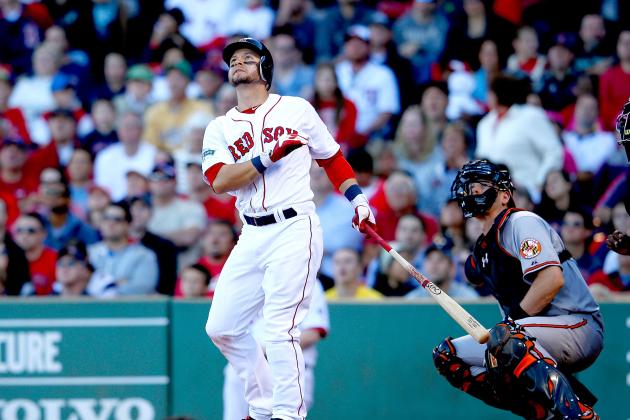 Biggest Strength: Low-cost power source.
Ross had to settle for a one-year, three-million deal with the Red Sox last offseason, and he far exceeded expectations with a .267 BA, 22 HR, 81 RBI season, hitting in the middle of the Boston order. While he'll earn a raise over that three-million salary, Ross may still be the best cheap source of power on the market.
Biggest Weakness: Inconsistent.
After putting together a .270 BA, 24 HR, 90 RBI season in 2009 with the Marlins, Ross struggled to the point of being designated for assignment the following season. The Giants picked him up, and he turned out to be a major contributor during their title run, earning a $6.3 million salary for 2011. However, he followed up his postseason heroics by hitting just .240, and as a result, he had to settle for a low salary last season. To put it simply, you just don't know what you're getting with Ross at this point.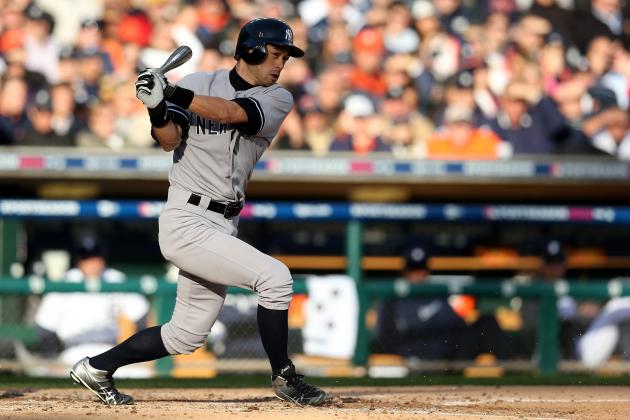 Biggest Strength: Professional hitter, motivated to win a title.
After a 2011 season that marked the first season of his career in which he hit under .300, Ichiro was batting just .261 for the Mariners when he was traded to the Yankees at the deadline. Playing for a contender for the first time in years, he was rejuvenated in New York as he hit .322 in 67 games with the team. The 39-year-old has seen just two postseasons in 12 big league seasons, and he will be driven to win a title before his illustrious career is over.
Biggest Weakness: Age.
While he enjoyed a renaissance of sorts after joining the Yankees, there is no ignoring the mediocre numbers that Ichiro put up over his final season and a half in Seattle. He has just a .308 OBP over the past two seasons, and if he can't hit .300, he's no longer a viable top-of-the-order hitter.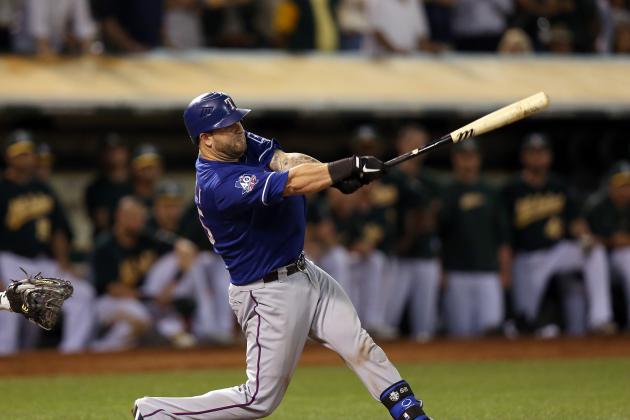 Biggest Strength: Premiere power at the catcher position.
While his batting average has fluctuated greatly, Napoli has hit at least 20 home runs in each of the past five seasons, and his 120 long balls over that span are tops among catchers, with Brian McCann the only one even close to that number with 109.
Biggest Weakness: Incredibly streaky hitter.
His monster 2011 campaign aside in which he hit .320, Napoli is a .247 career hitter and he has always been a very streaky hitter. Last season, he had a pair of seven home-run months, but on the flip side of things, he drove in a total of just 15 runs in June, July and August combined.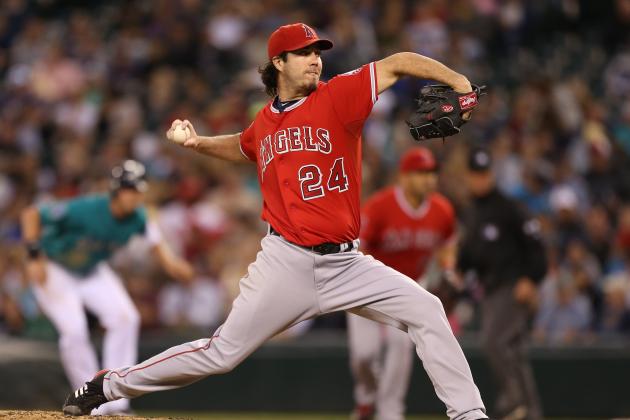 Biggest Strength: Low-risk, high-reward option after bad season.
Entering the 2012 season, Haren was among the top starters in all of baseball, going 101-74 with a 3.49 ERA from 2005-2011 and wining at least 12 games every season. However, he struggled last season, going 12-13 with a 4.33 ERA and a career-low 176.2 innings. He became a free agent after the Angels declined their $15.5 million option on him, and he is now setup to be a terrific bargain this winter.
Biggest Weakness: Injury concerns.
Haren's velocity was down last season, as a bad back cost him roughly a mile-per-hour across the board on his pitches (h/t FanGraphs). That said, according to Buster Olney, it is Haren's hip as opposed to his back that is the biggest concern surrounding him.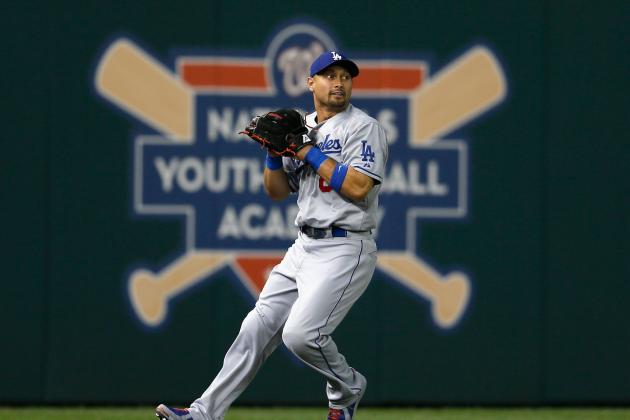 Biggest Strength: Offensive versatility.
For the past eight years, Victorino has made a living doing a little bit of everything in the Phillies lineup. He has 15 home run power, can swipe 30 bases, can approach a .300 batting average, and he is capable of serving as a catalyst atop the lineup or as a run producer in the middle of it.
Biggest Weakness: Career is trending downward.
Sandwiched around a solid 2011 season, Victorino has had a pair of seasons in which he has hit under .260 with an OBP under .330. He'll be 32 this coming season, but he's coming off of the worst season of his career, and while he still has an intriguing set of tools, it appears he is no longer the impact offensive force he once was.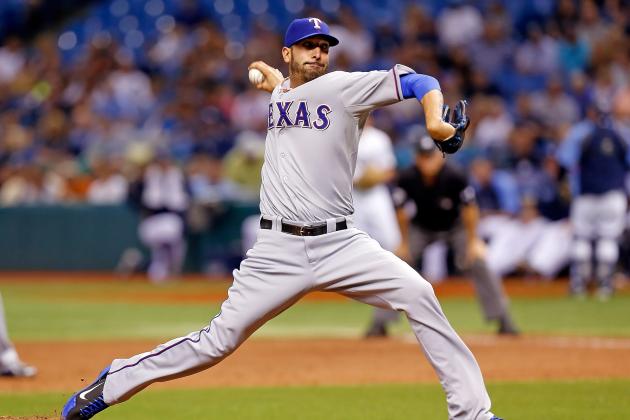 Biggest Strength: Consistency.
Since the start of the 2008 season, Adams has made 297 appearances spanning 295 innings, and over that time he has a pristine 1.98 ERA and a 0.990 WHIP as he has been among the best setup men in baseball for a while now. Last season, his 3.27 ERA was the worst of his career, but he still had a 1.2 WAR, a solid mark for a reliever.
Biggest Weakness: Strikeouts down, hits up.
Along with his career-high ERA last season, Adams also saw an alarming drop in his strikeout rate (9.3 K/9 career entering the season, 7.7 K/9 in 2012) and a spike in his hits allowed (6.4 H/9 career entering the season, 9.6 H/9 in 2012). This may be a fluke, or it may be the beginning of a decline for the 34-year-old right-hander.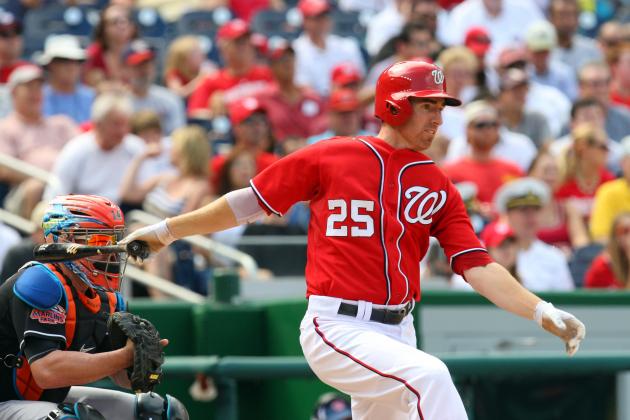 Biggest Strength: Left-handed power bat.
After playing in just 43 games in 2011, LaRoche bounced back in a big way in 2012 with a career-high 33 home runs to go along with 100 RBI to finish sixth in NL MVP voting. He declined his end of a $10 million mutual option to seek a multi-year deal, and he represents the best power option on the market outside of Josh Hamilton.
Biggest Weakness: Doesn't walk enough, low OBP.
LaRoche drew just 67 walks over 571 at-bats last season, as his .343 OBP was right in line with his career mark of .338. He has never reached the 70 walk mark in a season, and while his power is an asset, his lack of on-base skills keeps him from being a top-tier option as a middle-of-the-order run producer.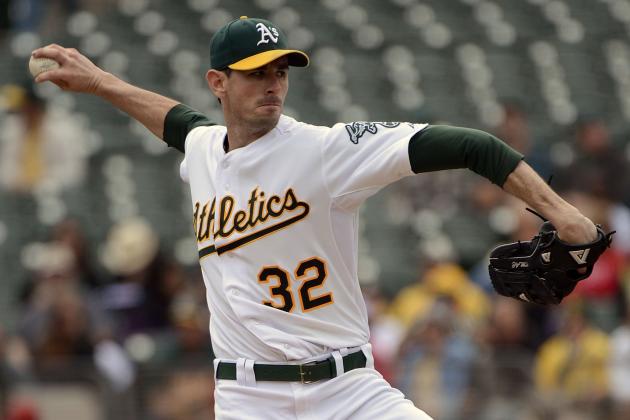 Biggest Strength: Ace-caliber upside.
Once a top prospect with the White Sox, McCarthy has finally begun to realize his potential over the past two seasons with Oakland. In 43 starts with the team, he has gone 17-15 with a 3.29 ERA as he has used terrific control (1.6 BB/9) to emerge as one of the game's more underrated pitchers.
Biggest Weakness: Durability.
While the above numbers are great, one that should stand out is the fact that McCarthy has made just 43 starts over the past two seasons, and in fact has never made more than 25 (in 2011) in any one season. It was a freak injury off of a line drive to the head that ended his season last year, but McCarthy has battled shoulder problems throughout his career and that will be a major red flag when it comes to how many years teams are willing to offer him.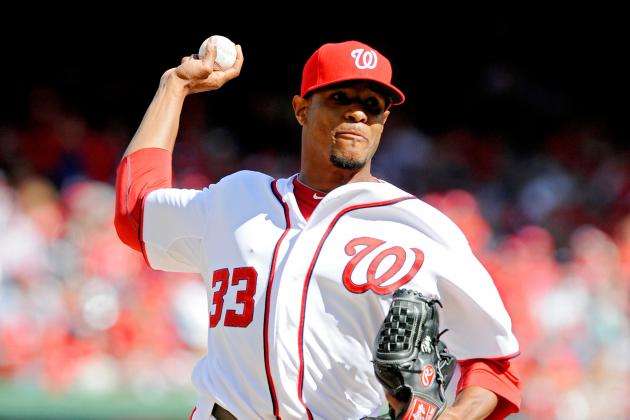 Biggest Strength: Durability.
Jackson has made at least 31 starts each seasons since 2007, and he is 64-67 with a 4.29 ERA over that span while averaging 189 innings of work per season. He has won double-digit games each of the past five seasons, and while he is by no means a staff ace, he is someone who can be counted on to perform in the middle of a contenders rotation.
Biggest Weakness: Very hittable.
Possibly gearing up to join his team in 11 big league seasons, Jackson has never been a dominant force on the mound. His 8.2 H/9 and 1.218 WHIP in 2012 were both personal bests, and his career numbers of 9.4 H/9 and 1.438 WHIP are more along the lines of what should be expected from Jackson in 2013.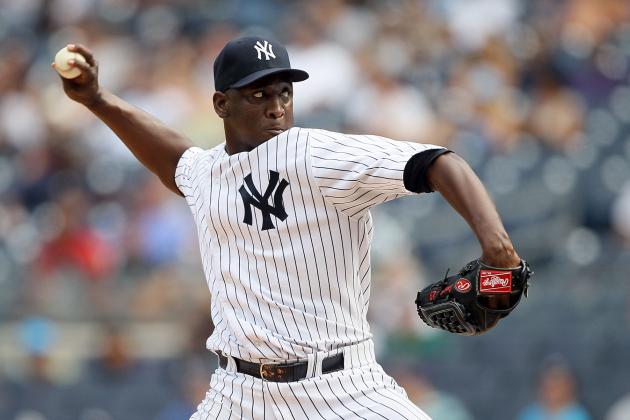 Biggest Strength: Overpowering stuff.
With a fastball in the mid-90s and a devastating slider, Soriano has prototypical closer stuff and he can be unhittable at times. His career 9.4 K/9 mark is a good indication of how overpowering he can be, and he moved seamlessly back into the closer's role last season after serving as a setup man in 2011.
Biggest Weakness: High WHIP for a closer.
While his stuff can be overpowering, Soriano is also prone to walking guys with a 3.5 BB/9 mark over the past two seasons. His 1.215 WHIP over that span, while not terrible, is not what you look for in a top-tier closer, which is how Soriano is expecting to be paid after declining the Yankees qualifying offer of $13.3 million (h/t CBSSports).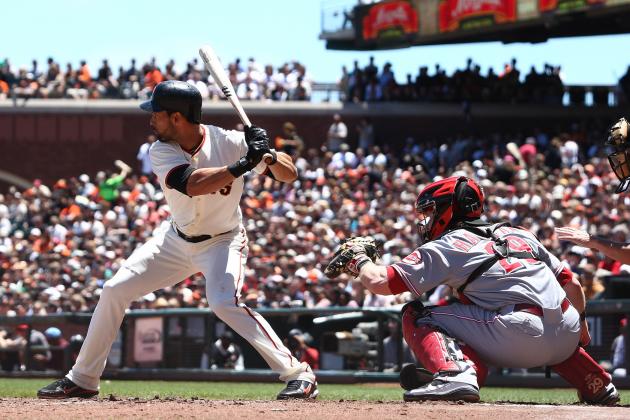 Biggest Strength: Speed, lead-off skills.
Pagan thrived in the role of catalyst for the Giants last season, hitting .288/.338/.440 with 95 runs, 29 steals and a league-high 15 triples. He doesn't have much power, but he did a great job providing a spark atop the eventual champs' lineup.
Biggest Weakness: Spotty track record.
Pagan joined the Giants last offseason in a change-of-scenery move that shipped Andres Torres to the Mets. After hitting .290 with 80 runs and 37 steals in 2010, his average fell to .262 in 2011 and his WAR dropped from 5.1 to 1.0. The question now is which Pagan will show up in 2013?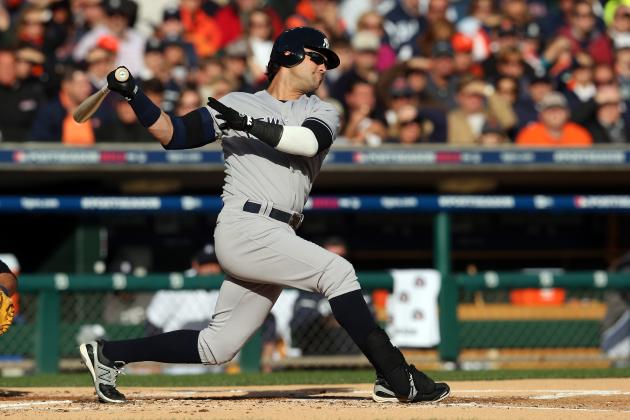 Biggest Strength: Consistent run producer.
Since becoming an everyday player in 2005, Swisher has hit at least 20 home runs each season and has averaged 83 RBI per season. His average has fluctuated greatly, but he gets on base, and he knows how to knock guys in hitting in the middle of an order.
Biggest Weakness: Horrible postseason track record.
Swisher drew the scorn of Yankees fans last October when he went just 5-for-30 with two RBI, but that poor postseason performance was nothing new for Swisher. Over 46 career playoff games, he has a .169 BA, 4 HR, 8 RBI line, and in 11 total playoff series, he has hit over .300 just twice.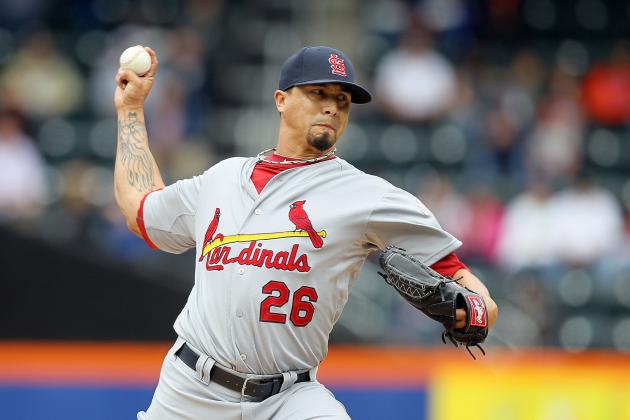 Biggest Strength: Coming off of two best seasons of his career.
Entering the 2011 season, Lohse was 88-98 for his career with a 4.79 ERA as he was little more than a back-of-the-rotation guy. However, after going 14-8 with a 3.39 ERA, he stepped into the role of ace this past season with the Cardinals and turned in a Cy Young-caliber season, going 16-3 with a 2.86 ERA.
Biggest Weakness: Prime candidate for regression.
Lohse's biggest strength is also his biggest weakness, as he is a 34-year-old coming off of the best season of his career and is unlikely to match the numbers he put up in 2012. He no doubt still has a few very good seasons in him, but he's likely to be paid off of last season's performance which he'll struggle to duplicate.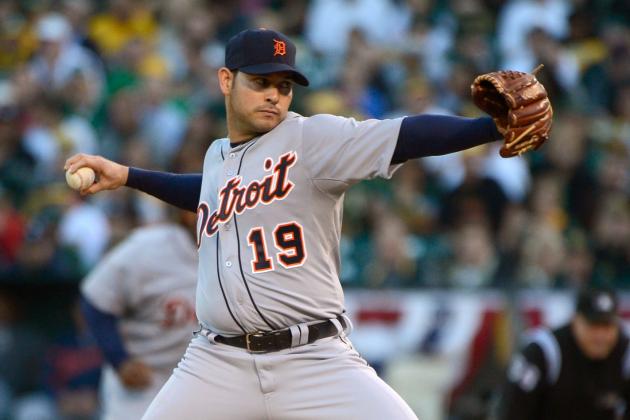 Biggest Strength: Proven clutch performance.
Picked up at the deadline for the Tigers' stretch run last season, Sanchez had a 3.74 ERA in 12 starts with Detroit before posting a 1.77 ERA over 20.1 innings in three postseason starts. That proven ability to step up when it matters most certainly adds to Sanchez's value this offseason.
Biggest Weakness: Allows too many base runners.
While he'll likely be paid like a top-flight pitcher this offseason, Sanchez is actually very hittable as his 1.267 WHIP and 7.7 K/9 marks make him more of a middle of the rotation guy. Those numbers were actually improvements over his career marks as well, as he is at 1.346 WHIP and 7.6 K/9 over seven big league seasons.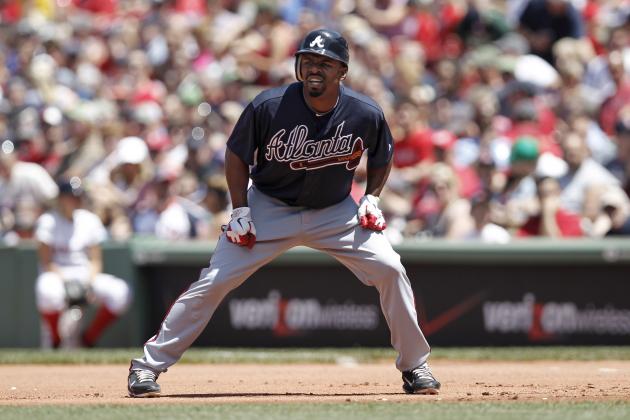 Biggest Strength: Speed at the plate and in the field.
Bourn is one of the top lead-off men in all of baseball, and he'll bring game-changing speed to the top of whatever lineup he winds up in. His speed is not only an asset at the plate and on the bases though, as he is one of the best defensive center fielders in all of baseball and covers as much ground out there as anyone.
Biggest Weakness: On-base skills.
With a .274/.348/.391 slash line this past season and .272/.339/.365 for his career, Bourn is a good offensive weapon but not a great one. He struck out a career-high 155 times last season, fanning 15 more times than he did in 2011 and in 32 less at-bats, a disturbing trend to say the least.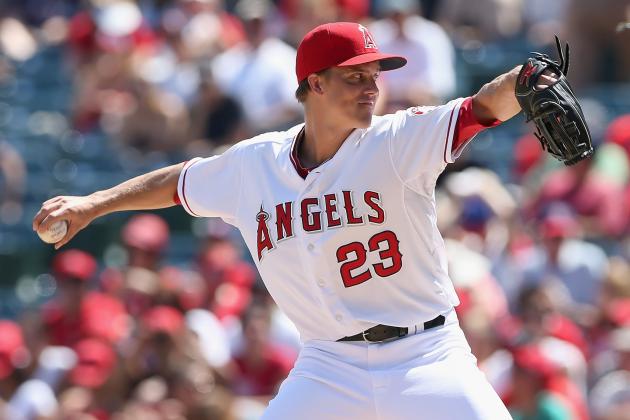 Biggest Strength: Consistency.
While many have argued that he is not a true ace, if nothing else you know what you're getting with Greinke at this point in his career, and that's a top-of-the-rotation type guy who will give you 200-plus innings and is capable of winning 15-plus games.
Biggest Weakness: Lacking in big-game experience and success.
Greinke has always been one to shy away from the spotlight, as he has dealt with social anxiety disorder (h/t Sports Illustrated), and he struggled in his only postseason appearance with the Brewers in 2011 as he had a 6.48 ERA over three starts.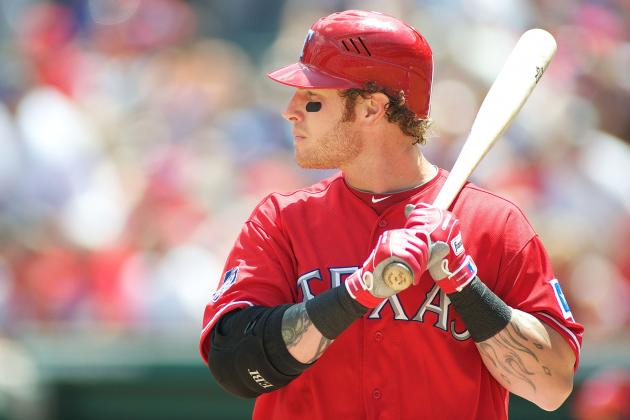 Biggest Strength: Overall offensive impact.
Hamilton is the top power hitter on the market, and coming off of a .285 BA, 43 HR, 128 RBI season, there is no question if he is capable of being an MVP candidate in the middle of any team's order.
Biggest Weakness: Durability.
Since becoming a full-time player back in 2008, Hamilton has missed an average of 32 games per season, and he has only once eclipsed 150 games played in his career. For a player likely to demand a contract north of $100 million, his durability is a clear concern.