Ranking the Top 2013 NFL Draft Wide Receiver Prospects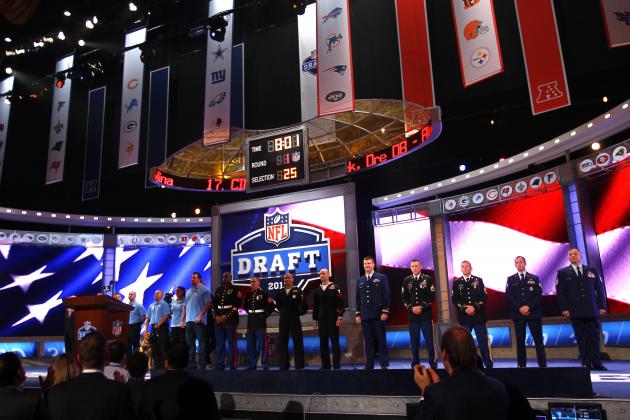 USC wide receiver Marqise Lee is considered by most to be the best pass-catcher in college football. He has followed up a solid 2011 season with an extraordinary 2012 campaign. His 1,680 receiving yards and 14 touchdowns have put him among the favorites to win the Heisman Trophy. Furthermore, many experts are calling him the next big star in the NFL.
There's just one slight problem with that last statement: He's currently not draft-eligible.
While we have to wait at least until the 2014 NFL Draft to hear Lee's name called, there are plenty of other talented wide receivers who could be playing on Sundays next fall. They come from a variety of conferences, and they each bring skills that lend themselves to the professional game.
Here are my current rankings for the top wide receiver prospects.
Begin Slideshow

»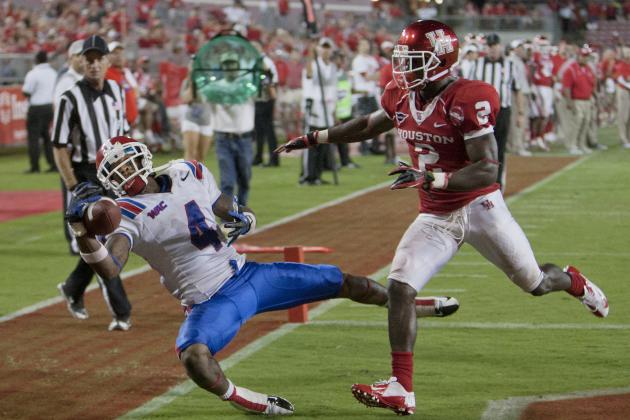 Because he plays at Louisiana Tech, Quinton Patton hasn't gotten much national attention. However, his production merits definite attention as a prospect to watch.
His breakout game was Tech's October matchup against Texas A&M. He caught 21 passes for 233 yards and four of them were for touchdowns. That game was a showcase of his skills down the field. He is good against opposing coverage downfield and uses his strength to his advantage. He's not the fastest at his position, but his acceleration makes him a big threat. Overall, he's a great target.
Granted, much of his production came against less-than-stellar opponents. Still, it's hard to argue with almost 1,400 yards. Keep an eye on Patton on draft day.
Cordarrelle Patterson plays for an often-maligned Tennessee offense. However, he has turned into a solid all-around threat for the Vols.
His 778 receiving yards are by no means "eye-popping," and the same goes for his eight offensive touchdowns. However, his effectiveness out of the backfield could make him a valuable asset to an NFL squad.
If that doesn't, then his return skills should.
Patterson has scored touchdowns four different ways this season. In addition, he leads the SEC in all-purpose yards per game. While his receiving skills alone don't necessarily merit a high draft choice, his diverse talents make him an intriguing prospect.
He is only a junior and could return to Knoxville. If he does, he could easily improve upon his performance this year. Even now, though, he is one to watch.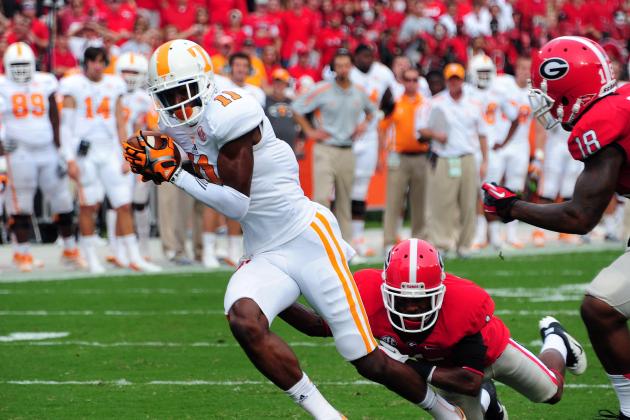 While Patterson may be a more dynamic player overall, teammate Justin Hunter looks to be more talented at the wide receiver position.
At 6'4", Hunter is an imposing target down the field. His speed is solid, making him a big threat after the catch. He is also a great route-runner. He has quick feet and good acceleration, which help him in that department.
One could argue that he deserves to be higher on this list, but he did tear his ACL last season. Although he has looked fine this season, a team can never be completely sure that Hunter has fully recovered or can stay free of the injury bug.
Overall, though, Hunter's production has been great this season. He could be a solid second-round choice come April.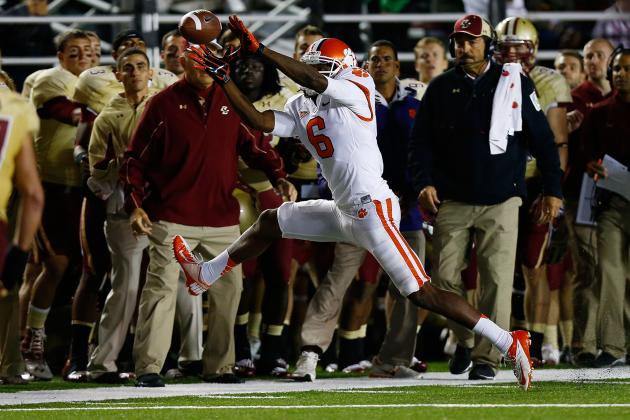 Clemson quarterback Tajh Boyd has had an unbelievable 2012 season. One of the main reasons why is his stud receiver, DeAndre Hopkins.
This year, Hopkins has hauled in 16 touchdowns and averaged almost 18 yards per catch. His hand-eye coordination is outstanding. He has repeatedly made tough catches that others may shy away from. He has decent speed that he knows how to use to his advantage.
One knock on Hopkins is his route running. While it is not terrible, it can be improved upon. One could also argue that he has faced below-average competition in the ACC and is not battle-tested. I'm not saying the conference is bad, but it's not on the level of the SEC and Pac-12.
Overall, however, Hopkins is a talented receiver. He will be taken off the board early in the draft if he chooses to enter it after the season.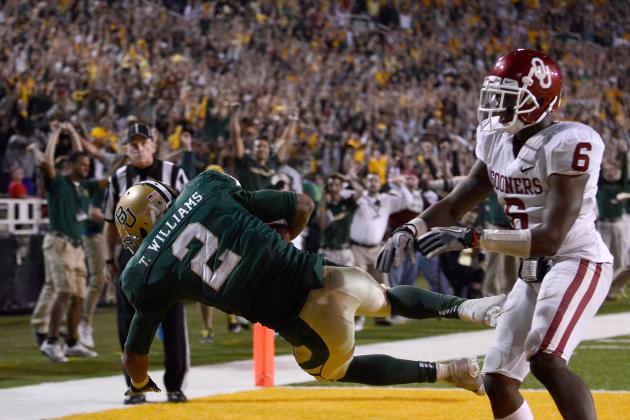 After seeing teammate Kendall Wright get drafted by the Titans last season, Terrance Williams has had a breakthrough campaign. There is a great possibility that he could also go in the first round of the draft.
It doesn't get any better than 1,693 receiving yards. Seriously, that's tops in the FBS. This includes a 314-yard performance against West Virginia. Of course, having Nick Florence throwing the football has been a big help.
As for Williams, he has good tools. He shows great speed along the sidelines. Also, his long frame and stride help him to fight off defenders down the field. He doesn't necessarily run the prettiest of routes, but he is able to gain substantial yardage after a catch. You can always count on him to produce, even against a tough opponent.
As is the case with everyone else on this list, Williams has room to improve. Still, he looks like he has the capability to become an NFL star.
West Virginia's season seemingly tanked in an instant. Tavon Austin's draft stock, however, remains at a high level.
With future NFL quarterback Geno Smith at the helm of the Mountaineer offense, Austin has snagged 106 passes and scored 12 touchdowns this season. Perhaps even more impressive is his success as a runner. After being moved to running back, Austin exploded for 344 rushing yards against Oklahoma. Overall, he has accounted for 1,670 offensive yards.
Austin's best asset is his speed. He doesn't need to be elusive because he can outrun most. He also has great vision, which is evidenced by his success in the return game. He boasts great acceleration as well.
His size poses an issue. At only 5'9", he's not going to have a reach advantage against NFL secondaries. He's fast, but he needs to be on a team that will go out of its way to play him in spots where he's most effective. This has been in the slot and on screen passes.
However, don't let his limitations fool you. If Austin can find the right fit, he could be a dangerous offensive weapon.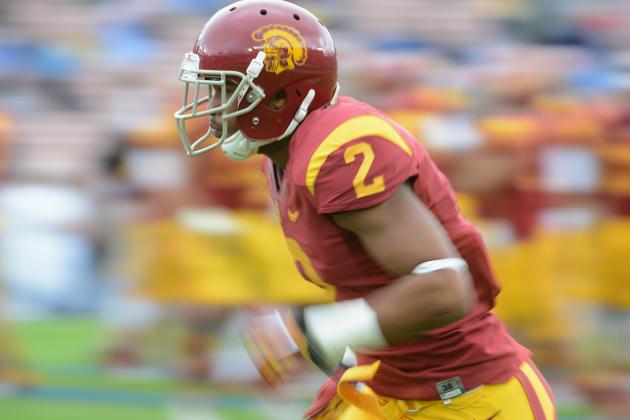 Robert Woods is the thunder to Marqise Lee's lightning. The junior wideout could make an immediate impact in the NFL, should he forgo his senior season.
At 6'1", his size is average for a wide receiver. However, he is very athletic. His speed is explosive, which allows him to get open and make plays. He is also a good route-runner. All of these characteristics have made him a big weapon for Matt Barkley and the Trojans.
Last year, he caught 112 passes and scored 15 touchdowns. Even though Lee has been absolutely dominant this season, Woods has still managed to catch 11 touchdown passes. His production is undeniable.
He does have a problem dropping passes, but overall Woods' skills are translatable to the NFL game. That's why I believe he will be one of the top options if he enters the draft.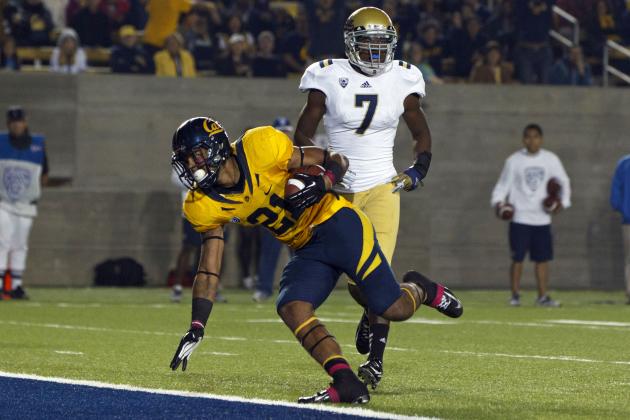 Keenan Allen has been overshadowed by the star USC duo of Lee and Woods. Assuming he declares for the 2013 NFL Draft, however, he will be one of the first players selected.
I have him ranked higher than Woods for a couple of reasons. The first reason is his size. At 6'3" and around 210 pounds, Allen is capable of reaching over defenders to snag passes. Even with his big frame, he also possesses great body control. Furthermore, he has show the explosiveness to gain substantial yardage after catching the ball. Adding all of those traits up makes Allen the best prospect in my book.
Although his current knee injury worries me a bit, it does not sound like a very serious problem. Once he is healthy again, Allen should be considered the best wideout available if he does declare.