Ben Roethlisberger has been limited in practice all week, per Jeff Zebriec of the Baltimore Sun and Mike Bires of the Beaver County Times says:
"With Ben Roethlisberger still rehabbing his shoulder and rib injuries, Charlie Batch expects to make his second straight start."
Antonio Brown and Troy Polamalu full participants for #Steelers. Roethlisberger and Cotchery were limited. LaMarr Woodley did not practice.

— Jeff

Zrebiec

(@jeffzrebiecsun) November 28, 2012
I hear that and I respect the sources, but this is a guy that will play hurt if possible. If this is all about pain tolerance, he'll be out there. I know I'm going out on a limb with that, but the fact that he practiced at all makes me think he could give it a go.
Even if he doesn't play, I would expect to see an improved Charlie Batch this week. Batch is never going to be mistaken for a superstar—he wasn't that when he was on the better side of 30—but he is smart.
If the Pittsburgh Steelers don't turn the ball over eight times against the Baltimore Ravens, they will gain a measure of revenge for their 13-10 loss in Week 11.
With Byron Leftwich under center, the Steelers had every opportunity to defeat the Ravens. Their first meeting turned on a Jacoby Jones punt return for a touchdown. Were it not for that big play, the Steelers may have won that game.
This time, they will get the job done. This is almost a must-win for the Steelers. The Cincinnati Bengals are on a roll, and they play a hopeless San Diego Chargers team in Week 13.
If the Steelers lose, they could fall a full game behind the Bengals in the division and the playoff race. Coming off such a poor performance against the Cleveland Browns, I expect to see an urgent effort from the Steelers.
The key to this game will be taking care of the ball, and disciplined special teams.
As is the case with many Steelers-Ravens battles, field position is paramount. Pittsburgh pounded the Ravens for 134 yards on the ground in Week 11, they will return to that strategy this week to gain their revenge.
Washington Redskins Will Even the Score With New York Giants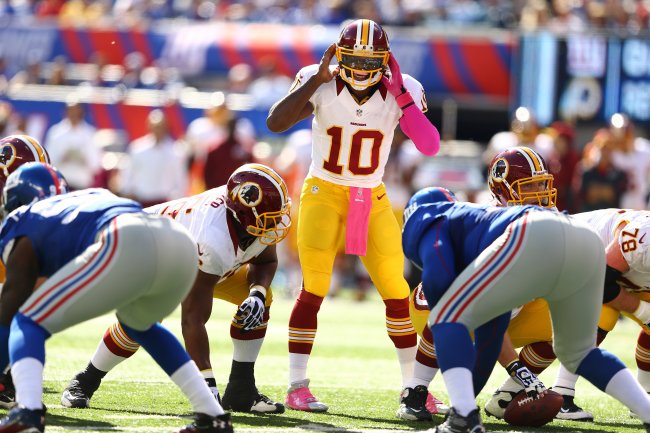 The Redskins had the New York Giants where they wanted them in Week 8, but a blown coverage led to an Eli Manning 77-yard game-winning touchdown pass to Victor Cruz with 1:13 remaining.
It ruined a great performance by Robert Griffin III, but this week the Giants won't escape.
For some reason, Mike Shanahan has the Giants' number. The Redskins swept New York last season and they had it beaten earlier this year. In the last three games against the Redskins' defense, Manning has thrown eight interceptions and just the one touchdown pass.
Coming into FedEx Field, the Giants will continue to struggle with the Skins. RGIII will have his revenge.
There Won't Be a Tie Between the 49ers and Rams This Time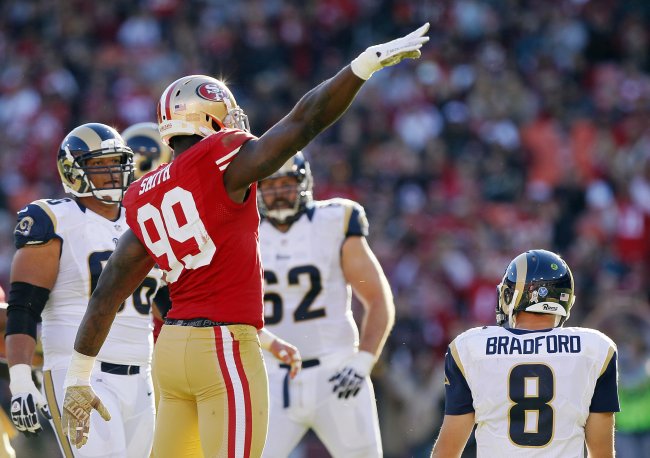 OK, so a tie isn't technically a loss.
However, if you consider the San Francisco 49ers were at home against an inferior St. Louis Rams team in Week 10; and how that tie could negatively impact their run at home-field advantage in the playoffs, it feels like a defeat.
That was a game the Niners should have won, but they didn't.
In the Week 13 rematch, recent history won't repeat itself. The Niners' defense has gone from good to great in a span of two weeks. They have outscored opponents 63-28, collected 11 sacks and forced four turnovers in that span.
Video from YouTube (h/t) Franchiseplay Sports
Colin Kaepernick seems to have become the permanent starting quarterback, and the Niners look like the best team in the NFC.
The Rams beat the Arizona Cardinals in Week 12, but Sam Bradford still hasn't looked great this season. The offensive line won't contain Aldon Smith and Justin Smith, and Bradford's going to throw at least two interceptions under the pressure.
The Niners will put the Rams back in their place.
Follow Brian Mazique and Franchiseplay on YouTube and Twitter for reactions, analysis and news from the world of sports and sports video games