Diva Debate No. 3: Week of November 26, 2012 Edition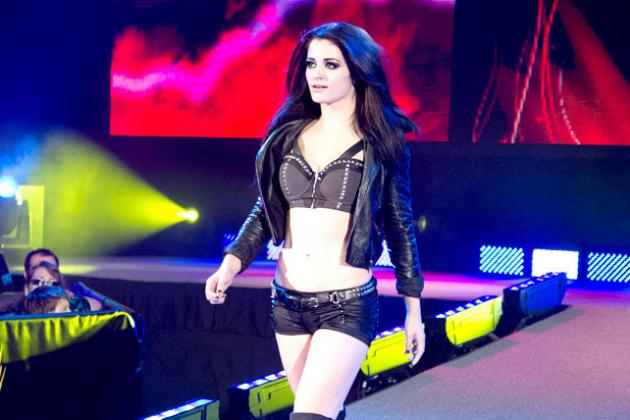 Photo Credit: WWE.com
Welcome to another edition of Diva Debate.
The first two weeks have been tremendous, and the response from the readers has been even better. In this week's article, I take a look at the potential for a Rosa Mendes-Alberto Del Rio on-screen pairing, the return of Mickie James to the Knockouts division, the potential Divas to be called up from the developmental territory and the legendary rivalry that was Trish Stratus versus Lita.
All of that plus a(n) (abbreviated) look at this past week in Divas action. So join me inside for Diva Debate No. 3!
Begin Slideshow

»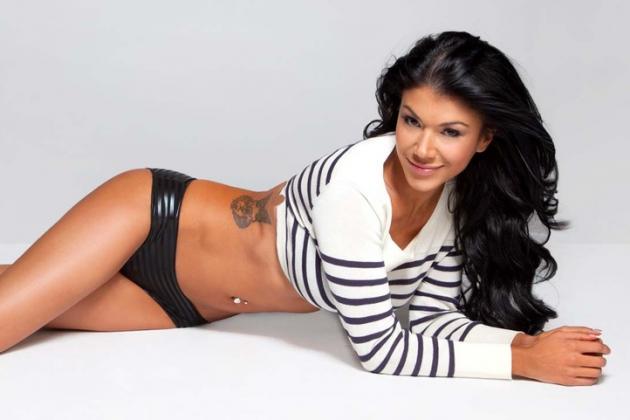 Photo Credit: WWE.com
Dating back to the summer and fall of 2011, there have been hints at an on-screen pairing of former, two-time WWE Champion Alberto Del Rio and long-tenured Diva Rosa Mendes.
It started with some backstage flirting but was abruptly dropped, not to be touched upon again, until recently.
At this point, there is no denying that the Alberto Del Rio character has become stale. He has been exactly the same character for over two years now and is in desperate need of some freshening up.
Rosa Mendes, conversely, has done an admirable job of managing Primo and Epico, but, given the team's lack of upward mobility, it would seem as though there would be a far better way to use the beautiful Diva Search 2006 competitor.
With the recent return implying that there may be some sort of pairing with Del Rio, perhaps the creative team agrees.
If the company is hellbent on keeping Del Rio's character the one-dimensional "rich boy" with fancy cars and clothes and his own personal ring announcer, what better way to make him even more unlikeable than by shoving a beautiful woman in our faces?
Were it to happen, the role would be the most prominent in Rosa's career. A runner-up in the 2006 Divas Search, Rosa spent a number of years in Ohio Valley Wrestling and Florida Championship Wrestling before being called up to WWE's main roster in late 2008, early 2009. Since then, her television time has been wildly inconsistent. Only recently, with Primo and Epico, has she been regularly featured.
Del Rio is one of World Wrestling Entertainment's top stars and is featured heavily on both Raw and SmackDown. As his on-screen companion, Rosa would see the same amount of television time as him and would likely see her duties (especially in the promo department) expand rather than being relegated to shaking her hips at ringside.
Not that there's anything wrong with that, mind you.
The potential pairing is one that makes sense, both for one of the company's top performers as well as one of its longest-tenured Divas. And there may be no better time than to head in that direction, considering the fact that Del Rio's character is fairly past its sell-by date and Rosa has done everything she can with Primo and Epico.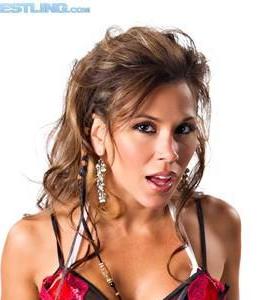 Photo Credit: TNA Wrestling/Lee South
When Mickie James signed with TNA in the fall of 2010, many looked at it as a major coup for the company's thriving Knockouts division.
For just over a year, Mickie was the unquestioned star of the company's women's roster, the entire roster revolving around her.
Now, two years removed from her debut, the question is whether or not Mickie can still be the star Knockout of Impact Wrestling.
There are a few factors to be considered before a decision can be rendered.
Mickie's music career has seemingly taken a large amount of her focus over the last year. That is not a bad thing. In fact, if more wrestlers found outside interests, they would not be so reliant on the business when their days working in it are well past them.
But that divided interest calls into question whether she is motivated or devoted to carry the workload of being the tippy-top woman in the company.
The emergence of Brooke Tessmacher in 2012 also raises questions about Mickie's potential to be the top Knockout, especially in the role of babyface.
Brooke has been tremendous over the last six months, improving at a rate few thought she could. She also built herself a solid fanbase and appeared poised to be a legitimate breakout star for the company before a sudden disappearance from television. It is only a matter of time before she reappears and, when she does, she will likely resume her role as the top babyface in the division.
Perhaps the most damning evidence against Mickie's return to the top of the division is the way in which the Knockouts are currently booked.
As I touched on during last week's Diva Debate, the revolving-door approach to booking the division does not allow a single performer to become the unquestioned star of the division. A different woman takes over as champion for a few months, then loses the title and disappears again.
There is no doubt in this writer's mind that Mickie James could succeed as the top Knockout in TNA. But for that to happen, she would have to return to the ring full time, benefit from far better booking of the division than what is currently occurring and hope that the sudden lack of television time for Brooke Tessmacher hurts the progress she has made thus far.
For all of those things to happen, Mickie would have to be the luckiest woman in the business. With that unlikely, so too is her chance to re-assume her position as the top Knockout in the company. She will, however, continue to be a tremendous performer whose name alone is incredibly valuable to TNA Wrestling.
Photo Credit: WWE.com
With a roster that is constantly changing, there are three Divas in particular who have an excellent chance of being called up to the main roster in the coming months.
Summer Rae
Summer Rae (Real name: Danielle Moinet), pictured, is a gorgeous, athletic blond who was once a part of the Lingerie Football League's Chicago Bliss franchise. An All-Star in the league, she proved she had the physical ability to thrive in sports entertainment.
Another aspect of her overall performance became more apparent after she made her debut in Florida Championship Wrestling.
After replacing Maxine as the general manager of FCW, Summer proved she was capable of holding her own in front of the cameras, her ability to talk exceeding any expectations management and fans had for her.
In recent months, she has competed inside the squared circle, been a ring announcer and even defeated a number of NXT Divas in bikini contests at the promotion's house show events.
In just over a year with World Wrestling Entertainment, Summer Rae has proven herself adaptable. Considering the industry she finds herself in, that is most certainly a positive trait to have.
Paige
Paige, better known to wrestling fans as Britani Knight, is a second-generation competitor from Norwich, England. The daughter of Sweet Saraya, she has made a name for herself over the last few years by working independents across the globe, most notably here in the United States with the SHIMMER promotion.
Paige has already competed against current Divas Alicia Fox and Kaitlyn and has proven that she can hang with both. Contests with Raquel Diaz, Audrey Marie and Sofia Cortez have also allowed the 20-year-old Brit to showcase her abilities between the ropes.
An accomplished in-ring competitor, she is already better than a number of the Divas on the current roster. Her look, however, may be the one thing that determines how far she goes in WWE. It will ultimately depend on how much Vince McMahon is looking for a woman that is different from the rest of his female employees.
Audrey Marie
Audrey Marie (Real name: Ashley Miller) is probably the FCW/NXT Diva most ready to debut on WWE television today. That is not to say she is a better in-ring worker than Paige or a better talker than Summer Rae.
Audrey has been in WWE developmental for well over a year now and has held the FCW Divas title. She is a beautiful brunette who plays the country girl from Texas to perfection, channeling TNA's Mickie James from time to time.
Audrey's rivalry with Raquel Diaz (Shaul Guerrero, daughter of Vickie) over the Divas title in FCW spanned a few weeks earlier this summer, and since then, Audrey has become the No. 1 face in the division.
Audrey knows how to work the audience and appears poised to receive a push once she does, eventually, get called up to television.
It remains to be seen when, or if, any of these three women make it to WWE television, but they have all made an impact on both FCW and NXT television.
With a Divas roster that has been gutted by recent departures, there is room for one (or more) of the FCW women to make an immediate impact. For that to happen, Vince McMahon and management must take a leap of faith and no longer resist change.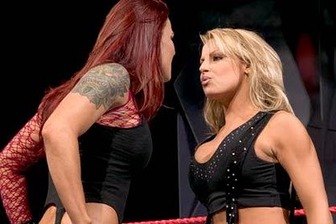 Trish Stratus and Lita had a rivalry that is unlikely to be seen between two women in WWE ever again.
Almost from the moment they debuted in the spring of 2000, they were linked together. For the duration of their six-year careers, they were in almost constant competition with one another.
Even when both were babyfaces, there was this feeling among WWE fans that you either liked Trish Stratus or you liked Lita.
Their on-screen rivalry began in 2000, when the Trish-led tag team T&A began a feud with the Hardy Boys, who had somewhat adopted Lita as their valet/partner.
It was a dramatic contrast. Trish was the super-hot blond model who would stop at nothing to get what she wanted. Lita was the athletic, cool, punk-rock chick who would as soon come off the top rope with a Moonsault as she would pose in a bikini for a WWE Divas shoot.
Their interactions during the early days of their rivalry were what captured the fans' attention and helped it last as long as it did.
After the initial rivalry came to a close, they would continue to interact, but it would not be until 2003 when they, unlikely, teamed up to do battle with the duo of Molly Holly and Gail Kim, a weeks-long rivalry that was blown off at the Unforgiven pay-per-view in September.
By year's end, they were engaged in a rivalry with, of all people, Chris Jericho and Christian, resulting in the first-ever "Battle of the Sexes," which saw Trish and Lita put up a tremendous, albeit losing, effort against their male opposition.
In 2004, Trish was riding a wave of momentum after turning heel at WrestleMania 20 and was among the best baddies in the company. Lita was mixed up in a twisted love triangle between Kane and Matt Hardy, and her longtime rival took great pleasure in bringing misery to her.
The latest stage of their rivalry reached its climax in December of 2004, when Trish Stratus versus Lita for the Women's title was the featured main event of Raw. The future Hall of Famers tore the house down in a match that saw Lita cap off a year of wrecked emotions by defeating Trish for the gold.
The rivalry came to its close in 2006 at Unforgiven in Toronto, Ontario, when, in her retirement match, Trish Stratus defeated Lita to become Women's Champion. It was the end to a magical rivalry that elevated two women to stardom usually reserved for male Superstars.
So, is Trish Stratus versus Lita the greatest Divas feud in WWE history? Yes. But is it far and away the greatest Divas rivalry? Not so fast.
Trish had another excellent on-screen rivalry in late 2000, early 2001 with Stephanie McMahon. It was a feud that featured Trish attempting to get into the owner of WWE's pants, only for his daughter to take exception. They had a number of memorable moments, including a hell of a match at No Way Out in 2001, a match won by Stephanie.
A series of matches between Tori and Ivory in mid-to-late 1999 set the standard for the harder-fought, physically challenging matches that would come years later. Their hardcore match for the Women's title was revolutionary for women at the time.
Finally, the duo of LayCool had a few memorable feuds, but none was more personal than the one with Mickie James. Layla and Michelle McCool spent weeks poking fun at what they perceived to be a weight issue for Mickie, calling her "Piggy" and humiliating her on a number of occasions. The blow-off came at the 2010 Royal Rumble, when Mickie defeated the duo and took the Divas title from them.
What do you think is the greatest rivalry in Divas history? Let your opinion be heard in the comments section.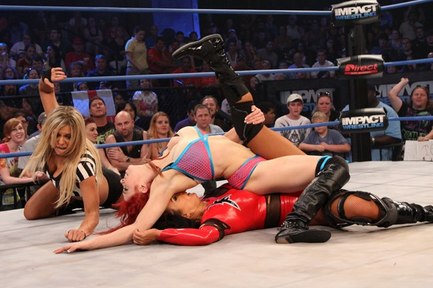 Photo Credit: TNA Wrestling/Lee South
On Raw, Kaitlyn rebounded from a disappointing loss to Eve at Survivor Series by defeating Aksana. The match was not bad, but like most Divas matches on WWE television, it was very abbreviated.
On Thursday's Impact, Taeler Hendrix had her second opportunity at current Knockouts Champion Tara and, for the second time in a row, lost. Considering the lack of depth in the Knockouts division, it is interesting that the promotion has not debuted Taeler on television and used her more consistently.
There was no Divas match on Friday's SmackDown, capping off a very disappointing holiday week of women's wrestling action.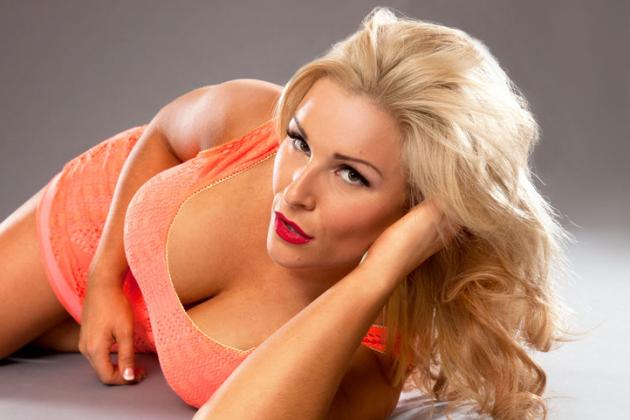 Photo Credit: WWE.com
In next week's Diva Debate, I will take a look at Natalya and why the ultra-talented, third-generation Diva has yet to succeed at the level so many believe she can.
I will also look at Impact Wrestling's Brooke Tessmacher and whether or not the sudden lack of television time has halted the momentum she had building for her earlier this year.
The Retro Divas topic will feature a profile on the self-proclaimed "horny little she-devil" Terri Runnels, while topic No. 4 will focus on Stephanie McMahon and whether or not there is still a spot for the Billion Dollar Princess on WWE television.
The title of this article features the word "debate," and now it is your turn to let your voice be heard in regards to any one (or all four) of the topics discussed in this week's Diva Debate article. Leave a message relevant to anything discussed inside.
Also, your feedback is incredibly important. If you have any suggestions or constructive criticisms of the article, feel free to let me know in the comment section. I look forward to hearing from you all, as together, we build what will hopefully become a long-running weekly article here on Bleacher Report.