6 Key Premier League Battles to Watch This Weekend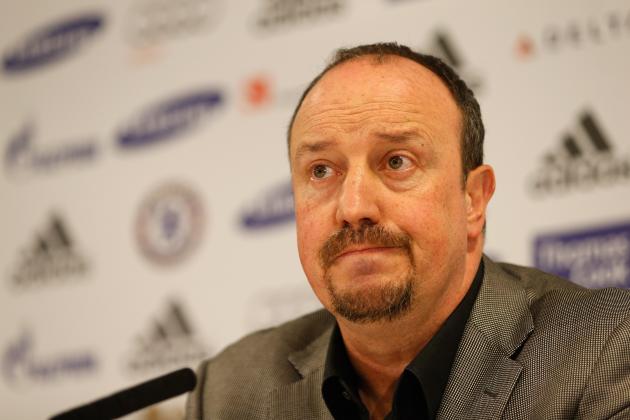 Courtesy of Getty Images
After a busy midweek of Premier League fixtures which saw the top two struggle to beat West Ham and Wigan, respectively, and Chelsea draw another blank, the Premier League is back again this weekend.
It's getting towards the vital festive period where if a club goes on a run, they can skyrocket up the table in a matter of weeks.
This weekend's fixture list throws up some intriguing ties, including another two London derbies on Saturday, starting with Chelsea's visit to West Ham, where Rafael Benitez will be looking for his first win as Chelsea boss.
Let's take a look at the six key games I'll be watching with interest this weekend.
Begin Slideshow

»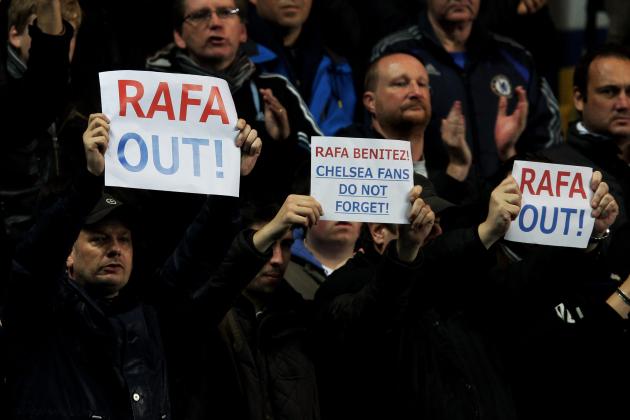 Courtesy of Getty Images
It's fair to say that West Ham have had a pretty hard run of games over the last week, and it won't get any easier when Chelsea come calling at lunchtime on Saturday.
The Hammers were poor defensively against Spurs last Sunday, eventually losing the game 3-1.
It wasn't a performance that you'd usually associate with a Sam Allardyce team.
Normally, his sides are well-drilled and disciplined, so he must have been disappointed with the way Sunday's game went.
On Wednesday night at Old Trafford, the Hammers were much more like themselves and if it weren't for a deflected Robin van Persie strike, they might have come away with a point.
They restricted Manchester United to very few chances and that will have pleased Big Sam.
The fact that Andy Carroll scored his first goal for the club in their 3-1 loss at Spurs bodes well for West Ham, and the player himself.
Carroll looks more comfortable at West Ham than he ever did at Liverpool and if I were David Gold or David Sullivan, I'd do everything I could to get him signed up permanently.
West Ham are typically strong at home and they'll want to give their fans something to cheer about this weekend, when the visitors to Upton Park are Chelsea.
To say that the Chelsea punters have given Rafael Benitez a frosty reception since his appointment as interim boss last week would be an understatement.
The fans have been critical of the Spaniard after some of his comments and actions when he was in charge at Liverpool.
This is just my opinion, but it's time that some of those fans got a grip.
They're booing Benitez and showing signs of their discontent at his appointment, but it's not Rafa's fault.
The Chelsea fans should be directing their anger at Roman Abramovich for being too trigger-happy with his managers.
Benitez will just be the next name on a long list of managers that Roman has fired by the time the season is over.
Mourinho, Ancelotti, Scolari, Villas-Boas and Di Matteo have all been shown the door by Abramovich, so maybe the Chelsea fans should start showing their frustration at the chairman instead of whoever's got the misfortune to be in the manager's chair.
In terms of Chelsea's performances since Benitez took over, it'd be fair to say that they've not been spectacular.
He's got to try to build from the back and make sure Chelsea are defensively solid. He won't be able to do that if David Luiz is playing.
How he didn't concede a penalty against Manchester City last Sunday is beyond me.
He was all over Vincent Kompany and pretty much took the shirt off his back.
Luiz is a liability at times, so Chelsea either have to find a way to accommodate him or move him on.
Whilst we're on about players who might need to move on, for me, Fernando Torres must be the biggest transfer flop in the last decade.
When he first came to England, he had so much talent, ability and presence that he could scare any defender in the world, but now, he puts that same fear into the hearts of his own supporters when he gets a goalscoring opportunity.
Regardless of who's in charge at Chelsea, they need to have a major overhaul of the playing staff.
Some of the recognised names in the squad like Cole, Terry, Luiz and Torres haven't pulled their weight on a regular basis for some time now, and it's about time they bucked up their ideas or were shipped out.
I like Rafael Benitez, but I think everyone will agree that he's on a hiding to nothing at Chelsea.
The sad thing is that I don't see things getting any easier for the Spaniard this weekend.
I firmly believe that West Ham United will build on Wednesday's performance against Manchester United and come away with all three points on Saturday, winning 3-1.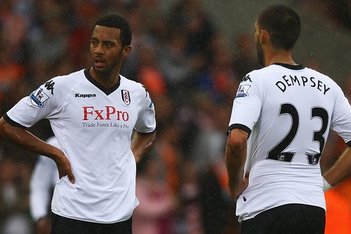 Courtesy of bbc.co.uk/football and Getty Images
Saturday sees Tottenham play their third London derby in as many weeks when they travel to Fulham.
It'll also be the first time that Moussa Dembele and Clint Dempsey will come up against their former side since moving to White Hart Lane during the summer transfer window.
After a decent start to the season, Fulham have struggled to pick up wins lately, with just one win in their last seven league games.
It might seem strange to say this, but that won't concern Martin Jol, because they've only lost three in their last 11 league games.
They might have been lucky to pick up points in some of those games, but you get what you deserve and Fulham are always a decent side to watch.
Some of the football they play at times is exceptional and in Martin Jol, they've got an excellent coach who doesn't get the credit he deserves sometimes.
The Cottagers were unlucky not to pick up all three points last night against Chelsea.
John Arne Riise had a couple of great chances towards the end and should have scored.
They restricted Chelsea to just a couple of half-chances and they'll be confident that they can cause problems for Tottenham when they come calling on Saturday.
If I had to use one word to sum up Tottenham's season so far, it would be: inconsistent.
They've played some terrific stuff against the bigger clubs in the division, but slipped up in games they've been expected to win.
After a run of four straight defeats, they've won two on the bounce now and they'll look to keep that run going on Saturday.
Jermain Defoe is a man on form right now.
He's probably the most natural goal-scorer in the country.
Defoe is confident and he's playing with a smile on his face, which is a dangerous combination.
His goal against West Ham last Sunday was tremendous and he's shown already this season that he's capable of scoring all kinds of goals.
The Fulham defence will have their hands full trying to keep the likes of Defoe, Dempsey, Bale, Dembele and Lennon quiet on Saturday.
I reckon that this game will see both Fulham's winless run and Spurs good recent run continue, ending in a score draw.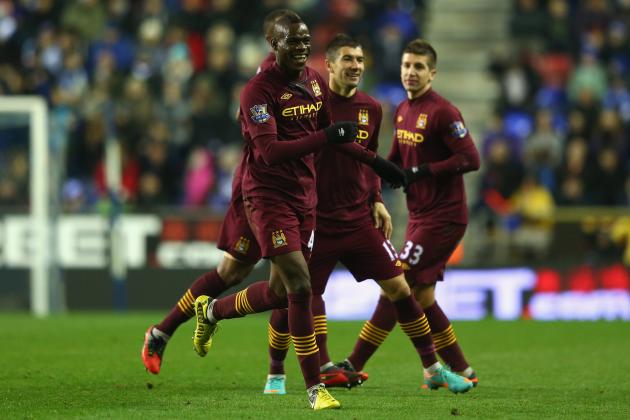 Courtesy of Getty Images
By the time Saturday comes around, it'll be December and as it stands right now, Manchester City are the only undefeated league side in England.
However, if Wigan had taken their chances last night, it could have been an oh-so-different story.
Before the enigmatic Mario Balotelli opened the scoring, Wigan had three or four great chances to score, with Arouna Kone spurning two of them.
Balotelli is one of the most frustrating footballers on the planet.
He's moody, sullen, almost childish at times, yet he's a potential match-winner.
That's why Roberto Mancini persists with him.
Let's be honest here, Manchester City should have beaten Chelsea last Sunday.
I mentioned in an earlier slide that they were denied a stonewall penalty when David Luiz tried to rip Vincent Kompany's shirt off when they both went up to challenge for a header from a corner kick.
How that wasn't given is a mystery to me.
City might not be playing the same brand of free-flowing, goal-scoring football that they did last season, but they're grinding out results without playing well.
That's the mark of champions.
How many times have we said that about Manchester United over the years?
Although City will want to win to head into next week's derby against Manchester United with confidence, Saturday's game against Everton will be one of their hardest matches of the season.
David Moyes' side have been excellent this season, and they've played some great stuff.
Everton have drawn six of their last eight league games, but they'll feel unfortunate not to have won at least four of those, possibly five.
They deserved all three points against Arsenal last night and David Moyes will be concerned that, for all the good football they're playing, The Toffees aren't scoring the goals that their play merits.
I think that Everton are missing the contributions from Kevin Mirallas in the wide areas.
As a Scotsman, I've seen Steven Naismith play a lot over the last few years for the national side and the now-defunct Rangers, and he flatters to deceive more often than not.
He doesn't contribute often enough, or provide a more consistent threat than Mirallas does and the sooner he's fit, the better.
I'd expect City to concentrate their efforts on man-marking Marouane Fellaini, but that might be their undoing.
Singling out Fellaini instead of paying the same respect to the likes of Leighton Baines, Steven Pienaar and Nikica Jelavic could put their unbeaten run in jeopardy.
When it comes to predicting the outcome, I think that City would be foolish to underestimate the threat that Everton will provide on Saturday, but it just might happen.
Something has to give in this match and I think it might be City's unbeaten home and league record, with Everton sneaking all three points.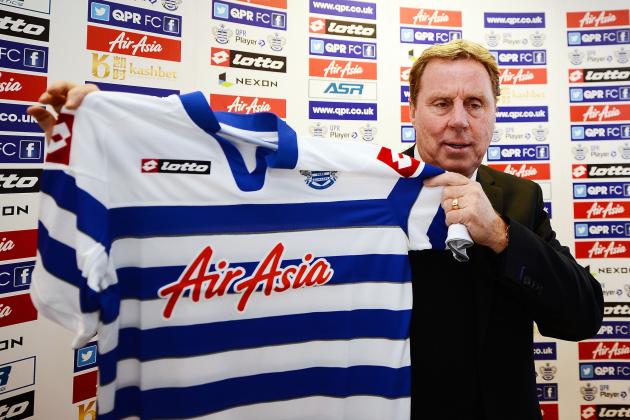 Courtesy of Getty Images
Saturday sees Harry Redknapp take charge of QPR for the first time since taking over as manager from Mark Hughes last week.
Since taking over, Redknapp has described his new club's plight as "embarrassing." On Monday, in his first press conference since taking over from Hughes (sourced from guardian.co.uk), Redknapp said:
"People keep saying we have a good team, but how do you only have four points at this stage? Something's got to be lacking… It's different to Tottenham where I went eight games into the season [in 2008 when they were bottom with two points] but they had a squad full of ability. Here, we are short but we know what we have come into. We have to find a way to bring the group together and win some matches…

"They should be embarrassed by our position. You can talk to players all day and those who aren't playing will blame those who are playing. Those who are in the team will blame somebody else. But something has got to be wrong. An excellent manager has got the sack, and I've got to put this right quickly.

"We need effort and people having a go. I've got no time for people losing the ball and throwing their arms up in the air, or standing around with their hands on their hips. We're in a relegation battle. We've got four points. It's their fault, nobody else's. I need to see people chasing, working, running and closing down."
I've got a lot of respect for Harry Redknapp.
He was harshly dealt with by Spurs, given the astonishing progress he made during his tenure there, and his refreshing honesty when assessing the state of QPR was good to hear.
Too many of the big-name signings that have come in to QPR have under-performed and in Redknapp's words, it's their own fault.
Saturday's match with Aston Villa is crucial for QPR.
They go in to December without a league win and are seven points from safety.
There's every chance that the longer their winless run continues, they might be relegated before the end of February and even that's being generous.
Redknapp is a fantastic manager and a great coach, but this time, he might have bitten off more than he can chew.
In saying that, if anyone can do it, Harry can.
Saturday's visitors are Aston Villa, whose late win against Reading lifted them out of the bottom three.
With the Darren Bent fiasco continuing and recent comments by Scotland full-back Alan Hutton (who's just been sent on loan to Nottingham Forest) about Paul Lambert in an article with birminghammail.co.uk, it seems that some experienced players are going out of their way to disrespect the boss.
Hutton is one of the most over-rated players I've seen.
He needs to remember that, first and foremost, he's a defender and not a winger.
Maybe if he worked on his defensive duties, he wouldn't have been shipped out of every club he's played for in England.
Paul Lambert's side have put in a few decent performances lately, especially in recent home fixtures against Manchester United and Arsenal.
They might be a young, inexperienced side, but there's a lot of talent in there and if Lambert can get to January with Villa in amongst the pack, I reckon he'll bring in a couple of experienced heads to help the younger kids through it.
Villa fans might have to accept that for the next few years, it's going to be a hard slog, but as long as the fans, players and the board stick behind their manager, Villa will move in the right direction.
This game won't be good to watch and I don't mean in terms of the standard of football on offer.
It will be tense and nervous, but this kind of game is where you find out who you can rely on.
Someone is going to have to be brave enough to ask for possession and get on the ball as often as they can and right now, I don't think any QPR players (apart from Adel Taarabt) will have the guts to do that.
That's why I think VIlla will come away from Loftus Road with three points on Saturday.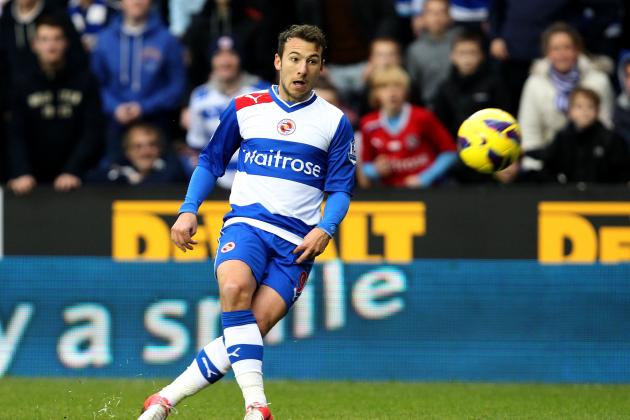 Courtesy of Getty Images
The late game on Saturday sees Reading take on Manchester United at the Madejski Stadium.
The Royals will feel that some of their performances have merited more than the nine points they've got to their credit so far this season.
Speaking with BBC's Match of the Day programme last night after their 1-0 loss to Aston Villa (which you can see here), manager Brian McDermott says his team will stick together and he feels they've not had the rewards that their play has earned.
He might just have a case, you know.
Some of the football they've played this season has been excellent and they were unlucky not to win their home ties with Newcastle and Fulham, as well as nicking a point away to Wigan last Saturday.
In Adam le Fondre, they have someone that every football team needs: a goal scorer.
Whatever division he's played in, le Fondre simply knows where the goal is.
That's something that Reading will need if they're to survive in the Premier League this season because to be honest, I can't see Noel Hunt, Jason Roberts and Pavel Pogrebnyak contributing enough goals on their own.
The last time Manchester United travelled to a smaller team on a Saturday evening, they went to Carrow Road and lost to Norwich City.
Sir Alex Ferguson will be anxious to avoid another result and performance like that.
He'll have his players well prepared for the trip south to Reading and he'll want a performance and result ahead of next Sunday's top of the table clash with Manchester City.
United have won both of their games this week relatively comfortably, but they'll be keen to avoid having to make a comeback to win the game, so expect them to come out firing on all cylinders.
I think that the formation of the front three that Fergie played last night is the way he should go going forward: play a front two of Van Persie and Hernandez, with Rooney playing slightly withdrawn.
That's where Rooney is more effective and in Van Persie and Hernandez, United have two ruthless goalscorers, capable of terrorising any defence in Europe.
Everything points to this result going Manchester United's way, but then again, I thought the same thing when they went to Carrow Road.
Reading are in decent form at home and I think if they play to their best, they might just sneak a point.
Courtesy of Getty Images
On paper, this might not look like an intriguing match to the neutral fan, but to me, this could be the match of the weekend.
After being the surprise package of the season last year, Newcastle have struggled to get going this season.
Having to fulfil Europa League fixtures has put a strain on the squad and before last night's game at Stoke, Newcastle had 10 players out injured.
One of those players, Papiss Cisse, made a comeback last night and scored Newcastle's goal in their 2-1 defeat at Stoke.
Alan Pardew will have every right to be concerned with his team's lack of form recently.
They've only won three games this season and are without a win in their last five league games, losing four on the spin.
Injuries are part and parcel of the game, and they're unfortunate when you have a smaller squad than most.
One thing that will please Pardew is the improvement between Sunday's performance at Southampton and last night's against Stoke: it was like night and day.
On Sunday, Newcastle were lucky not to lose by more than 2-0, as Saints hit the woodwork three times and had another goal chalked off for offside.
Fabricio Coloccini is now back from suspension, so that should help to tighten things up at the back, but Hatem ben Arfa and Yohan Cabaye will be huge losses until they're fit enough to return.
Any side would struggle without players of that quality, never mind Newcastle United.
Wigan are the visitors to St James' Park on Monday night and Roberto Martinez has every right to feel aggrieved that his players didn't take anything from last night's match against Manchester City.
They had three or four excellent chances and Arouna Kone should've scored at least twice with the goal gaping.
Wigan outplayed the champions for large parts of the game, but it just goes to show you how important it is to score when you're on top of a match.
If you don't take your chances, it'll come back to haunt you and that's what happened to Wigan last night.
Last Saturday, they came out on top in a five-goal thriller against Reading with Jordi Gomez scoring a hat-trick.
One thing you're almost guaranteed with Wigan is that you'll see some excellent football.
Martinez believes in playing attractive, attacking football and that's what most fans want to see.
If there's one thing that'll concern Martinez, it'll be the fact that the normally unflappable Ali Al-Habsi has had a couple of shaky moments in the last week that have cost his side a couple of goals.
I shouldn't be too harsh on the lad though, because he's saved Wigan more often than not and he's one of the most consistent keepers in the league.
In terms of the match itself, Wigan go into this game with no pressure on them whatsoever: all the pressure is on Newcastle.
If results go against them, it's conceivable that the Geordies could find themselves in the bottom three by the time all is said and done, which would have been almost unthinkable at the start of the season.
Newcastle will want to put on a performance for their home fans and the crowd will be right behind them from the off.
If Wigan can keep the crowd quiet and take their chances like they did against Reading last weekend, they could leave the north-east with all three points.