Louisville vs. Rutgers: Live Scores, Analysis and Results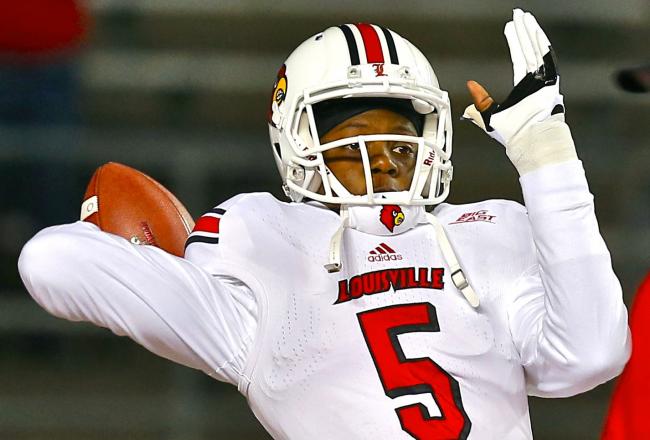 Final:
Louisville — 20
Rutgers — 17
Here are 10 lessons we learned from the Cardinals' win over Rutgers on Thursday.
Thank you for joining us tonight as we provided live scores, results and analysis for the great Big East battle between Louisville and Rutgers!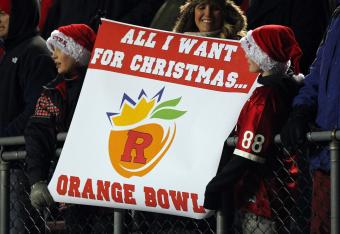 It was like many other Rutgers and Louisville matches in recent history.
At halftime, it was 14-3 in favor of Rutgers and the Scarlet Knights showed no signs of letting up. But a worn-down and beaten up Teddy Bridgewater led his team to a victory of Rutgers, 20-17. The Cardinals are likely headed for a BCS Bowl because of tonights win.
The Cardinals will share the Big East championship with Rutgers, but it was clear who the better team was on Thursday night.
Rutgers scored on its first play of the game and had one more explosive play in the first half to take the lead into the locker room.
In a span of 16 seconds in the second half, the Cardinals went from down 14-3 to being ahead 17-14.
When it was tied at 17, Bridgewater led the Cardinals on a scoring drive that put the Cardinals up by three with just under two minutes left.
Rutgers QB Gary Nova threw a pass intended for his WR , but the receiver was no where to be found down the field and Rutgers BCS hopes fell helplessly into the hands of the Louisville defensive back.
Rutgers ends the regular season with nine wins, including five in Big East play. It will await its bowl fortune in the next couple of weeks.
Louisville finishes the regular season with 10 wins and will await it's BCS destiny, which will be revealed on Sunday evening.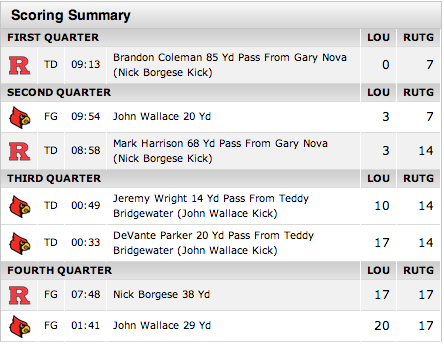 Here is the scoring summary for tonight's game. Summary is via ESPN.com.
Not good for the Big East.
19 of Big East's 22 football champions have left the conference or are leaving. The 3 stuck behind: Cincy (twice) & UConn.

— Jon Solomon (@jonsol) November 30, 2012
Here are some final stats for tonight's game.
Total yards:
Louisville — 364 (322 passing, 42 rushing)
Rutgers — 338 (284 passing, 54 rushing)
3rd down efficiency:
Louisville — 8-of-19
Rutgers — 3-of-11
Time of possession:
Louisville — 42:11
Rutgers — 17:49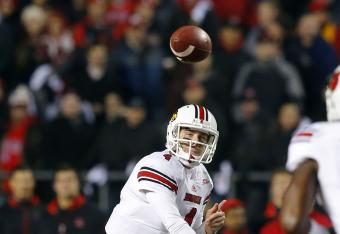 Louisville begins a celebration on the Scarlet Knights' turf. The are the co-champions of the Big East in 2012.
Louisville gets in to the victory formation and takes a knee. Congratulations to Louisville. The Cardinals will represent the Big East in the Orange Bowl.
Interception by Louisville. That will be your ballgame.
Gary Nova threw it up and the WR was nowhere in the picture. Easy interception for the Louisville defensive back.
Will Louisville play the prevent defense that never prevents opponents from scoring?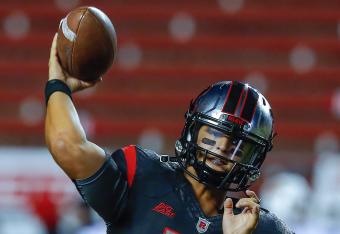 These are the opportunities that athletes dream of. Gary Nova gets a chance to lead a game-winning TD drive for a chance at the Orange Bowl.
Field goal is good. Louisville — 20, Rutgers — 17. Fourth quarter — 1:41
Rutgers gets the ball back and will have a chance to tie or win it with a BCS spot on the line.
Its 3rd-and-6 and you run the ball? When there's been no success running the ball throughout the game? Don't get it.
This is setting up to be a great finish if Rutgers can hold Louisville to a field goal on this drive.
That missed tackle doesn't seem like a big deal now, does it?
Burgess makes up for missed tackle earlier with INT #Cards

— C.L. Brown (@clbrown_cj) November 30, 2012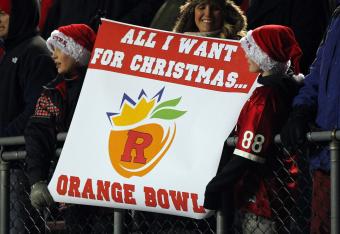 Interception by Louisville. The Cardinals will get the ball in fantastic field position with just under four minutes left.
Rutgers brought the heat and Bridgewater barely stood a chance. Rutgers will get the ball with just over four minutes left.
Anyone else smell an overtime game coming?
The Heisman favorite applauds Teddy Bridgewater.
Love the way Teddy Bridgewater is playing tonight. Playing hurt and still trying to will his team through this game #respect

— Johnny Manziel (@JManziel2) November 30, 2012
Amazing catch by the Louisville WR to get the Cardinals some breathing room.
This could be a big 3-and-out here for the Rutgers defense. A stop here would almost guarantee great field position.
Now that you mention it, you're right.
Rutgers mascot is basically what Sparty would look like is he stopped taking HGH.

— Adam Kramer (@KegsnEggs) November 30, 2012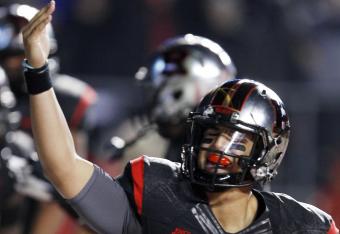 Field goal attempt is good. Louisville — 17, Rutgers — 17. Fourth quarter — 7:48
We're all tied up in Jersey.
Great job by the Rutgers' receiver on that play. That could have easily been an interception and he prevented it by knocking the ball away.
Good receivers turn into defensive backs on those plays.
Neither team has had much success tonight on the ground. Rushing yards have been hard to come by.
I was just about to post this tweet before the interception occurred.
#Cards look like they're not going to get conservative; offense in a rhythm and Rutgers is on its heels

— C.L. Brown (@clbrown_cj) November 30, 2012
This article is
What is the duplicate article?
Why is this article offensive?
Where is this article plagiarized from?
Why is this article poorly edited?