WWE Weekly Recap: What You Missed Since Last Week's Raw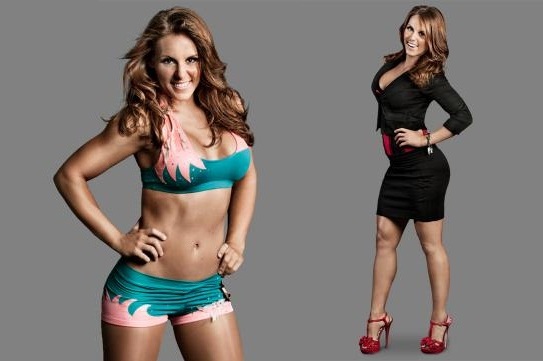 Audrey Marie competed on NXT this week (image credit: InYourHeadOnline.com)
Well, I may have taken a week off for Thanksgiving, but as we all know, WWE never takes a break. I hope you all watched the "other" shows during the week I didn't write, or at the very least found another writer who can give you some updates.
We're all anxiously awaiting Tables, Ladders & Chairs and any new developments that may strengthen a pay-per-view that has the potential to bomb. Fighting for whatever PPV exposure they can get, this is the time of month the regulars from Superstars and Saturday Morning Slam are trying to catch the booking team's attention.
But to see how they're doing, you're gonna have to pay attention to shows like NXT, Main Event, Superstars and Saturday Morning Slam. They're not going to show "Saturday Morning Rebounds" on Monday Night Raw or "NXT Notes" on SmackDown.
My "highlights" version of all four shows is below.
If it piques your interest enough to read on, the slideshow breaks down the shows individually, segment by segment, complete with my questions and predictions. And for all of Dustin's Diamonds, I expect your input on those questions. Especially on this week's Zack Ryder question.
Highlights
On NXT, Leo Krueger got a victory over Trent Baretta in a short but solid match, while Xavier Woods and Audrey Marie squashed their opponents, Memo Montenegro and the debuting Emma, respectively.
Roman Reigns was "too busy" to show up for a scheduled backstage interview, and Michael Cole made an appearance to moderate a face-to-face encounter between pre-Shield NXT Champion Seth Rollins and pre-3MB Jinder Mahal.
In the main event, Team Hell No defended their WWE Tag Team Championship successfully against Johnny Curtis and Michael McGillicutty, a title shot that Johnny Curtis earned when he won season four of NXT.
On Main Event, Damien Sandow was unable to rid the WWE Universe of their "false idol" John Cena, but it was a great match that made Sandow look like a legitimate contender.
Antonio Cesaro defeated Zack Ryder in a similar (yet much quicker) fashion, and his post-match anti-American rant eventually led to a champion vs. champion match being set up for next week, Cesaro vs. Kofi Kingston.
On Superstars, Santino Marella defeated David Otunga, Brodus Clay defeated JTG, and the rest of the program was filled with Raw recaps.
On Saturday Morning Slam, we were treated to matches taped in England, including Jinder Mahal defeating Ted DiBiase and The Usos defeated Justin Gabriel and Tyson Kidd.
In other segments, Layla talks about language barriers between England and the United States, the Video Vault focuses on English-born WWE Superstars (Davey Boy Smith, Paul Burchill, William Regal, Wade Barrett) and Wade Barrett was the the star of this weeks Superstar Spotlight. The show ended with Heath Slater accepting John Cena's open challenge for next week's SMS.
Now, if you care to read more about any of these happenings, please enjoy the slideshow.
Begin Slideshow

»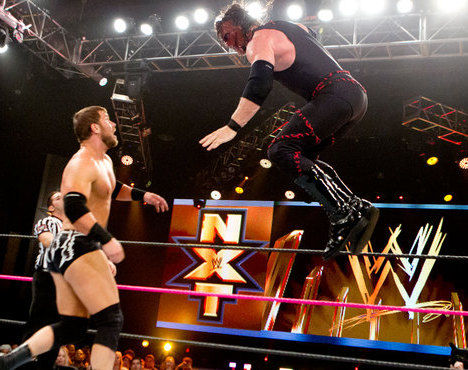 Credit: WWE.com
NXT begins with Daniel Bryan cutting a backstage promo. He acknowledges his NXT history, everything he's accomplished since NXT and then goes into a standard "dysfunctional" promo with Kane before the show starts.
As we cut back to the arena, Jim Ross and Tom Phillips are on commentary as Trent Barretta makes his way to the ring with bandaged ribs. They show a clip from last week with Barretta down after an attack before his scheduled match with Kassius Ohno, Leo Krueger the implied assailant.
Trent Barretta vs. Leo Krueger (match length 4:44)
Barretta managed to get in a few offensive spots, showing off his high-flying, agile means of attack. But Krueger's strength advantage and Barretta's injury proved too much for Barretta to overcome. NXT's modern version of Skinner wins the match after hitting the Krueger End.
Xavier Woods vs. Memo Montenegro (match length 2:14)
After the commercial break, Xavier dances his way to the ring to face ADR kin Memo Montenegro. WWE already has enough dancers as it is; he'll need an updated gimmick before debuting on Raw or SmackDown.
Almost all of Woods' offense played to his obvious speed and agility advantage; Montenegro was not given the opportunity to utilize his size and strength advantage. I imagine it will be a while before we see Memo teaming with Del Rio.
Audrey Marie vs. Emma (match length 2:41)
As we return from another commercial break, Audrey is making her way to the ring to face the Australian Emma, who is patiently waiting in the squared circle to make her NXT debut.
Until I heard her entrance music, I was unaware that Audrey was a "country cowgirl." There are some obvious similarities to Mickie James.
Emma managed to get in some offense, and even earned a faint "Let's-Go-Em-Ma" chant from the audience. Although the match was short, it showed that both competitors are being groomed very well. If this is the future of the WWE Divas division, then someone is doing something right.
Audrey wins the short match after connecting with the Last Round-Up Slam.
Post-match, Tony Dawson is backstage for what is supposed to be an interview with Roman Reigns. When the camera cuts to Dawson, he is alone. He says that Reigns did not show for the interview, but sent a "urgent press release" instead. The note said that, since Reigns is such a blue-chipper, he has to meet with his "team" to sort out all of his endorsement deals.
The way this segment was edited, it's entirely conceivable that it was added to the show after the Shield got their Raw assignment, and that they'll use this as part of an explanation as to why these guys are gone.
If you're unaware, NXT is taped far in advance of the air date. I'm not entirely sure how far in advance (I believe within the range of a month or two), but it will be interesting to see what they do with Rollins and Reigns on NXT until the tapings reach the point that those guys were called up.
After another commercial break, Michael Cole makes his way to the ring to moderate a face-to-face encounter between NXT Champion Seth Rollins and No. 1 contender Jinder Mahal. The spot was rudimentary. Rollins said that he is one of the people, that he has the heart of a champion and that Mahal is desperate and a coward. Mahal says that Rollins' championship was a fluke, that Rollins is a loser like audience and that Mahal is a winner by birthright.
Of course, the segment ends with a brawl. Mahal locks in the Camel Clutch until several referees pull him off.
Mahal is doing much better as a member of 3MB. Rollins still needs some work before he's ready to be a big player on Raw or SmackDown.
Team Hell No vs. Johnny Curtis and Michael McGillicutty (match length 7:02)
WWE Tag Team Championship Match
It seemed strange to me that they would put the WWE Tag Team Champions against a couple of guys that aren't even competing as one of NXT's top tag teams. If Team Hell No faced The Ascension in a non-title match (so the ending is less predictable) it would tear down the house.
An explanation is given, however, that this was set up so that Curtis would finally get the WWE Tag Team Championship match he was guaranteed as the winner of NXT season four. Look at that: WWE finally tying up a lose end.
Both teams are introduced and in the ring as we head to a final commercial break before the bell rings. The match still hasn't started when we get back from commercial break, and there's just over nine minutes of programming left when things officially get under way.
The match is fairly solid, the guys from NXT escaping without any real damage to their reputation. They got some offense in, but it was never a question that Bryan and Kane would retain.
Hell No went through some of their standard shenanigans leading to a spot in which Kane had Bryan and McGillicutty set up for a double-chokeslam. Curtis came in, distracted Kane while trying to make the save, which allowed Bryan to put McGillicutty in the No Lock for the victory.
Post-match, Bryan and Kane gave in to the crowd's pressure and hugged it out.
Prediction: This week's episode felt a little flat compared to other episodes in recent weeks. It's beginning to feel like any other WWE program, especially with multiple matches (three out of four this week) lasting less than four minutes. If NXT continues to be booked in this manner, they will lose whatever fanbase they currently have.
Question: How will the writers address the issue of the Shield leaving NXT, especially with Rollins being the champion as recently as October (the middle ring rope from this taping was still pink)?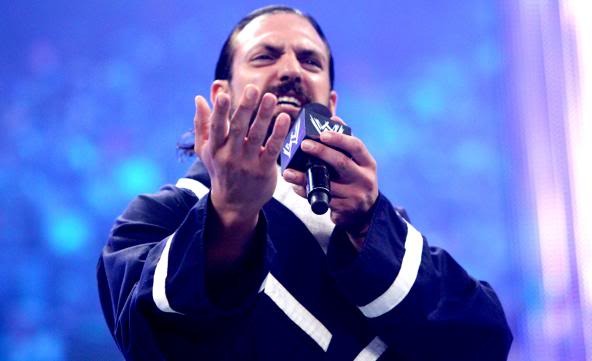 Credit: 411Mania.com
With The Miz just returning from the Vince-led tour visiting the troops, JBL steps up to co-host this week's Main Even with Michael Cole. They talk up tonight's match between John Cena and Damien Sandow before showing video packages for both Superstars.
John Cena vs. Damien Sandow (televised match length 13:34)
As Cena made his way to the ring and briefly stopped to make his regular comment towards the cameraman, I could have sworn he said, "Because it's Tuesday." Sandow quoted Socrates on his way to the ring.
If you didn't get a chance to watch this match, I have a feeling you've at least heard about it by the time you read this. Although no one would have expected anything other than a Cena victory (or maybe a Sandow victory with some significant assistance), Sandow and Cena put on a really, really solid match.
Throughout the course of the match, based mostly on the emphasis Cole put on how big a win would be for Sandow, I half expected Ziggler to make an appearance and cost Cena the match.
The match lasted through two commercial breaks, continuing the standard of at least one lengthy match on Wednesday nights. Sandow managed to get in all of his best offense, including some strategic spots outside the ring, but he couldn't keep Cena down.
In the end, Cena gets a submission victory, as Sandow tapped out almost instantly once Cena had the STF locked in.
After a Raw Rebound, Sandow was scheduled for an interview backstage with Josh Matthews. In a segment that had to be influenced by (or stolen from) the Roman Reigns segment from this week's NXT, Sandow left a note instead of showing up for his interview. He basically says that he is too good to be around Matthews and that he will eventually rid the WWE of Cena, the "false idol."
Before the commercial break, we get a short video package for Antonio Cesaro, as he will face Zack Ryder in the second match of the evening.
Antonio Cesaro vs. Zack Ryder (televised match length 6:50)
This match went just as you'd probably expect it to go. Cesaro was in control for almost the entire time, with Zack continuing to hang on and mount some sort of comeback. Cole and JBL continued to sell the fact that Cesaro hasn't been beaten by an American.
Despite the fact that he spent most of the match selling Cesaro's offense, Ryder didn't come away looking too bad. He stayed with Cesaro the entire match, didn't have any noticeable botches and it took two solid moves to finish him off.
During the one flurry of offense Ryder had, he sent Cesaro to the floor. As Ryder dove over the top rope towards Cesaro on the floor, the Swiss superstar managed to connect with a brutal uppercut. He rolled Ryder back in the ring, hit the Neutralizer and scored another victory.
Post-match, in the midst of one of his standard anti-American promos, he was interrupted by Kofi Kingston. This set up next week's Champion vs. Champion main event, as Cesaro accepted Kingston's challenge.
Prediction: Cesaro/Kingston will be plagued with interference from Wade Barrett, and the whole ordeal will lead to us finding out who Cesaro will face at TLC.
Question: Has Zack Ryder already seen the peak of his career? Was working an angle with Eve and Cena and the US Championship the most significant thing he will accomplish as a wrestler? Or will he eventually make a big comeback?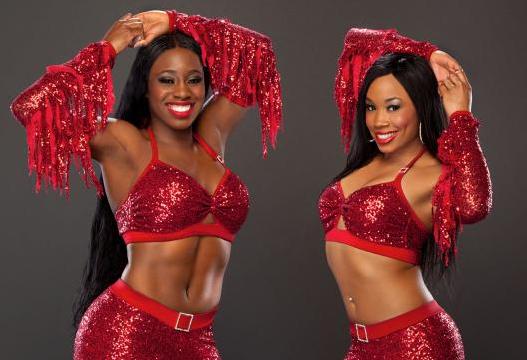 Credit: CageSideSeats.com
Matt Striker and Scott Stanford are on commentary as Superstars opens this week, and Santino Marella is on the way to the ring to get the opening bout started right off the bat.
Santino Marella vs. David Otunga (televised match length 7:52)
WWE's only Harvard Law graduate comes out to face the Milan Miracle, and Matt Striker starts to sound like Jerry Lawler with his outdated lawyer jokes. They set this match up as if the opponents are fairly equal, with Otunga probably considered the favorite by a small margin.
Control of the match goes back-and-forth, Otunga playing up his impressive physique, Marella playing to the WWE Universe per usual. After holding Marella in a grounded submission hold, Otunga uses a vicious elbow to send his opponent to the floor outside the ring, and Otunga flexes as we fade into paid advertisements.
When we return, Otunga is still in control, but Santino clearly hasn't given up. Otunga dictates most of the remainder of the match, until Marella finally get the opportunity to pull out the Cobra and take the victory from Mr. Jennifer Hudson. The commentators tease that this may be the beginning of a big "comeback" of sorts for Marella. I kinda doubt it.
After a commercial break, we get an unofficial Raw Rebound recapping the AJ/Cena/Vickie/Ziggler drama from Monday Night Raw. We then go to a commercial break, which is to be followed by the Ziggler/Cena match from Raw. After that is over, we're finally informed of the last Superstars match of the night, Brodus Clay vs. JTG. Then they show a trailer of the Attitude Era DVD before cutting to another commercial break.
If you consider Raw Rebounds and DVD trailers as little more than commercials for those products, take a look at the middle of this show immediately following the first match: commercial break, Raw replay (commercial), commercial break, Raw replay (commercial), ten-second announcement of Clay/JTG (technically a commercial, even if for the same show you're already watching), a trailer for WWE Attitude Era (commercial) and one more official commercial break.
Needless to say, the middle of this show does not need to be watched unless you're one of those extremely rare fans that does watch Superstars, doesn't watch Raw, and still wants to know what happened on Raw.
Brodus Clay vs. JTG (televised match length 1:25)
As the bell rings for the final match of the evening, there's a total of just under eight minutes remaining in the program. They won't even make it to the next commercial break. The Funkadactyls making an appearance are the only good part of this segment.
Clay wins in a squash match and invited some kids to dance with him in the ring to celebrate his victory.
After the match, we get a promo for WWE on YouTube, go to a commercial break, and then see another Raw replay of CM Punk, Ryback and the Shield. That's how they end the program.
Prediction: If either Brodus Clay or Santino Marella make it to TLC, it will only be as part of the free pre-show.
Questions: Will WWE ever admit that this show is little more than a giant replay of Raw with a few matches for guys that normally have to job on Raw or SmackDown?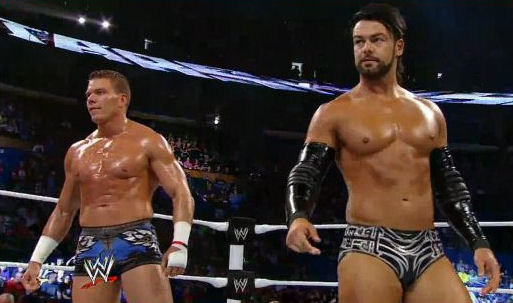 Credit: WWE.com
The matches from this week's edition of Saturday Morning Slam were taped while WWE was still in England, meaning they are a little behind the live shows. 3MB (sans McIntyre) make their way to the ring as the show opens, while Josh Matthews and R-Truth are on commentary.
Jinder Mahal vs. Ted DiBiase (match length 2:57)
The match is fairly competitive, with DiBiase getting the advantage early and Mahal running to Slater for protection. R-Truth comments that it's dumb to play instruments that aren't there, setting up an obvious Little Jimmy joke from Matthews.
DiBiase keeps control for the rest of this short match, until he attempts a high cross body from the top ropes. He nails it, but Mahal uses the momentum to put himself in pinning position as he steals the victory from Teddy, Jr.
The next segment features Layla explaining the language barriers between the United States and England: policemen vs. bobbies, subway vs. underground, elevator vs. lift, bathroom vs. loo, etc.
Then we get the weekly Video Vault, this edition focusing on WWE superstars (past and present) that emanate from England. The shows footage of William Regal, "The British Bulldog" Davey Boy Smith, Paul Burchill (I had to Google that one myself) and Wade Barrett.
Wade Barrett also serves as the subject of the Superstar Spotlight that immediately follows, before we head to a commercial break. Following the break, we'll have our main event.
The Usos vs. Justin Gabriel and Tyson Kidd (televised match length 6:25)
Both of these teams are pushed as faces that tend to get victories on filler shows like these, so it will be interesting to see who wins this match that was even promoted on SmackDown this week. Neither team clearly dominates, but the crowd seems to be behind Gabriel and Kidd.
After a commercial break, the teams continue to appear evenly matched. At the end, Gabriel appeared to be going for his 450 Splash, but in the end, the Usos hit the Alley-Us for the win. The crowd didn't seem to be especially happy with the outcome.
Before the show ends, Cena is backstage to issue an open challenge for his wrestling debut on SMS next week. Heath Slater steps up. Next week's main event will see the leader of the Cenation vs the original One Man Band.
Prediction: The Usos won't ever get completely over being pushed as "islanders," especially as faces. They need to figure someone else out, or they'll be the modern version of their father's mostly unsuccessful tag team, the Headshrinkers.
Question: Why does WWE use a different superstar to do commentary on each episode of SMS? Do they think it will connect with the younger audience? Are they testing out which superstars should be used in that capacity in the future? Are they just trying to give the superstars as much exposure as possible?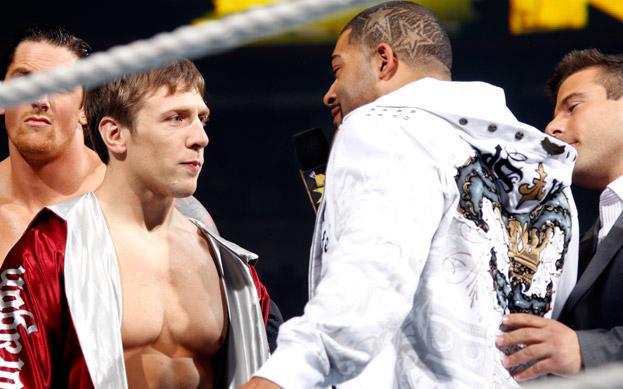 Daniel Bryan, Wade Barrett and David Otunga from their NXT days. (Image credit: Wrestlegasm.com)
I don't like ending these slideshows with the Saturday Morning Slam review, but it's not always easy to come up with another worthy topic that applies to all four of WWE's lower-rung shows. Starting next week, I think I'll rate the one Superstar that benefited most from the week's lower shows and which Superstar's career suffered the most.
As a general rule, which wrestlers do you think are doing well on these shows? Who do you think the WWE has on deck for Raw? Who comes away looking bad even on these shows that get such little attention from WWE?
Dustin's Diamonds, I expect a lot of responses from you.
You can follow Dustin on Twitter, check out his blog or listen to his podcast.