Is Brad Jones Good Enough to Be Liverpool's First-Choice Keeper?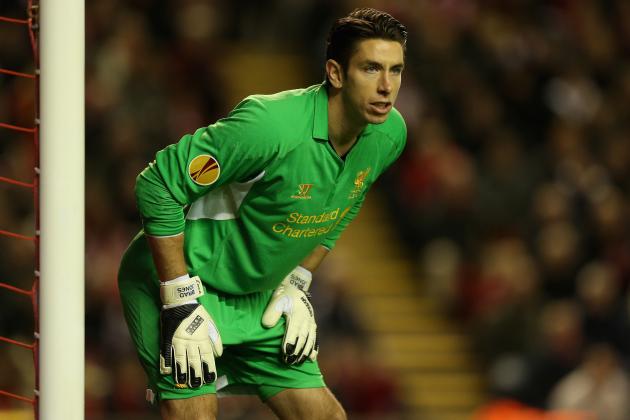 For almost the first time since arriving at Liverpool in the summer of 2005, Pepe Reina's position as first-choice goalkeeper is being called under question.
The Spaniard has been largely imperious since signing from Villarreal, but over the past two Premier League campaigns his performances have been rather up-and-down, with significantly more "downs" this year so far.
Two clean sheets in his past three matches hints at the beginnings of a comeback perhaps, but his best form is yet some way off.
This has led to calls for Brad Jones to continue in goal in some quarters, after he played seven games in a row while Reina was injured in October and November.
With Alexander Doni absent for a long stretch this season, Peter Gulacsi still untested in the top flight and no other senior keepers on Liverpool's books, is it time Jones was handed a chance at becoming the Reds' new No. 1?
Begin Slideshow

»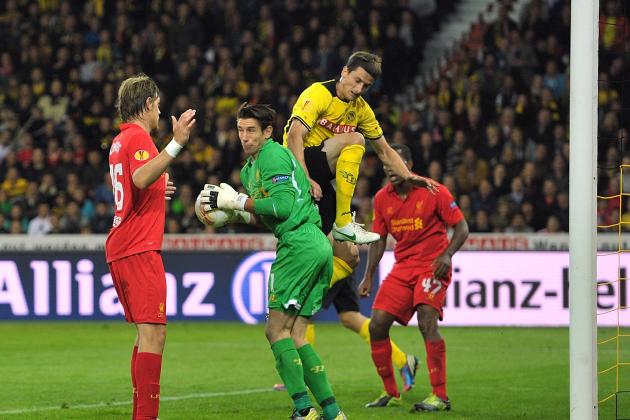 Here's the thing about goalkeepers: Some become highly-rated in the media, praised to the high heavens because they make good saves.
Because they're good at shot-stopping.
Perhaps, once upon a time when wing-backs were still unheard of and a tactical innovation meant bringing on a substitute, this was all that needed to be true for a goalkeeper to be classed as "good".
But it's not any more, and hasn't been for decades.
At it's very basic level, goalkeeping is designed to stop goals from being scored—but actually saving shots is only one method of doing so.
Brad Jones isn't a bad shot-stopper. He's athletic, has good reflexes and his general handling has improved over the run of games he has had, no doubt borne of improved confidence and comfort from playing behind the defence regularly.
However he is also adept at claiming high balls, whether by catching or—as is often his preference—punching.
The latter has ended disastrously more than once though; when he fails to get distance on his punches, the opposition has a chance to shoot at goal, as shown by Everton scoring by this very method in the most recent derby clash.
Jones is happy to organise his defence and can often be seen and heard directing them at set pieces, though he is not the most vocal throughout the entire 90 minutes.
His starting position is good and he is happy to race out and close down attackers when confronted with a one-on-one situation.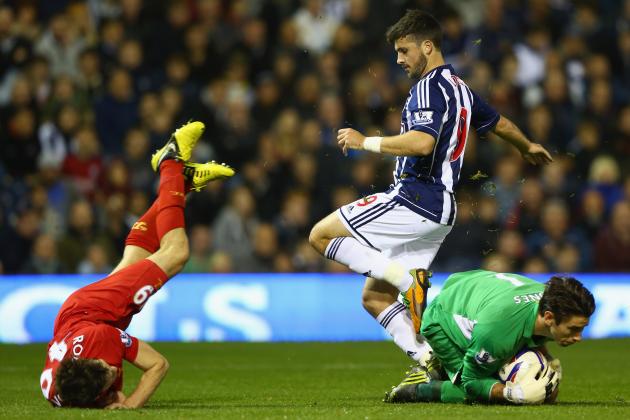 A big part of Liverpool's play has always been maintaining possession of the ball, and this includes the goalkeeper.
When opposing teams press the Reds backwards, the central defenders have two choices: hit longer or go back to the keeper.
Brendan Rodgers wants his stopper to be able to play football comfortably, and Jones has been alright in this regard this season. Understandably, when he first came to the team he was be more inclined to hit the ball long, perhaps in fear of making a mistake, but as the games went on he more often sought out a teammate in close proximity.
He does still have a tendency to look towards the players in the second line—not only the central midfielder who drops deep, but also the full-backs who are pushed further up the pitch and the other central players.
By way of comparison, Jones has completed 58 percent of his passes successfully in the league this season (four starts), while Reina has managed 72 percent (10 starts). For Reina, this is an improvement on last season's 64 percent pass completion.
Goal kicks after the ball had gone out of play are not included in these statistics.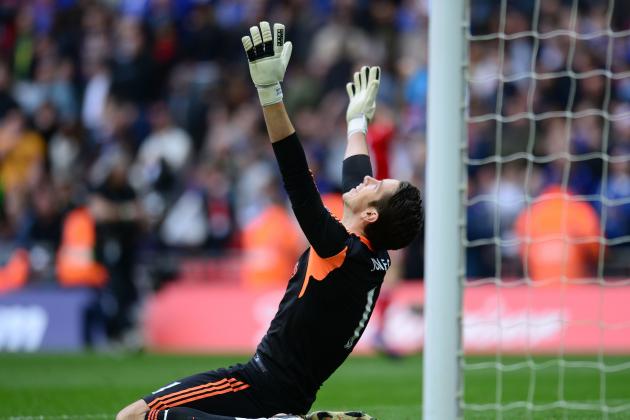 Without actually being in the squad and interacting with the players on a day-to-day basis it's impossible to say for sure, but Brad Jones seems to be a very well-liked and respected member of the squad.
Despite not being featured regularly on the first team, Jones has not complained or gone to the press about his situation. Even when he was sent out on loan in 2010-11 and made third choice stopper the season after, he did not create a fuss.
The suffering he has had to deal with in his personal life has no doubt thrown into sharp contrast exactly what constitutes a problem in his professional life.
Testament to his professionalism and strength of character, Jones has fought back to be an important part of the squad this season and of course made a memorable Wembley appearance in last season's FA Cup semifinal.
The good will shown towards him by the other players and fans when he was called upon indicate that he is a good person to have around the squad, even if he is not in the match.
Jones has picked up far fewer senior games than you might expect for a 30-year-old, having spent much of his career as a second choice or squad goalkeeper. Indeed, only this season did he surpass the mark for 100 league appearances, garnered over time spent at Middlesborough and now the Reds, with five loan spells thrown in the mix at various clubs.
He has also won three international caps for Australia, with Mark Schwarzer being the long-term No.1 ahead of him.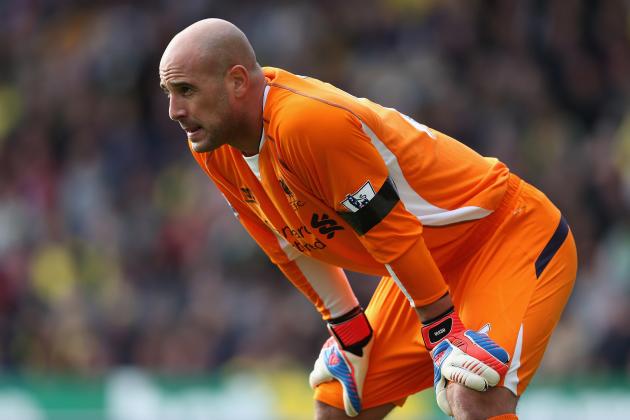 This is the most pertinent question, perhaps.
Are Liverpool actually looking to replace Pepe Reina? Or do they want to give him real competition for his place so that he improves his own performances?
Mirror Football have been running something of a saga over the past few months, complete with self-contradictions at every turn.
When the transfer window was still open, speculation raged that Brendan Rodgers was targeting Jack Butland as cover, while early September saw them state that Marc-Andre ter Stegen was the target and that Reina was being given until January to prove himself—on the same day.
A few days after, Reina's agent was quoted as saying the goalkeeper wasn't leaving and was merely out of form, while more recently the same paper now believes Reina wants to leave for big money and that Rodgers would willingly sell, and replace the Spanish stopper with Wigan's Ali Al-Habsi.
Oh, and then just a few days ago they decided that Rodgers was backing Pepe, calling him one of the best in Europe and claiming that he was committed to the club.
So, in short, who knows.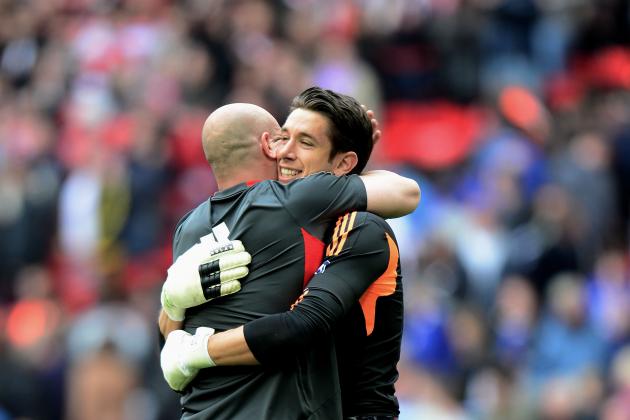 With Brendan Rodgers at the beginning of his rebuilding of Liverpool, he needs to decide quickly who his first-choice goalkeeper is going to be.
Pepe Reina has proven himself for half a decade to be a top class goalkeeper but has quite visibly suffered over the past two years. If he is able to recapture the form of before 2009-10 then there is no question to answer; Brad Jones has never reached those heights and in all honesty is not likely to ever do so.
But the question of whether Reina is in good enough form to stay in goal remains open for now.
January will see Rodgers have the opportunity to improve his squad somewhat, but limited time and funds mean other areas of the team will likely be prioritised—such as the attack.
If Reina is to leave the club it will likely not be until next summer, meaning six months of football are yet ahead of him at Liverpool.
Brad Jones is not likely to get a chance to become No. 1 if Rodgers brings in a new recruit in the summer of 2013; for him it is very much a case of now or never.
Reina has been restored to the side for the past three games, showing he is the undoubted first choice at present, but further errors—or injury—will see Jones back between the sticks.
He's a solid, mainly reliable No. 2.
But that's been his level throughout his career, and Reina's poor form doesn't disguise that.
Statistics from EPLindex.com