Ohio State vs. Duke: Report Card Grades for the Buckeyes
If a tie is like kissing your sister, then the Big Ten and ACC better pucker up.
The ACC/Big Ten Challenge ended in a tie at six games apiece when Duke came from behind to beat Ohio State in Cameron Indoor Stadium Wednesday.
This loss is all about perspective if you are a Buckeyes fan. Sure, the team played very well in the first half and for short stretches in the second at one of the toughest venues in America, but blowing a 10-point lead is always tough to swallow.
Read on to see the grades for Ohio State and its players.
Begin Slideshow

»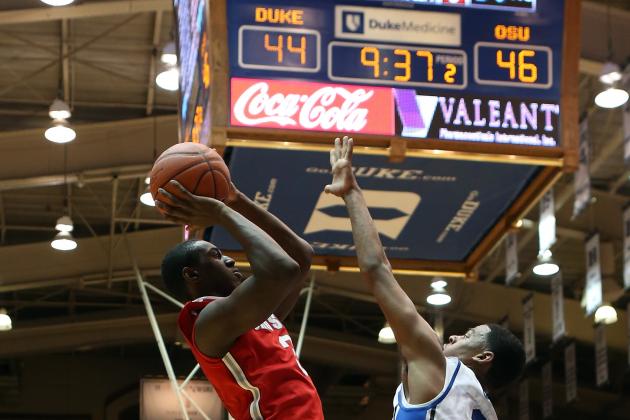 If it was not for the offensive rebounds that Ohio State was grabbing in the first half, the offensive performance would have been borderline putrid.
The Buckeyes shot an embarrassing 33.8 percent from the field and an even worse 28.6 percent clip from behind the three-point line.
To make matters worse, the Scarlet and Gray missed a handful of critical looks from the line down the stretch, which isn't going to cut it when trying to pull off an upset in Cameron.
Sure, Deshaun Thomas being in early foul trouble didn't help, but even when he was in the game, his teammates struggled to find him for open shots. There was way too much one-on-one play from almost everyone who played.
If you are looking for the main reason why the Buckeyes lost, look no further than the offense.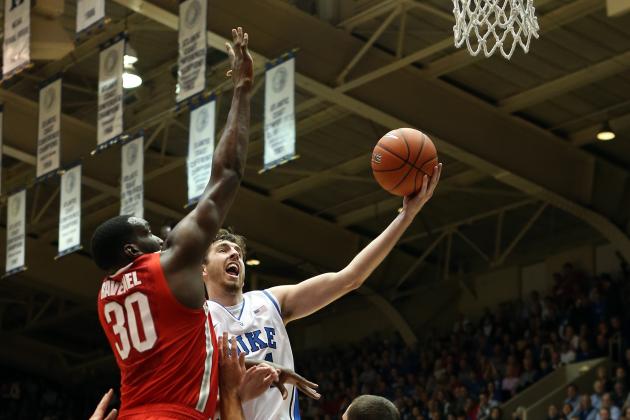 Had Ohio State played defense in the second half like it did in the first half, this grade would be an A-plus.
However, the wheels came off after intermission, as Duke started to bang home plenty of open looks from downtown. What's more, it seemed as if the Buckeyes had a number of possessions where they played great defense for 30 seconds and then let someone blow by them to the basket for an easy hoop.
To put things into perspective, the Blue Devils scored a mere 23 points in the first half, but poured in 50 after halftime.
Although that second half performance was certainly frustrating for Ohio State supporters, let's not overlook how great the defense was in the first half.
If Thad Matta can find a way to get his team to replicate its early defense, the Buckeyes should win plenty of games this year.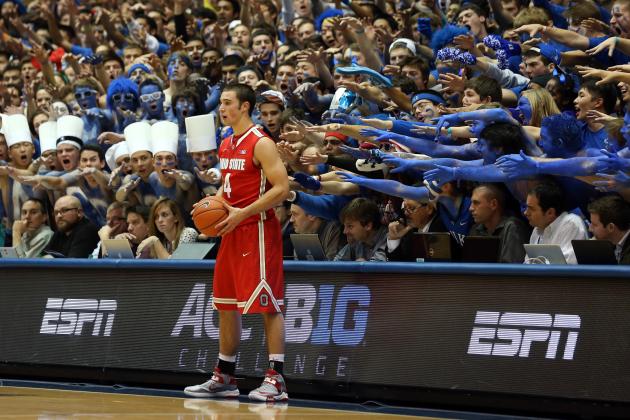 This grade might be a bit harsh, but this was one of the worst games I have seen Aaron Craft play during his tenure at Ohio State.
Craft took 15 shots on the offensive side, which is far too many for someone who is supposed to be a pass-first point guard. In fact, no Buckeye shot more times from the field than Craft, and he only hit three of them.
On the defensive side Craft was certainly better, but he didn't really make the type of impact that Ohio State fans are accustomed to seeing. He didn't rack up any steals, only drew one charge and frankly didn't create the type of disruption he usually does.
Perhaps the bar has been set so high for Craft on defense that we are disappointed when he doesn't live up to it. He certainly didn't against Duke.
Craft also provided a cherry on top of this ugly sundae by fouling out of the game at the end.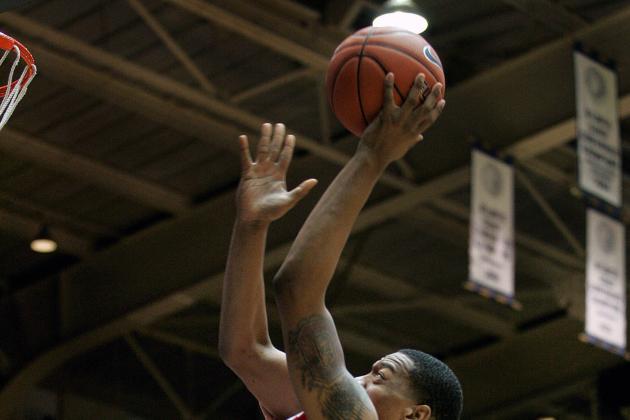 The biggest problem with Lenzelle Smith's performance was his shot selection.
He attempted 12 shots and hit four, but many of those looks were completely forced over tight defense. Smith is a decent option for the Buckeyes, but he shouldn't be taking those types of shots.
Smith's defense was much better than his offense, but there were a handful of mental lapses that resulted in open looks for his man. In case you didn't guess, those primarily came in the second half.
Ultimately, it is probably a good sign for Ohio State that Smith is being so assertive on offense this year. His contributions will be much needed when the grind of the Big Ten begins.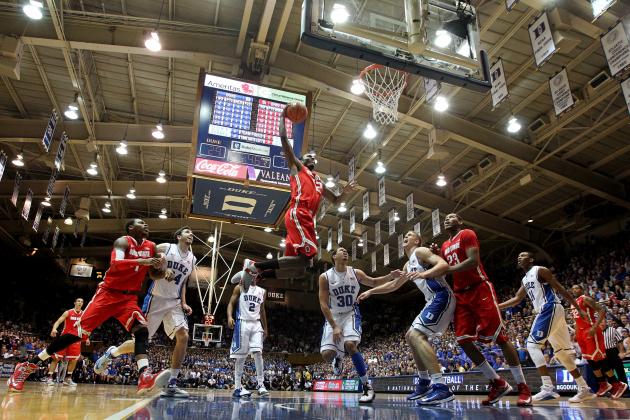 Sam Thompson was one of the few bright spots for Ohio State in Wednesday's game.
The sophomore played with great energy on both sides of the ball and wasn't the liability on offense that he was for much of last year.
Thompson was formidable on defense, which was punctuated by his eight rebounds. He also looked explosive driving the lane, even though he only scored four points.
It is clear at this point that Thad Matta is more comfortable with Thompson playing the majority of the minutes at the small forward spot instead of LaQuinton Ross.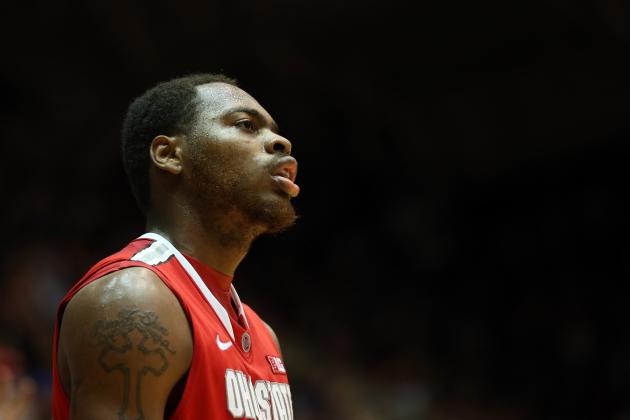 If Deshaun Thomas had gotten more looks on the offensive side, the Buckeyes may have come away from this game with a victory.
It seemed as if Thomas was pressing a bit early, but he was just starting to settle into a groove when he picked up a critical second foul. While Ohio State held it together until halftime without its best player, a few extra looks at the hoop would have served Thomas well in the second frame.
Frankly, Thomas' teammates needed to look for him more in the second half, although he wasn't offering them much in terms of getting open.
As for the defense, there is clearly some improvement, but he just looks lost way too often. Only two rebounds from the power forward spot is also borderline unacceptable.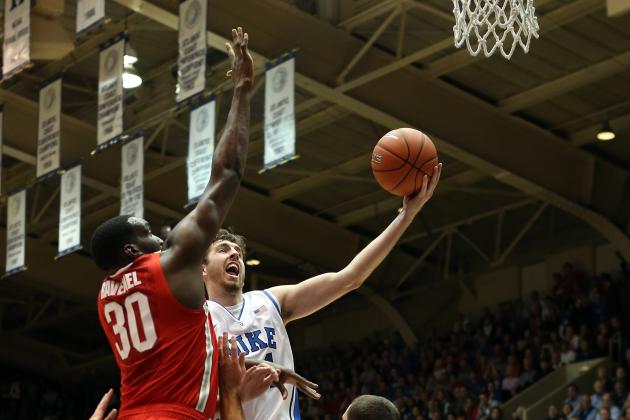 Two rebounds and three fouls.
That is what Evan Ravenel offered Ohio State from the starting center position. Yes, Ravenel was 4-of-4 shooting from the field, but Thad Matta probably prefers a better performance on defense and the glass from Ravenel over those types of offensive numbers.
Not to play armchair quarterback, but you have to wonder if the Buckeyes would be better off playing Amir Williams in the center spot for the majority of the minutes.
The taller Williams grabbed 10 rebounds off the bench and altered a number of Duke shots in the paint.
Ravenel simply didn't.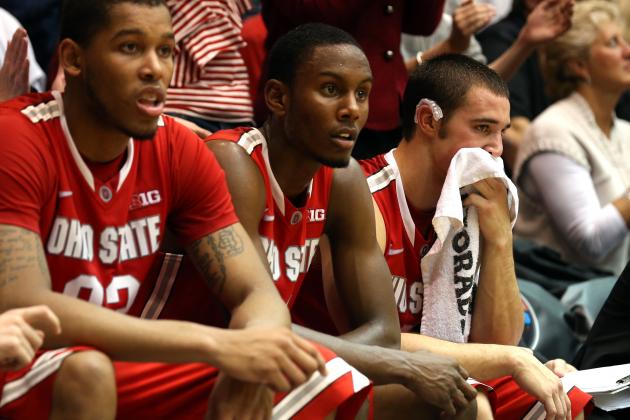 Thad Matta's bench, which seems to be getting more minutes than it has in past years, did an excellent job in the first half, holding ship with Aaron Craft and Deshaun Thomas in serious foul trouble.
Amir Williams was a force on the glass as discussed in the Evan Ravenel slide, LaQuinton Ross was getting some open looks and boards and Shannon Scott looked fairly comfortable running the offense.
And then the second half began.
Williams wasn't as dominant grabbing rebounds as he was early, Ross barely played and Scott looked like a completely different player.
In fact, had Scott not completely forced the issue on a number of possessions and finished with a 1-of-8 line from the field, the Buckeyes' bench would have garnered a much better grade than this.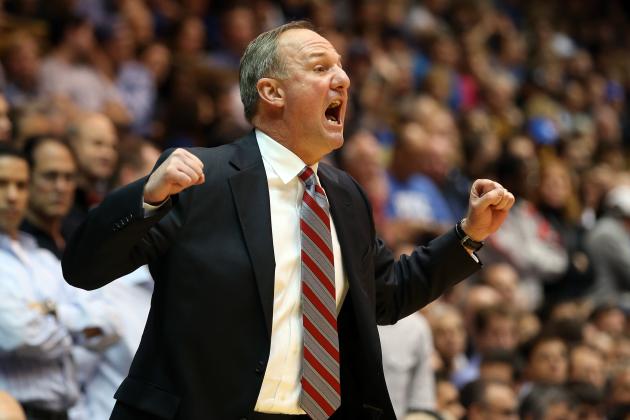 There's really only so much you can do as a head coach on the road in an intimidating environment when your two upperclassmen and leaders are in foul trouble during much of the game.
Thad Matta has been criticized in the past for his under-utilization of the bench, but I thought he made a number of effective substitutions and rotated eight players throughout much of the contest.
The best thing Matta could have done is taken a timeout before Duke went on its late game run and stressed to his team that Deshaun Thomas needed to be getting the ball. There were too many possessions where Aaron Craft and Shannon Scott were forcing the issue and not looking for the best player.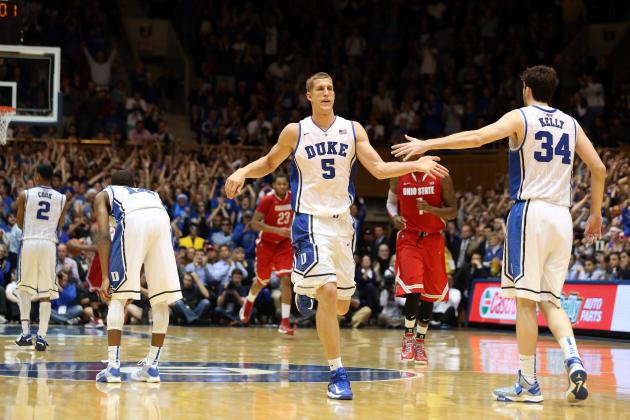 I was definitely a bit harsh on some of the grading, but it's hard to play the moral victory card when you are the No. 4 team in the nation.
There were a number of question marks surrounding the Buckeyes heading into this one, and the weak schedule to this point hadn't done much to provide us with answers.
Despite the heartbreaking loss, Ohio State fans have to be encouraged by the fact that their young team went into arguably the most intimidating arena in the country and controlled much of the game against an incredibly talented Duke squad.
College basketball is much different than its football counterpart because a tough loss like this does not derail the entire season.
Thad Matta's bunch will learn from this and should be ready to play against the majority of the teams in a deep Big Ten.