WWE: Best Face and Heel Turns of 2012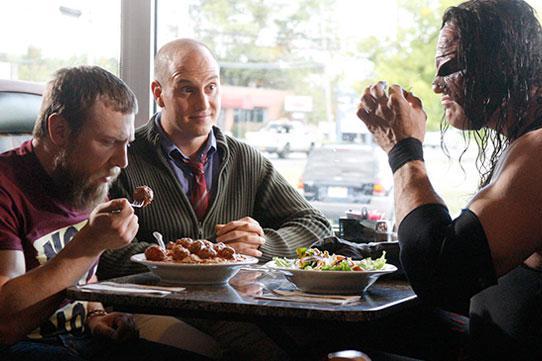 photo courtesy of wwe.com
As we approach the final month of 2012, it is time to reflect on the good and bad of WWE from this year.
Speaking of good and bad, some superstars have had a change of heart or character this year and it is time to highlight those character changes.
Join me as we take a look at the best face and heel turns of 2012. The criteria is quite simple in that the turns are ranked based on the impact they had on the superstar or diva's career as well as the impact on WWE.
Here are the eight best face and heel turns of 2012.
Begin Slideshow

»
When we were first introduced to Brodus Clay, he was a contestant on the fourth season of NXT.
While with NXT, Clay came off as a monster heel and in my eyes was the favorite to win. Unfortunately, he was the runner-up to Johnny Curtis.
After a dump load of vignettes and fake-outs for Clay's re-debut, Brodus introduced us to the Funkasaurus.
Instead of the monster heel we were expecting, we got a fat dancer. At first, I was intrigued because it was so different.
Brodus Clay's entrance and theme music were incredibly entertaining, but you had to know that this gimmick couldn't go very far.
Brodus Clay has gone from the one squashing superstars to the one getting squashed.
Brodus Clay's turn from the monster heel we saw on NXT to the Funkasaurus face may need to make another turn to find true success in the WWE.
For the first time in his career, the Miz is becoming a fan favorite.
More time is still needed to fully assess the impact Miz's face turn will have on his career; however, it is always fun to speculate.
The Miz accomplished a great deal as a heel. He is a triple crown winner having won the WWE Championship, Intercontinental Championship and WWE Tag Team Championship, in addition to the United States Championship and a former Mr. Money in the Bank.
Prior to his face turn, the Miz was becoming very stale and was forced to succumb to being a jobber to the likes of Brodus Clay.
Now that the Miz is turning over to the good side, will we see him pushed back to the main event? I sure hope so.
With movies, books and other outside projects the Miz assists the WWE with, it can only lead to good things for the most must-see WWE Champion of all-time.
The Miz's face turn should bring him back to contention for a World Title and bring awesomeness back to WWE.
Eve spent the first four years of her career as a face until she turned her back on the ever-so-popular Zack Ryder.
She found great success as a face, winning the WWE Divas Championship on multiple occasions.
However, it seems as though her heel turn has caused her to receive even more airtime on WWE TV.
Prior to winning the WWE Divas Championship most recently, Eve has held some authoritative roles in WWE.
She continues to excel at being both a semi-authoritative character and diva wrestler.
So was Eve more impactful as a face or a heel? It doesn't matter if Eve is face or heel! No, really. It doesn't. But I think heels stand out more.
Plus, with her participation in outside projects, like the Miz, WWE will most likely continue to push the current Divas Champion.
The Big Red Machine has turned fear into laughter with his most recent face turn, but mainly due to his ridicule of Daniel Bryan.
Team Hell No has made a huge impact on the WWE, especially for the tag team division.
Many people were complaining prior about the division until a simple hugging segment turned the WWE upside down.
Kane and Bryan's yelling of who the Tag Team Champions are and Kane's infamous claim that he will be going to Disneyland in addition to the various anger-management sessions highlight the team's success.
While Kane has certainly accomplished a great deal prior to his face turn, becoming a Triple Crown winner himself, he has rejuvenated his character and career at the same time.
Just when I thought Kane was about to end his career, he went ahead and redeemed himself. Perhaps he is the Face Team Champions!
Wellllllll….it's the Big Show as World Champion again!
Just like Kane, I was under the impression that Big Show was nearing the end of his career.
Just like Kane, Big Show has been rejuvenated and gone as far as ending Sheamus' six-month reign as World Heavyweight Champion.
Unlike Kane, however, I am not nearly as entertained by the new Big Show. His heel turn made absolutely no sense at all.
John Laurinaitis fires Big Show and makes him cry in the middle of the ring and then Big Show comes back to side with Big Johnny? Now that Laurinaitis isn't there, why did Big Show continue to be heel?
In any case, Big Show's most recent heel turn has done wonders for his career and has impacted WWE as well.
Chances are though this may be his last turn to the bad side before his turn to retirement.
After Daniel Bryan cashed in his Money in the Bank briefcase and won the World Heavyweight Championship, not only did his beard begin to grow, but so did his anger and cockiness.
His subsequent catchphrases of "YES! YES! YES!" and "NO! NO! NO!" helped change Bryan and the WWE. Bryan was kept in contention for another World Title, the WWE Championship held by CM Punk.
Daniel Bryan has become the butt of many jokes in the WWE and amongst its fans: from his 18-second World Heavyweight Championship loss to Sheamus at WrestleMania 28 to being called a goat face.
His heel turn sparked his main-event status, but his next turn has equally impacted his career and WWE…
CM Punk's most recent heel turn at the conclusion of Raw 1000 was special in that he was WWE Champion whilst turning.
While the late, great Macho Man Randy Savage also made a similar move while WWE Champion in 1988, CM Punk's heel turn was in the midst of a crazy-long title reign.
It is hard to say whether Punk's heel turn has played a part in his 370 plus day reign as WWE Champion, but one thing is for certain. His heel turn has had an impact on the WWE.
Breaking records, mocking real-life heart attacks and hitting fans, the list goes on for CM Punk's actions as WWE Champion since the heel turn.
Let's not forget that his heel turn came by attacking the man who many believe is his biggest threat to end his title reign: The Rock.
We can only speculate until January, but Punk and the WWE will never be the same due to Punk's return to the evil side.
While Daniel Bryan's character hasn't changed a great deal since turning heel two slides ago, the WWE Universe's feelings toward Bryan certainly have.
Instead of hating Bryan for his anger and goat face, the WWE Universe has learned to love Bryan for the humiliation WWE puts him through.
His "hug it out" segment with Kane began a new chapter for Bryan.
Bryan's antics have gone from annoying to entertaining.
Whether its being jealous of the Miz for tagging with Kane, or not being in the front of the camera during an interview, Bryan always tries to be the center of attention.
While Bryan strives at being the center of attention, the fans can't help but adore him because of it.
Daniel Bryan has gone from zero to most amusing hero in a very short time.
WWE has certainly benefited from Daniel Bryan's new old character, just as much if not more than the fans making his face turn the best of 2012.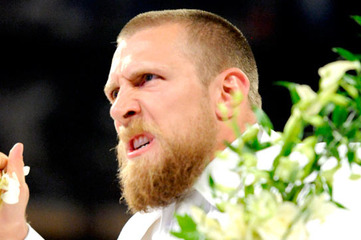 photo courtesy of wwe.com
A face or heel turn could change the course of any WWE superstar or diva's career. This year was not any different. Daniel Bryan had a very interesting year as he spent time hated and loved by the WWE Universe.
The same argument could be made for CM Punk. At the beginning of the year, WWE fans were still salivating over Punk's pipebomb promo from mid-2011 until, according to Jerry Lawler, he turned his back on the WWE Universe.
How would you have ranked the best face and heel turns of 2012? Do you agree or disagree with my ranking?
Please leave your comments and suggestions in the section below.
This has been the G-U-DOUBLE T and that was my GUTT reaction!
Seth Guttenplan is a teacher by day, writer by night. To read more from Seth, follow him on Twitter (@sethgutt) and visit http://guttwrenchpowerblog.com.