Ohio State vs Duke: Live Score, Reaction and Analysis for ACC-Big Ten Challenge
The No. 4 Ohio State Buckeyes aced the first half of their first test of the season at Cameron Indoor Stadium, but the No. 2 Duke Blue Devils rallied with a 50-point explosion in the second half to hold off Thad Matta's team 73-68.
The victory gave the Blue Devils their third win over a top five opponent this season, and extended their non-conference home winning streak to 97 games.
Mason Plumlee led the Blue Devils, who were dominated on the offensive glass for much of the game, with 21 points and 17 rebounds.
Freshman guard Rasheed Sulaimon did not score at all in the first half, but came up huge in the second half for the Blue Devils with 17 points on 7-of-12 shooting.
The Buckeyes were led by DeShaun Thomas' 16 points along with 11-point efforts from Aaron Craft and Lenzelle Smith Jr. All three of them had to deal with foul trouble for much of the contest, though.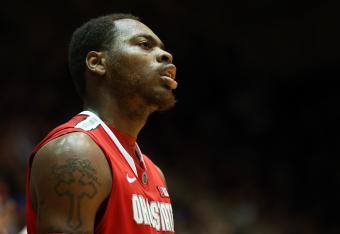 Ohio State looked impressive in the first half, despite shooting less than 35 percent, and took a 31-23 lead to the locker room, but the Buckeyes never found their shooting groove, missed too many open looks and could not contain Sulaimon in the second half on the perimeter.
The Buckeyes dominated the rebounding battle early on and hauled in a total of 16 offensive rebounds. It was not enough to overcome a 23-for-68 shooting performance, though.
DeShaun Thomas got in foul trouble early in the first half, which may have cost the Buckeyes a chance to extend their lead in the first 20 minutes of the game and Ohio State's effort on the defensive end was remarkable, until the final 10 minutes.
Aaron Craft was a non-factor in this game as well. Craft got in foul trouble in the first half as well and only managed 11 points on 3-of-15 shooting and turned the ball over three times.
The Buckeyes deserve a lot of credit for going on the road and taking Duke to the wire, and Ohio State looks like a top 10 team, but its shooting woes were too much to overcome tonight at Cameron Indoor Stadium.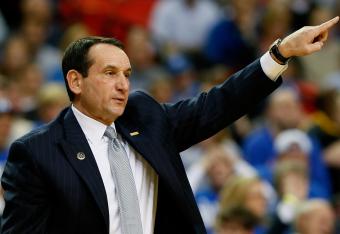 Duke showed its resiliency tonight by scoring 50 points in the second half after shooting less than 35 percent from the field in the first 20 minutes of the game.
The Blue Devils had a lot of open looks in the first half, and battled a tough Ohio State defense early in the second half to get some decent shots, but simply were not able to knock them down until the final 10 minutes of the contest.
Duke also did a much better job of rebounding in the second half, which combined with the improved shooting, helped the Blue Devils hold off the Buckeyes.
With three victories over top five teams under their belt, the Blue Devils deserve to be the No. 1 team in the country right now. Indiana has done nothing to hurt its case early on, but Duke has beaten too many quality teams in the first month of the season to not be the top-ranked team.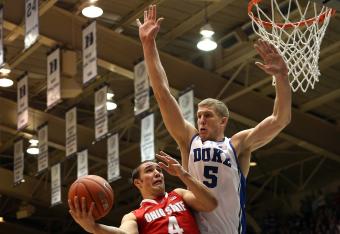 Final Score, Duke 73, Ohio State 68
Duke 72, OSU 68 (1 second left)
Cook nails the free throw and Ross drives to the basket for a free two points, which cuts Duke's lead to four points.
Cook knocks down two more freebies. Ball game.
Duke 69, OSU 64 (19.3 seconds left)
Duke manages to ice the game again with three straight free throws. One more coming from Cook.
Duke 66, OSU 64 (27.3 seconds left)
Might have called this one too early. Kelly fouled out after Curry, who is a 91 percent free-throw shooter, missed the front end of a 1-and-1. Shannon Scott will go to the line to shoot two.
Scott hits both freebies.
Duke 66, OSU 62 (37.5 seconds left)
LaQuinton Ross trying to keep the Buckeyes in it with a pair of free throws.
Aaron Craft fouls out with 11 points. It ends an awful night for the Buckeyes' point guard. Don't expect to see this kind of performance from Craft too often, though.
Duke 66, OSU 60 (52.9 seconds left)
Sulaimon throws down an emphatic dunk to put the lid on the Buckeyes' upset hopes.
Duke's home non-conference winning streak will now go to 97 straight games. Unreal streak.
Cook played some great defense, but Craft missed a lot of decent looks:
Aaron Craft: 3-14 (2-4 at the line), with 3 turnovers to just 1 assist. Hope he gets this out of his system.

— Eleven Warriors (@11W) November 29, 2012
Duke 64, OSU 57 (1:07 2nd Half)
The goaltending call on Thomas might put this one away. Sulaimon got out on the break and forced Thomas to go up and pin it on the backboard.
Duke 62, OSU 57 (1:28 2nd half)
What a drive by Cook. Crossed Smith over at the top of the arc and took it all the way to the hole. Big two points for Cook, who only has six points tonight.
OSU calls a timeout. Need a bucket here. Thomas should have this ball in his hands for a shot.
Duke 60, OSU 57 (2:11 2nd Half)
Plumlee knocks down two free-throws to add to his monster night. Plumlee now has 20 points and 17 rebounds for Duke.
Craft draws a foul on a jumper from the top of the key, but only cashes in on 1-of-2 free throws.
Illinois has defeated Georgia Tech to give the Big Ten a guaranteed split, and Penn State is still trailing Boston College in the final minute.
If Duke wins this one the ACC will split the challenge, but if OSU pulls the upset the Big Ten will win their fourth straight Big Ten-ACC Challenge.
Duke 58, OSU 56 (2:31 2nd Half)
Craft finally knocks down a shot for the Buckeyes, and Thomas gives OSU a chance to tie after blocking what should have been an easy dunk for Kelly.
Kelly staying in the game with four fouls. Risky play by Coach K, but he needs Kelly on the floor to put some pressure on Ohio State's defense to guard the perimeter.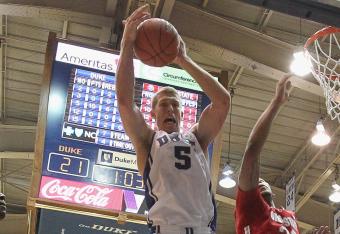 Duke 58, OSU 54 (3:48 2nd Half)
Plumlee with a filthy slam at the rim to give Duke a four-point lead. Plumlee and the Blue Devils are finally doing a better job of not allowing Ohio State to dominate the rebounding battle.
Duke has just executed its offense better and is finally knocking down open looks:
Announcers were talking about how "tired" Duke was in the 1st half. Now playing like they took a power nap at halftime.

— Desmond Howard (@DesmondHoward) November 29, 2012
Another three by Kelly and Duke is up 56-53. That's three-straight 3-pointers for Duke and they're on a 9-2 run.

— Ari Wasserman (@AriWassermanBSB) November 29, 2012
Duke 56 OSU 53 (5:34 2nd Half)
Duke has its first lead since early in the game thanks for a three-pointer from Kelly. Can't leave him alone if you're Ohio State. The Buckeyes' shooting woes are finally catching up with them.
Sulaimon now with 13 points for the Blue Devils. Plumlee and Thomas lead all scorers with 16 points apiece.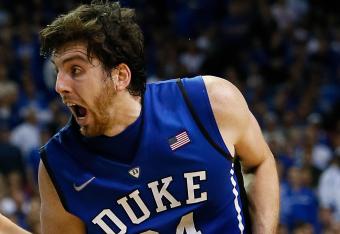 OSU 53, Duke 53 (5:43 2nd Half)
Kelly pours in a three-pointer and this one is tied up!
This article is
What is the duplicate article?
Why is this article offensive?
Where is this article plagiarized from?
Why is this article poorly edited?

Duke Basketball: Like this team?