5 Trades the Miami Heat Should Already Be Thinking About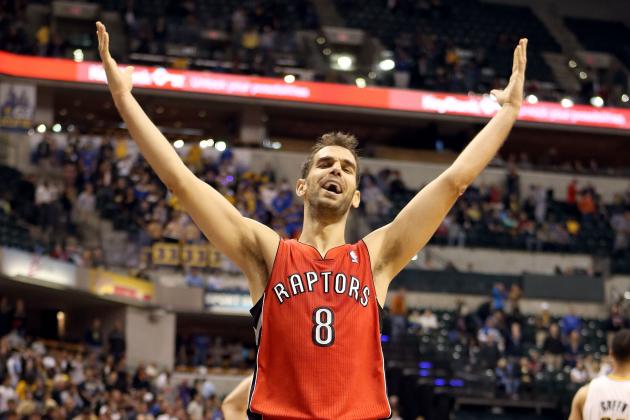 The Miami Heat have played excellently to begin the 2012-13 season and remain the NBA's championship favorite.
However, this team has been far from perfect and it would benefit their title chances if they made trades to address their problem areas, such as rebounding and point guard play.
The Heat don't have a ton of trading chips, at least ones they would be willing to part with; their best players who could realistically be traded are Udonis Haslem and Mike Miller. I've been on record saying that the Heat shouldn't trade Haslem due to his toughness and rebounding ability, but I do think it makes sense to make Miller available.
So let's get to it and take a look at five trades (that work for the trade partners financially) the Heat should consider, some of the bigger variety with Miller involved and even some small-scale deals that would also improve the team.
Note: Stats are current as of games played prior to Nov. 28
Also of Note: Terel Harris, Josh Harrellson, Ray Allen and Rashard Lewis cannot be traded until December due to them recently signing their contracts
Begin Slideshow

»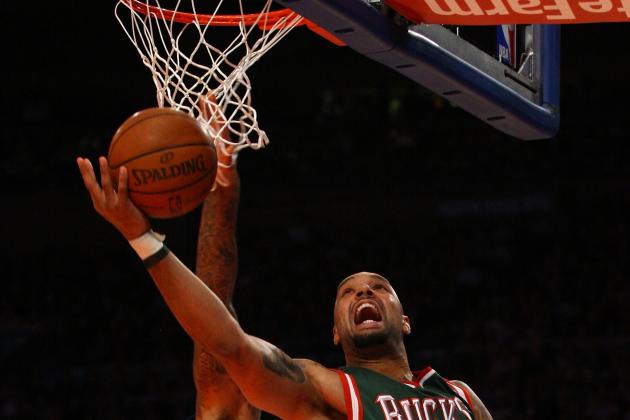 It's been reported that the Milwaukee Bucks are shopping Drew Gooden, so the Heat would be wise to give them a call.
The reasons for Milwaukee wanting to shop Gooden are clear; he has a horrific contract (owed a little under $20 million over the next three seasons) and has no role on the team. Gooden has yet to the see the court for one second this season, and it's not as if he is injured.
Second of all, Gooden can still play. Last season, in 26.2 minutes per game, Gooden averaged 13.7 points and 6.5 rebounds (11.29 rebounds per 48 minutes) and also finished with an above-average 18.88 PER. This Miami Heat team can use as much help in the frontcourt as they can get, and Gooden could certainly provide some.
The downside for the Heat in this deal is taking back Gooden's aforementioned abysmal contract. But with the Heat obviously in a "win now" mode, they should give serious thought to taking the financial hit in order to improve the team.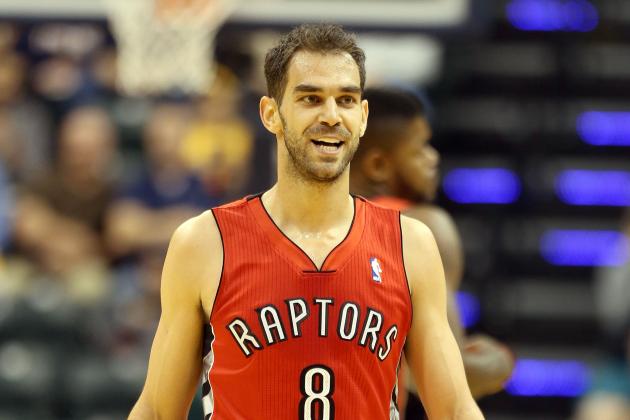 With the Toronto Raptors trading for Kyle Lowry this offseason, their need for Jose Calderon decreased. The Heat should try and capitalize on that.
The reason behind trading for Calderon is simple for Miami: their point guard play hasn't been very good this season.
Calderon is a smart point guard and fresh off a season in which he averaged 10.5 points on 45.7 percent shooting from the field and 37.1 percent on three-pointers, as well as 8.8 assists (ranked fourth in the NBA). Plus he's off to a hot start this season, especially from downtown (46 percent on three-pointers), which would help him fit right in with the rest of the Heat players.
Getting rid of Mike Miller would be hard, as he provides great three-point shooting (40.6 percent career beyond the arc) and rebounding (4.9 career average). But swapping out a Calderon (16.75 PER this year) for Cole (3.87 PER this year) is a substantial upgrade, and James Jones isn't even a rotation player.
Simply put, acquiring Calderon for this price makes a great deal of sense for the Heat.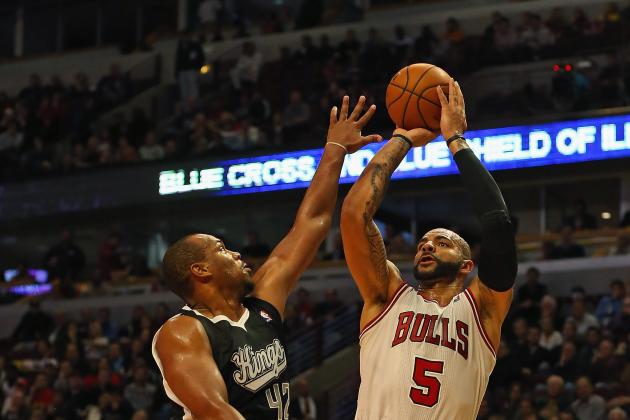 If the Heat want to acquire a big that is better than Gooden, Chuck Hayes is their guy.
Hayes isn't a very good scorer, averaging only 4.2 points per game throughout his seven year career. However, he provides in two areas the Heat need to improve in: rebounding and defense.
This season, Hayes is averaging 5.1 rebounds in only 21.4 minutes per play, which equates to 11.4 rebounds per 48 minutes.
If this trade occurred, the Heat would have two great rebounders off the bench in Hayes and Udonis Haslem, and they would do a lot in helping the Heat climb the NBA's rankings in team rebounds (currently ranked 27th).
With the Heat being such a dominant offensive team (ranked first in points per game), they can more than afford to sacrifice some offense for a tough player who would come handy in the playoffs.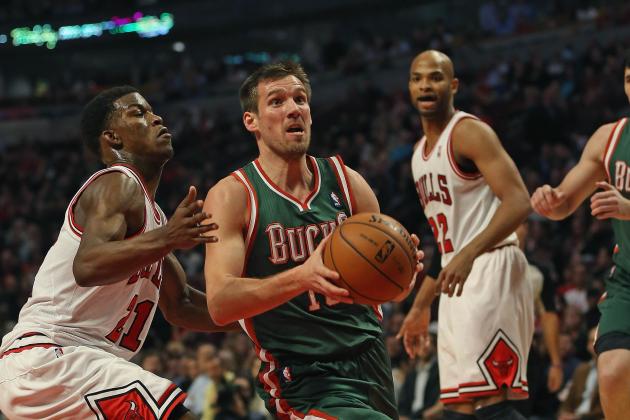 This trade represents another in which the Heat could acquire someone capable of running the point, but doesn't cost as much for Miami as a deal for someone like Calderon would.
While not a game-changer, Beno Udrih is a solid guard and worthy of a low-end rotation spot on the Heat. This season, in 18.5 minutes per game, he's averaging eight points on 46.2 percent shooting, while averaging 2.8 rebounds and 3.7 assists.
Those are not great numbers, but certainly an improvement on what the Heat are currently getting from Cole.
Speaking of Norris, this trade would allow Miami to hold on to him and see if they can develop him into the player most Heat fans were expecting to see this season.
The Heat could likely acquire a better guard than Udrih, but if they don't want to change up personnel too much than he certainly makes a great deal of sense.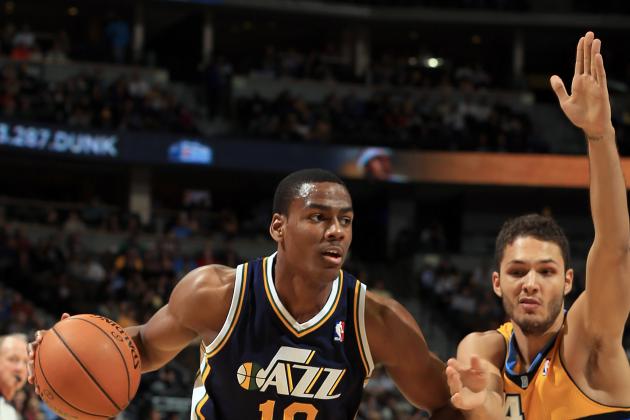 What an exciting trade idea this is!
Not really, but it still represents a smart deal for the Heat.
Pittman is clearly not in the Heat's future, and it's possible he wouldn't have made the roster out of training camp had it not been for his contract being guaranteed. Although Jones averaged more than 20 minutes last season and is a very good three-point shooter (40.3 career percent shooter on three-pointers), with the addition of Ray Allen and Rashard Lewis the Heat have little use for him.
So, with those two players being completely expendable, why not take a chance on a 21-year old player that has flashed promise?
Alec Burks had a solid rookie year a season ago averaging 7.2 points while shooting 33.3 percent on three-pointers and 2.3 rebounds. Despite the fact that Burks' per minute scoring average ranked third on the Jazz last season, he's only appeared in six games this year. Burks simply doesn't have a steady role with the Jazz as currently constructed, which is why a report has surfaced that the team has made him available for trade.
Burks wouldn't initially see the court that often for the Heat, but it's worth a shot to try and develop him into someone who eventually could.