Notre Dame Football: 10 Irish Stars Who Would Start for Alabama, Georgia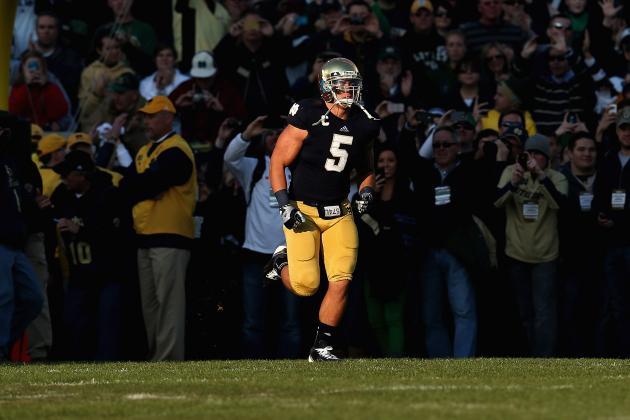 Believe it or not, this Notre Dame football team has many quality football players on its roster. And with the Irish set to play either Alabama or Georgia in the BCS National Championship soon, the Irish will have one final chance to continue to prove those critics wrong.
Once the national championship matchup is set in stone, many SEC homers will continue to think that there is no chance Notre Dame could end the conferences championship streak.
But what if some of the current Notre Dame players could actually start for either one of these teams?
That would at least show that this championship game would at least be competitive, considering there are some of there that believe the SEC is going to crush that team out in South Bend.
There are a few strong spots on this Irish roster that could replace a few of those SEC starters in a heartbeat.
Here are 10 Notre Dame players that could start for either Georgia or Alabama right now.

Note: All stats come from cfbstats.com unless otherwise noted.
Begin Slideshow

»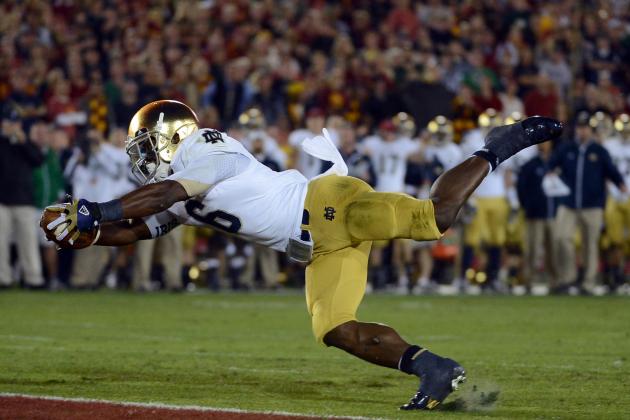 Key Stats: 880 rushing yards, 364 receiving yards and six total touchdowns
Who He Could Play For: Both
What Makes Him so Special: Theo Riddick isn't the biggest back in the world at 5'11", 200 pounds, but he does provide that SEC-type speed to break off those explosive runs. Having experience at the wide receiver and running back positions, Riddick is also a versatile player that can help out an offense in many different ways. He is the leading rusher for Notre Dame and has also caught 35 passes this season.
With Georgia relying on two true freshmen in the backfield, and Alabama banged up at running back, the senior would provide depth and experience to either SEC squad.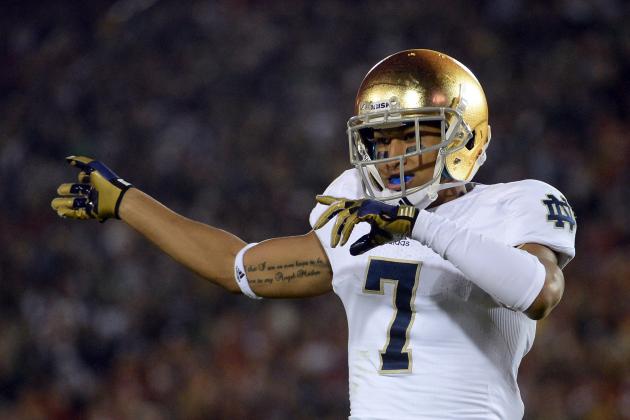 Key Stats: 40 tackles, 11 sacks, one forced fumble and a fumble recovery for a touchdown

Who He Could Play For: Both

What Makes Him so Special: Stephon Tuitt is a scary defensive end for the Irish because of how fast he is able to get off the football. His athletic ability and quickness is off the charts, which allows him to make many big plays in the backfield for this Notre Dame defense. He is tied for 11th in the country in sacks (11) and is only two behind South Carolina superstar Jadeveon Clowney.
According to Tuitt's Scout.com page, the former 5-star recruit attended camp at Georgia and could have easily become a Georgia Bulldog. No matter how good your defensive line is in the SEC, Tuitt is the real deal and could start for either one of these teams.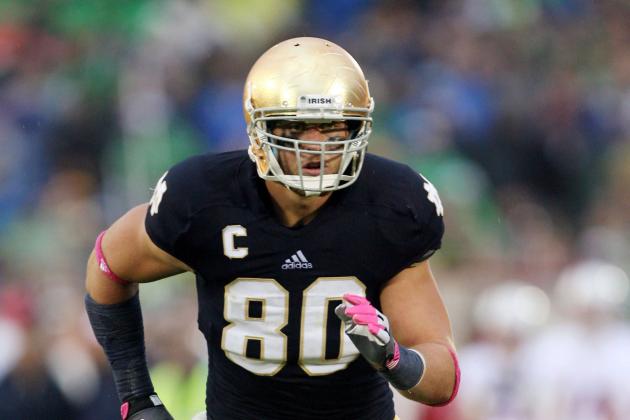 Key Stats: 44 receptions, 624 receiving yards and four touchdowns
Who He Could Play For: Both

What Makes Him so Special: Tyler Eifert isn't just good enough to start for either Georgia or Alabama. The senior tight end will eventually be starting for an NFL team. At 6'5", 252 pounds, Eifert has effortless body control and can go up and get the football with the best of them. His quickness is similar to a wide receiver, and he has no problem going across the middle of the field to make those tough catches.
Georgia loves to use its tight end package, but simply isn't getting the production out of Arthur Lynch that it would like. Alabama has a solid tight end in Michael Williams, but Eifert is a game-changing player that would help out either one of these offenses.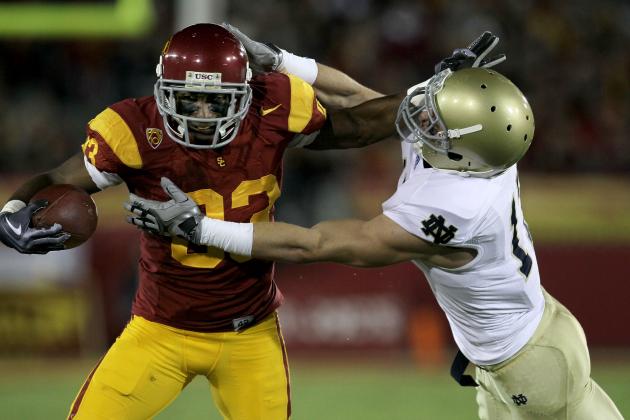 Key Stats: 61 tackles, two tackles for loss and two quarterback hurries
Who He Could Play For: Alabama
What Makes Him so Special: Zeke Motta isn't the most talented player you will find in the country, but he is effective at the safety position. His athleticism, sure-tackling and hard work has helped him become one of the most consistent players in this Irish secondary. With lack of experience in the defensive backfield and injuries taking place, Motta has also become that senior leader that keeps everybody in check during games.
Throughout the year, Alabama has been shaky in pass coverage. Motta would be able to provide the Tide with leadership and a safety that is also above-average in defending the pass.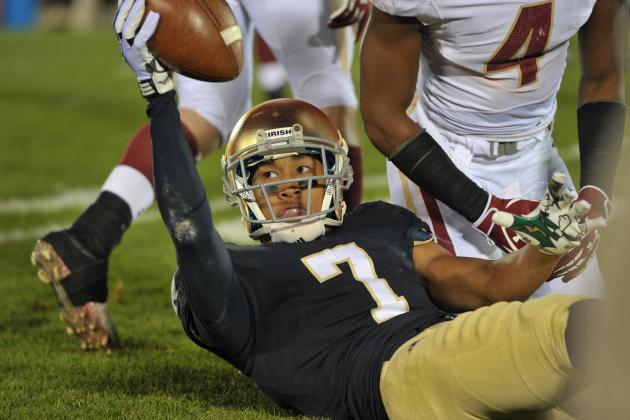 Key Stats: 43 receptions, 559 receiving yards and four touchdowns
Who He Could Play For: Both

What Makes Him so Special: Jones is the second-best receiver on this team besides Tyler Eifert, as he is currently second on the team in receiving yards. He isn't the biggest receiver you will find at 5'11", but he does run solid routes and can make tough behind-the-back catches like this. He isn't going to jump off the screen when watching him, but he can help you move the chains and provide that quarterback with a security blanket.
With all of the injuries at wide receiver for Alabama, I'm sure the Tide would love to have somebody like Jones right about now. As for Georgia, quarterback Aaron Murray could always use more weapons to throw the ball to in that explosive offense.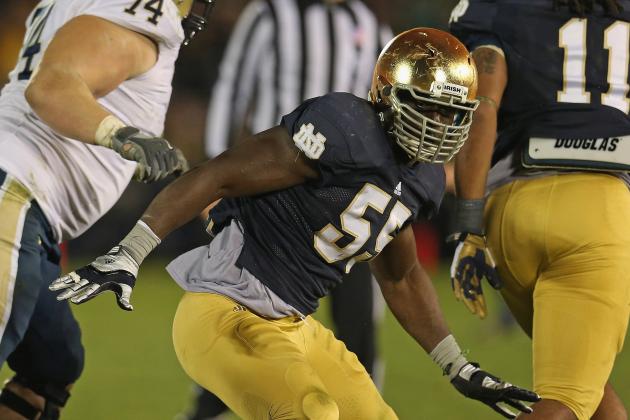 Key Stats: 48 tackles, 10.5 tackles for loss, 7.5 sacks and 12 quarterback hurries

Who He Could Play For: Alabama

What Makes Him so Special: Shembo is second on the team in sacks and only .5 tackles for loss behind Stephon Tuitt for the lead. Much like a few players on this list, he isn't going to 'wow' you, but he has a great combination of size and athleticism. He plays a position called "Cat" linebacker, and his job is to simply get the quarterback to the ground. He has done his job well this season.
Alabama is young at the linebacker position and looks lost at times. Shembo would be able to provide the team with leadership and a true pass-rusher at linebacker.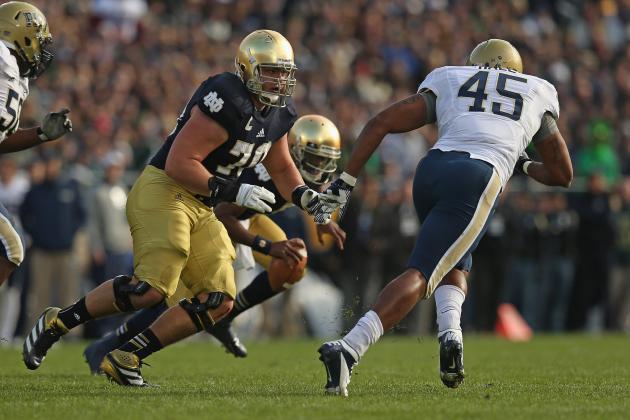 Key Stats: 38 starts in his three-year career at Notre Dame
Who He Could Play For: Both
What Makes Him so Special: For an offensive line that has proven to be one of the best in college football, Zack Martin is without question the best of them all. According to UND.com, the senior left tackle has only allowed one sack all season long, and that sack came on the opening drive of the first game of the season. Martin is great at communicating with the rest of the linemen and could be taken in the early rounds of next year's NFL draft.
Although Georgia has improved its offensive line from a year ago, the Bulldogs could still use some help up front. Alabama also hasn't been as great as we all thought it would be when it comes to protecting the quarterback and opening up running lanes.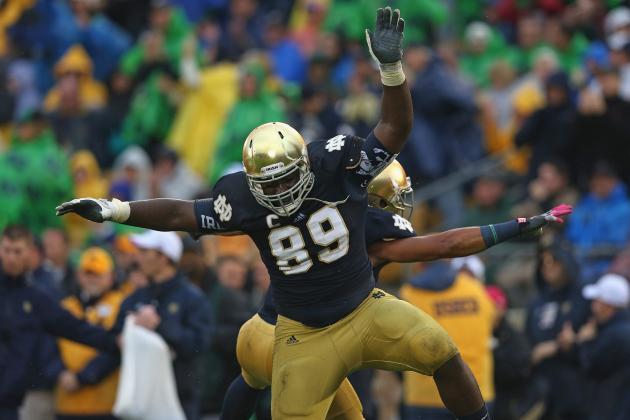 Key Stats: 39 tackles, 8.5 tackles for loss, six sacks and two forced fumbles
Who He Could Play For: Both
What Makes Him so Special: Kapron Lewis-Moore is a versatile player that has experience playing both defensive end and defensive tackle. He has improved his pass-rushing skills from a year ago, but it is his 6'4", 306-pound frame that makes him a force on this line. The senior does a good job of shedding blocks and making the job easier for the rest of his teammates.
While both Alabama and Georgia have terrific defenses, neither have a dominant defensive line that can consistently rush the passer. With both teams in need of improving up front on defense, Lewis-Moore could provide that big boy to help either one of those SEC squads.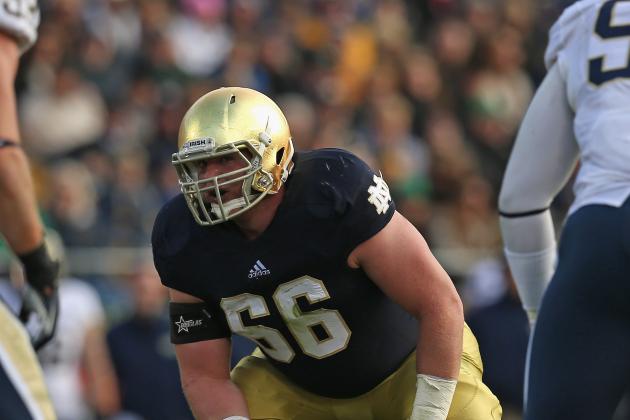 Key Stats: Started every game at left guard since 2011

Who He Could Play For: Both

What Makes Him so Special: Chris Watt is that angry and aggressive player that loves getting his hands dirty. He is that explosive player that every great offensive line needs, as he is just looking for guys to put on the ground and show that he isn't one to be messed with. He has a motor that does not stop running, and despite his large frame of 6'3", 310 pounds, Watt is surprisingly quick for his size.
Like I said back in the Zack Martin slide, quality offensive linemen are men any team in the country can use. Georgia has allowed 22 sacks and Alabama has been inconsistent in pass protection throughout the year.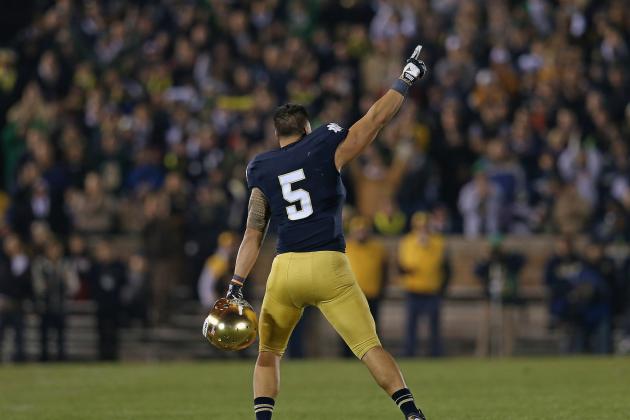 Key Stats: 103 tackles, 5.5 tackles for loss, 1.5 sacks and seven interceptions

Who He Could Play For: Both

What Makes Him so Special: If you have seen one Notre Dame game in the last three years, you know that Manti Te'o is the real deal. He always seems to be in the right position to make a key play, as he covers a ton of ground with his instincts and above-average athleticism. He is a tackling machine and has no problem dropping back into pass coverage.
I don't care which linebackers you currently have on your team, you would remove one of them for a player like Te'o. The reason he is a Heisman candidate is because he makes big play after big play and is a leader on and off the football field. He will be a first-round pick come April and will make some NFL team very proud.