Comparing the NHL's Top 15 Prospects to Current NHL Stars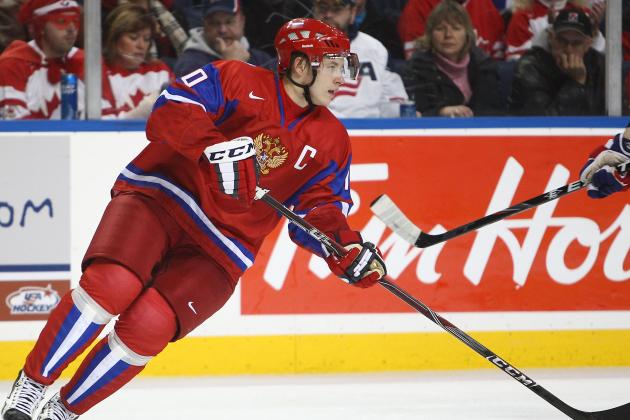 Tom Szczerbowski/Getty Images

Back in October, the initial 2012 prospect rankings were released by Bleacher Report, and the top 50 prospects were singled out.
With the season in full swing, it is a good time to take a look at the top 15 players from that list, and compare them to current NHL stars.
These players from the AHL, CHL and Europe have had enough time to showcase there skills, so here are the NHL's top 15 prospects compared to current NHL stars.
Begin Slideshow

»
NHL Pro: Michael Del Zotto
Ryan Murray and Michael Del Zotto are both around the same size, Murray is 6'1" and 195 pounds, Del Zotto is 6'0" and 194 pounds, and they have similar characteristics.
Both are talented puck-moving defenders who are ideal offensive-minded power-play quarterbacks, and both are very strong skaters.
Both players also could stand to become more physical, but Del Zotto has improved his physicality under bench boss John Tortorella.
Murray has a lot of potential and he projects to be a defenseman in the mould of MDZ.
NHL Pro: Keith Yandle
Brandon Gormely is comparable to his future teammate Keith Yandle in a few different ways.
For starters, Standing 6'1" and weighing 185 pounds, Gormley is a mid-size defenseman whose shot, poise and puck play rivals Yandle's, who happens to be a bit smaller than Gormley.
Yandle is known for his howitzer of a one-timer, and his perimeter passing on the power play. Gormley also projects to be a solid power-play defenseman, and he could possibly be paired with Yandle once the lockout is over.
Additionally, both defenders could stand to become more agressive given their size, but the two will still be excellent defenders for the Phoenix Coyotes.
NHL Pro: Ryan Kesler
Mika Zibanejad is a little smaller than Ryan Kesler, but the two players are comparable in a few ways.
Both Zibanejad's and Kesler's strengths are how they use their size, their standout two-way play and their skilled and accurate wrist shots.
Kesler is a player who is a great special teams player, he has a good scoring upside and he is a valuable player for the Vancouver Canucks.
Zibanejad, on the other hand, is currently a prospect playing for the Binghamton Senators and is off to slow start, but he is a player with a lot of potential.
He will continue to grow and maximize his size, so he stands to become a successful two-way forward like Kesler.
NHL Pro: Niklas Kronwall
Brendan Smith has already drawn comparison to the Detroit Red Wings' physical defender by team executives,(via Mlive.com) and it is hard to disagree.
"He's a lot like Niklas Kronwall. Kronwall can beat you a lot of different ways," Red Wings assistant general manager Jim Nill said.

"He's got high-end skills, can shoot a puck, handle the puck, make great plays, much the same as Brendan Smith. And they both have an edge to their game that is something special.
Smith is a defender who is a physical defender who is capable of playing with an edge. His physicality compares to Kronwall, but he also has some offensive upside.
Last season, Smith had 34 points in a short stint with the Grand Rapids Griffins, and he has the potential to become Detroit's next top defender.
Smith also has great vision and hands that complement his overall skating abilities, so he is a prospect to keep an eye on for the future.
NHL Pro: Anze Kopitar/Jason Spezza
Alex Galchenyuk is a speedy center with great vision, hands and accuracy, and he projects to be a solid first-liner.
He is comparable to both Anze Kopitar and Jason Spezza, because both centers are first line stars who are both solid playmakers and scorers, and they are good all-around players.
Both these players have gradually gotten better, and they emerged as stars for their team.
Galchenyuk's skill set should enable him to be a great asset to the Montreal Canadiens going forward. He will either be the team's next great goal scorer or setup man, but either way he will be a star.
NHL Pro: John Tavares
Ryan Strome is arguably one of the best players currently in the OHL, and he is a man amongst boys.
He is comparable to future teammate John Tavares, because both have amazing offensive instincts, both are amazing playmakers and both have amazing hands and speed.
Strome is the better natural scorer of the two, but both are still tremendous players.
When you factor in the possibility that Strome may be played on the wing once he enters the NHL, it becomes scary to imagine him potentially playing alongside Tavares.
NHL Pro: Marian Hossa

Sven Bartschi is a prospect on the rise for the Calgary Flames. He is a talented player who has amazing speed, dangling abilities and a great shot that he uses to pick corners left and right.
Bartschi is still young and growing, so he has time to fill out his frame to resemble Hossa's 6'1" and 210-pound frame.
When you think about it, Hossa is a player whose strengths were his speed, his blistering shot that made goalies crazy, and his amazing dangles.
When you look at how Bartschi has developed so far, it is hard to think that he won't be able to follow in Hossa's footsteps in some way.
NHL Pro: Rick Nash/Erik Cole
Chris Kreider is a speedy forward with great instincts, hands and hockey sense, and he is comparable to two established NHL players.
At 6'3" and 230 pounds, Kreider is built like a typical power forward, and resembles Rick Nash. If Kreider develops to his complete potential, he could be a player like Nash.
This is the ceiling for Kreider based on his size, but he is arguably faster than Nash ever was, so that could ultimately help him in the long run.
At the lower end of the spectrum, Kreider could become a player similar to Erik Cole, a forward who is a 60- to 65-point scorer.
This wouldn't be a negative by any stretch because Cole is a solid two-way player who has been valuable to the teams he has played for.
Either way, Kreider has a lot of potential, and he should be a star in the league.
NHL Pro: Evgeni Malkin
Evgeny Kuznetsov is going to spend another two years in the KHL, and when he makes his NHL debut at age 23, he will be a true force. Kuznetsov is a player who can play both center and the wing, so he compares to his countryman Evgeni Malkin.
Malkin is a strong forward who is über talented and possesses great hands and an amazing shot. He also can play both positions, which is why comparisons have been made between him and the Washington Capitals' top prospect.
Malkin is also a player who can play with a mean streak and that can knock him off his game when he looks to get back at another player.
Kuznetsov has the same trait, and the opposition often uses this to help throw him off his game.
All in all, Malkin and Kuznetsov are both very talented players who simply dominate when they are on the ice.
NHL Pro: David Perron
Jaden Schwartz may be significantly smaller than his future teammate, David Perron, but their skill sets are very comparable.
Both are speedy forwards who are highly-skilled scoring-wingers. Schwartz and Perron use their speed in order to execute dangles in open ice, or they use the created space to find open teammates.
The scouting reports are seemingly identical and Schwartz really could be as good, or better than Perron.
They also see the ice very well, and make agressive plays even though they both aren't the biggest forwards. Additionally, both Perron and Schwartz can play wing and center, so it makes them versatile forwards.
NHL Pro: Jonathan Toews
Jonathan Toews is one of the NHL's top two-way forwards, and he is a player who can do it all. He is a great playmaker, scorer and all-around solid player.
Mikael Granlund is a top-end prospect who has been described by THN as:
A smart playmaker with excellent vision and the versatility to play all three forward positions. [Granlund] Works hard, can skate and shoot. Great hockey sense, he can score highlight-reel goals.
When reading that description, Toews comes to mind because of the comments about vision, hockey sense and work ethic.
While Granlund has a lot to learn, he has traits that draw comparisons to the Chicago Blackhawks' star and captain.
NHL Pro: Shea Weber
Dougie Hamilton is a monster of a defenseman who seems to just keep growing. He is a physical defender who can also move the puck, so that is something that he and Shea Weber have in common.
Both have howitzers of a slap shot, and their power-play proficiency is a plus for their respective teams.
When Hamilton makes the jump to the the NHL, he could be paired with Zdeno Chara on the Bruins, and a potential Hamilton and Chara pairing will be downright scary.
NHL Pro: Steven Stamkos
Jonathan Huberdeau is a player who projects to be similar to Steven Stamkos is terms of offensive creativity, passing and scoring.
He has a lot of the tools required to be a top center in the NHL, and he also can line up on the wing if necessary.
His hands and speed allow him to dangle and then snipe goalies in a similar fashion to the 2012 Rocket Richard Trophy winner Steven Stamkos.
Huberdeau by no means is currently on Stamkos' level, but he has the potential to become a similar player in a few years.
NHL Pro: Ilya Kovalchuk
Nail Yakupov is a player who has the potential to be one of the NHL's next top snipers. Yakupov is primarily a speedy forward who is always a dangerous threat when he is on the ice.
If he was a physically stronger player, he could be comparable to Alex Ovechkin, but his use of speed, elusiveness and deadly snipes makes him a similar player to Ilya Kovalchuk.
Kovalchuk is a former 50-goal scorer who uses his speed and lethal shot from all areas of the ice. These two characteristics are also present in Yakupov.
If Yakupov bulks up and becomes a more hands-on player, he could maybe be a player that resembles the "Great Eight," but another top prospect bears a closer resemblance to Ovechkin.
NHL Pro: Alex Ovechkin
Vladimir Tarasenko is a winger currently having a great season in the KHL for SKA Saint Petersburg, and his total skill set makes him a top threat.
The St.Louis Blues' prospect is a sizable forward who is hard to knock off the puck. He wins a lot of battles along the boards, and uses his physicality to score goals and create opportunities.
He is a sniper similar to Ovechkin, and his physical side gives him an edge over countryman Nail Yakupov.
Ovechkin is a talented offensive player, but his physical nature and agressive demeanor is what allows him to create a majority of his chances.
He is a talented puck-handler but he needs to do more to score than just skating and shooting.
Both Yakupov and Tarasenko have the scoring touch, but Tarasenko's aggressiveness and physicality gives him an edge, and makes him resemble Ovechkin.