NBA Award Odds: Bold Predictions for Every Honor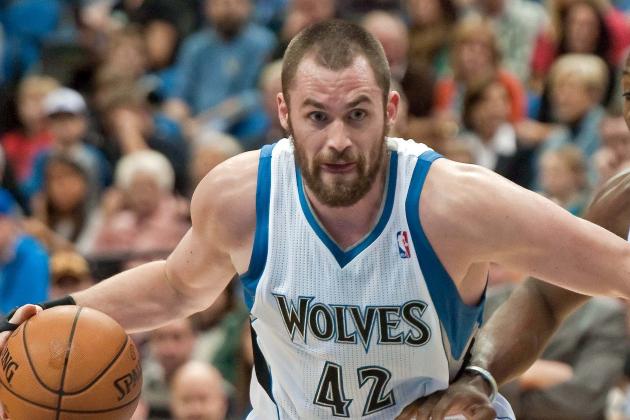 Greg Smith-US PRESSWIRE
Minnesota Timberwolves' Kevin Love
LeBron James and Kevin Durant have done nothing to diminish their chances of winning the NBA's MVP award this season.
After opening the year with the best odds of doing so, they're still the top two favorites as November winds down.
Projecting out towards the end of the season, however, the MVP race is shaping up to be much more than a two-player contest.
The same can even be said about contention for NBA Rookie of the Year at this point.
Anthony Davis and Damian Lillard are looking as good as advertised. But as other rookies around the league become more comfortable with the NBA game, expect one in particular to surge.
Meanwhile, don't expect Defensive Player of the Year honors to be won by a dominant big man this season, or the league's Most Improved to be a player in his twenties.
Begin Slideshow

»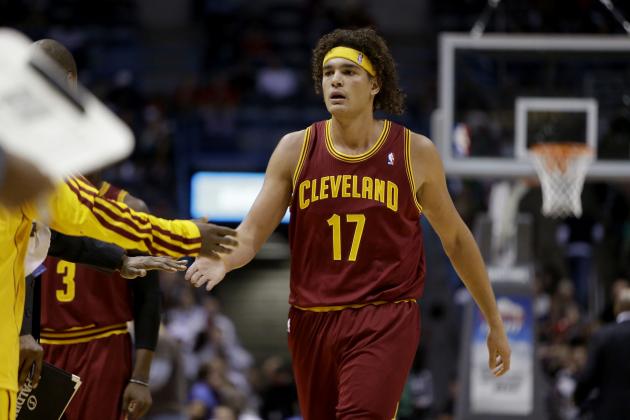 Cleveland Cavaliers' Anderson Varejao
Prediction: Anderson Varejao, Cleveland Cavaliers
The Most Improved Player award does not typically honor players in their ninth NBA season.
This year, however, it really needs to.
Dating back to when Gilbert Arenas won the award during the 2002-03 season, no player since has ever been named NBA's Most Improved having played longer than four seasons in the league.
Arenas and Monta Ellis were in their second seasons when they won. Kevin Love, Aaron Brooks, Boris Diaw and Zach Randolph were all in their third.
Ryan Anderson was in his fourth season when he won last year, as were Danny Granger and Bobby Simmons.
Anderson Varejao was in his fourth season five years ago. But he is just doing too much to be denied this year.
Through his first eight NBA seasons, Varejao averaged 7.5 points and 7.4 rebounds per game. As of Wednesday, the 30-year-old is averaging twice that, at 14.5 and 14.9 this season.
That rebounding total also currently leads the NBA.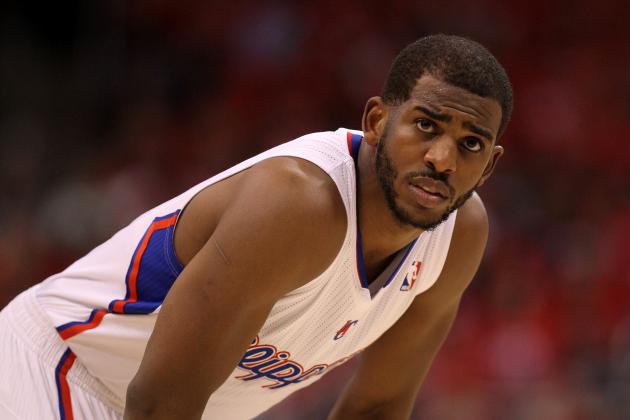 Stephen Dunn/Getty Images
Los Angeles Clippers' Chris Paul
Prediction: Chris Paul, Los Angeles Clippers
Some people have classified the Los Angeles Clippers defense as "horrible" recently.
By some people, I mean Chris Paul.
After allowing their last two opponents to shoot 50 percent and score at least 104 points, prior to the win on Wednesday against Minnesota, Paul offered the following to ESPN.com.
"Our defense is just terrible, it's horrible, it's almost embarrassing," Paul said. "The fact that teams feel like that they can come down and score on us every night, we can't play like that."
I expect Paul to follow those statements by leading defensively. That will result in him walking away with Defensive Player of the Year honors by season's end.
There hasn't been a point guard named DPOY since Gary Payton won in 1995-96, but expect Paul to break that trend this season.
He is second overall in steals per game as of Wednesday, at 2.8.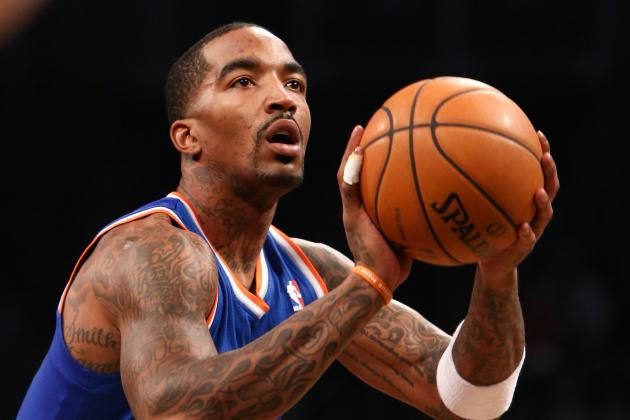 Debby Wong-US PRESSWIRE
New York Knicks' J.R. Smith
Prediction: J.R. Smith, New York Knicks
You might think that they already started engraving Jamal Crawford's name on the Sixth Man of Year award this season.
But J.R. Smith will have his say in deciding that honor.
His two most recent games, as of Wednesday, were not his best, but he's done enough so far this season to prove that he will be amongst the top reserves in the NBA all year long.
Through 14 games off the New York Knicks' bench, Smith is averaging 13.8 points, 5.4 rebounds and 2.5 assists.
What's most important about Smith's odds of winning this award, though, is that he is now in the best locker room he's ever been a part of as a professional player.
Jason Kidd, specifically, won't let Smith fall off the cliff as he sometimes does as the season progresses.
In the end, he will cash in on his All-Star ability and be named Sixth Man of the Year because of it.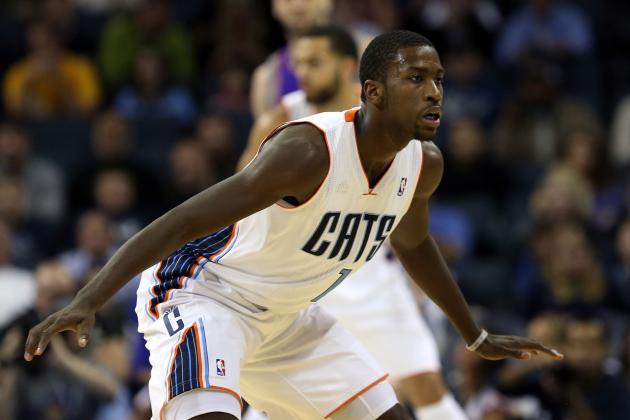 Streeter Lecka/Getty Images
Charlotte Bobcats' Michael Kidd-Gilchrist
Prediction: Michael Kidd-Gilchrist, Charlotte Bobcats
Rookies Anthony Davis, Damian Lillard and Dion Waiters are playing for teams with a combined record of 13-32 as of Wednesday.
Only Michael Kidd-Gilchrist's Charlotte Bobcats are playing .500 basketball, at 7-7.
The Bobcats were also the worst team for any rookie to possibly join this season before Kidd-Gilchrist arrived.
He's since brought that winning spirit to the Bobcats in a way that can't specifically be measured. Except, of course, by the way he's helping to change the culture of losing in Charlotte in terms of wins.
Kidd-Gilchrist is averaging 11 points, 6.4 rebounds, 1.4 blocks and 1.2 steals per night as of Wednesday. As he becomes more accustomed to the NBA game, there's reason to believe those numbers will only improve.
I expect they will, too, by season's end.
He'll be honored for the overall impact he's made on his new team by winning the 2012-13 NBA Rookie of the Year award.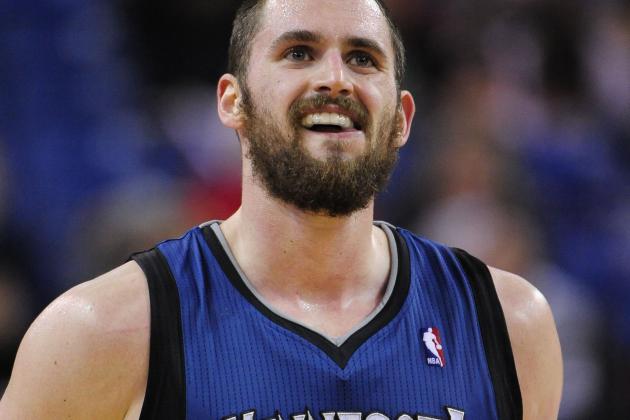 Kyle Terada-US PRESSWIRE
Minnesota Timberwolves' Kevin Love
Prediction: Kevin Love, Minnesota Timberwolves
Kevin Love was given an outside chance of winning the MVP award before this season began.
Then he broke his hand and missed the first nine games. He was instantly eliminated by the early-season oddsmakers as a result.
Since he's returned to the lineup, however, all Love has done is re-enter that race by jumping out of the gate like Usain Bolt.
In the five games he's played through Wednesday, Love has scored 115 points while collecting 78 rebounds. Those totals are good for averages of 23 points and 15.6 rebounds per night. He's also averaging 1.4 steals per game.
The 20 percent he's shooting from three-point range will only improve as the season goes on, as will his 69.6 percent mark from the free-throw line.
In Love's two previous seasons, he's shot 39 percent from three-point range to make 193 field goals from beyond the arc.
On his career he's connected on 82 percent of his free throws.
This past Tuesday, Love played without his protective glove on his shooting hand for the first time this season. His shooting percentages will only increase as his hand continues heal.
The 39 percent he's currently shooting from the field overall will creep back closer to the 45 percent number he's averaged for his career.
The 26 points and 13 rebounds Love averaged last season were not a fluke. Nor was the 20 and 15 he averaged the season before it.
Once Ricky Rubio returns, he'll be afforded more open looks than he's even getting now.
If Love stays healthy the rest of the way out, those nine games he missed will be forgotten by the time he's named 2012-13 NBA MVP.