Picking Top 3 NFL Week 13 Upsets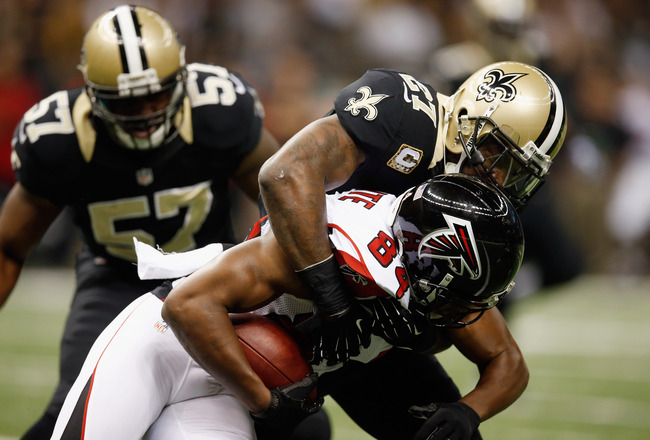 Chris Graythen/Getty Images
It's that time in the NFL season when you find yourself in the middle of the pack in your weekly picks league. Because you tried impatiently to climb the leader board from day one rather than make smart choices, you now need those big upsets to have any chance at winning.
Start with these three in Week 13 and make your way back into contention.
New Orleans Saints at Atlanta Falcons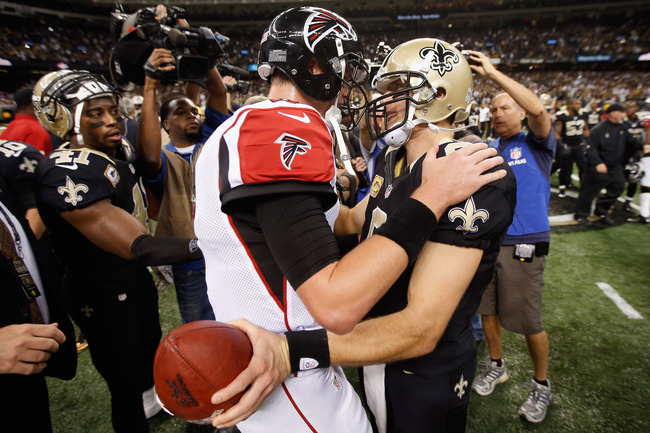 Chris Graythen/Getty Images
You'll get your first point following Thursday's game from Atlanta. No one can deny the Falcons' impressive 10-1 record, which accounts for best in the NFL with the Houston Texans.
But they've also played a light schedule.
Of the 11 opponents they've faced, only two currently have winning records: the Broncos at 8-3 and the Buccaneers at 6-5. The Falcons may be as good as their record indicates, but they haven't played the top dogs to prove it.
Atlanta's lone loss came in Week 10 to these very same Saints in a 31-27 shootout. Matt Ryan did his part with 411 yards and three touchdowns. But the combination of 298 yards and three touchdowns from Drew Brees to go along with a rushing advantage was the difference.
The Saints rushed for 148 yards total to Atlanta's 46 in that game. Even for the Falcons, whose 88.3 rush yards per game are fifth-fewest in the NFL, 46 is low. That number is balanced out by Ryan, who is second in passing yards with 3,425.
As a result, the Falcons will surely try again to take advantage of the Saints' lax pass defense. But if New Orleans can cut into Ryan's production, they could be looking at an important late-season win. Brees and this offense are a threat to light up the score board, so this is a solid upset in another domed environment.
Seattle Seahawks at Chicago Bears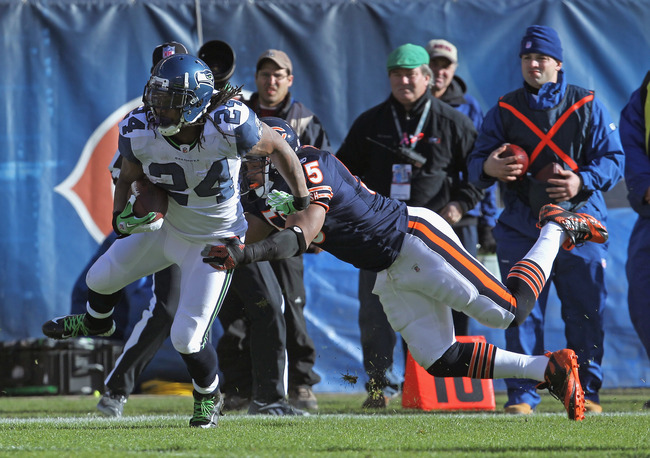 Jonathan Daniel/Getty Images
The biggest factor working against Seattle here is their 1-5 road record, but that doesn't mean they can't pull off this upset.
The Seahawks will face a strong Bears defense that ranks highly in some key NFL categories. They allow just 15.9 points (second-best) and 307 yards per game (third-best). They also lead the league in interceptions with 20.
But Russell Wilson and the Seahawks are not a throwing team.
Wilson has attempted 280 passes this season. By comparison, Tony Romo, Matthew Stafford and Matt Ryan all have more completions than that.
Seattle is a rush-first team with Marshawn Lynch in the backfield. His 1,051 rushing yards are third in the NFL right now and, barring injury, he will set a new career high in that category.
Considering the Jay Cutler drama earlier this season and his recent concussion, it's surprising to see the Bears doing as well as 8-3.
It would be easy to shrug off the 32-7 loss in San Francisco as a result of Cutler's absence, but that wasn't really the story. Jason Campbell's struggles were largely due to a malfunctioning offensive line that allowed him to get sacked six times.
Even bigger was the utter dismantling of Chicago's defense by Colin Kaepernick, who was making his first career start on Monday Night Football.
If Seattle can get over their road jitters and disrupt the Bears in the same way, they'll be back in the win column.
St. Louis Rams vs. San Francisco 49ers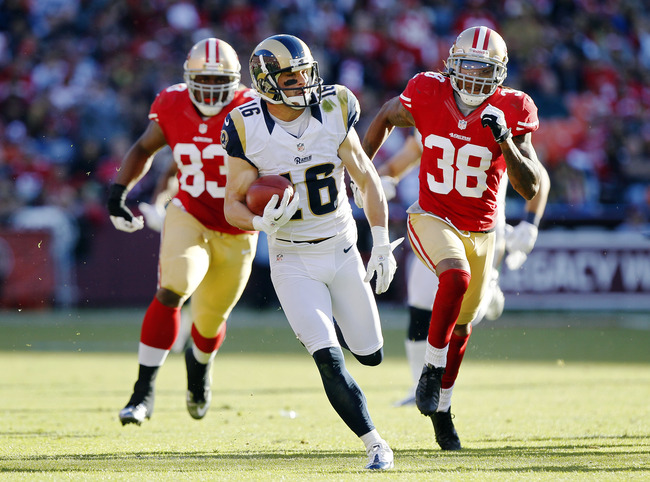 Brian Bahr/Getty Images
Being a Bay Area sports fan, this was a tough pick to make, but it's already locked in. Remember never to pick from your heart.
The 49ers are the talk of the league right now after the emergence of QB Colin Kaepernick. He took over a few weeks ago when, of all teams, the St. Louis Rams delivered a concussion to Alex Smith.
Kaepernick has since won two huge starts against Chicago and New Orleans.
But in that first meeting with the Rams, the 49ers looked sloppy, and only equally sloppy play at the end by St. Louis allowed the game to end in a tie.
On the first snap of overtime, Danny Amendola caught a Sam Bradford pass and took it 80 yards to the 2-yard line. But a silly illegal formation penalty negated that play and a sure Rams win. Nevertheless, both teams probably realized St. Louis was the better side that day.
They are also coming off a confidence-boosting win over Arizona. Steven Jackson rushed for 139 yards and the Rams defense intercepted Ryan Lindley four times, two of which were returned for touchdowns by Janoris Jenkins.
On offense, San Francisco just lost two key players for the season due to injury. RB Kendall Hunter and WR Kyle Williams have each been prominently used on offense and special teams and will be noticeably absent.
Next on the depth chart behind Frank Gore are Brandon Jacobs, who has one carry for one yard this season, and newly-promoted rookie Jewel Hampton.
The 49ers are trying out kickers as well.
David Akers is dealing with a small injury, so it's just another question mark to deal with. But those question marks are adding up for Jim Harbaugh's team, and the hometown Rams want this win badly after the tie.
Keep Reading