2013 NFL Mock Draft: Week 14 Edition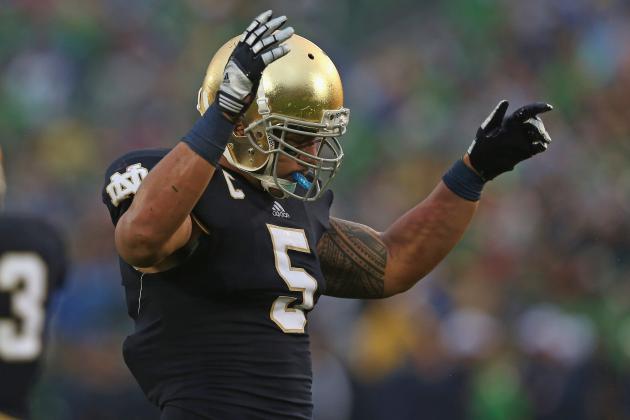 Jonathan Daniel/Getty Images

With the final quarter of the season coming up, the 2013 NFL Draft is becoming a highlight for many distraught fans and franchises.
For some, the playoffs could be soon ahead as we hit the home stretch going into December. But for others who haven't been as good or lucky, the draft is steadily approaching.
Here is my Week 14 mock of the NFL draft's first round.
*Draft order derived from WalterFootball.com.
Begin Slideshow

»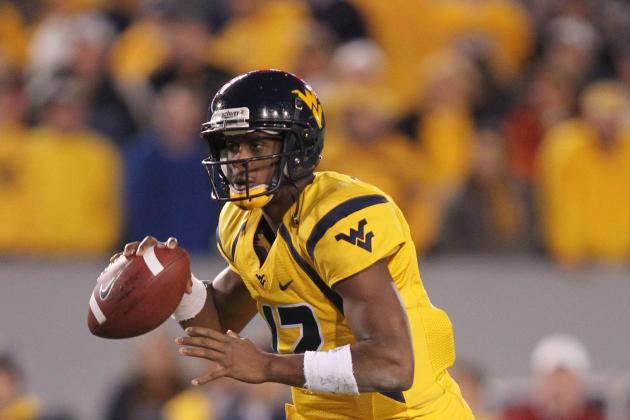 Charles LeClaire-US PRESSWIRE

Season stats: 164.6 RAT, 4,001 YDS, 40 TD, 6 INT, 71.4 Comp %
Off-field distractions aside, the Kansas City Chiefs and their fans should be looking forward to the 2013 draft. And with Matt Cassell and Brady Quinn posing more questions than answers, the Chiefs could have a shot at reeling in a franchise quarterback.
Geno Smith of West Virginia could be that guy.
Throughout his impressive 2012 campaign, Smith has shown plenty of franchise quarterback-type ability. He has exhibited incredible arm strength, great accuracy and often remains very poised in the pocket. Smith does, however, need to improve on his footwork to enhance his rushing game.
Smith is clearly the best quarterback prospect in the draft and an overall top five talent of the class.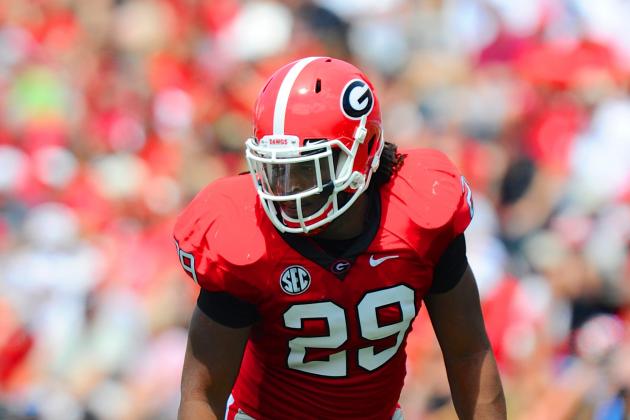 Dale Zanine-US PRESSWIRE

Season stats: 77 Tackles, 22.5 TFL, 12.5 Sacks, 1 INT, 7 FF
Blaine Gabbert has shown very limited improvement and Chad Henne has filled in rather admirably. Neither, however, look as though they'll be the future of the organization.
The Jaguars do need a quarterback, but definitely should not reach if this draft order holds.
Grabbing the best available talent in this spot has to be the thinking. Jarvis Jones, the top-rated player in this entire class, is a no-brainer pick for the Jaguars.
Jones is one of, if not the best, pass-rushers in this class. He exhibits excellent burst off the snap, which is just one of his many advanced skills in the pass-rush game. Add that to his explosive speed and non-stop motor, and you have a heck of a prospect.
This outside linebacker has, in fact, drawn some eerie similarities and comparisons to Denver's Von Miller.
Jones is even considered an above-average defender against the run and in coverage.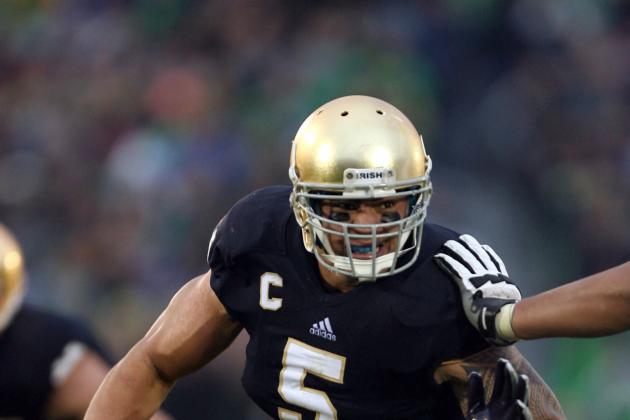 Season Stats: 103 Tackles, 5.5 TFL, 1.5 Sacks, 7 INT
Although they've limping through a rather morbid season, the Oakland Raiders will acquire the luxury of taking the best available talent come April. And with Rolando McClain all but gone at this point, Manti Te'o would be a perfect fit in a defense lacking any trace of leadership.
Te'o is an all-around appealing prospect. He has good instincts, an advanced run defense and very solid, great athleticism. Te'o also shows flashes of brilliance in the pass rush with his reads and closing speed.
You normally don't see inside linebackers taken this high in the draft. Te'o's natural skill and natural leadership ability have both fans and scouts drooling.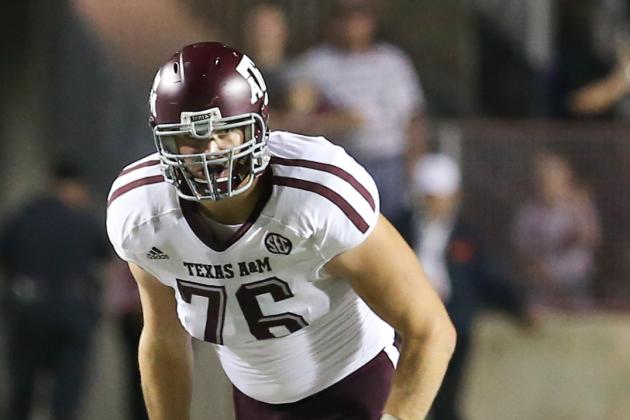 Season Stats: ---
Luke Joeckel of Texas A&M is at the very top of a considerably thin class of offensive linemen. Joeckel, 6'6" and 310 pounds, will most likely end up as someone's franchise left tackle.
He's quick, light on his feet and possesses the agility to evolve into a top-notch pass protector. The tackle also is very solid in the run game.
Joeckel has to be the primary target for Philadelphia in this draft. Whether its Michael Vick, Nick Foles or somebody else in the imminently new regime, the Eagles must bulk up their pass protection. This offensive line is a mess and could really use the best tackle in the class.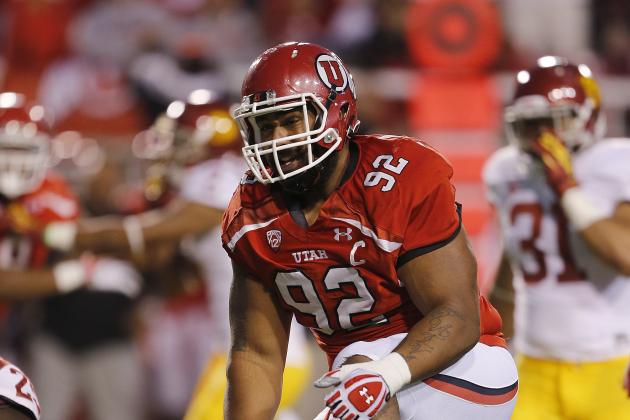 George Frey/Getty Images

Season Stats: 42 Tackles, 10.0 TFL, 5.0 Sacks, 3 FF
If it wasn't for their generous defense, the Carolina Panthers could be in line for their first postseason appearance since the 2008-2009 season. They've blown way too many fourth-quarter leads and need to add some kind of presence to their front seven to fix that.
Carolina should be thrilled if Star Lotulelei is there for the taking.
Lotulelei possesses ridiculous physical attributes. He's huge, he's powerful and he's stunningly quick for a man of his size. The Utah product is extremely explosive off the snap and creates nothing but havoc when penetrating past opposing offensive lines.
He'll help repair a weak run defense, make life easier for defensive ends Charles Johnson and Greg Hardy, and will finally give this team a middle-of-the-line force it's been clamoring for since the departure of Kris Jenkins.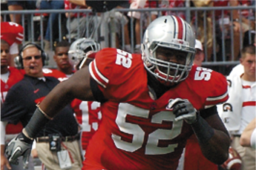 Season Stats: 55 Tackles, 4.0 TFL, 1.0 Sacks
San Diego desperately needs help on their offensive line. But if Ohio State's Johnathan Hankins is available, the Chargers should have no problem grabbing the top available talent that also fits a need.
Hankins, 6'4" and 325 pounds, possesses a very desirable skill set from the looks of his one-and-a-half seasons as a Buckeye. In addition to being the traditional big-man run-stuffer, Hankins does often exhibit some explosiveness en route to breaking down opposing lines.
He should give the Chargers a great interior force on the defensive line.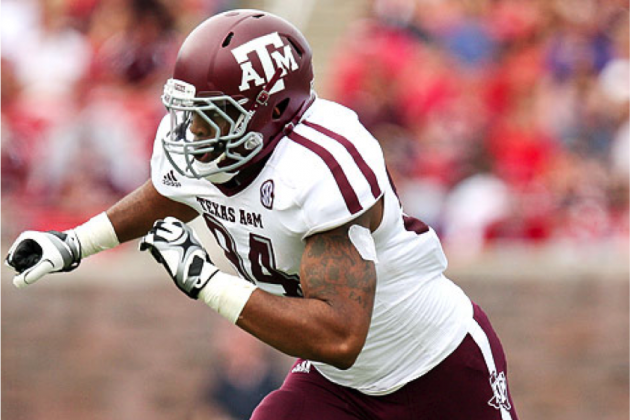 Thomas Campbell/US Presswire
Season Stats: 80 Tackles, 20.0 TFL, 12.5 Sacks, 1 FF
Damontre Moore is still up in the air about his NFL future. The rising star could opt for the draft in April or decide to return to Texas A&M. My money's on him going back. But until then, Moore will get a ton of looks from anyone trying to add to their pass rush.
Moore, 6'4" and 250 pounds, has been climbing up many draft boards as of late. He's been extremely productive in the nation's top conference, and should be ready to hear his name called on Day 1 if he continues to do so.
The Browns, despite their 3-8 record, have flashed some signs of potential this season. They have a young, talented roster and should really look to add the best available here in a relatively weak draft class.
This Texas A&M product should give Cleveland a much-needed pass rusher on the outside.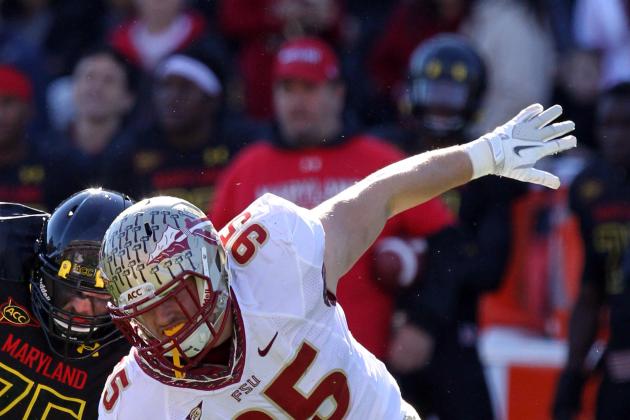 Season Stats: 40 Tackles, 18.0 TFL, 13.0 Sacks, 1 FF
The Tennessee front office should love what they're looking at in terms of pass rushing talent. This draft is on the weaker side but does have a nice surplus of first-round pass rusher.
Bjoern Werner is one of top defensive ends in the class.
Werner, 6'4" and 273 pounds, is an incredibly promising prospect. For one, he's very explosive off the snap. Werner uses his great combination of speed and physicality to burst through opposing lines.
The Florida State Seminole also possesses nice closing speed, which has him disrupting teams' backfields.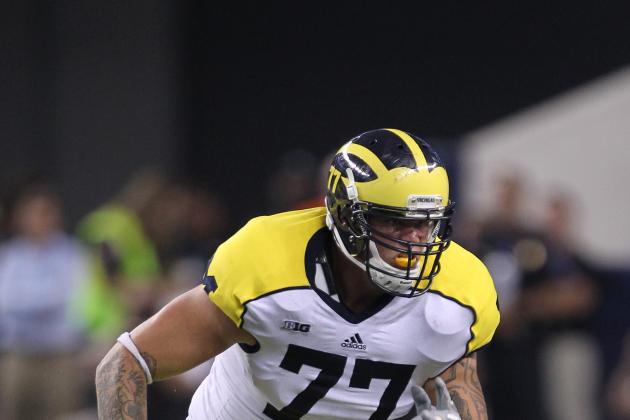 Season Stats: ---
Before Sunday, I thought Mark Sanchez was by far the worst starting quarterback in the NFL. But after watching Ryan Lindley match Sanchez incompletion for incompletion, I've changed my mind.
Anyway, we all know Arizona is starving for a franchise quarterback. They might be even more desperate, however, for offensive line help. I would expect the Cardinals front office to solve a long-standing problem by taking Taylor Lewan over Tyler Wilson or Matt Barkley.
First off, Lewan is a physical monster. The guy stands at an outstanding 6'7" and 310 pounds. If Lewan continues to impress this year, he may go even higher than the late first.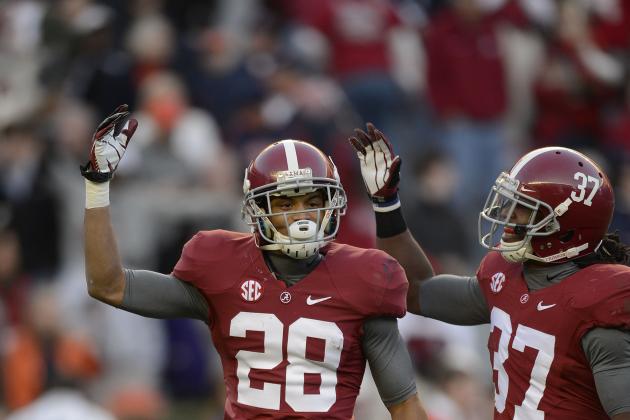 Season Stats: 51 Tackles, 4.0 TFL, 1.5 Sacks, 2 INT, 1 FF
Detroit has been suffering from its extremely weak secondary over the past few seasons. The Lions should be thrilled if the draft's top corner, Dee Milliner, is there for the taking.
Milliner, 6'1", has surpassed David Amerson as the No. 1-rated cornerback in the draft. In fact, he has worked his way into the top 10 list of the entire class.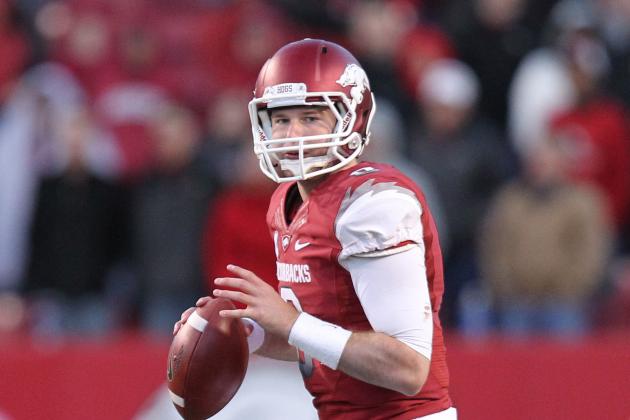 Season Stats: 143.8 RAT, 3,387 YDS, 21 TD, 13 INT, 62.1 Comp %
Buddy Nix is going to be out for a quarterback this offseason.
Despite throwing wads of cash at their current quarterback, the Bills should be intelligent enough to realize that Ryan Fitzpatrick is far too inconsistent to lead them anywhere. That should make the third-highest-rated quarterback of the class, Wilson, rather appealing.
Tyler Wilson, a senior, has flown a tad under the radar this year as has the rest of the Arkansas squad. (But to his credit he has been missing his top three receivers as well as his head coach.) Regardless, he appears to possess that next-level ability.
He is a good decision-maker, he reads defenses well and often exhibits a professional-style intellect. Wilson also has a strong and accurate arm to add alongside his scout-friendly physical attributes.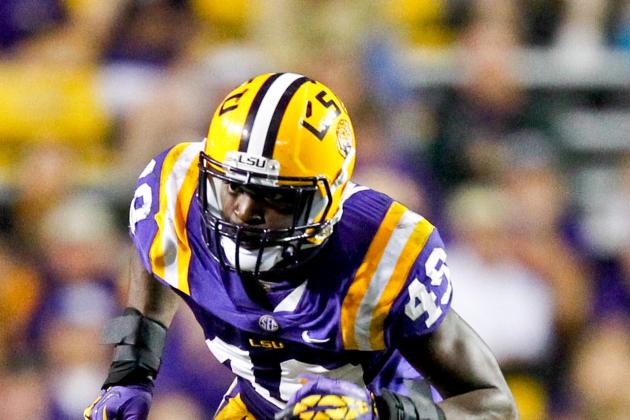 Season Stats: 33 Tackles, 5.5 TFL, 4.0 Sacks
Desperately needing an addition to their pass rush, the Saints should opt for the best available defensive end or outside linebacker. Barkevious Mingo of LSU would be exactly that.
He has ridiculous size, incredible speed and great athleticism. He utilizes that speed to burst off the line and close in on the offense.
There's no doubting the upside of this outside linebacker. Mingo has the physicality and skill set to become a top-flight pass-rusher in the NFL.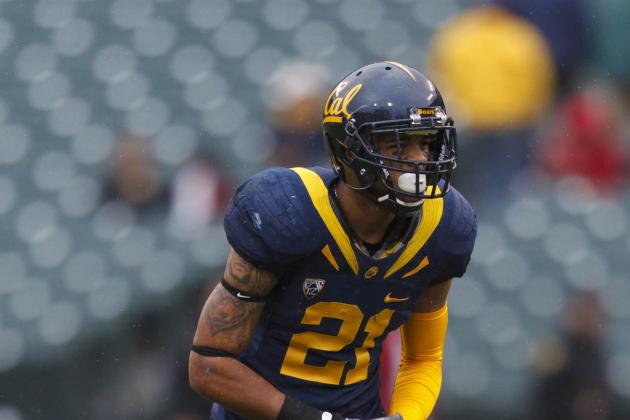 Season Stats: 61 REC, 737 YDS, 6 TD
Keenan Allen has seen his draft stock take an untimely hit in the midst of his left knee injury. But if he's ready for the combine, look for him to regain his status as the draft's top pass catcher.
Allen has quite a bit of talent and seems to be the complete package. He isn't your tallest guy, but he has got a lot of tools many scouts drool over. Allen is considerably strong, runs his routes very well, and is very adept at picking up yards after the carry.
He's extremely aggressive and has big-time playmaker ability.
Assuming Miami tags Jake Long in the offseason, finding Ryan Tannehill a weapon should be on the top of their list.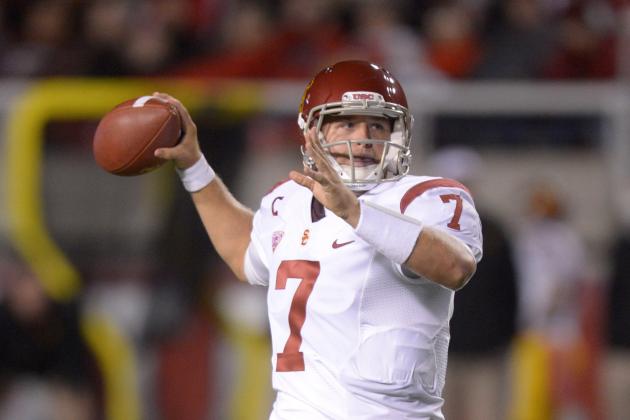 Season Stats: 157.6 RAT, 3,273 YDS, 36 TD, 15 INT, 63.6 Comp %
It looks like the Jets have finally warmed up to the idea of sitting the consistently inefficient Mark Sanchez. So why stop now? Sanchez isn't the answer, Tim Tebow isn't the answer and Greg McElroy is a second string player at best.
Jets fans may be yelling at me here for giving them another USC quarterback. But doesn't Barkely's potential warrant some kind of risk for a team that has lacked a solid play-caller?
Regardless, this guy has flashed some signs of franchise quarterback material.
Barkley sees the field very clearly, operates well under a pro-style offense and possesses numerous intangibles needed for the pros.
He doesn't have a cannon for an arm, nor does he exactly scare teams if he chooses to take off and run. But Barkley does have a slightly above-average arm that has been NFL-ready for a year. He also has to improve his decision making, something that resulted in him throwing 15 interceptions.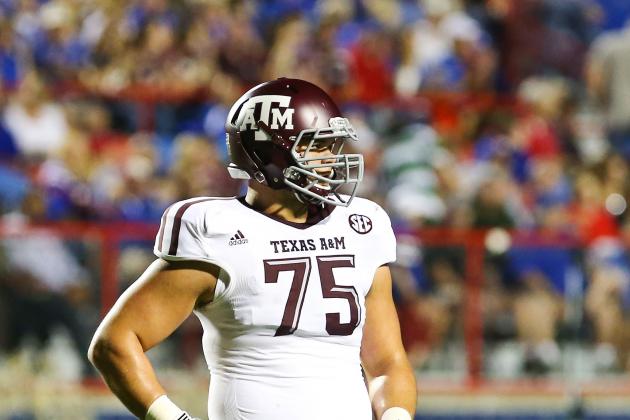 Season stats: ---
Sam Bradford is having a nice, little comeback of a season in 2012. It would be nice if the front office can get him some more help up front.
Texas A&M's Jake Matthews, second only to fellow teammate Luke Joeckel, can certainly help.
Matthews is quick and athletic. He often exhibits great instincts, intellect and should fit well into any NFL blocking scheme.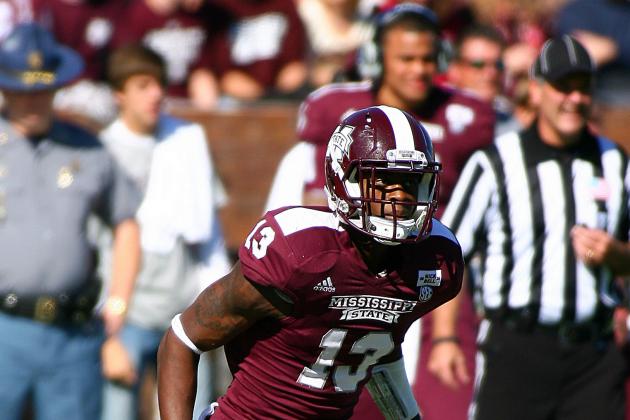 Season Stats: 59 Tackles, 2.0 TFL, 4 INT, 1 FF
Most fans will tell you that Greg Schiano and the Bucs have something sweet brewing down in Tampa Bay. They have drafted rather well the past few seasons, cementing the likes of Doug Martin, Adrian Clayborn and Mark Barron into their bright future.
But with Ronde Barber inching towards retirement and Aqib Talib now gone, there must be some additions made to the cornerback spot. And quite frankly, the secondary has just been plain horrific the past few seasons anyway.
Johnthan Banks has a very solid skill set and has seen some top-tier competition playing in the SEC. He has nice size, good ball skills and is very physical. Banks has no problem keeping up on routes and is very effective in his defense against the fade.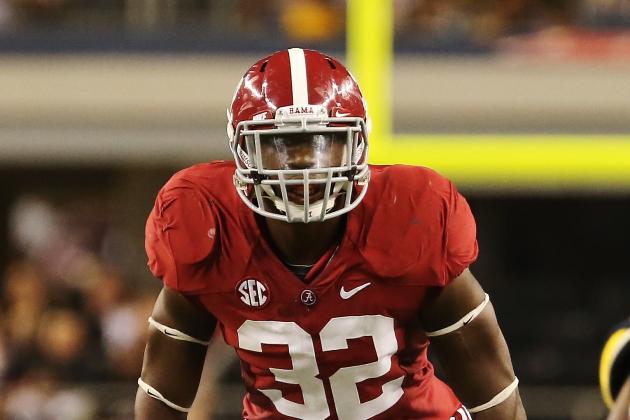 Season Stats: 99 Tackles, 7.0 TFL, 4.0 Sacks, 2 INT, 1 FF
With their second first-rounder, perhaps St. Louis could opt for adding a big time playmaker on defense.
The best available defensive player at this point should be Alabama's C.J. Mosley.
Mosley doesn't have incredible size but does have the skill set to succeed in the NFL. He's displayed his productiveness and versatility during his 2012 campaign with the Tide.
If this is their pick, then look for St. Louis to find Sam Bradford another wide receiver.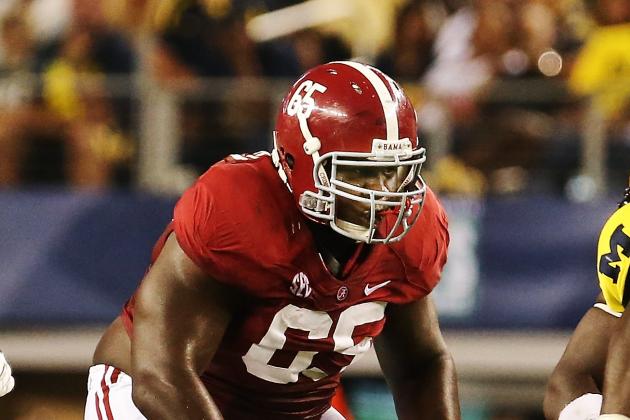 Season stats: ---
This pick should come down to a defensive lineman and an offensive lineman. But since the offensive line is in much worse shape in Dallas, it'll be hard to believe that the Cowboys will pass up the best interior offensive lineman in this group.
Chance Warmack is the top guard of the draft class. He has the power, athleticism and attitude to assure himself a first-round selection come April.
If the Cowboys are looking to re-sign Tony Romo after season's end, they might as well invest in some protection for him.
Warmack is a top-10 talent in the class, but I wouldn't be surprised at all to see the guard slip. Pittsburgh's David DeCastro also received high praise but found himself int he latter part of the draft due to the value of his position.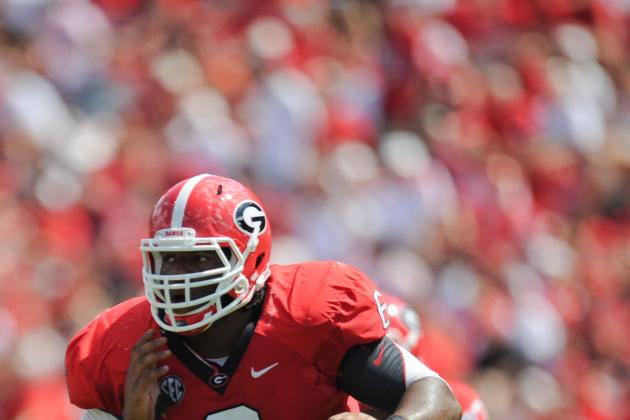 Season Stats: 50 Tackles, 2.0 TFL, 1.0 Sack
John Jenkins, 6'3" and 351 pounds, is your prototypical nose tackle. He has tremendous strength and is extremely light on his feet for a player his size. Jenkins is solid off the snap, draws plenty of double-teams and utilizes his extension well to fend off blockers.
Minnesota should be looking to bulk up the middle of its defensive line this offseason. Kevin Williams will be turning 33 in August and does not have an effective tackle next to him on the line.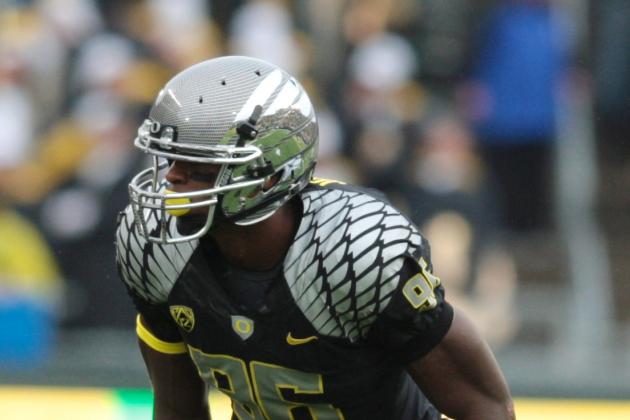 Season Stats: 44 Tackles, 10.5 TFL, 5.0 Sacks, 3 FF
Cincinnati's defensive line has been stellar thus far. But if Dion Jordan is still sitting there for the Bengals, why not go for a highly-potent pass rusher?
At 6'6" and 246 pounds, the guy specializes in running down opposing quarterbacks. He has great burst, speed and athleticism. Jordan can rush the quarterback from multiple spots and chase down tight ends and halfbacks in man coverage.
Given his tremendous upside, expect to hear a lot more of Oregon's freakish pass-rusher heading into April.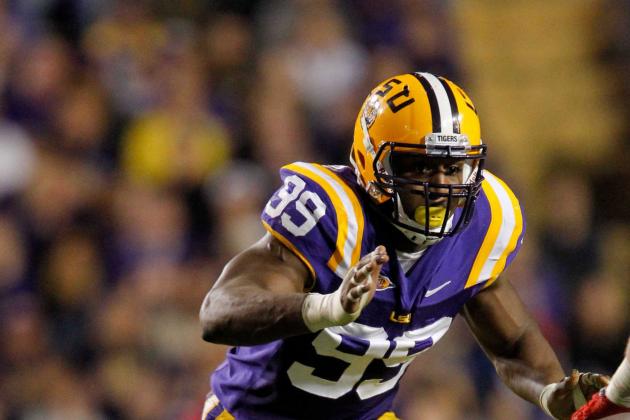 Season Stats: 32 Tackles, 12.0 TFL, 7.0 Sacks, 1 FF
Pittsburgh should be looking to retool their defense this offseason. Sam Montgomery would be a nice fit for the Steelers and their hard nosed defense.
Montgomery is long, athletic and has a non-stop motor. With a little more work, his game should translate well to the next level given his rush defense and bull-rush abilities.
He can work in their scheme as a defensive end or even an outside linebacker.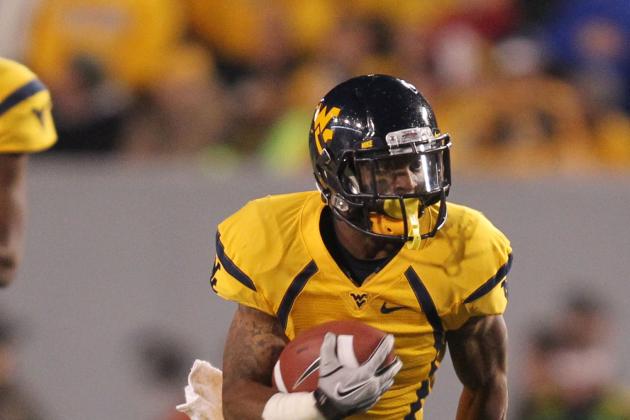 Season Stats: 109 REC, 1,266 YDS, 12 TD, 598 Rush YDS, 3 Rush TD
West Virginia's Tavon Austin has done nothing but produce for the Mountaineers this year. He's quick with his feet, can accelerate fairly well and is a good cutback runner.
Austin's game has drawn some comparisons to Minnesota's Percy Harvin given his speed and production in the slot.
Seattle should be setting their sights on a wideout for the growing Russell Wilson.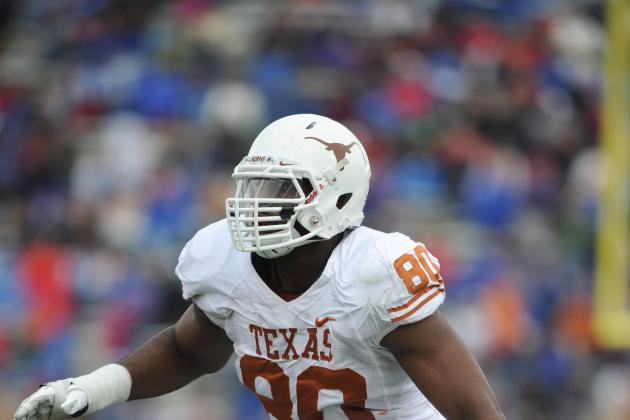 Season Stats: 53 Tackles, 11.5 TFL, 8.0 Sacks, 3 FF
If he falls here, then Alex Okafor should be snatched up the New York Giants. As we very well know, general manager Jerry Reese often goes with the best available talent with his first selection. Reese also loves to add pass-rushers for his defensive coordinator.
Okafor has great speed off the edge, is very solid against the run and can play in a number of spots on defense.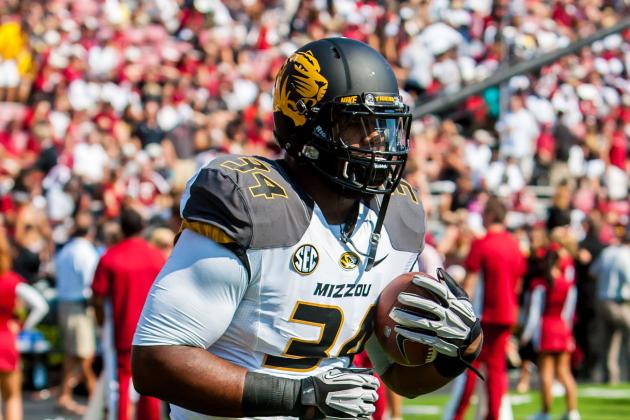 Season Stats: 75 Tackles, 10.5 TFL, 4.0 Sacks, 3 FF
Missouri's Sheldon Richardson is a relatively hot name of late. Richardson has had a beast of a season thus far. On top of that, he has the necessary skills to get to the next level.
Richardson uses his hands very well and can use his burst to get into the backfield.
The Indianapolis Colts should look to start building up on defense. Their offense looks extremely promising under rookie Andrew Luck, so now it's time to address the other side of the ball.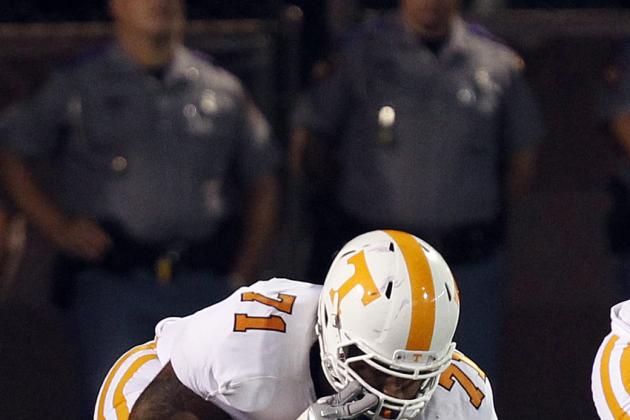 Season stats: ---
Jay Cutler and the Chicago Bears still have considerable needs on that offensive line. And with so many late first-round lineman on the board, I would expect their front office to address that need.
Although he's a guard, Tennessee's Dallas Thomas could be a better prospect at the moment over tackles D.J. Fluker and Eric Fisher. Tackles are obviously more coveted than guards in round one.
But given his athleticism, I wouldn't see why making a possible move to the tackle position would be a problem for Thomas. Regardless, he'll fill a hole in a weak Chicago line.
Season stats: ---
Barrett Jones' skill and versatility will make him an interesting commodity for teams who boast weak O-lines. Jones can play anywhere on the line—that should interest the Green Bay Packers.
He has great form, uses his hands well and is constantly developing his technique. Jones is extremely valuable in pass protection and plays the role of drive blocker for the ground game.
Season Stats: 92 Tackles, 3.5 TFL, 2 INT, 2 FF
Denver could look to solidify their secondary with Michael Adams going into a contract year.
Kenny Vaccaro possesses great instincts as he is always around the ball. He covers plenty of ground, has good size and can utilize his quickness to run down the offense.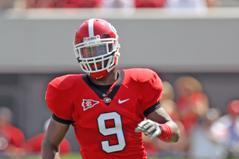 timesfreepress.com
Season stats: 98 Tackles, 8.5 TFL, 2.0 Sacks, 1 INT
As scary as it may be for Baltimore fans, the Ravens organization will have to start planning for life without Ray Lewis. Perhaps they look for a viable replacement here.
Georgia's Alec Ogletree will be rising up some boards come April. He has great athleticism, good instincts and is very versatile. Ogletree's stronger points include his play against the run and his solid tackling abilities.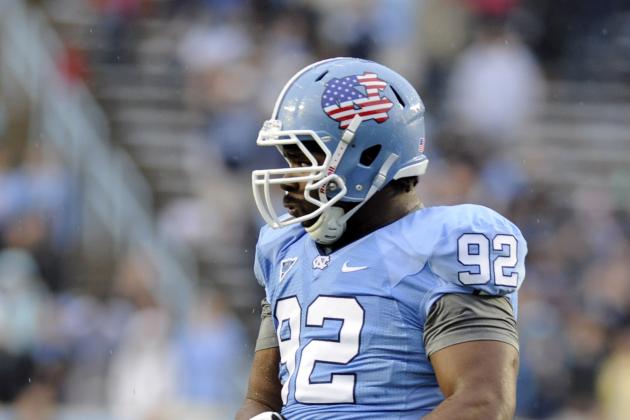 Season Stats: 42 Tackles, 13.5 TFL, 6.0 Sacks
At 6'3" and 320 pounds, North Carolina's Sylvester Williams is easily one of the top interior linemen in the draft.
The big man has catapulted himself up draft boards with a huge improvement in his pass-rushing ability this year. After racking up only 2.5 sacks a season ago, Williams has already doubled that total halfway into the 2012 campaign.
The UNC Tar Heel certainly possesses the size and athleticism needed to translate successfully to the NFL.
San Francisco could use some depth on the interior of their line with Isaac Sopoaga in a contract season.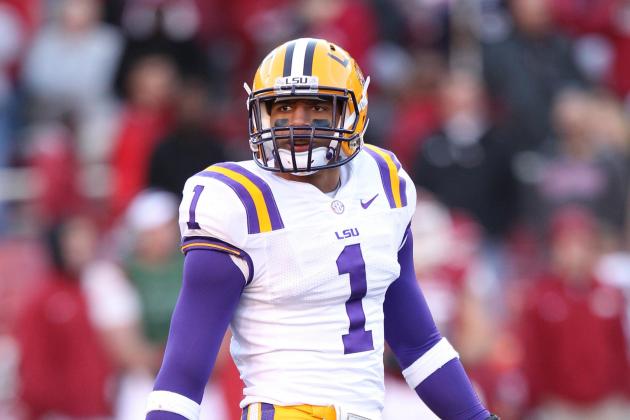 Season Stats: 81 Tackles, 1.0 TFL, 2 INT
New England has to be looking to add some secondary help this offseason. The Patriots could really use a solid safety to bulk up on their very vulnerable defense.
Eric Reid is one of the top secondary players in the class. He's very well-rounded against both the run and pass and can cover some good ground.
Reid has speed, power and instincts to be successful in the NFL.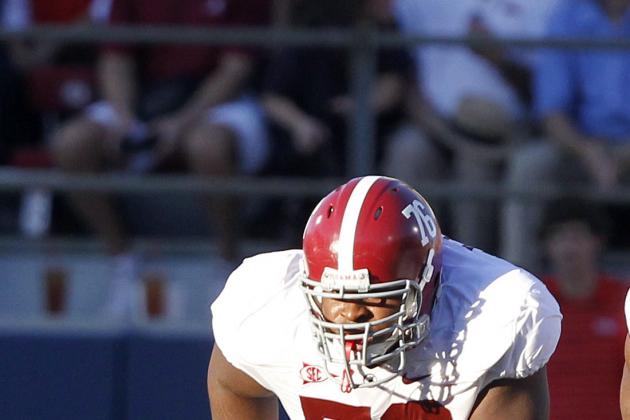 Season stats: ---
If they can't bring in a defensive end worth the value of this pick, look for Atlanta to bolster their line for golden boy Matt Ryan.
D.J. Fluker is powerful off the snap and incredibly aggressive. He is also very athletic and possesses an appealing skill set to block at the next level.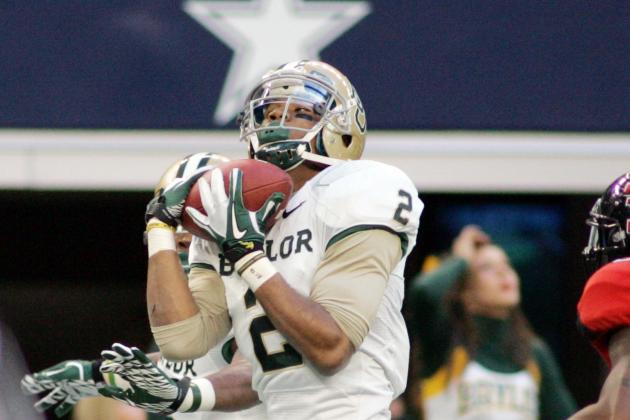 Season Stats: 95 REC, 1,764 YDS, 12 TD
Baylor's Terrance Williams has just been straight-up scary this season. In addition to having great physicals (tall, lanky, long), Williams is a burner when it comes to straight down-the-field routes. His speed and leaping ability make him a nice red-zone threat.
It's time for that Houston front office to give Matt Schaub a legitimate No. 2.