Houston Rockets vs. Oklahoma City Thunder: Live Score, Results and Highlights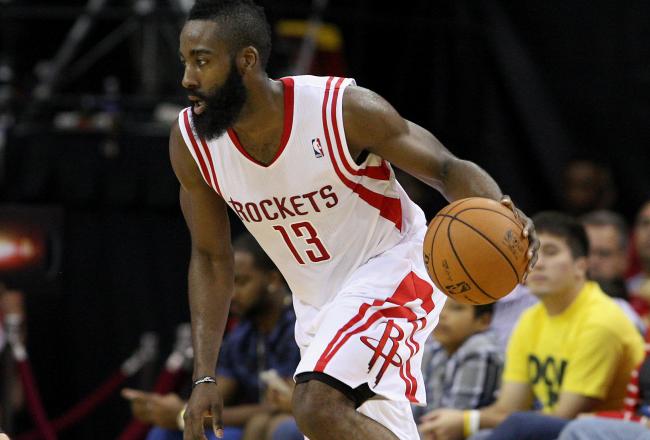 Troy Taormina-US PRESSWIRE
The Houston Rockets (7-7) travel to Loud City tonight to face the Oklahoma City Thunder (11-4). This is not your regular Western Conference showdown. Tonight, James Harden and his beard head back to Oklahoma City for the first time since Sam Presti traded the dynamic two-guard last month.
There will be no shortage of emotions tonight in Oklahoma City, and it should be a playoff-type atmosphere.
Rockets 98, Thunder 120 – FINAL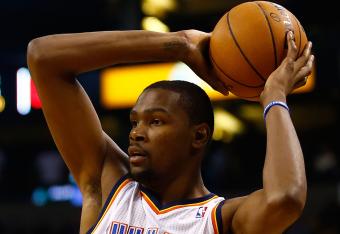 Recap
The Houston Rockets hung around in the first quarter, but ultimately proved to be no match for the Oklahoma City Thunder. Led by Kevin Durant's 37 points and Serge Ibaka's 23 points and 6 blocks, the Thunder ran away with this one.
The Rockets perimeter defense looked like a high school team trying to defend OKC's ball movement and dribble-drive attack.
Jeremy Lin, James Harden and Daequan Cook were beat off the dribble consistently, allowing open looks on the perimeter. Additionally, when Omer Asik was not in the paint for the Rockets, Serge Ibaka was able to score at will.
It is not so much a knock on the Rockets as is it a compliment to the Thunder's superior offense. They routinely make defenses look bad with quick ball movement and a multitude of perimeter players who can knock down jumpers and did it again tonight.
However, it was the Thunder's perimeter defense that set the tone early. James Harden was blitzed early and chased around by a shifting defense that followed his every movement.
Russell Westbrook and Serge Ibaka consistently hedged and trapped Lin on pick-and-rolls, forcing Lin to give the ball up.
While Patrick Patterson had a career night, scoring 27 points on 11-18 shooting, it was not enough to overcome Lin and Harden shooting a combined 6-23.
Final score: Rockets 98, Thunder 120
The postgame hugs and confetti has the look of a team that just got bounced from the playoffs congratulating the team moving on. No lie.

— Darnell Mayberry (@DarnellMayberry) November 29, 2012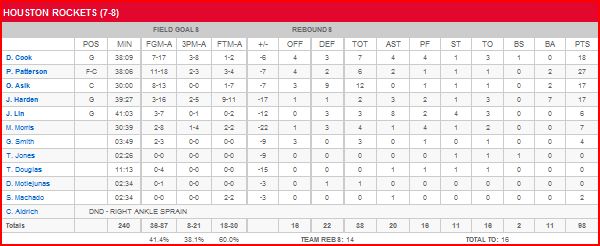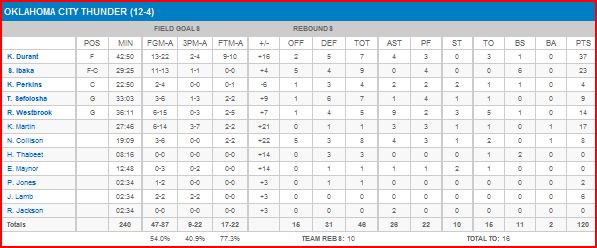 Final game stats
Lamb with another three. Boy does he look happy.
Looking back on that Harden trade, it might not help OKC this season but sure clears things up down the road. The Thunder would have been deep into the luxury tax with a new Harden contract. Additionally, the new luxury tax penalties would have crippled OKC down the road, considering there are different levels that increase the tax penalty and has a multiplier for frequent tax-paying teams.
Rockets 98, Thunder 120 – FINAL
Jeremy Lamb drops a three from the wing and looks back at the Rockets bench with a smile.
Rockets 95, Thunder 117 – 1:10 REMAINING IN 4TH QUARTER
OKC calling off the dogs as the bench comes in, same for Houston.
Patterson with another basket. He is 11-18 from the field for 27 points.
Westbrook answers, going to the line with for a three-point play. While he did not have to attack much thanks to Durant's hot shooting, Westbrook has 13 points and 9 assists.
Rockets 93, Thunder 111 – 2:34 REMAINING IN 4TH QUARTER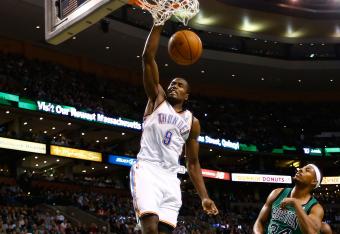 Ibaka's stellar night continues as he knocks down a corner three. 10-12 from the field, 23 points, 9 rebounds, and 5 blocks.
Rockets 88, Thunder 107 – 3:41 REMAINING IN 4TH QUARTER
Asik showing off some nice post move. A nice spin and under Ibaka for a layup. He has 16 points and 12 rebounds.
Rockets 88, Thunder 104 – 5:03 REMAINING IN 4TH QUARTER
Daequan Cook 18 points on 7-for-15, James Harden & Jeremy Lin 16 points on 4-for-20.

— Darnell Mayberry (@DarnellMayberry) November 29, 2012
Kevin Durant is 11-20 from the field with 33 points.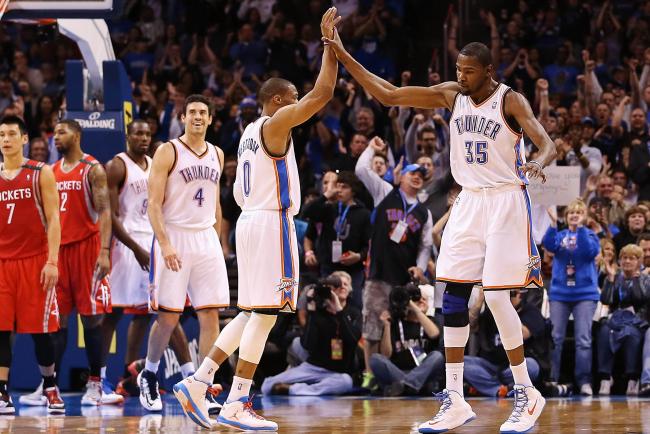 Houston's defense continues to get shredded. Asik comes to double Westbrook on the wing and he dribbles past it to find Collison for an easy two.
Rockets 84, Thunder 98 – 6:21 REMAINING IN 4TH QUARTER
OKC bench is outscoring the Rockets bench 22-8. Nick Collison with 5 offensive rebounds.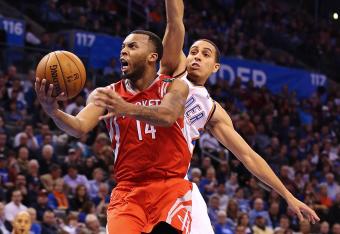 Cook hits his third three giving him 18 points.
Harden gets the ball the next time down and hits a three as well.
Rockets 82, Thunder 94 – 7:28 REMAINING IN 4TH QUARTER
Patrick Patterson is playing like he's trying to stick it to the Thunder for not demanding he was a part of the trade.

— Darnell Mayberry (@DarnellMayberry) November 29, 2012
Patterson misses a HUGE tomahawk slam. Lin with the foul on the rebound. Patterson's only blunder of the evening.
Again, Durant left open for three. The ball movement is just spectacular.
Rockets 76, Thunder 89 – 9:57 REMAINING IN 4TH QUARTER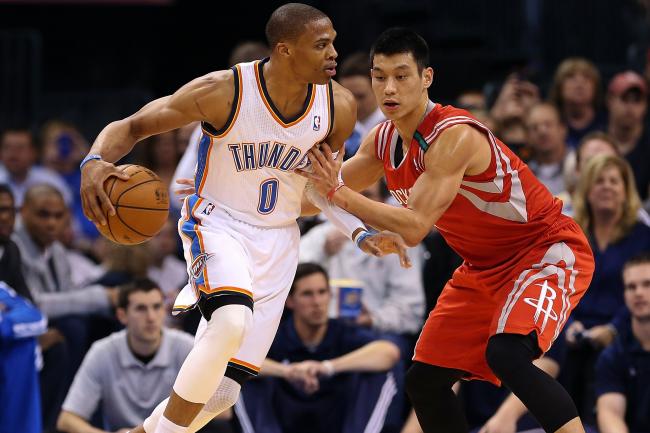 Westbrook has been quiet tonight, but Durant (26 points) and Ibaka (18 points) have led the way for the Thunder. Expect Westbrook to go into attack mode this quarter.
Harden is now 8-10 from the line and 1-12 from the field. Finally in double-digits.
Rockets continue to hang, despite a terrible night from Lin and Harden.
Rockets 74, Thunder 86 – END OF 3RD QUARTER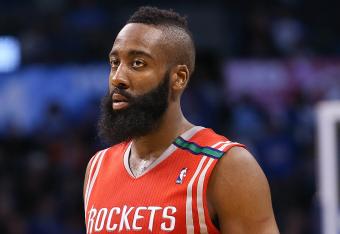 Patterson with a new career high, 25 points.
Lin now playing off the ball and Harden is playing the point. Nice assist on a Lin cut for a layup.
Rockets 72, Thunder 85 – :34 REMAINING IN 3RD QUARTER
Harden now 1-12 with that long three over Maynor.
Rockets 68, Thunder 81 – 2:00 REMAINING IN 3RD QUARTER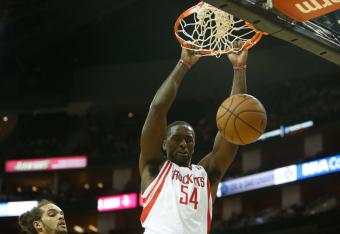 Thunder forcing the ball out of Harden's hands with quick blitzes. They are also hedging and trapping Lin, forcing someone else to score for Houston. Luckily for the Rockets, Patrick Patterson came to play. He has 23 points.
Rockets 66, Thunder 80 – 2:34 REMAINING IN 3RD QUARTER
Houston is trying to keep it close for the 4th quarter, but allowing the Thunder to shoot 55% from the field is not going to get it done.
Again, Cook and Lin are just getting killed by Durant and then in transition by Westbrook. Harden is going to have to check Durant soon if they want to stay in the game.
Rockets 63, Thunder 78 – 3:34 REMAINING IN 3RD QUARTER
Cook with a 25-footer. Durant has to step out on him, even from that range.
Rockets 61, Thunder 74 – 4:45 REMAINING IN 3RD QUARTER
This article is
What is the duplicate article?
Why is this article offensive?
Where is this article plagiarized from?
Why is this article poorly edited?

Houston Rockets: Like this team?